~ The Social Diary ~
~~~~~~~~~~~~~~~~~~~~~~~~~~~~~~~~~~~~~~~~~~~~~~~~~~
Seacrest Village Benefit 2007

March 22nd, 2007
The Social Diary Columnist & Photographer Margo Schwab
(high resolution photos available by request )
How to raise big money for a great cause? Have Joyce Glazer Chair the event. Simple as that!
And invite a few hundred of the 'who's who ladies who lunch,' honor a terrific person by the name of Jo Arenson, have a fabulous luncheon of gazpacho, poached salmon salad with dreamy sauce, followed by a naughty chocolate bombe dessert with creme caramel and fresh berries. But it doesn't stop there.
A few enticing live auction items raising big bucks, including a private sailing on Dennis Conner's America's Cup Yacht, followed by a sizzling couture show by Neiman Marcus. J. Mendel, Prada, Roberto Cavalli, Oscar de la Renta, Gucci, Etro, Ralph Lauren, Akris, Naeem Khan, Chanel, Escada, Theory, Lafayette. Whew. Wicked fun shoes by Christian Louboutin, Chanel, Manolo Blahnik, Prada and Miu Miu.
And wait there's more. Seems the biggest applause came from some of the ladies of Seacrest Village Retirement Communities, the beneficiary. And it was quite definitely for the male models in Theory, Paul Smith, Etro, D Squared and sometimes bare chests.
Among the fashionable set there supporting Seacrest Village were Ed Glazer, there of course supporting his wife Joyce, and Seacrest Village, Sycuan Casino's best PR asset Anita Bye looking supermodel great in a gray suit by Tahari, Hilary Isakow of San Diego Private Bank, Dianne York-Goldman in a bewitchingly fresh outfit combining Ralph Lauren and Tadashi, Susan Ulevitch in a perfect suit, double strand of pearls and pretty pin, Melissa Bartell, Scott Johnston in perennial Polo, Lael Kovtun in butterscotch leathers, Sandra Schafer in Spring Green, Carol Karlovich and Mary Walker in perfect suits and hats, and happy to be reporting, moi, Margo Schwab in Nicole Miller and Lilly Pulitzer.
Anita Bye had this to say. "Well I must say I am happy I finished that amazing dessert before I saw the models in swimsuits!! It was a great show and Joyce did a fabulous job."
Susan Ulevitch related to the generational involvement of the event. "I've gone for many many years. And, 20 plus years ago loved seeing all of the older women and wished my Mother had come from Pittsburgh to attend with me. .... Now, I look around at all of the younger women and wish my daughter was here (from NYC) to go with me! Maybe one year soon she will. I love seeing the mix of generations, and especially the residents of Seacrest, in attendance."
And health expert and author Ruth Jacobowitz summed up the event nicely. "The Seacrest luncheon/fashion show was fabulous! So many wonderful women; such a great cause. It's such a pleasure to see so many good friends there, all in support of an organization that promises our seniors the best comfort and care."
Please enjoy the luncheon below and the fashion page photos!
Joyce Glazer, Hilary Isakow, and Ed Glazer ** Jo Arenson
Francy Starr with Susan Ulevitch ** Rick Tiland, Dianne York-Goldman and Margo Schwab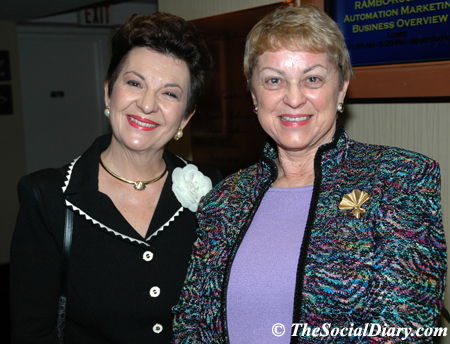 Diana Lombrozo with Guest
Sandra Schafer ** Andrea Naversen, Teddie Pincus and Lael Kovtun
Jane Rosenkrantz, Mary Epsten, and Melissa Bartell. ** Patti Cooprider and Scott Johnston
Ruth Jacobowitz with Cristull Hasson ** Carol Karlovitch with Mary Walker
Ruth Jacobowitz with Margo Schwab ** Guest
Neiman Marcus's Paul Gay and Lyndy Roda ** La Jolla Spa MD's Dianne York-Goldman with Rick Tiland
Dianne York-Goldman ** Joyce Glazer ** Anita Bye
Joyce Glazer with her Granddaughters, Eleanor and Audrey Franklin ** Pat Brown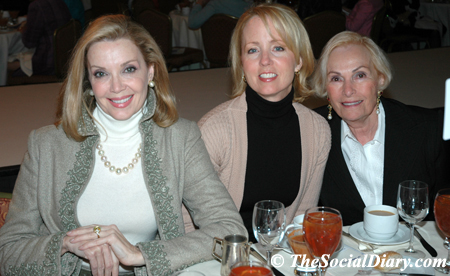 Karen Cohn, Sheryl White and Bea Epsten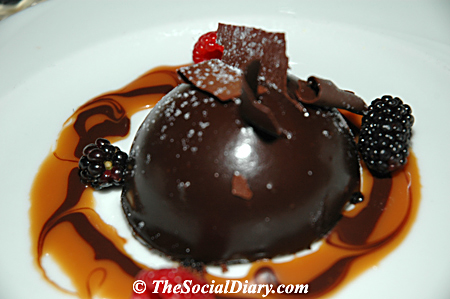 The most chocolate of desserts!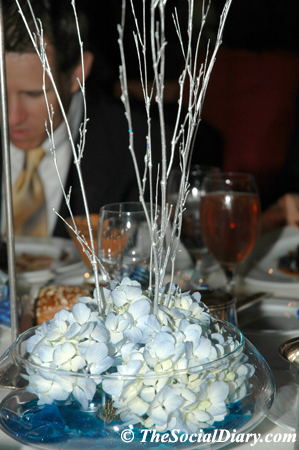 A Table Centerpiece
Please continue to the Neiman Marcus Fashion Show
* Margo Schwab has produced, written, interviewed and photographed for various media organizations since 1989. Schwab has a B.A. from Scripps College and a Masters of Business degree, M.B.A., from the University of San Diego. Schwab volunteers for numerous charity organizations. She also continues to lobby for water safety and for family violence mitigation. Schwab is the owner and publisher of The Social Diary. Margo is currently writing a book based on La Jolla.
back to New this Week.....Margo Schwab Archives...... Home
Warning ** photos, video and writing on this site are the
copyright of The Social Diary, San Diego Social Diary, margomargo.com and Margo Schwab.
no reproduction of any part or parts is allowed without written permission by Margo Schwab