~ The Social Diary ~
the on-line magazine covering High Society ..& more
____________________________________________________________
Salvation Army Women of Dedication Luncheon


March 30th, 2006
by The Social Diary Columnist & Photographer Margo Schwab
The Salvation Army held its 41st Women of Dedication Luncheon March 6th at the Manchester Grand Hyatt San Diego. Following established tradition, the Salvation Army chooses community volunteers who have set exemplary heights in giving.
The 2006 honorees are Anne Brown, Ann Boyd, Jane Wilson, Pattie Wellborn, Sharon Stein, Connie Conard, Berneice Copeland, Cynthia Peterson, Delores McNeely, Kate Engler, Sue Kalish, Dea Hurston, Windie Key Knoth, Linda Marteeny, and Jeanne Larson.
For all honorees and in particular, honoree Jeanne Larson, the day was special. "It was indeed a very special honor to be recognized by them for each of our achievements through service to our community. It was a wonderful tribute and a beautiful luncheon. Needless to say, I know we all would share similar views on this that we could not have achieved many of the successes without our wonderful volunteers who helped us reach these goals. I feel they deserve this honor as well. It truly takes an army of angels to make a difference in our community! Salvation Army does a heroic job in so many areas of our county, serving those in need in all ages groups, in a multitude of ways. I was thrilled they had such a large turnout for their signature event."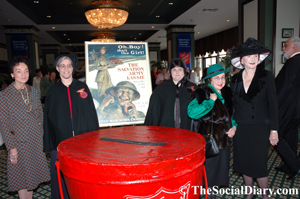 And signature it was. A welcome by Event Chair Jan Fitzpatrick, a Presentation of Colors, a Pledge of Allegiance and an Invocation led by Lt. Colonel Doug O'Brien, re-visited guests to traditions of yesteryear. Very refreshing.
Refreshing too was the conversation by many "angels," in attendance. The angels volunteer graciously and tirelessly. Just take a look into the life of Peggy Matthews. Peggy has never said no to an obligation, or an invitation involving good deeds towards the community. She was joined by a ballroom full of like guests.
Among the many there were Captain Nancy Ball and Captain Stephen Ball, Lisa Barkett, Betty Beardsley, Elisabeth Bergan, Tommi Adelizzi, Toni Atkins, Nonnie Barbey, Susan Clifton, Patti Cooprider, Dempsey Copeland the proud husband of honoree Berneice Copeland, Virginia Patridge, Andrea Naverson, Colonel Diane O'Brien, Debbie Case, Carol Littlejohn Chang, Susan Ulevitch, Gerry Scribner, Georgia and Blair Sadler, Esther R. Nahama, Karon Luce, Reinette Levine, and Joanne Leidenberger.
Bill Larson, husband of honoree Jeanne Larson cut off his satellite phone after a business call from Mynamar came through. Jeanne and Bill own The Collector Fine Jewelry, the Pala Mines, and a ruby mine in Mynamar. But it was time to turn all attention to great deeds by great women. Bill fondly remembered when Jeanne, who goes to great lengths for charity, rode an elephant into a RITZ, Rendez-Vous at The Zoo party years back. Quite the entrance for a chairwoman! It's just one of many events that Jeanne has chaired or otherwise volunteered for.
Honoree Sue Kalish has had quite the accomplishment list too. Most recently Sue and her good friend Dede Calrson, Co-Chaired a stellar luncheon for Women Together, benefitting homeless and battered women. Add to that list of endeavors, working with Las Patronas, San Diego Historical Society, San Diego Center for Children. Well you get the idea.
More of those joining in this day at the Salvation Army luncheon to celebrate this group of honorees were included Salvation Army Auxiliary President Sandra Schafer, Susan Kazmarek, Barbara Hunsaker, Mary Johnson, Anne Halsey-Smith (yes the U.S.S. Halsey is named after her Grandfather), Patty Hambleton, Nicky Holland, Ann Gotfredson, Joy Glenner (Joy spearheads the George G. Glenner Alzheimer's Family Center's), Jane Fetter, and Anne Middleton.
Luncheon fare included a starter of baby spinach salad with Hearts of Palm, citrus slices, edible flowers with a citrus vinaigrette, followed by breast of chicken marinated with rosemary and garlic, potato ana, honey glazed baby carrots and broccolini, and finaled with a perfectly rich New York cheesecake topped with fresh berries, and a mango raspberry sauce.
Special donors to the event included Betsy and Papa Doug Manchester, Sandra and Dr. Jeffry Schafer, SAIC, Diana Lombrozo (an event advisor along with Rusti Bartell), Linda and Tom Sellers, the Cubic Corporation, and the Union Bank of California.
To learn more about the Salvation Army please visit www.salvationarmyusa.org


* Margo Schwab has produced, written, interviewed and photographed for various media organizations since 1989. Schwab has a B.A. degree from Scripps College and a Masters of Business degree from the University of San Diego. Schwab volunteers for numerous charity organizations. She also continues to lobby for water safety and for family violence mitigation. Schwab is the owner and publisher of The Social Diary.
back to New this Week.............. Home
Warning ** photos, video and writing on this site are the
copyright of the author, The Social Diary, San Diego Social Diary, margomargo.com and Margo Schwab.
no reproduction of any part or parts is allowed without written permission by Margo Schwab