~ The Social Diary ~
the on-line magazine covering High Society ..& more
____________________________________________________________
Renaissance Ball - BRAVA!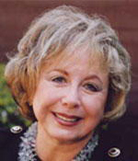 by the Social Diary Health Expert Columnist Ruth S. Jacobowitz
Column #9, March 22nd, 2006
(editor's note - Health columnist Ruth S. Jacobowitz does more than write about health, she supports health related fundraiser's too.)
BRAVA! ;The fourth annual Renaissance Ball was fabulous. Just entering the
Ballroom at the Hyatt Regency La Jolla at Aventine was a splendid
adventure. The tables and centerpieces and other décor by Kathy Wright gave
the evening a splendid send-off and the elegance had as its mission raising
funds for the Scripps Clinic and Green Hospital Urgent Care Center in La Jolla.
The event was chaired by Karen Gabsch and the Honorary Chairs for the evening
were Darlene and Donald Shiley, who were honored that evening for their many
years of service and philanthropic support of the community. Though Donald was
unable to attend, Darlene made both their presences felt when she spoke.
First of she commented that Dr. Hugh Greenway was "poor with figures" when
he announced that the event had raised $227, 000 because she and Donald were
matching that amount. So the party, with a half a million dollars raised at
that point, was a major fund raising success. But then a few sentences later
in her short and witty presentation, Darlene announced that she and Donald
were also making a gift of one million dollars to the Department of
Cardiology at Scripps Clinic.
The crowd went wild and the cardiologists, who were totally unaware of the gift prior to the announcement as were everyone else from Scripps, all got up from their tables and moved forward towardsthe podium to thank the Shileys as Darlene descended the stairs. What a
splendid gift and what a splendid evening.
* Ruth S. Jacobowitz is a health advocate, lecturer, and the author of five consumer health books. Her newest book is Final Acts—a novel. Visit Ruth at her web site www.ruthjacobowitz.com .

back to New this Week......Jacobowitz Archives ... Home
Warning ** photos, video and writing on this site are the
copyright of the author, The Social Diary, San Diego Social Diary, margomargo.com and Margo Schwab.
no reproduction of any part or parts is allowed without written permission by Margo Schwab