~ The Social Diary ~
~~~~~~~~~~~~~~~~~~~~~~~~~~~~~~~~~~~~~~~~~~~~~~~~~~
Up, Up and Away for Children's Ronald McDonald House!

May 3rd , 2007
The Social Diary Columnist & Photographer Margo Schwab
(high resolution photos available by request )
It was a perfectly fun day at the U.S. Grant Hotel April 21st, 2007 to shop the silent auction, mingle with the fashionable, dine on superb cuisine, and view au courant fashion on the catwalk.
And it wasn't just fun, it was fun for a cause. This sold out event benefited the Ronald McDonald House Charities of San Diego's "mission to provide a 'home away from home' for the families of children facing life-threatening illnesses."
The Honorary Chair, Sally B. Thornton, had this praise to say about the event, its purpose and the people who helped make it happen. "The Ronald McDonald House Fashion Show and Luncheon was SPLENDIFEROUS! COLOSSAL! STUPENDOUS! and EXCITINGLY BEAUTEOUS! In other words, it was SUPERB in EVERY Respect! Leonard Simpson is a FASHION SHOW MASTER EXTRAORDINAIRE! His expertise and artistry are SUPERB! The performance of the CULINARY and BANQUET staff at the U.S. Grant Hotel was EXCELLENT! 'HATS OFF' to the RONALD MCDONALD HOUSE SAN DIEGO TEAM! YOU'RE THE GREATEST! KUDOS to ALL! MANY THANKS."
While Sally selflessly did not praise herself, many others did praise her and the cause. One of the event's sponsors and donors, Dianne York-Goldman of La Jolla Spa-MD, revealed the following. "The Ronald McDonald House Charity Luncheon brought tears to my eyes as Sally Thornton, the Honorary Chair discussed her poster child of several years ago, and now we were able to meet her poster child who is a healthy teenager. Many thanks to Sally and all those who have contributed to The Ronald McDonald House Charity. The new house will become the home to many with 47 bedrooms!"
Doreen Schonbrun remarked "this luncheon was amazing on so many levels. Chairman Sally Thornton created, the most magical setting for a luncheon that I have ever seen. Shocking pink abounded with the most beautiful variegated pink carnations topiaries on each table. The backdrop revealed a french blue sky filled with colorful air balloons. The audience was taken on this extraordinary trip through the clouds to view one of the most ingenious fashion shows ever. Leonard Simpson created a spell bounding show utilizing fantastic lighting skills that highlighted the wonderful models and their clothing, sexy firefighters, children from the Boys and Girls Club, standard poodles, charming props, and a live auction. Of course the focal point of the luncheon was for the audience to meet the Ronald McDonald poster child and her lovely family. Currently a 12 family Ronald Mcdonald houses children and their families during treatment. In two years over 40 families will be served in the new house. What a gratifying day!"
Liz Edwards from LetsPlayDowntown.com was deeply touched. "Truly a wonderful charity, we as San Diegans give from our hearts, seeing first hand the brave family makes me humble. I don't think there was a dry eye in the house."
Linda Jones of the Vista Hill Organization agreed. "This was a lovely Saturday afternoon event benefiting a wonderful cause. The family stories were heartwarming and inspiring, and the fashions were beautiful."
Among the mix were Doris Howell, Jason Sigala, Margaret Grossman, Gilda Vilaplana, Kathy West of the Epilepsy Foundation of San Diego, Bobbie Burnett, Dottie Stanley of Patrons of the Prado, Collette Murphy Stefanko, Andrea Naversen, Jessica Wadley, Sook Hansen (one of the Honorary GodMothers of Kima), Co-chairs Pam Plotkin and Jacki Unger, Mary Walker, Jeanne Jones, Lee Maturo, Elizabeth Zongker, Margo Schwab, Yolanda Walther-Meade and Phyliss Parrish.
Sally Thornton chose a crimson suit, or rather Leonard Simpson chose it for her. Leonard wore Jean Paul Gaultier, Liz Edwards chose a hip white long fur over her jeans, and Dianne York-Goldman wore an elegant Escada suit trimmed in metallic gold with a custom DYG diamond embellished gold dog tag necklace.
Designer Lizz Russell had the fluffy handbag everyone coveted. Lizz's designs were also featured in the fashion show as were Ooh La La, Gracie Boutique, Lilly Pulitzer, the Village Hat Shop, Peaches en Regalia, G-Star Raw, Orange Blossom, and Holly Lauren Jewelry. Makeup was by the Face Factory and hair was by Michael Eller Salon.
Popular models included Rosie Tisch, Christopher Baidoo, and male Fire Fighters who caused quite the stir among the fashionable who lunch for a good cause.
Don't be jealous firefighters, Ronald McDonald has the same effect on lifting the spirits of children, especially those children in dire medical need.
To learn more about the Ronald McDonald House Charities of San Diego, please click CHILDREN.
Honorary Chair Sally B. Thornton with Leonard Simpson ** Dianne York-Goldman
Jessica Wadley with Jason Sigala ** Elizabeth Zongker with a guest and Jeanne Jones
Lizz Russell ** Lee Maturo and Phyliss Parrish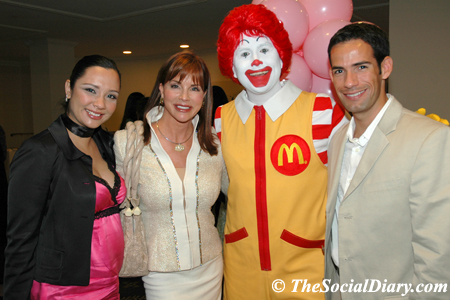 Jessica Wadley, Dianne York-Goldman, Ronald McDonald, and Jason Sigala
Mary Walker and Sook Hansen ** Yolanda Walther-Meade
Elizabeth Zongker ** Liz Edwards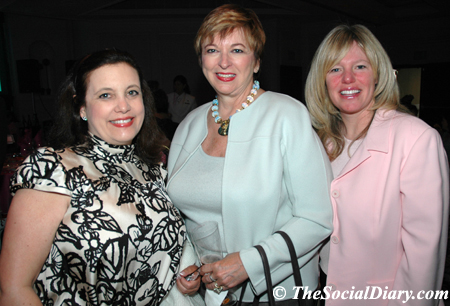 Doreen Schonbrun, Dottie Stanley and Kathy West
AND NOW... THE FASHION!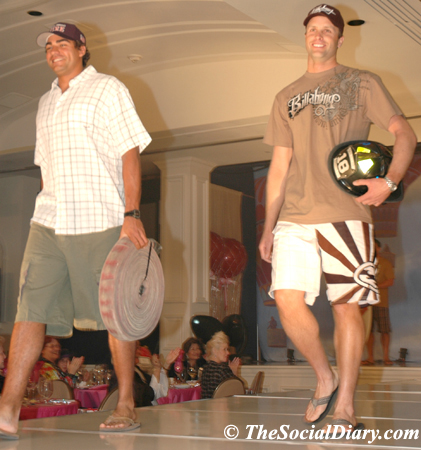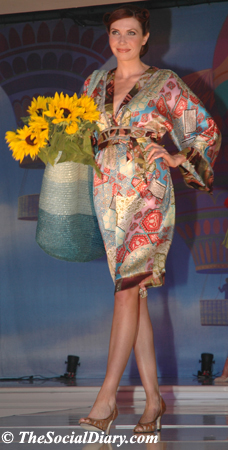 * Margo Schwab has produced, written, interviewed and photographed for various media organizations since 1989. Schwab has a B.A. from Scripps College and a Masters of Business degree, M.B.A., from the University of San Diego. Schwab volunteers for numerous charity organizations. She also continues to lobby for water safety and for family violence mitigation. Schwab is the editor of The Social Diary. Margo is currently writing a book based on La Jolla.
back to New this Week.....Margo Schwab Archives...... Home
Warning ** photos, video and writing on this site are the
copyright of The Social Diary, San Diego Social Diary, margomargo.com and Margo Schwab.
no reproduction of any part or parts is allowed without written permission by Margo Schwab