~ The Social Diary ~
~~~~~~~~~~~~~~~~~~~~~~~~~~~~~~~~~~~~~~~~~~~~~~~~~~
The RITZ Jungle Club Goes Wild in 2007

July 1st, 2007
The Social Diary Columnist & Photographer Margo Schwab
(high resolution photos available by request )
"Build it and they will come" said the event Designer Jordan. And they did come in well dressed droves to the 14th Annual RITZ, that's the RendezVous In the Zoo gala at the world famous San Diego Zoo. 1,100 plus people in fact came to the sold out affair themed 'Jungle Club, a Very Elegant Supper Club.' Jordan designed the event. She also designed quite a few of the stunning female guests' gowns. Among the many wearing her exquisitely hand painted gowns were Jeanne Larson, Jeanne Jones in a stunning pink flamingo themed gown, actress Ann Blyth, Animal Ambassador Joan Embry, Scottie Brown and Jordan herself.
Guest Dianne York Goldman wore a vibrant animal print themed Carlos Miele, but looks "forward to owning a Jordan gown in the very near future."
Others in the fashionably fun crowd were Susan Clifton, who held a golden lion head clutch, Joyce Grosvenor in a V- neck gown, Don Breitenberg in an animal print vest to accessorize his tux, Dr. Mitchel P. Goldman in a custom animal print bow tie to coordinate with his wife Dianne's Carlos Miele gown, and Scott Johnston in a snazzy custom black satin jacket by Jemima Garcia. Scott's jacket had animal print lapels and buttons.
There were oodles of tempting food stations and auction items for the reception. Star guests included a porcupine and a koala bear. Accompanied by their Zoo handlers of course. The elephants were busy trumpeting around the corner. It's their new habitat that is the beneficiary of this event.
Longtime San Diego Zoo patron and Past Event Chair Jeanne Larson had this to say about the Jungle Club. "I thought this year's Jungle Club RITZ was a lavish supper club, with fabulous decor, delectable food, and a really fun and energetic band. The highlight for me was the incredibly sophisticated and gorgeous backdrops designed by Jordan. They are truly unique works of art! Kudos to the entire committee and Chairs, Katherine Kennedy and Robert Horsmann, for a fabulously successful event filled with great fun and friendship."

And there were more accolades going Jordan's way. "Jordan is to be thanked for the endless hours spent on set design," said Dianne York-Goldman. "It was a truly magical environment--a supper club with real pizzazz!" remarked Jeanne Jones. Co-Chair Katherine Kennedy added "We wanted our party to be so wild that the animals would be scaling the walls to get in. And with Jordan's clever and colorful design, guests definitely were provided with that feeling."
And it took a lot of hard work by Jordan, but it was well worth it, as Jordan notes. "Designing and painting the murals for the RITZ background was the most physically challenging and incredibly fun project I have ever done. To have a chance to paint a meeting place for animal and earth lovers of all kinds for this event as well as countless other events who will lease this same space from the Zoo in the year to come was the largest most important honor I have ever received."
And this particular gala was a great start to a year of festivities. Among those enjoying the reception, and later dinner and dancing to the Pink Flamingos included the Honorary Chair and generous $10 million pledge donor Conrad Prebys, Barbara and Neil Kjos, Virginia Monday and Clinton Walters, Dianne and Jim Bashor, Linda and Don Swortwood, Diane and Roy Bell, Pat and Bob Whalen, Marilyn and Roger Boesky, Jane and Tom Fetter, Kate Adams, Boyd Smith, Valerie and Harry Cooper, Emma and Leo Zuckerman, Anne Evans, Gaylene and Klenanthis Xanthopoulos, Joanne and Bob Leidenberger, and Dawn DuCharme with Charlie Grebing.

Dianne York-Goldman summed the gala up nicely. "The RITZ event at the San Diego Zoo is such a breathtakingly invigorating event not to be missed. It is such a joy to see the animals."
To learn more about the Zoo and all of the special events it has to offer, please visit www.sandiegozoo.org!
Event Co-Chair Katherine Kennedy ** Don Breitenberg and Jeanne Jones, Jeanne is in a Jordan Design
Dr. Mitchel P. Goldman and Dianne York-Goldman
Dianne York-Goldman and Dr. Mitchel P. Goldman with reporter Margo Schwab ** Lollie and Bill Nelson
Soukie ** Guest in a Jordan Design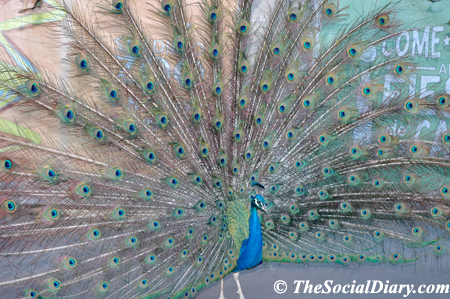 A Peacock in full feathery splendor
Joye Knight ** Dr. Jeffrey and Sandra Schafer
Susan Clifton ** Joan Embry ** Joy Furby
Jim and Joy Furby ** Michael and Maree Mossmer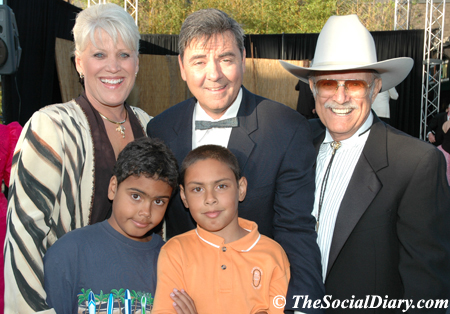 Joan Embry and her husband Duane Pillsbury in the hat surrounding KUSI's Dave Scott and his children
Dan Kronemeyer with his sister Kristi Pieper Rossbacher ** Cynthia and Dan Kronemeyer
Scott and Steve Brown ** Scottie Brown in her Jordan designed gown
Fred Applegate and Guest ** Larry Davis with Joan Bowes
Craig and Joyce Grosvenor ** Cookie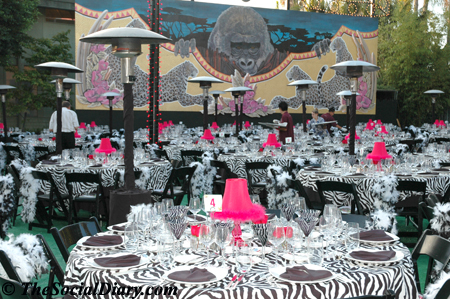 The RITZ Jungle Club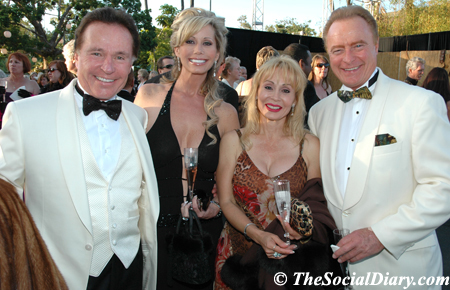 Craig and Joyce Grosvenor with Fred Applegate and his Guest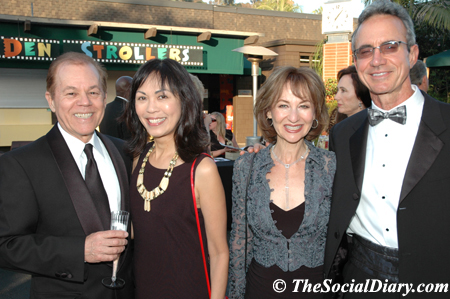 Fred and Lori Saxon with Guests
Guests ** One hungry Koala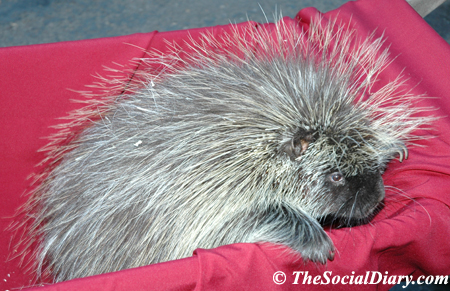 One Frilly and Quilly Guest
A Guest resplendent in a Jordan Design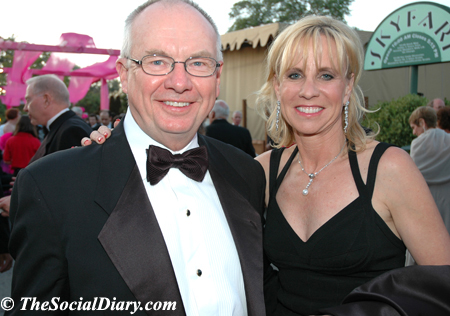 Guests
Dr. Padma Nanduri with her husband
Guest with Gilbert Meza ** Guests
Guests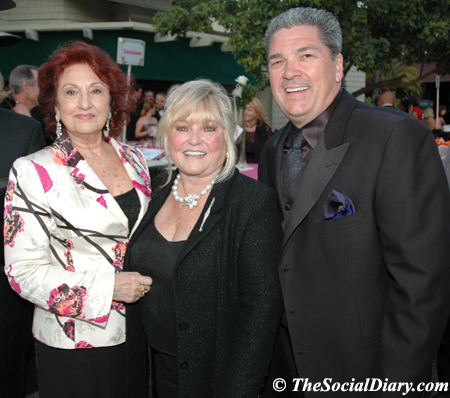 Rose Marie Pipitone with Diane Clarke and Dan
Guest and a Military Hero** Maggie Watkins with her husband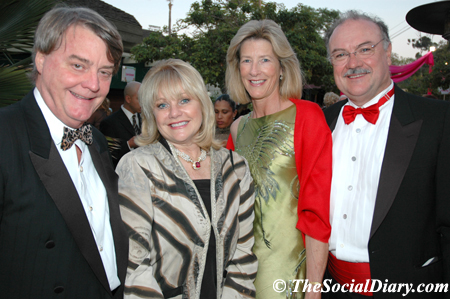 Bill and Jeanne Larsen of The Collector Fine Jewelry with Linda and Gustavo Ballon-Landa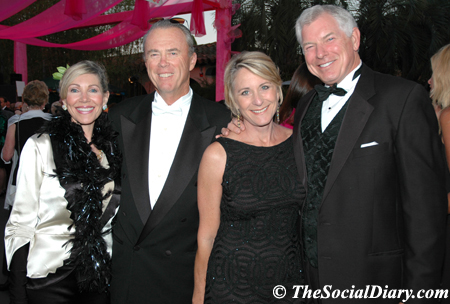 Linda and Don Swortwood with Susanna Lipe Aalbers and Dr. John Aalbers.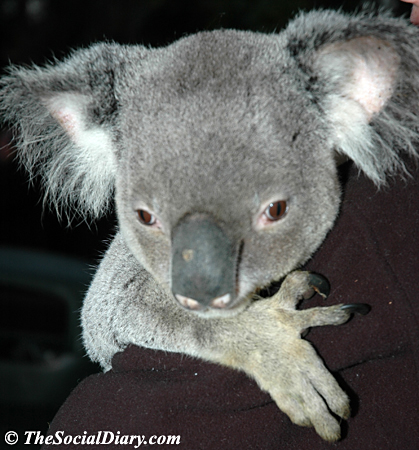 A Koala cuddling a San Diego Zoo trainer/ handler's shoulder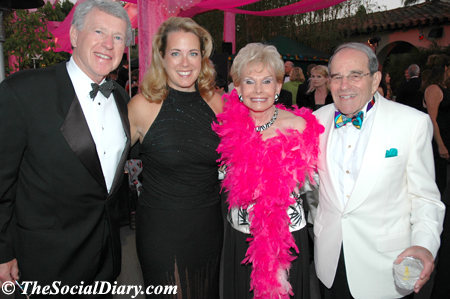 Harry and Teresa Hixson with Lee and Frank Goldberg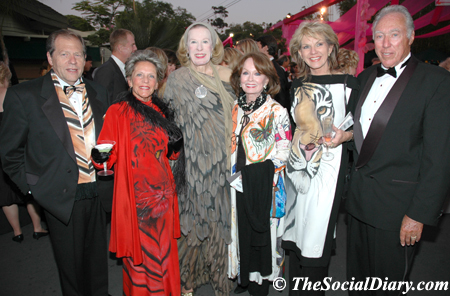 A bevy of beauties in Jordan Designs accompanied by their men
Jordan the designer on the right with fellow Jordan collectors ** Lisa
Lou Spisto with Guest ** Sally and John Thornton
Lisa with Ellen Zinn ** Margo Schwab in Shai with vintage bakelite bangles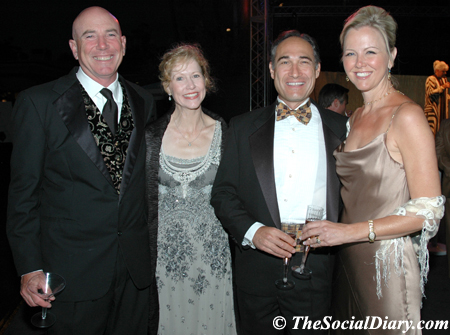 Nico and Caroline Nierenberg with Reid Abrams and Micki Olin
Scott Johnston in a custom J. Jenniene Satin Jacket
* Margo Schwab has produced, written, interviewed and photographed for various media organizations since 1989. Schwab attended Holton Arms School, La Jolla Country Day School and La Jolla High School. Schwab has a B.A. from Scripps College and a Masters of Business degree, M.B.A., from the University of San Diego. Schwab volunteers for numerous charity organizations. She also continues to lobby for water safety and for family violence mitigation. Schwab is the editor of The Social Diary. Margo is currently writing a book based on La Jolla.
Warning ** photos, video and writing on this site are the
copyright of The Social Diary, San Diego Social Diary, margomargo.com and Margo Schwab.
no reproduction of any part or parts is allowed without written permission by Margo Schwab