Red Rose Society
Hosts Luncheon
at Bistro 101
The Red Rose Society invite said casual for lunch September 9th, 2009. The location atmosphere was casual too at Bistro 101 in Encinitas.
Red Rose Society Founder Jeanne Jones came in pretty blue 'sweats.' Mary Walker came dressed to the nines. She was headed to the Del Mar Race Track afterwards.
The event had a more serious purpose than dress attire though.
"The American Red Cross's Red Rose Society is dedicated to helping San Diego and Imperial Counties become America's most prepared communities. The mission of the Red Rose Society is to work in partnership with the Red Cross and support the local chapter by advocating preparedness, increasing community awareness of the Red Cross, and fundraising."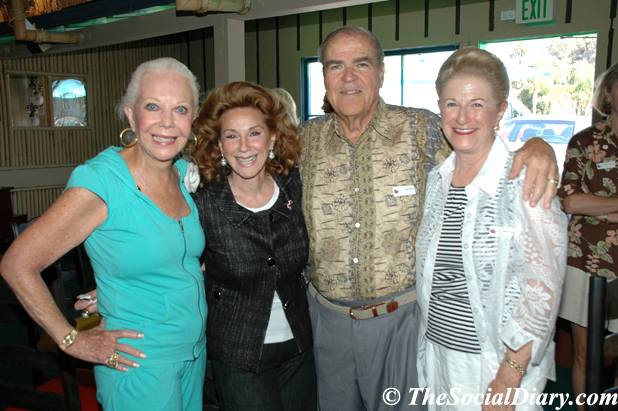 Jeanne Jones with Reena Horowitz, and Jack and Judy White
And the Red Rose Society raises big funds for emergency response vans. Nine vehicles have been purchased so far to help San Diegans in need.
More there supporting this worthy cause were Toni Bloomberg, Joye Blount, Mary Bradley, Debra Turner, Valerie Cooper, Karen Fox, Ann Otterson, Marilyn Creson Brown, Judy Burer, Joe Craver, Dixie Unruh, Erna Viterbi, Reena Viterbi, Elaine Lipinsky, Judy and Jack White, the designer Jordan, Judy Moffson, Joyce Gattas, Doreann Gibson, Lee Goldberg, June Barrymore-Ash, Heidi Gutierrez, Vicky Holly, Jeanne Jones' husband Don Breitenberg, and Chris Marek.
Chris is the Chief Officer, Development and Communications, American Red Cross, San Diego/Imperial Counties Chapter.
Jeanne Jones later described the day and its purpose. "The Red Rose Society is a support group for the American Red Cross Chapter for San Diego and Imperial County. The sole purpose of this group is to provide the necessary funds for needed emergency response vehicles, such as passenger vans, canteens, communication vans, on- site trailers and any other type of vehicle the chapter needs. In only four years this small, but dedicated group has raised the money for nine such vehicles, all emblazoned with the Red Rose logo. For more information on the Red Rose Society go to Red Rose Society.org or call Chris Marek at (858)309-1217.
Bistro 101, a fabulously funky restaurant near the ocean in Encinitas was both an unusual and successful venue for the last Red Rose Society event. The attire was beach casual and the menu started with sushi followed by a tasty curried tuna salad and a scrumptious orange parfait for dessert. The extremely entertaining musical program following lunch was provided by alumni of the Master of Fine Arts in Musical Theatre department at San Diego State University. The singers were directed by Dr. Rick Simas, a musical theatre specialist and long time guiding light of this extraordinary group. The Liza Minnelli impersonation received a standing ovation!"
Jordan agreed and added this. "The Red Rose Event was such fun! The Red Rose Society is a great concept for a great cause, the Red Cross, and Jeanne comes up with unusual fun get away's. I can't wait to see what she comes up with for the next one."
and
As Red Rose Society Founder Jeanne Jones says:
"The people we help through the Red Rose Society could one day be ourselves."
To learn more about the American Red Cross San Diego/ Imperial counties Chapter and future Red Rose Society events, please visit, www.sdarc.org
And be prepared too. Visit www.PrepareSanDiego.org
Please enjoy the photos
If you wish to purchase photos, please email your inquiry. No downloading of photos without express written permission by The Social Diary thank you.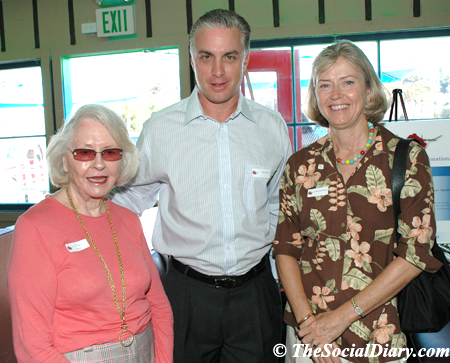 June Barrymore-Ash with Chris Marek and Marilyn Brown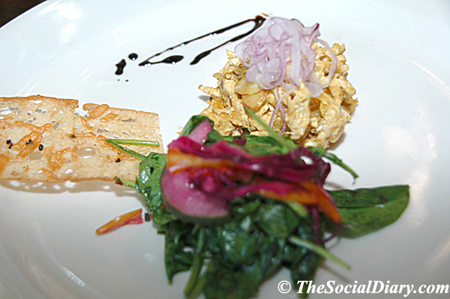 Bistro 101 Tuna Curried Salad and Greens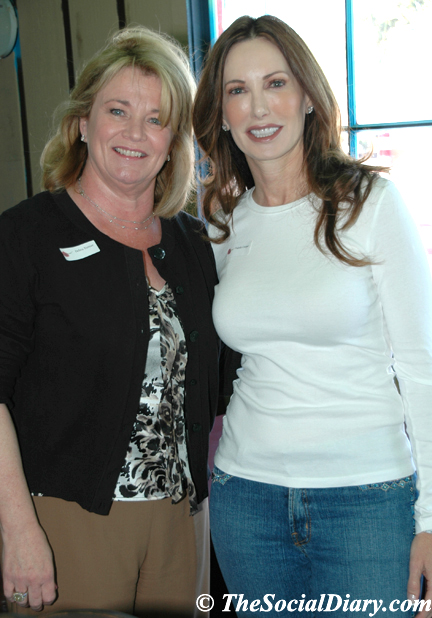 Debra Turner with Valerie Cooper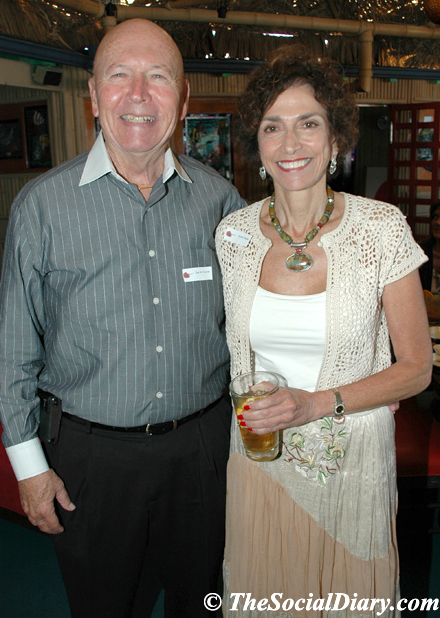 Joe Craver with Joyce Gattas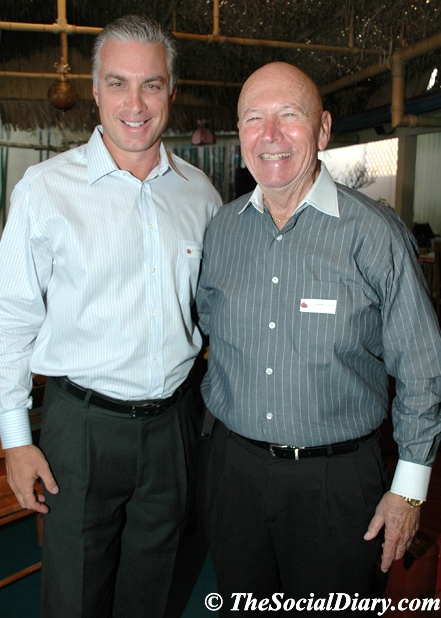 Chris Marek with Joe Craver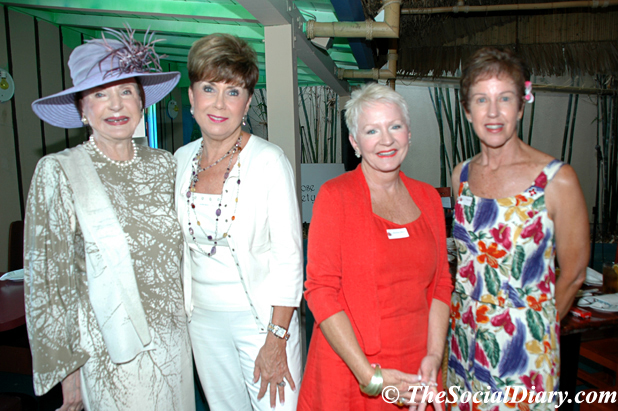 Mary Walker with Guests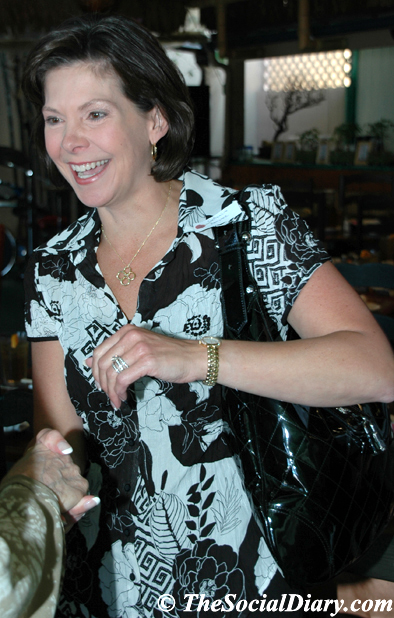 Cathryn Ramirez of Tiffany's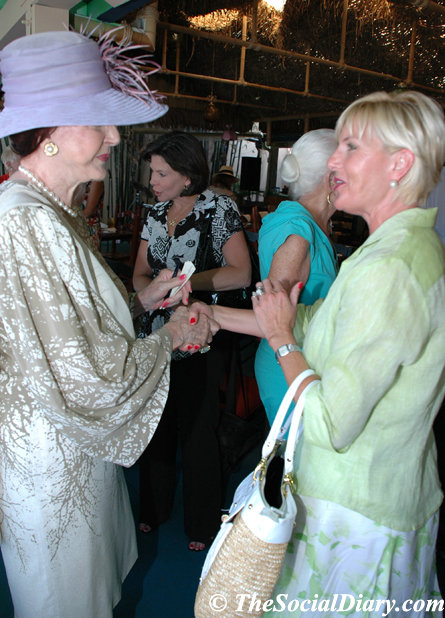 Mary Walker with Joye Blount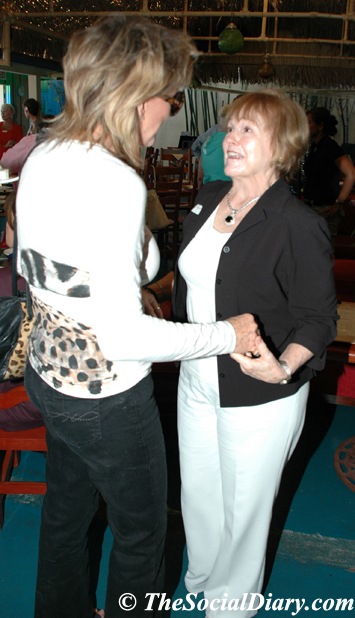 Jordan with Dixie Unruh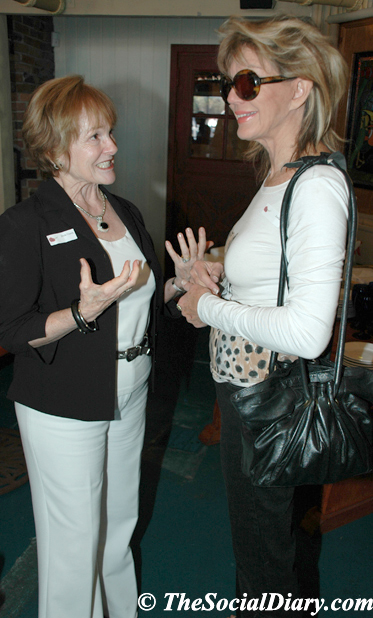 Dixie Unruh with Jordan
reported by Margo Schwab
reported by Margo Schwab
The Buzz
Some generous San Diegans supported amfAR in Milano, Italy during Milano's fashion week. David Copley was there and so was Tanya and Charles Brandes. The event took place September 28th, 2009 at La Permanente Milano. The cup did runneth over that night... Dita Von Teese performed... you know the gal who is famous for her performance out of a big sized champagne cup... she is also known for other big burlesque sized cups....
The Event Chairs for the event included Linda Evangelista, and Janet Jackson. Also sighted was designer Donatello Versace.
amfAR events have raised over $50 million for critical AIDS research programs.
..................
on the Gorilla front....
Mary Drake, animal lover that she is, had quite the trip to Uganda this summer to view the gorillas. She was accompanied by Stephen and Rex Romande. By the way, the Romandes are expecting a baby, a human baby not a gorilla.
Upcoming Events
October 16th - The Rainforest Alliance will host its gala.
October 17th - Sundt Memorial Fundraiser.
October 17th - The Rancho Coastal Humane Society will host its Animal House fundraiser. For details please visit
http://rchumanesociety.org/event_details.asp?ID=62
October 22nd - The Walden Family Services will host their 6th Annual wine D'Vine event. Please visit www.waldenfamily.org for more details.
October 24th - A Reason To Survive or ARTS will be hosting a fun fundraiser. Please visit www.AReasonToSurvive.org for details.
November 7th - The Golden Hangers / FCC benefit for Make-A-Wish and San Diego Variety Children's Network.
November 13th - Scripps Mercy Hospital will host its 2nd Annual 'Dressed to the Nth Degree' evening featuring San Diego's 10 best dressed women and 10 best dressed men as chosen by Leonard Simpson. Michael Neil will be the Honorary Chair. For details and tickets please visit:
http://www.scripps.org/events/an-evening-of-glitz-glamour-and-more

____________________________________________________________
Photoshopping and Photography Services
Photos on this website available if it is of you
available by The Social Diary
~ 619-384-7333
email TheSocialDiary.com
_______________________________________________________________
Email Commentary to be added
email editor@thesocialdiary.com
* Margo Schwab, more formally known as Margaret E. Schwab, has produced, written, interviewed and photographed for various media organizations since 1989. Schwab attended Holton Arms School, La Jolla Country Day School and La Jolla High School. Schwab has a B.A. from Scripps College, spent a business internship with S.A.I.C., Science Applications International Corporation, and earned a Masters of Business degree, M.B.A., from the University of San Diego. Schwab additionally took college courses from Harvard University, and Syracuse University. Schwab volunteers for numerous charity organizations. She also continues to support animal organizations and the prevention of people and animal abuse. Schwab is the editor of The Social Diary.
Margo Schwab and Scott Johnston of the Social Diary are pleased to announce partnerships with the San Diego Humane Society, San Diego News Network and now, San Diego Home & Garden Magazine.
The Social Diary would like to say a special thank you to our advertisers.
H. Moradi Jewelers on Prospect Street in La Jolla
San Diego Opera
The Museum of Contemporary Art San Diego
Judith C. Harris, Blair Harris, and Robert Singer, MD supporting the
Dian Fossey Gorrilla Fund International
Dr. Laurie Marker of The Cheetah Conservation Fund
Pat O'Connor of Fashion Careers College
Pamela Pogue of Juelerie
Kary Favish of the Worth Collection
Diana Cavagnaro of Designer Millinery
Jacqueline and Matt Rimel of Rimel's Rotisserie, Zenbu Sushi and Restaurant, & Home Grown Meats
Jordan of Jordan Art Couture
Lizz Russell of The Lizz Russell Collection
Gary Parker of WineSellar & Brasserie
Chef Pasquale of Cafe Milano
Alex Gonzalez of Mercedes Benz of San Diego
Diane Bousquin of Holistic Traditions
Kevin Smith of Extreme Pizza in La Jolla
Jeremiah Sullivan of Neptunic Sharksuits
Drs. Sue and John Morizi of The Animal Hospital of La Jolla
Jemima Garcia Dutra of Dutra Designs
Eugene Ladopoulos of Mistra Estates Olive Oil
Warning ** photos, video and writing on this site are the
2009 copyright of The Social Diary LLC and its subsidiaries.
no reproduction of any part or parts is allowed without written permission by The Social Diary