Jungle Masquerade Patrons Go 'Wild' for the Rainforest

It was a 'wild, jungle' as guests entered the Seaside Forum at the Scripps Institution October 16th, 2009. Appropriately so too.
The party theme was Jungle Masquerade. The benefit was for the Rainforest Alliance. As such guests came wild. Painted faces, feathered hair, and jungle accessories were à la mode. Translation, Jungle Chic!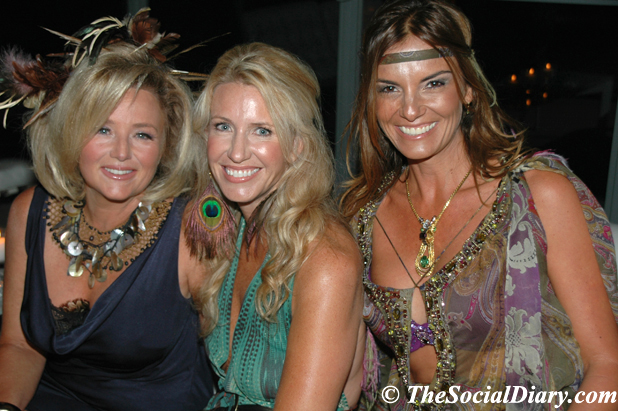 Co-Chairs Kerri Smith, Molly Eldredge, and Cecilia Aguerre


Living accessories there included pythons, a favorite for guests to pose for pictures with, and bright feathery birds.
Guest Malgorzata Wieteszka-Slocumb had this to say. "Loved the parrots and especially the snakes! They loved my feathers too! One climbed all over me and "hid" in my collar!" Malgorzata designed her feathered organza coat that nature embellished.
Other guests there enjoying the coastal views at sunset included Tiffany and Casey Brown, Ted Waitt, Fernando Aguerre and Florencia Gomez Gerbi, Mimi and Craig Swenson, designer Yigal Azrouel, Lise Wilson and Steve Strauss, Meredith and Jomo Raymond, Tricia and Don Alessio, Maite and Ron Soltero, Jill and Tom Mullen, Terrence Frogg in fabulous green, Kima Schwab in a leopard gown by Jemima Dutra, 'Salsa Maestra' Yolanda Walther-Meade, Julieanna Erickson, Will Wynn, and Juliet Singh.
A number of gals opted for short and very sexy attire. Among the jungle gals were Nancy O'Connor, Courtney Cicourel, Dawn Davidson, Miriam Smotrich in leopard sequined Roberto Cavalli and thigh high boots, and Kerri Smith.
Kerri served as co-chair of the event. She too had thigh high boots. Hers were cheetah print. Kerri said she got them on Ebay for a whopping 25 bucks!
Kerri's co-chairs were Cecilia Aguerre, she wore a suede short number, and Molly Eldredge. Molly wore long Bohemian chic.
Entertainment was provided by Tony Suraci (in from L.A.) and his musicians, and the incredible Dragon Knights Stilt Theatre. The half human puppets were silently entrancing.
Giuseppe catered the cocktail party and the dinner. There were sliders and all sorts of sustainably correct, locally grown cuisine. Whole Foods donated Rainforest Alliance Certified coffee and chocolate, and Williamette Valley Vineyards, famous for their Pinot Noir, donated wine with Rainforest Alliance Certified cork from Portugal. The party was organized by Pacific Events. Throughout 'the jungle' there were simple tropical floral arrangements, candles, and white lounging sofas.
More there enjoying the fun included Miriam Smotrich's husband David Smotrich, he wore a feathery mask as did Miriam. Cecilia Aguerre's husband Santiago opted for a blue leopard painted face to go with his blue leopard outfit. It gave him that 'Liquid Tribe' look. Molly Eldredge's husband Ted wore a grass skirt with furry headdress. Kerri Smith's husband Drew came as the 'King of the Jungle'. He wore a full length faux leopard cape. Scott Johnston wore 'Ace Ventura Pet Detective' gear and a press pass to the world premiere of George of the Jungle. Wrong continent for gorillas Ace.
Dancing went until 2 am with the party dance beats provided by DJ Scooter and a live drummer.
Among the auction items were Ecoventura tours to the Galapagos Islands. Two trips were sold for a cool $6,000 each.
All fun for an important cause.
"We're so proud of this effort," said co-chair and Rainforest Alliance Board member Kerri Smith. "But more importantly, every dollar raised here tonight translates to $63 dollars by the time it hits the ground on a farm or in a forest in Ghana, Russia, Columbia or Laos. It changes lives and preserves the natural world. We hope that everyone here tonight knows that they made the world a better place. Can a crazy jungle party change the world? Yes. It really can. We have."
The Rainforest Alliance's mission is "to conserve biodiversity and ensure sustainable livelihoods by transforming land-use practices, business practices and consumer behavior."
Sponsors for this event also included Jaguar Vodka, Sierra Nevada, Fours Seasons Hotels and Resorts, and National Geographic Adventure Magazine.
If you wish to purchase photos, please email your inquiry. No downloading of photos without express written permission by The Social Diary thank you.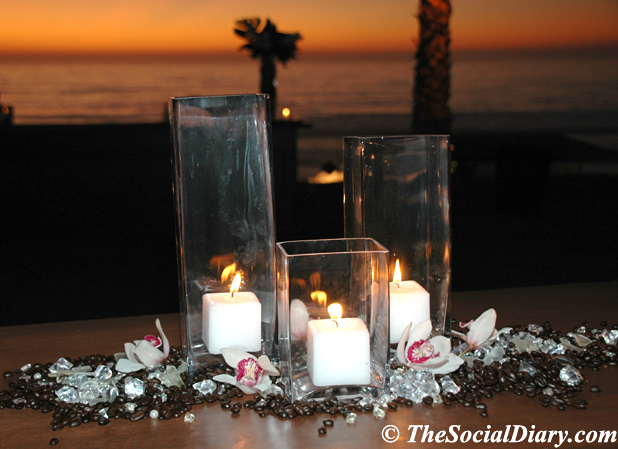 The Sun was setting and the 'wild' ones came out to support the Rainforest Alliance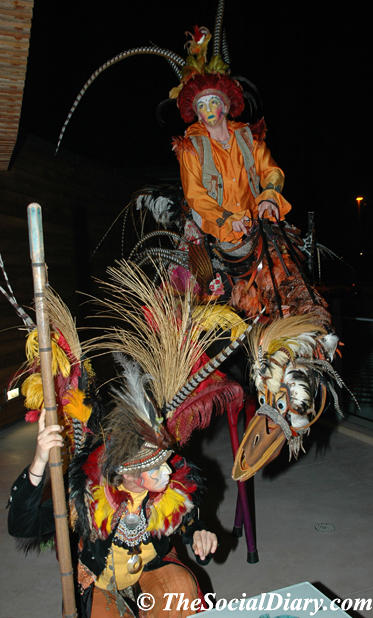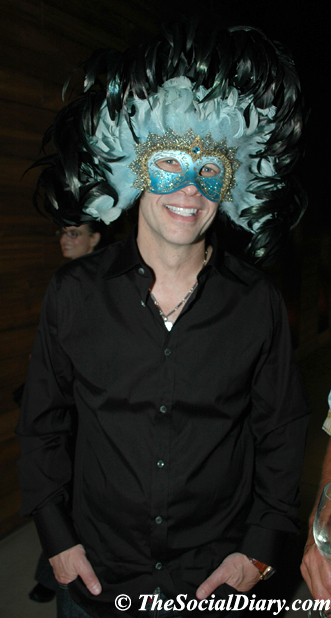 The Stilt performers ** David Smotrich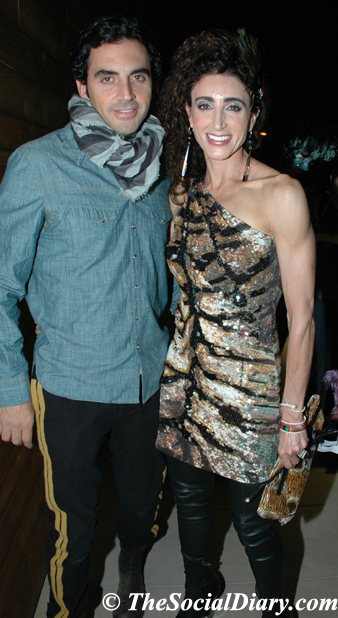 Yigal Azrouel with his sister Miriam Smotrich ** Nancy O'Connor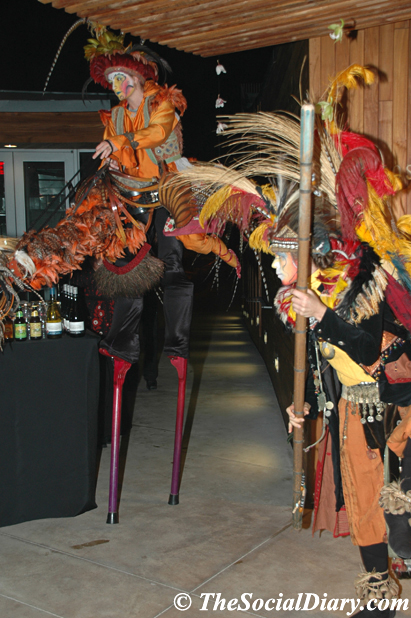 Performers ** Miriam Smotrich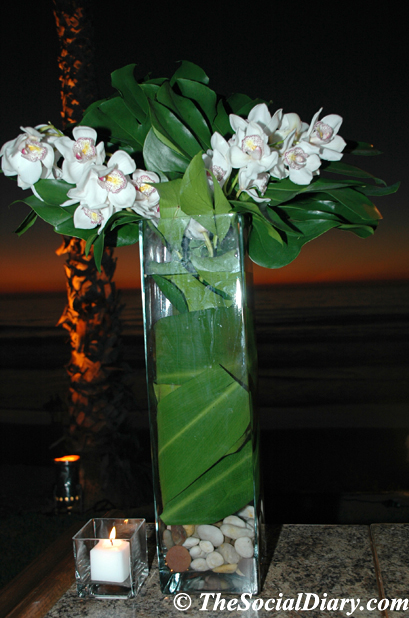 An exquisite floral arrangement by Pacific Events ** Yolanda Walther-Meade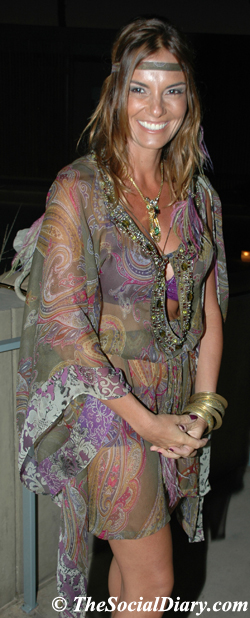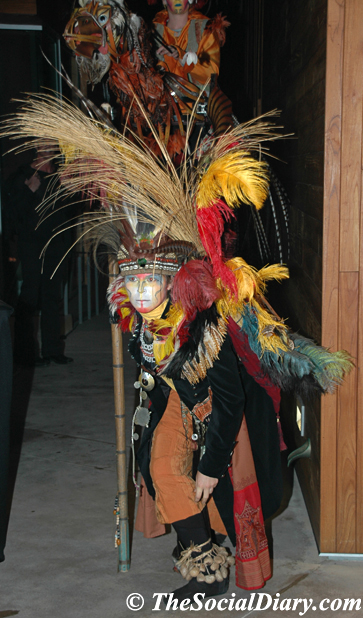 Cecilia Aquerre ** A stealthy Rainforest scout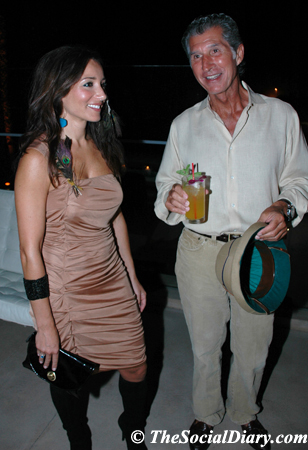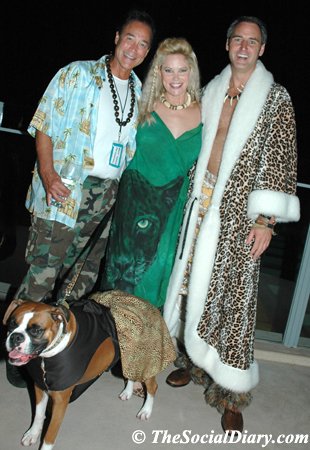 Salem Ciuffa with Roberto di Gregorio ** Scott Johnston, Margo Schwab and Kima with Drew Smith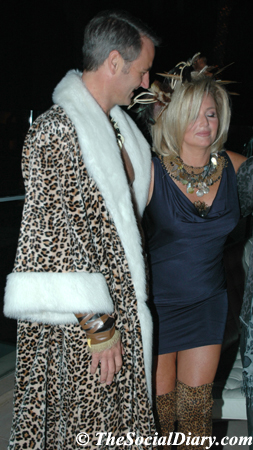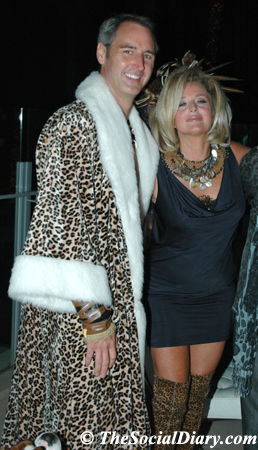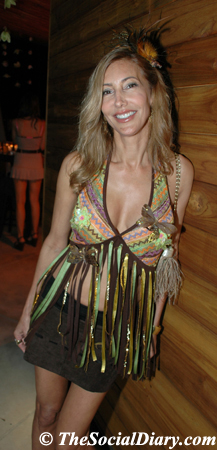 Drew and Kerri Smith ** Nancy O'Connor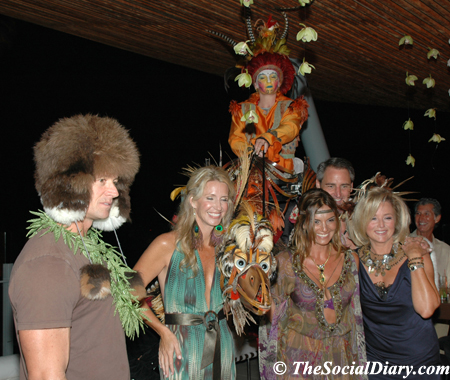 The Party Scene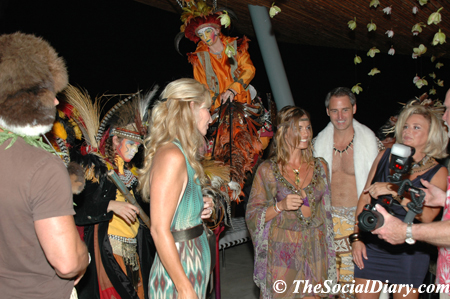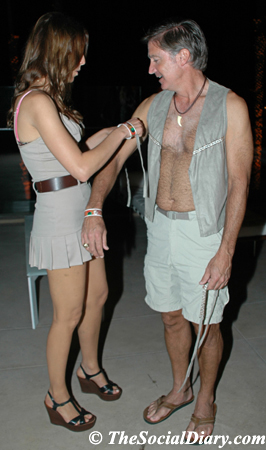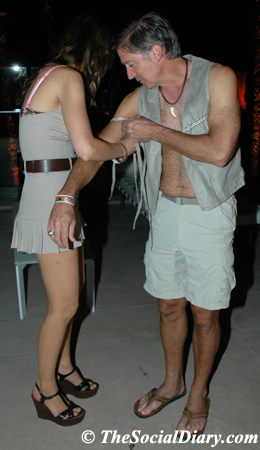 Courtney Cicourel helping Will Wynn with his arm ties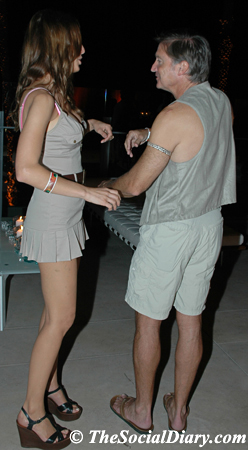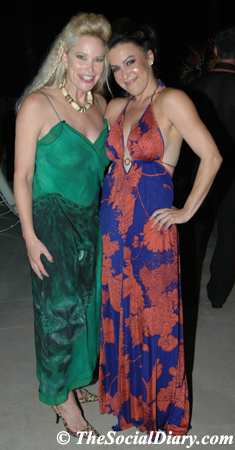 .... and Courtney Cicourel did a great job! ** Margo Schwab with Yolanda Walther-Meade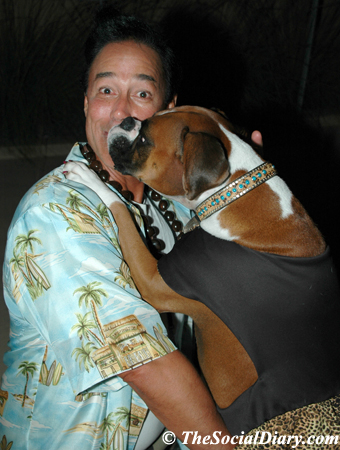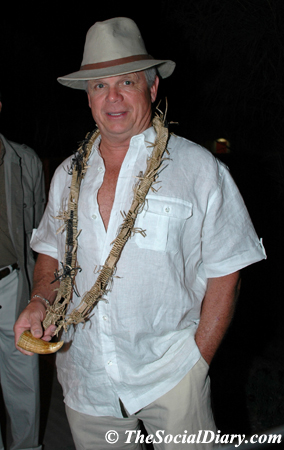 Scott Johnston getting wild kisses from Kima! ** Craig Swenson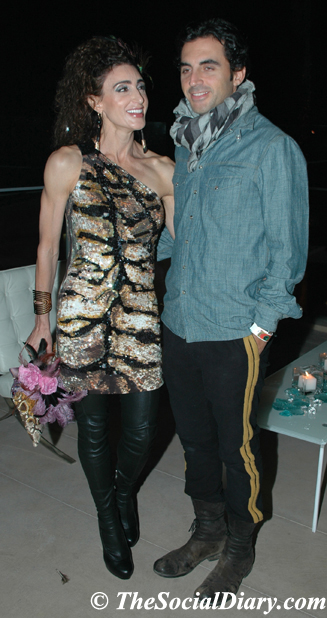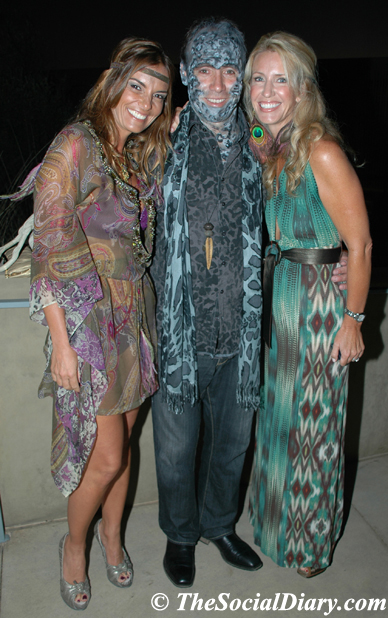 Miriam Motrich with Yigal Azrouel ** Cecilia and Santiago Aguerre with Molly Eldredge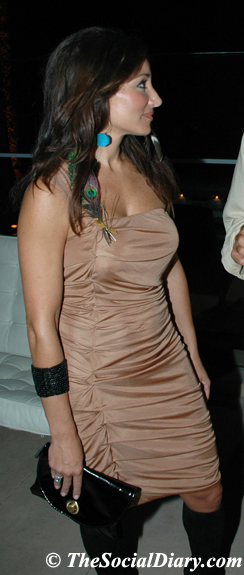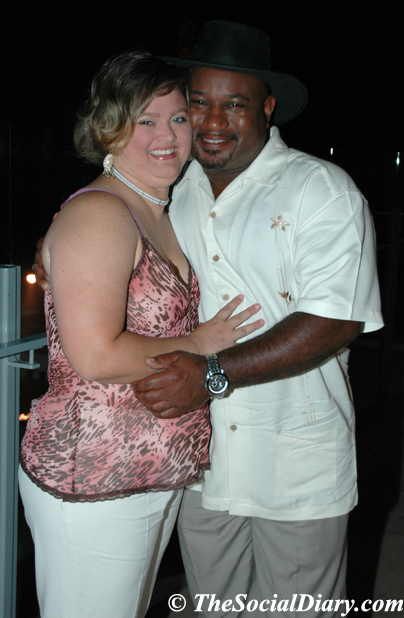 Salem Ciuffa ** Meredith and Jomo Raymond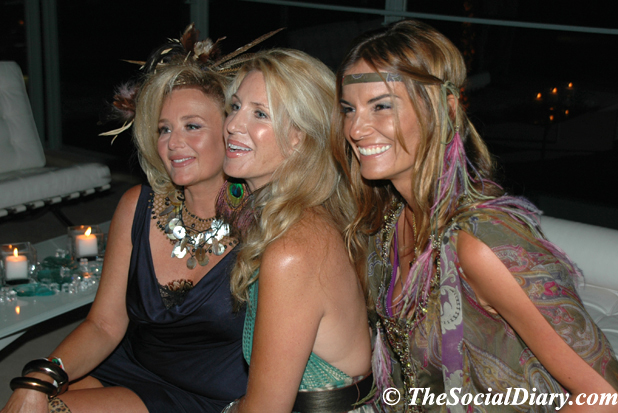 Kerri Smith with Molly Eldredge and Cecilia Aguerre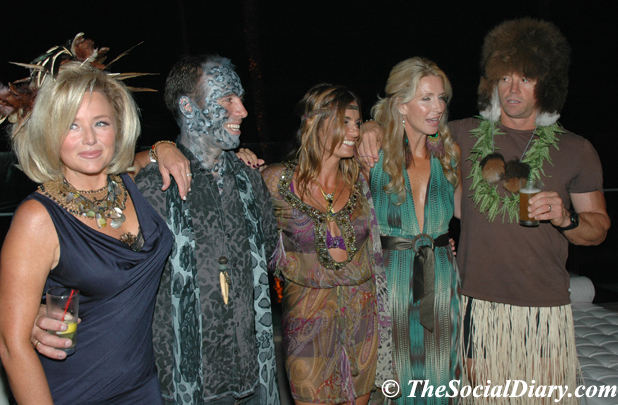 Kerri Smith with Santiago and Cecilia Aguerre, and Molly and Ted Eldredge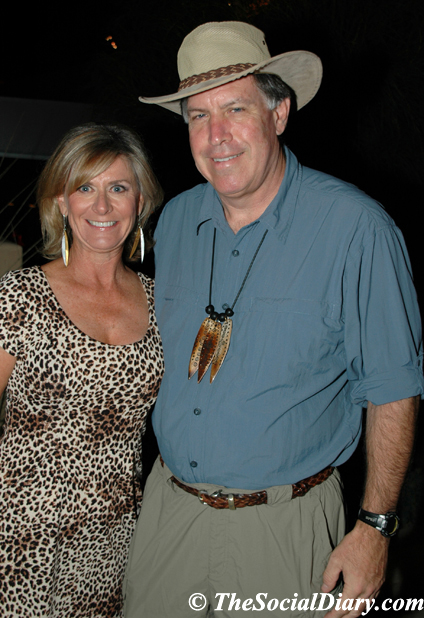 Chris and Craig Andrews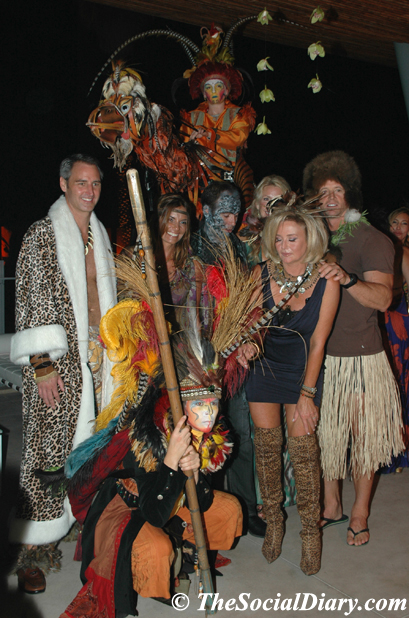 The Scene ** Miriam Smotrich in Jungle Masquerade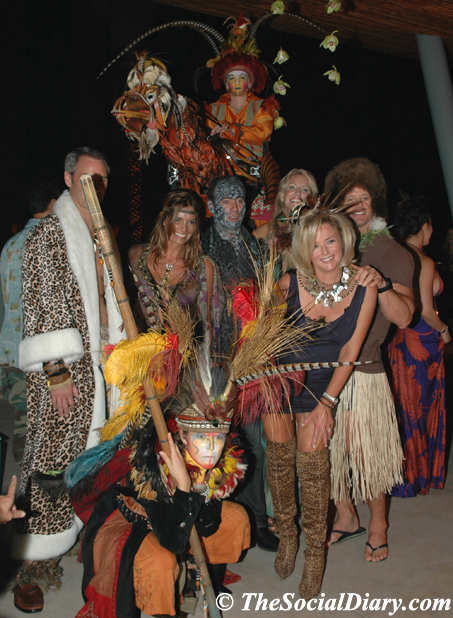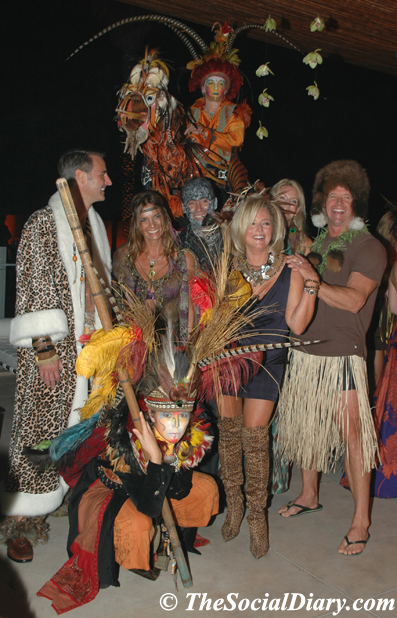 More Party Fun ** Yolanda Walther-Meade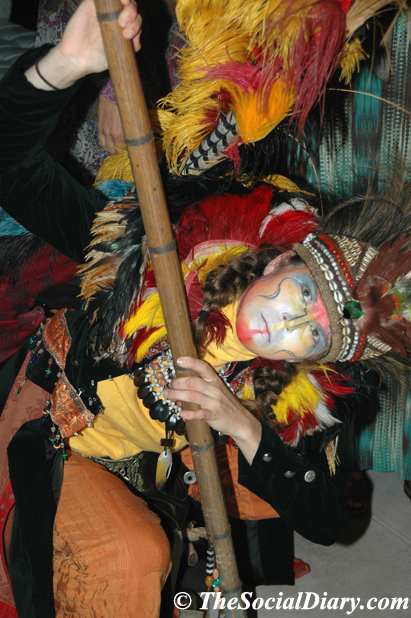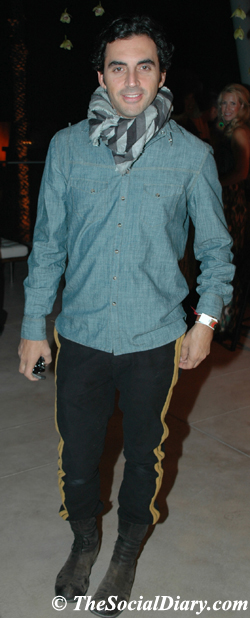 The Mystical Man ** Yigal Azrouel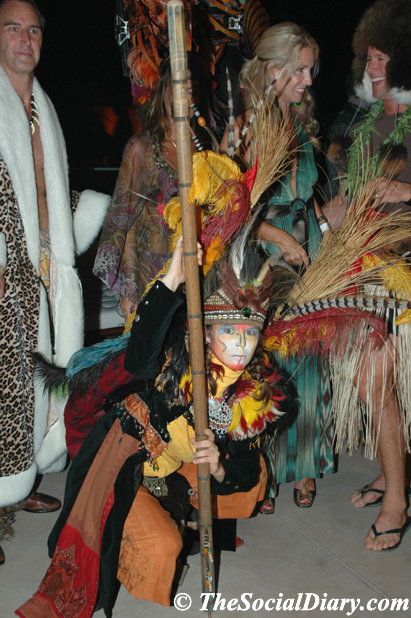 The Stare! ** Dawn Davidson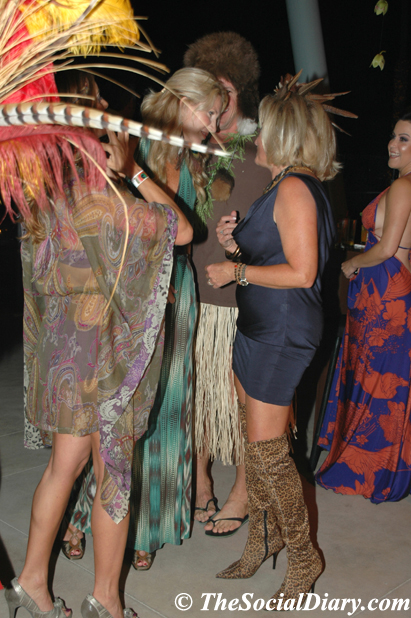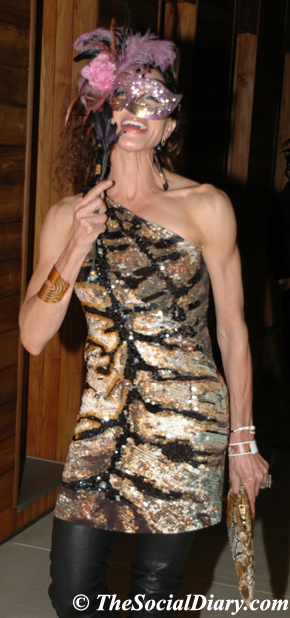 The Co-Chairs ** Miriam Smotrich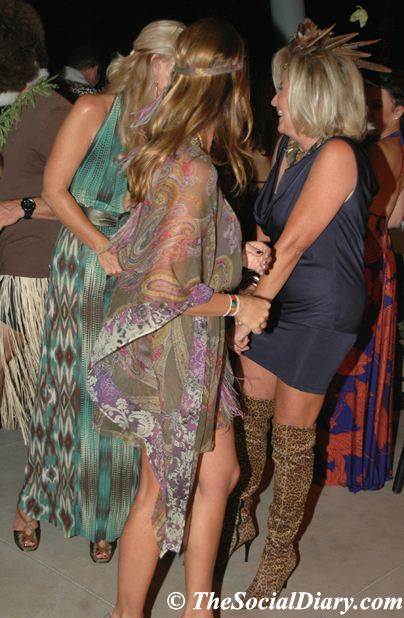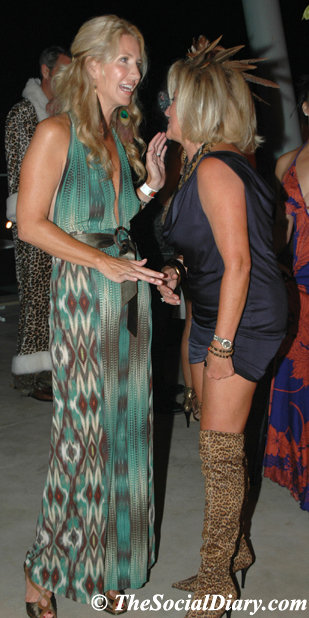 The Co-Chairs Molly Eldredge, Cecilia Aguerre and Kerri Smith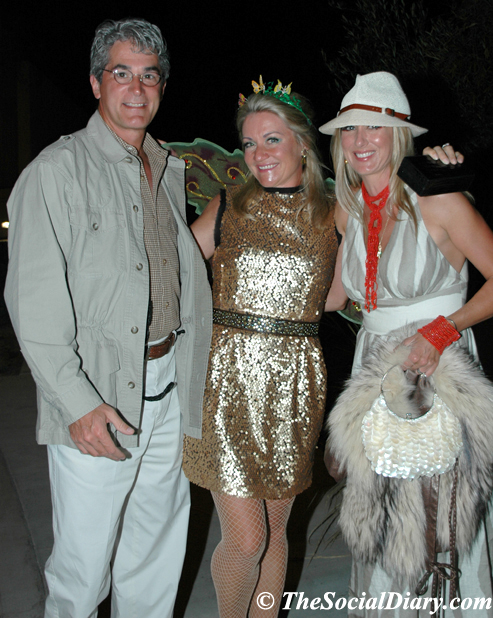 Tom and Jill Mullen with Julieanna Erickson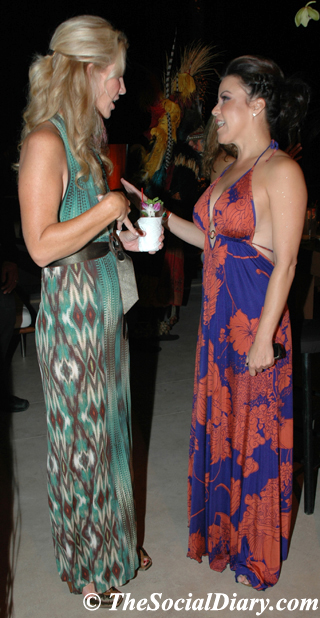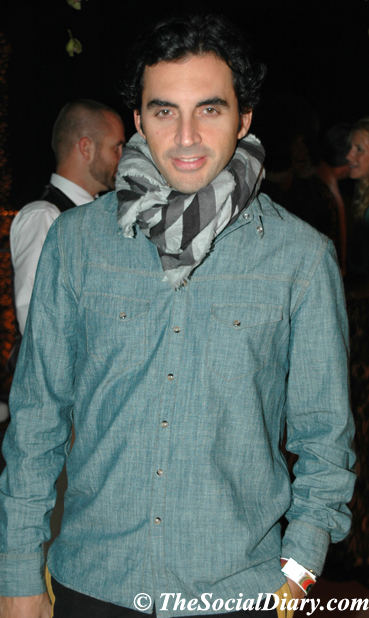 Molly Eldredge with Yolanda Walther-Meade ** Designer Yigal Azrouel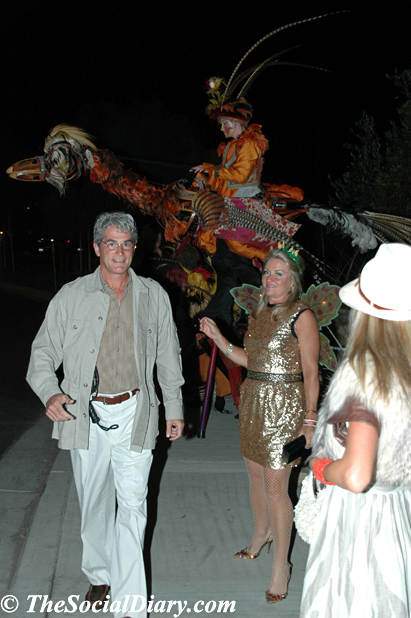 Tom and Jill Mullens watching the 'Rainforest Bird'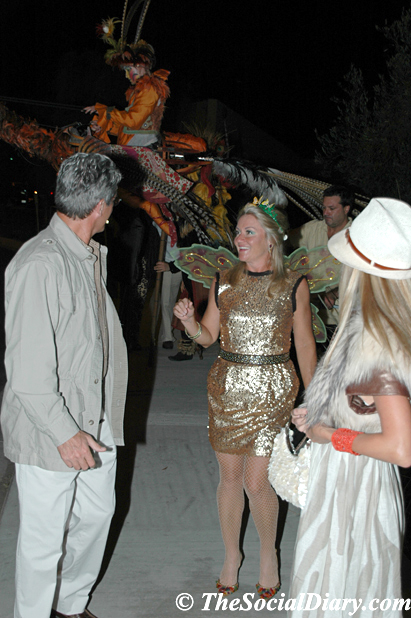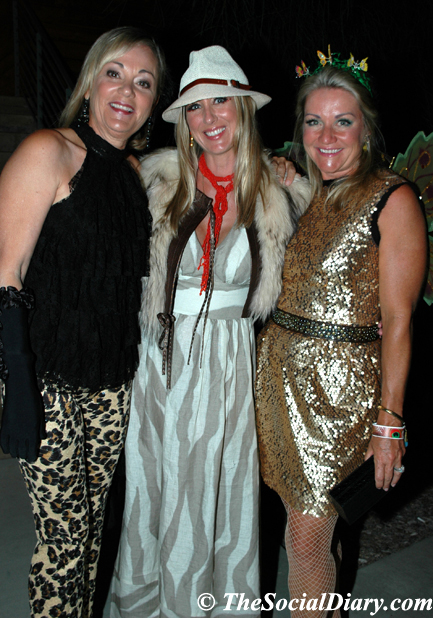 Mimi Swenson with Julieanna Erickson and Jill Mullen
and a few more photos from Santiago Aguerre and friends...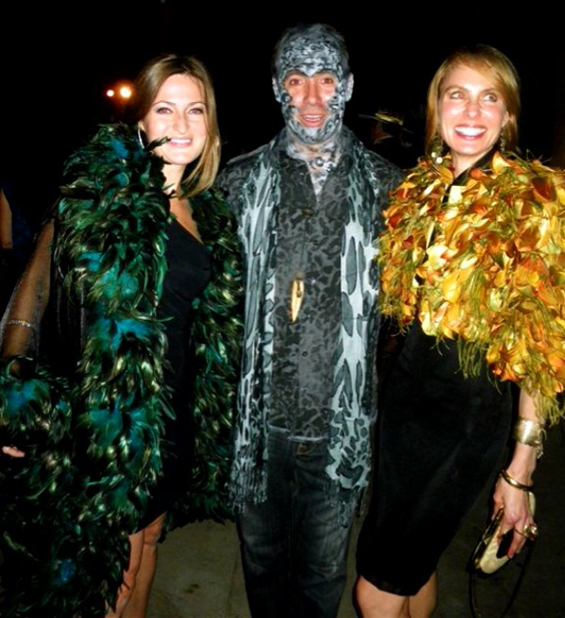 Malgorzata Wieteszka-Slocumb with Santi Aguerre, and Lauren Krause-Garbarcz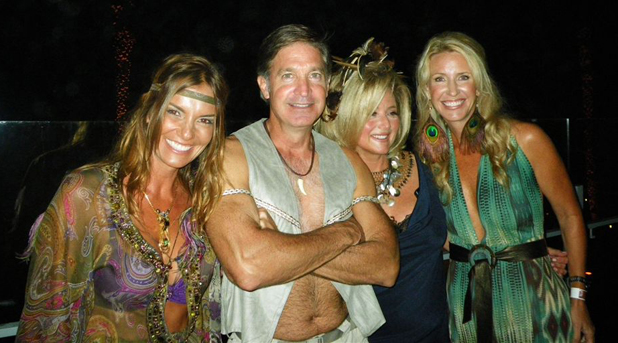 Cecilia Aguerre with Will Wynn, Kerri Smith and Molly Eldredge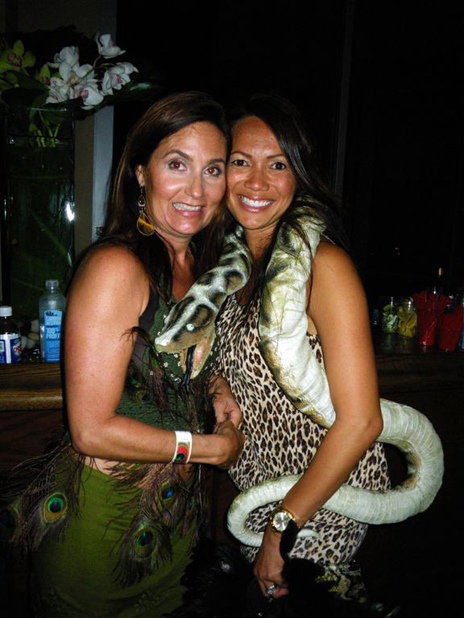 'Monty' Python and the Girls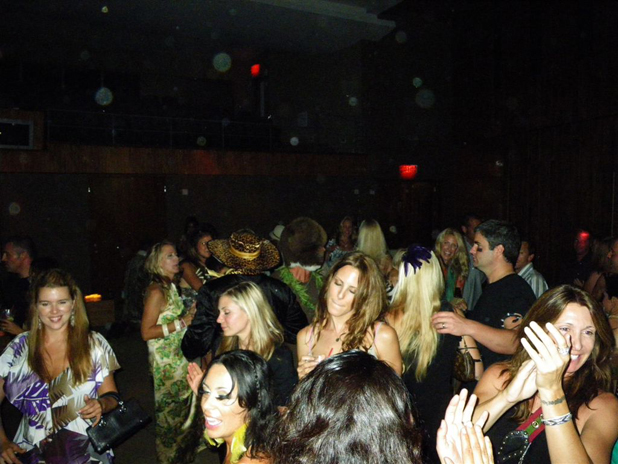 The Dance Scene into the Night......
To learn more about the Rainforest Alliance, visit www.rainforest-alliance.org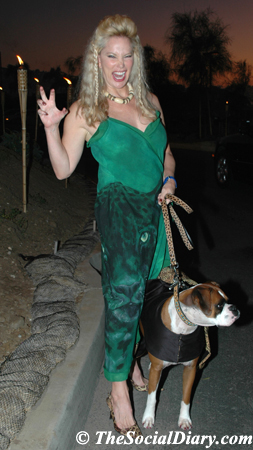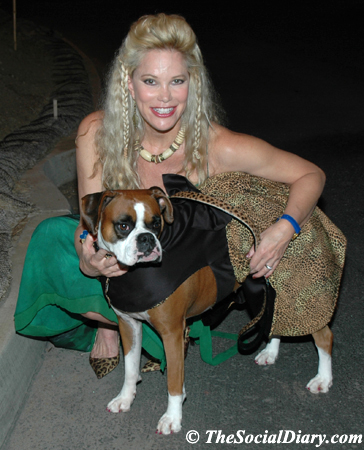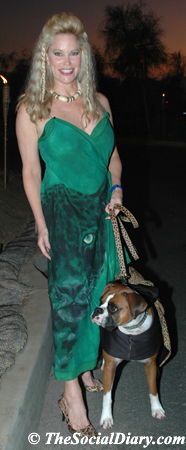 reported by Margo Schwab in a Jordan 'Panther' one of a kind dress, Scott Johnston aka 'Ace Ventura Pet Detective,' and Kima in a leopard gown by Jemima Dutra
The Buzz
Local Ted Waitt not only supports the Rainforest Alliance and National Geographic.... he also is integral in a current movie. Think adventurous and expedition. Yes, Ted is one of the lead producers of the about to be released movie Amelia starring Hillary Swank.
The world premiere of the movie was Tuesday night in NYC. Ted will additionally be celebrating with close friends at a private screening and after party. Congrats to Ted!
.............
Speaking of NYC, a few San Diegans zipped off to NYC for the much acclaimed Broadway debut of La Jolla Playhouse's Memphis. Among the mix, Sheri and Stuart Jamieson, and David Copley. David is a major producer of the hit show!
.............
Speaking of hits.... a certain La Jolla gal just celebrated her birthday with an intime bash at her mother's La Jolla Farms home. The full Wayne Foster Orchestra performed, guests came as their favorite icon, and the leggy birthday girl herself performed a dance number for guests.... over the top, fun ...pretty much employed an army for this party that went off like perfection.
Yummy Romance at Tapenade with the San Diego Opera
.......................
The San Diego Opera is pleased to announce the return of "Taste of Opera,"at some of San Diego's hottest restaurants.
Coming up....
Tapenade, La Jolla
Wednesday, October 28, 2009 at 6:30 PM, 7612 Fay Avenue, La Jolla.
Join Dr. Nicolas Reveles as he talks about romantic French operas and Romeo and Juliet.
$40 per person for 1 glass wine, prix fixe menu, tip & tax.
visit Taste of Opera for details.
Upcoming Events
October 16th - The Rainforest Alliance will host its gala. It promises to be 'wild' fun!
October 17th - Sundt Memorial Fundraiser.
October 17th - The Rancho Coastal Humane Society will host its Animal House fundraiser. For details please visit
http://rchumanesociety.org/event_details.asp?ID=62
October 22nd - The Walden Family Services will host their 6th Annual wine D'Vine event. Please visit www.waldenfamily.org for more details.
October 24th - A Reason To Survive or ARTS will be hosting a fun fundraiser. Please visit www.AReasonToSurvive.org for details.
October 28th - Tapenade, La Jolla at 6:30 PM
7612 Fay Avenue, La Jolla. Join Dr. Nicolas Reveles as he talks about romantic French operas and Romeo and Juliet.
$40 per person for 1 glass wine, prix fixe menu, tip & tax.
visit Taste of Opera for details.
November 7th - The Golden Hangers / FCC benefit for Make-A-Wish and San Diego Variety Children's Network.
November 13th - Scripps Mercy Hospital will host its 2nd Annual 'Dressed to the Nth Degree' evening featuring San Diego's 10 best dressed women and 10 best dressed men as chosen by Leonard Simpson. Michael Neil will be the Honorary Chair. For details and tickets please visit:
http://www.scripps.org/events/an-evening-of-glitz-glamour-and-more

____________________________________________________________
Photoshopping and Photography Services
Photos on this website available if it is of you
available by The Social Diary
~ 619-384-7333
email TheSocialDiary.com
_______________________________________________________________
Email Commentary to be added
email editor@thesocialdiary.com
"mucho caliente mujeres in the rainforest!" - Ralph Castro

Thank you for such a cool and smart write-up.
It was my goal to bring this party a little closer to the cause (that's what engages people- truth is, as you know better than anyone, anyone can throw a great party if they're willing to spend enough money. I like this party because it's global, fun and more about the guests)
Thank you for shining some light on the Rainforest Alliance and our crucial work. - Kerri Smith
Great coverage on the Rain Forest Alliance.....but what did I expect.....you are the best!!! - Ralph Starkweather


* Margo Schwab, more formally known as Margaret E. Schwab, has produced, written, interviewed and photographed for various media organizations since 1989. Schwab attended Holton Arms School, La Jolla Country Day School and La Jolla High School. Schwab has a B.A. from Scripps College, spent a business internship with S.A.I.C., Science Applications International Corporation, and earned a Masters of Business degree, M.B.A., from the University of San Diego. Schwab additionally took college courses from Harvard University, and Syracuse University. Schwab volunteers for numerous charity organizations. She also continues to support animal organizations and the prevention of people and animal abuse. Schwab is the editor of The Social Diary.
Margo Schwab and Scott Johnston of the Social Diary are pleased to announce partnerships with the San Diego Humane Society, San Diego News Network and now, San Diego Home & Garden Magazine.
The Social Diary would like to say a special thank you to our advertisers.
H. Moradi Jewelers on Prospect Street in La Jolla
Valerie and Harry Cooper, Patrons of the San Diego Opera
Valerie and Harry Cooper, Patrons of The Museum of Contemporary Art San Diego
Judith C. Harris, Blair Harris, and Robert Singer, MD supporting the
Dian Fossey Gorrilla Fund International
Dr. Laurie Marker of The Cheetah Conservation Fund
Pat O'Connor of Fashion Careers College
Pamela Pogue of Juelerie
Kary Favish of the Worth Collection
Diana Cavagnaro of Designer Millinery
Jacqueline and Matt Rimel of Rimel's Rotisserie, Zenbu Sushi and Restaurant, & Home Grown Meats
Jordan of Jordan Art Couture
Lizz Russell of The Lizz Russell Collection
Gary Parker of WineSellar & Brasserie
Chef Pasquale of Cafe Milano
Alex Gonzalez of Mercedes Benz of San Diego
Diane Bousquin of Holistic Traditions
Kevin Smith of Extreme Pizza in La Jolla
Jeremiah Sullivan of Neptunic Sharksuits
Drs. Sue and John Morizi of The Animal Hospital of La Jolla
Jemima Garcia Dutra of Dutra Designs
Eugene Ladopoulos of Mistra Estates Olive Oil
Warning ** photos, video and writing on this site are the
2009 copyright of The Social Diary LLC and its subsidiaries.
no reproduction of any part or parts is allowed without written permission by The Social Diary