~ The Social Diary ~
~~~~~~~~~~~~~~~~~~~~~~~~~~~~~~~~~~~~~~~~~~~~~~~~~~
Assael Reception for Prince Dimitri's Jewelry Designs at Neiman Marcus

June 8th , 2007
The Social Diary Columnist & Photographer Margo Schwab
(high resolution photos available by request )
On May 10th, 2007 the 'social must do' event in San Diego was a cocktail party held at Neiman Marcus Fine Jewelry Department to honor Assael's jewelry designer, Prince Dimitri of Yugoslavia.
Invited guests enjoyed a very personal meet and greet with Prince Dimitri, as well as perusing his internationally collected jewelry.
Think the finest of South Sea Pearls matched with superb diamonds, sapphires and more. But these designs are different. They meld royal tradition triumphantly with inspiring and fresh edginess. It's easy to see why Prince Dimitri's Jewelry is worn by the discerning who's who.
Among the guests mixing about fine jewelry and royalty were Carol Karlovitch, Jeanne Jones and Don Breitenberg, Joyce Glazer in an animal print Roberto Cavalli with her husband Ed, Mary Walker, Scott Johnston, newlywed Lyndy Carreiro, Paul Gay and a delightful sprinkling of other well dressed jewelry shoppers.
Guests enjoyed martinis and fine wine along with delightful nibbles from Betsy G. Catering. The tray passed hors d'oeuvres included herb crusted filet of beef tenderloin on brioche crostini drizzled with a cornichon tarragon sauce, ahi tartare on wonton chips topped with wasabi foam, endive filled with Isareli large pearl couscous sald with figs, apricots and saffron and espresso brownie bites sprinkled with gold dust. All delicious.
Joyce Glazer summed up the evening thusly. "Prince Dimitri's Jewels were awesome. Of course my favorite piece was the sapphire and pearl necklace. Marianne Kushi wore it on the KNSD morning program. It looked fabulous. The Prince was delightful and charming as well."
And delighted are the lucky ones who purchased Prince Dimitri's Jewelry that evening.
Prince Dimitri of Yugoslavia ** Don Breitenberg and Jeanne Jones
Models wearing Prince Dimitri's exquisite jewelry designs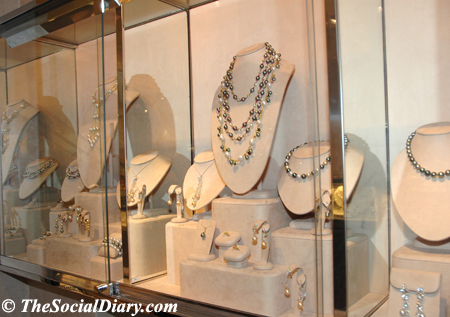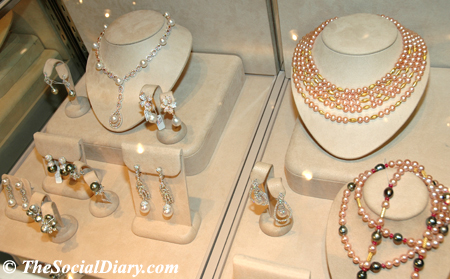 Ed and Joyce Glazer ** Betsy G. Catering
That fabulous South Sea Pearl Necklace with Superb Sapphires ** Betsy G. and Lyndy Carreiro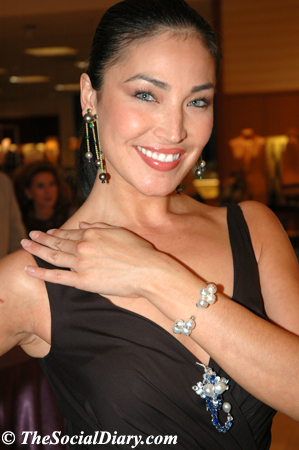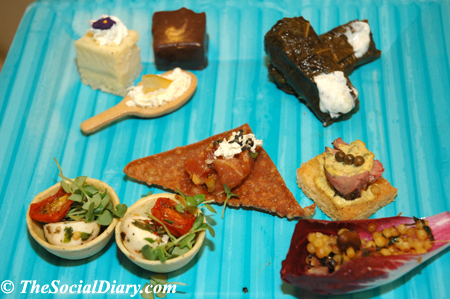 Pearl Perfection ** Paul Gay and Lyndy Carreiro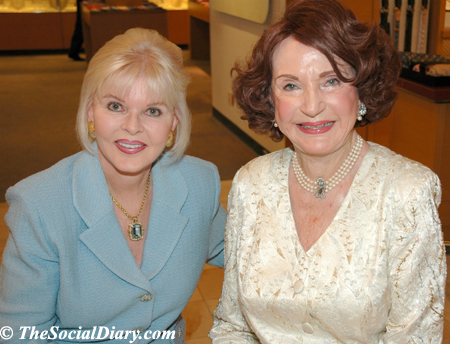 Carol Karlovich and Mary Walker
* Margo Schwab has produced, written, interviewed and photographed for various media organizations since 1989. Schwab attended Holton Arms School, La Jolla Country Day School and La Jolla High School. Schwab has a B.A. from Scripps College and a Masters of Business degree, M.B.A., from the University of San Diego. Schwab volunteers for numerous charity organizations. She also continues to lobby for water safety and for family violence mitigation. Schwab is the editor of The Social Diary. Margo is currently writing a book based on La Jolla.
back to New this Week.....Margo Schwab Archives...... Home
Warning ** photos, video and writing on this site are the
copyright of The Social Diary, San Diego Social Diary, margomargo.com and Margo Schwab.
no reproduction of any part or parts is allowed without written permission by Margo Schwab
Warning ** photos, video and writing on this site are the
copyright of The Social Diary, San Diego Social Diary, margomargo.com and Margo Schwab.
no reproduction of any part or parts is allowed without written permission by Margo Schwab