San Diego Social Diary LLC All rights reserved 2011 (This material may not be published, broadcast, rewritten or redistributed)
619-708-1933
Cuisine Club Delivers!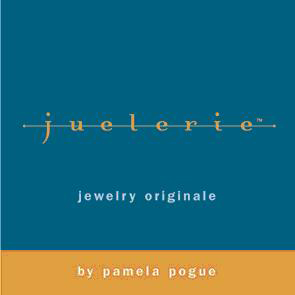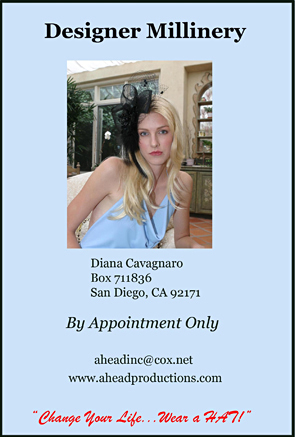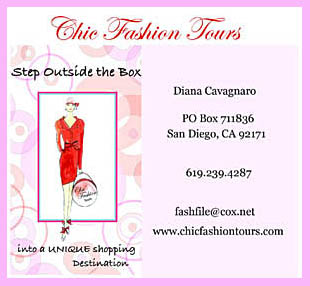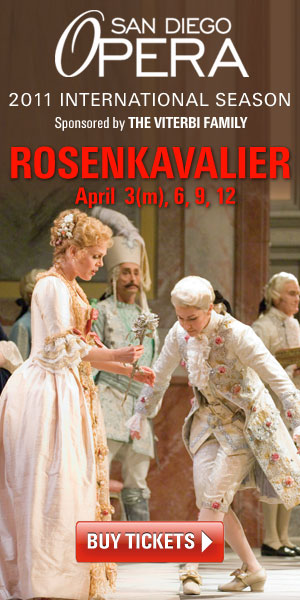 ________________________
Home Security Consultation
Services by Scott Johnston
619-384-7333
_______________________
SPECIALS EVERY DAY - Open 7am-3pm!
Homemade, Delicious Food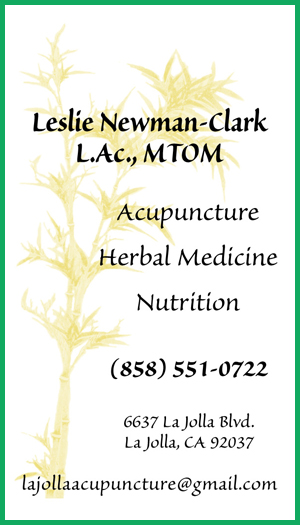 'Thank you so much for referring me to Leslie for acupuncture.' - T.N.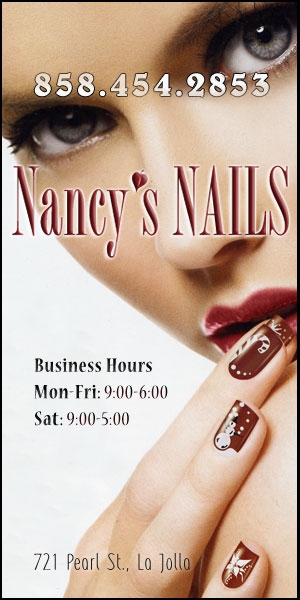 REFLEXOLOGY SPECIALISTS TOO
Click Ad above for Special Promotions!!
WineSellar & Brasserie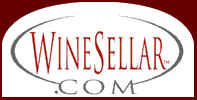 858-450-9557
Restaurant, Gary Parker's Wine Club,
Wine Store and
~ Wednesday & Saturday wine tasting's ~
XXXXCheck out Gary Parker's Pick... X...XXXXXXXa 2007 Clos de la Roche, Grand XXXXXXXXCru for $54 WineSellar Club XXXXPrice,this Pinot Noir is STELLAR!
_________________________
For Advertising, please
your inquiry.
Ask about you can support your favorite organization!
_________________________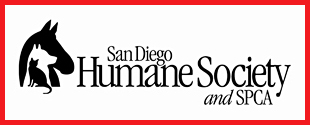 BUSTER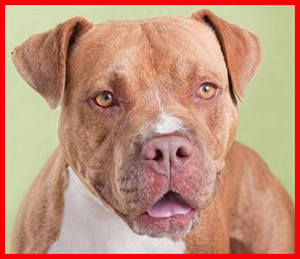 Breed: Pit Bull mix
Color: Red/White
Age: 2 years
Sex: Male
Hair: Short
Buster is a handsome dog who can't wait for a second chance at life with a loving family and home! He is always thrilled to accompany his human companions on their athletic pursuits and outdoor adventures. Youthful, active and fun-loving, Buster is guaranteed to make you smile. While Buster enjoys hanging out with his human companions, he is also content to hang out on his own. Buster will do best in a home with children 16-years-old and older and in a home without cats.

ROXY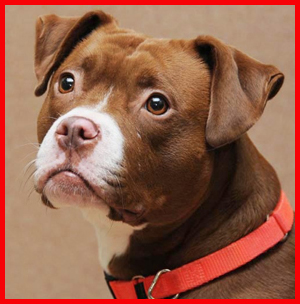 Breed: Pit Bull mix
Color: Brown/White
Age: 2 years
Sex: Female
Hair: Short
Roxy is an adorable dog who can't wait for a second chance at life with a loving family and home! She is always thrilled to accompany her human companions on their athletic pursuits and outdoor adventures. Youthful, active and fun-loving, Roxy is guaranteed to make you smile. While Roxy enjoys hanging out with her human companions, she is also content to hang out on her own. Due to Roxy's energy level, she'll do best in a home with children 16-years-old and older, and as the only pet in the home.
SpaSAN DIEGO HUMANE SOCIETY & SPCA
GAINES STREET CAMPUS
5500 GAINES STREET
SAN DIEGO, CA 92110
(619) 299-7012
www.sdhumane.org rky
with other dogs or cats.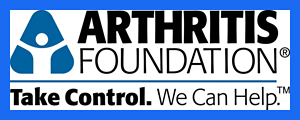 Kima would like to thank her supporters, who helped raise over $130,000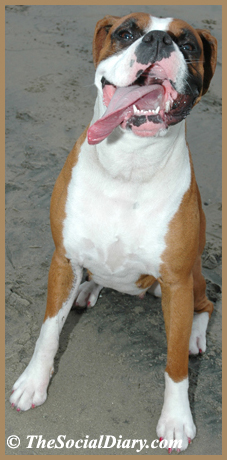 'The Social Diary is a delight to partner with!
As a result of their contributions to our organization, our 2009 Arthritis Walk event revenue increased by 50%!! I am very much looking forward to our continued partnership.'
- Andrea Muir, 2009 Development Director, Arthritis Foundation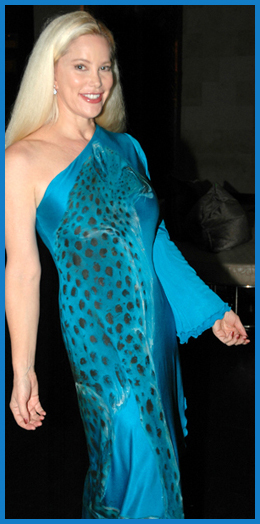 909-534-1495
Where the locals dine
for Homemade Pastas, Raviolis, and Sauces
Cafe Milano
711 Pearl St, La Jolla
858- 454-3806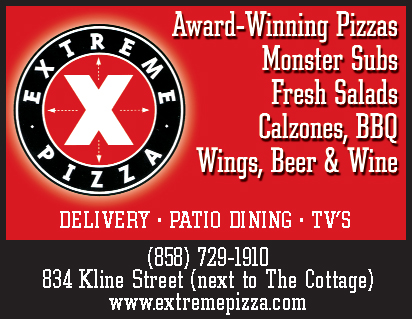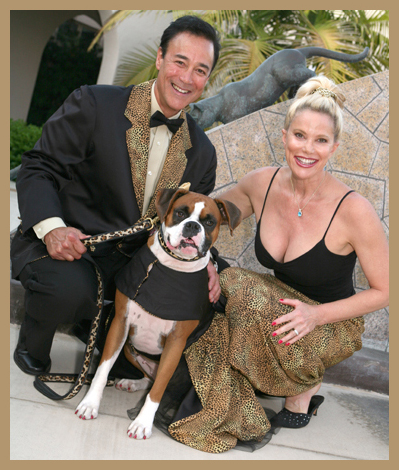 Scott Johnston, Margo Schwab and Kima!
Photoshopping &
Photography Services
available by The Social Diary
~ 619-384-7333
(Copyright 2011 The Social Diary LLC All rights reserved.)
(This material may not be published, broadcast, rewritten or redistributed)
Art of Fashion at Neiman Marcus
With 3 Go-Go dancers performing on white lit cubes, you knew it wasn't going to be your usual fashion party at Neiman Marcus March 3rd, 2011. Sponsor San Diego Magazine added its fun input too.
Aside from the LIPSTIK INC dancers, there was FLUXX mixologist Branno Kent mixing up a specialty drink named Sunkissed, cupcakes of your own design by Cupcakes Squared, a meet and greet with ceramicist Josh Herman, 2 wonderful fashion shows by Neiman's (love the tangerine and purple Gucci) and scrumptious bites by Continental Catering.
Among the crowd were Nancy O'Connor and Becky Merrill, Roberto de Gregorio, fashionista social dog Kima with her dad Scott Johnston (he was sporting his new Etro jacket), NM's Ida Whitaker, Lyndy Carreiro and Alex Yanez, ... also there Joyce Glazer, Jo Ann Kilty, Diana Cavagnaro, Pamela Pogue, Jeremy Mariage, Bob Eix, Leonard Simpson, and of course Jim Fitzgerald and our fave, Rebekah Sager.
In sum 'Fashion Rocks' and so did the party!
Be advised strictly no downloading, publishing, broadcasting, printing, or copying of photos or content. Please email purchase requests of photos you are in.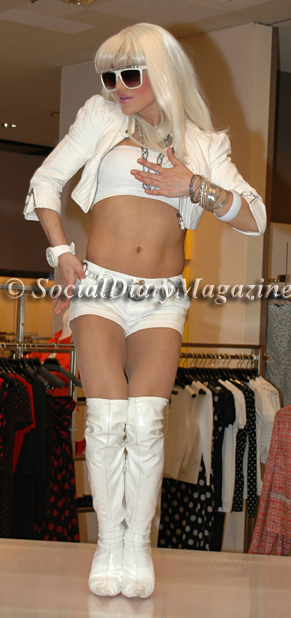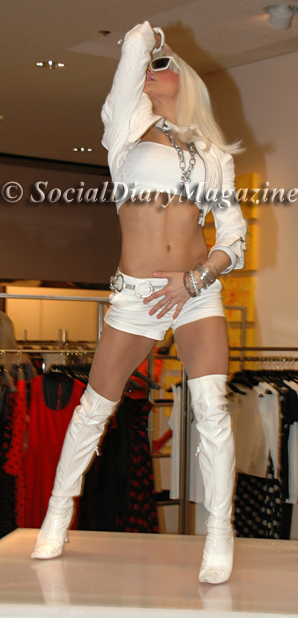 advertisements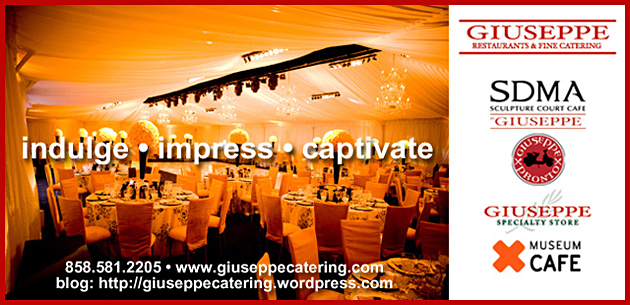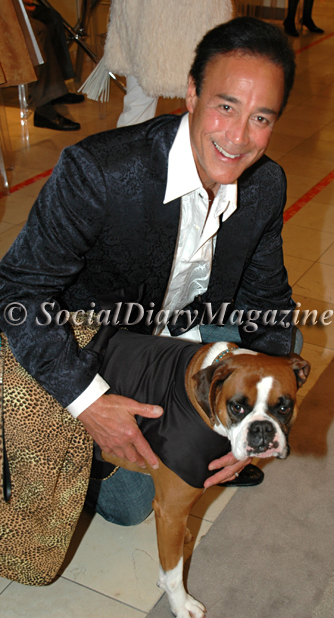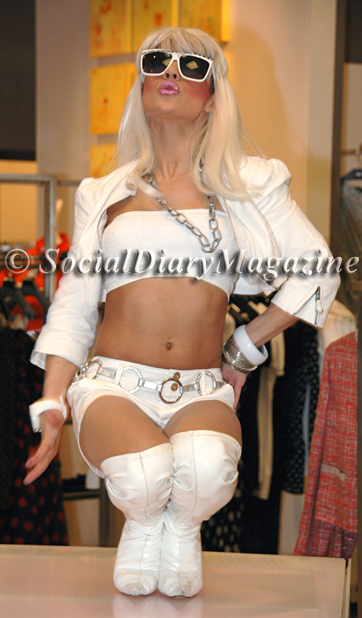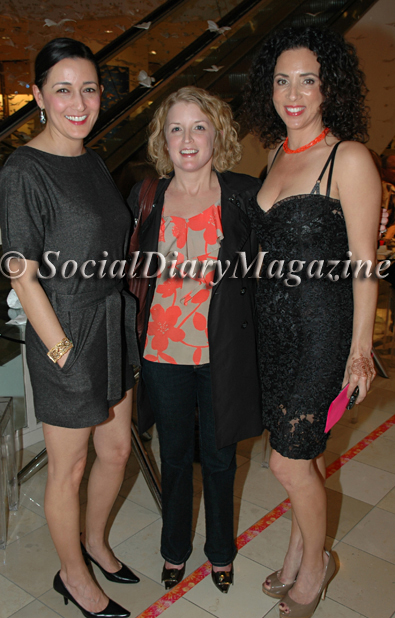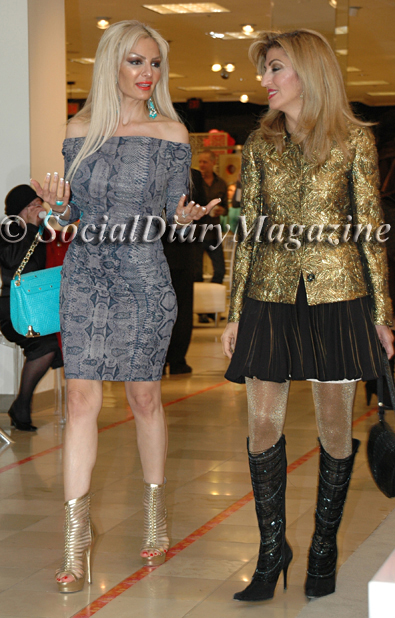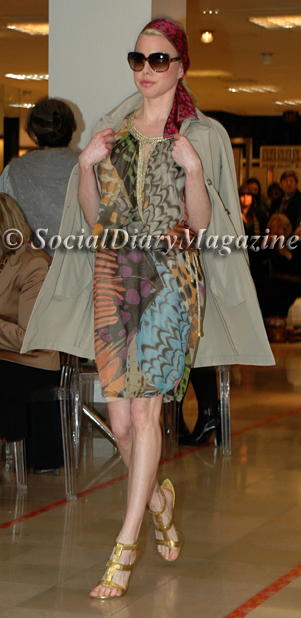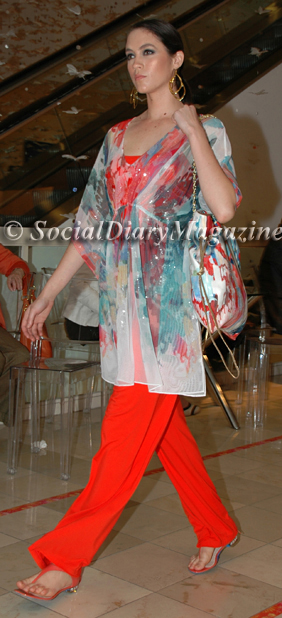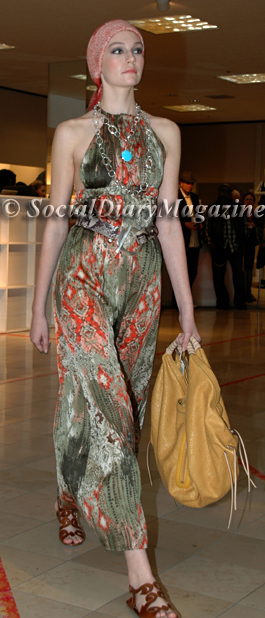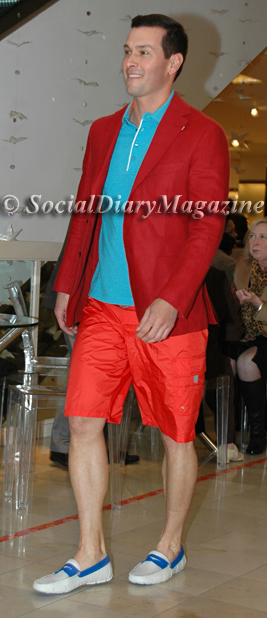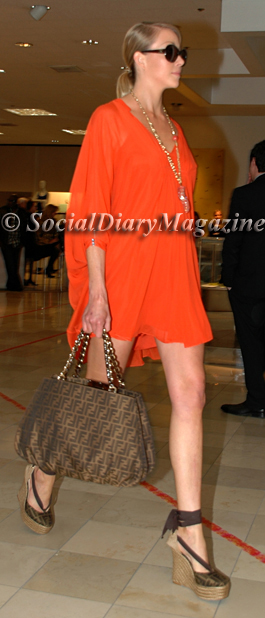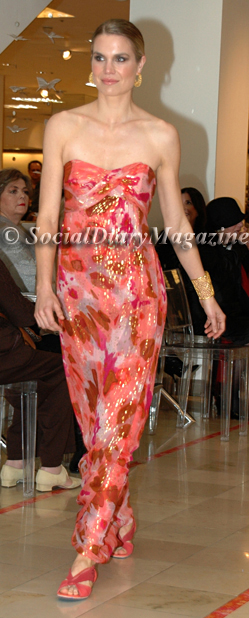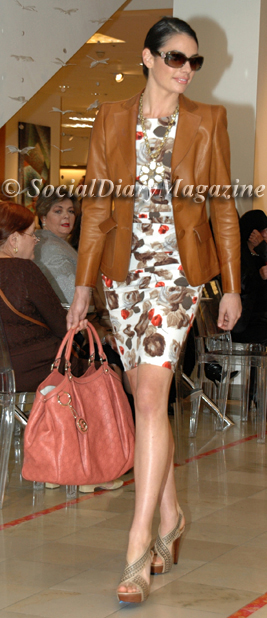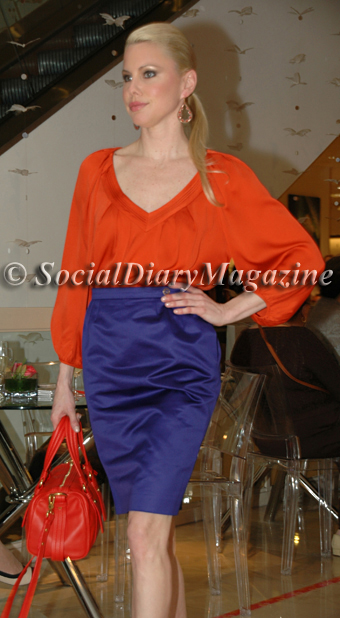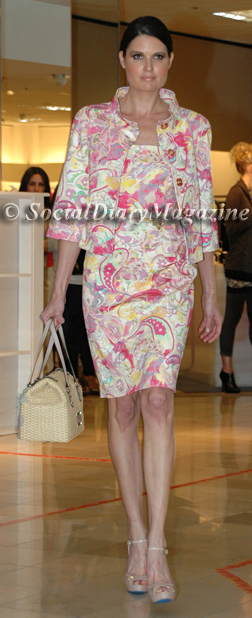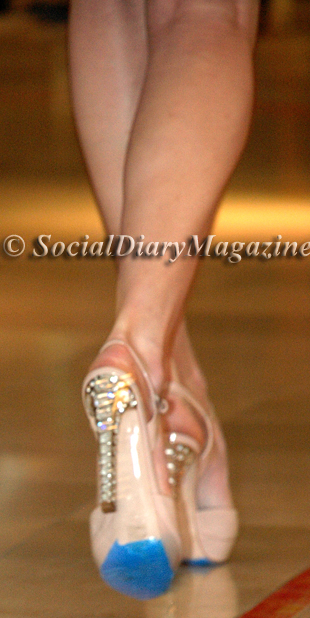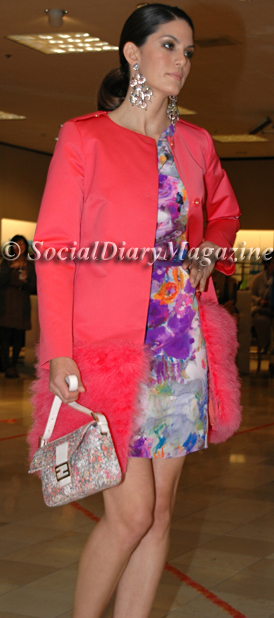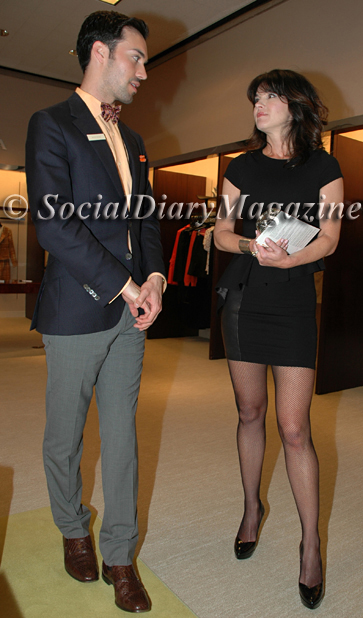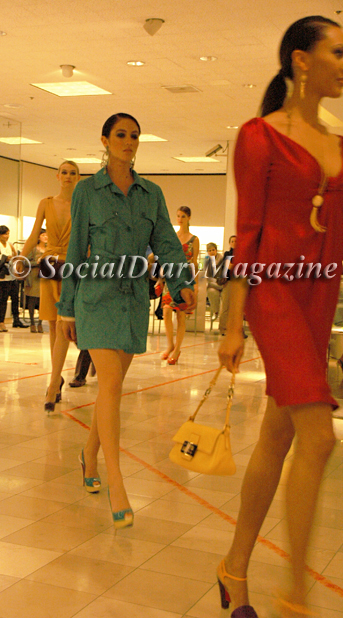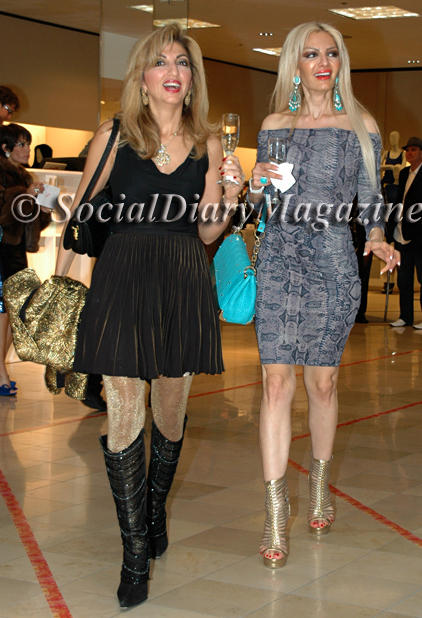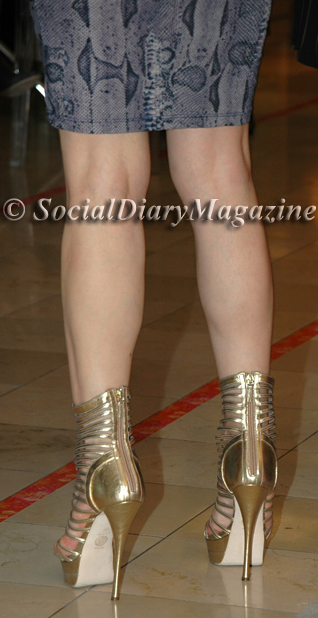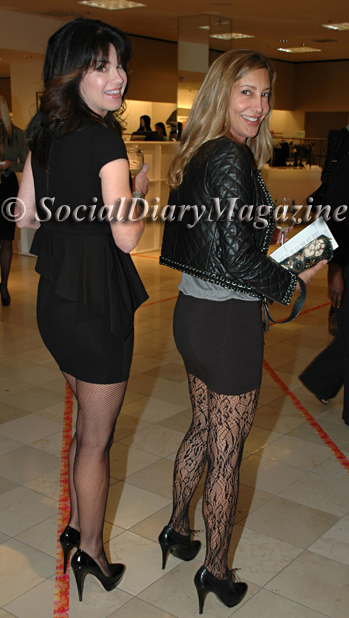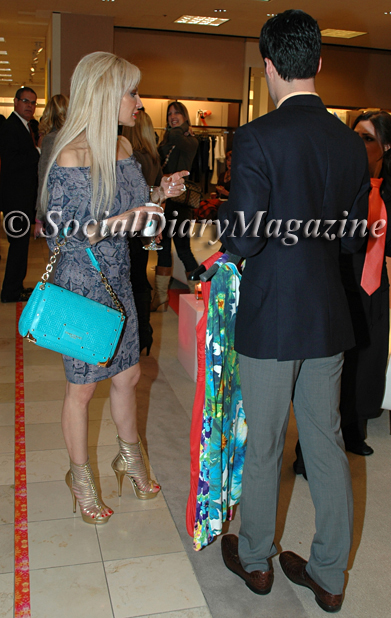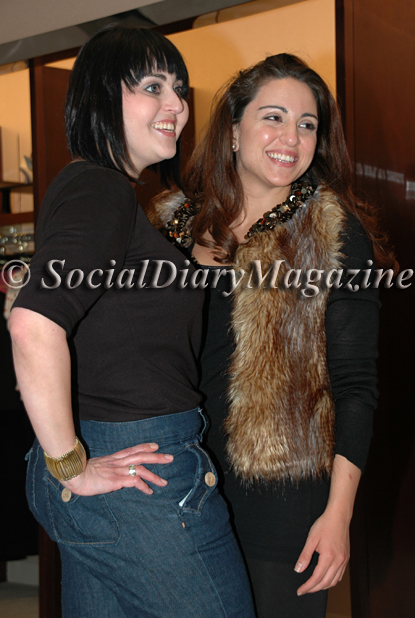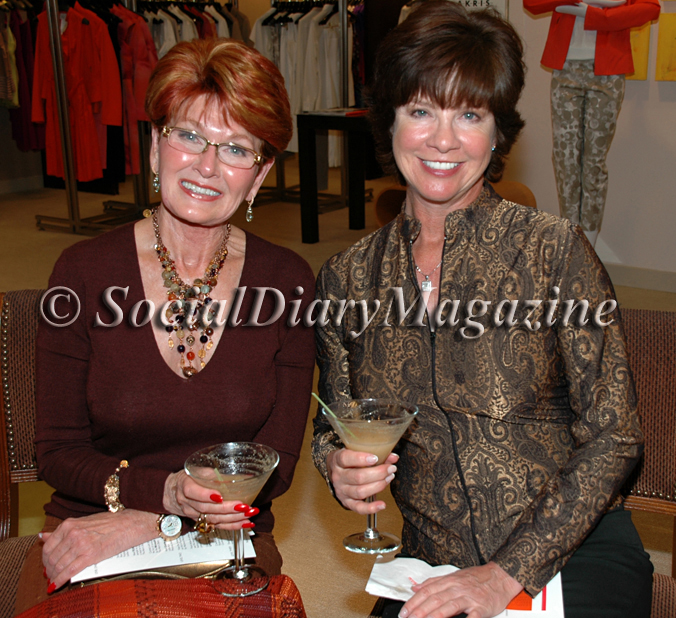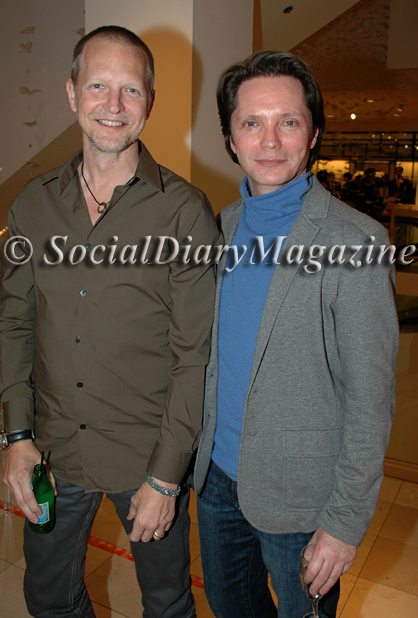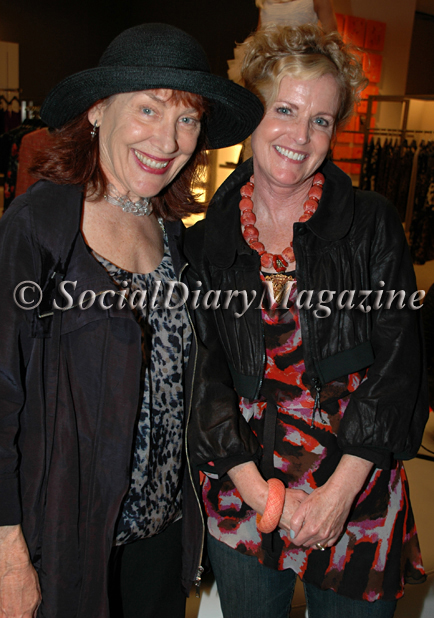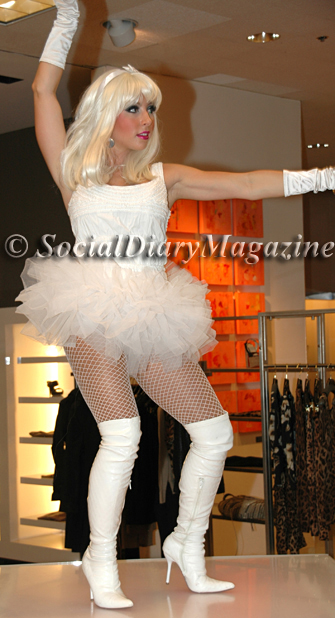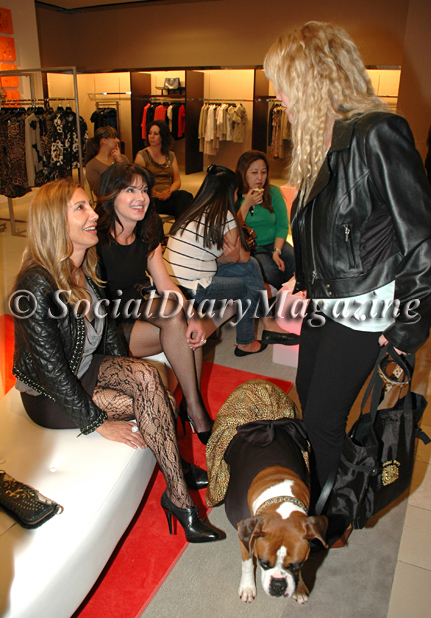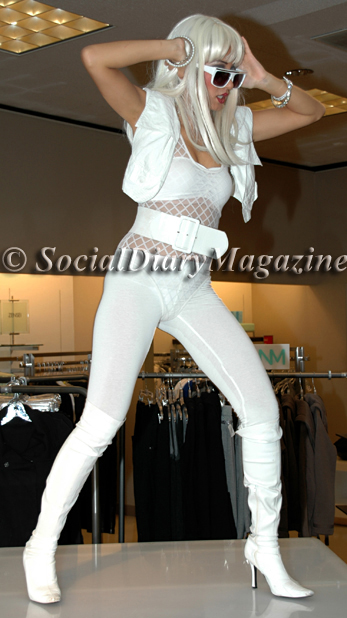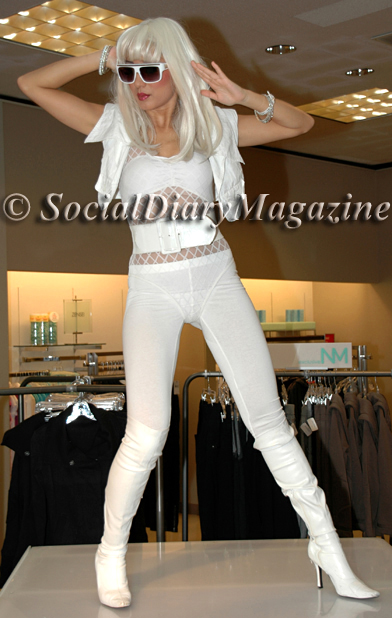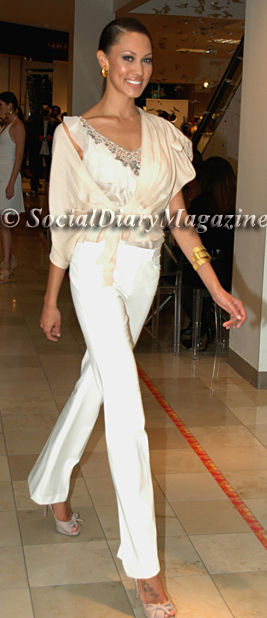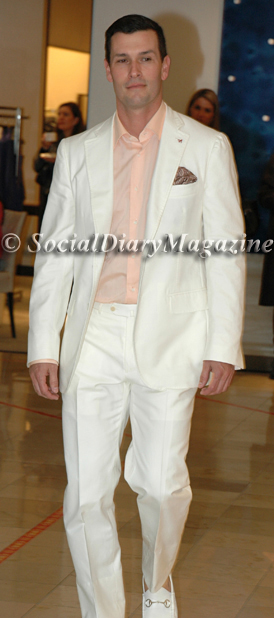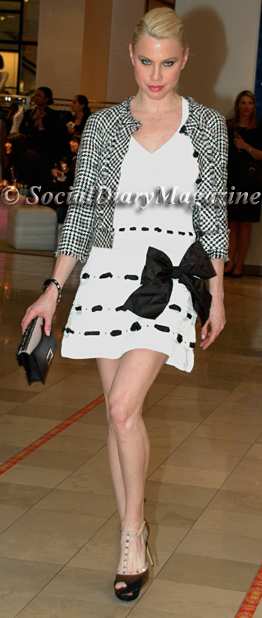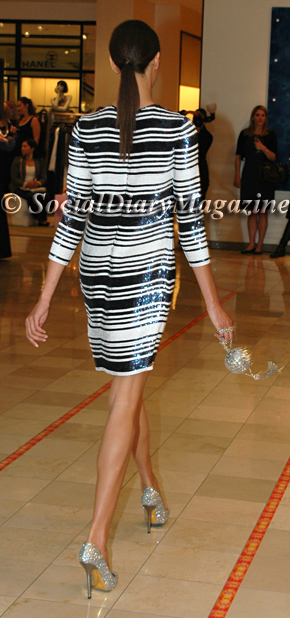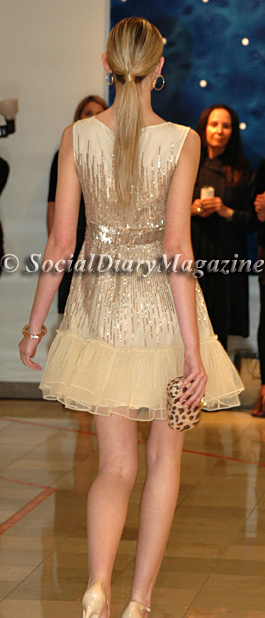 advertisement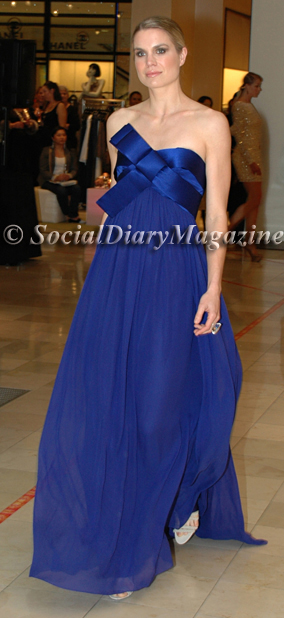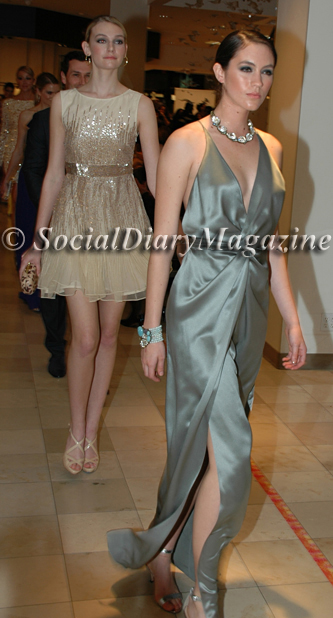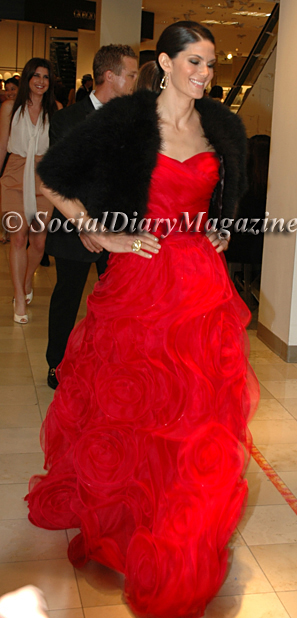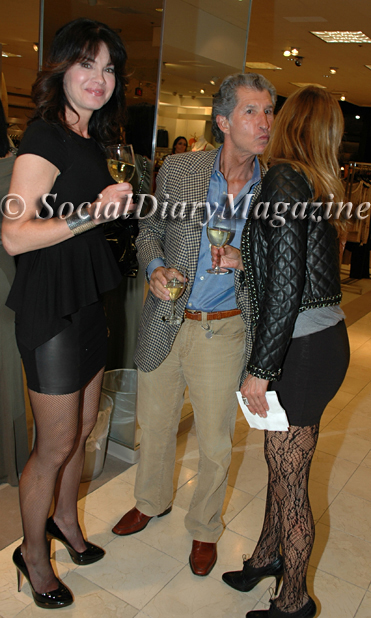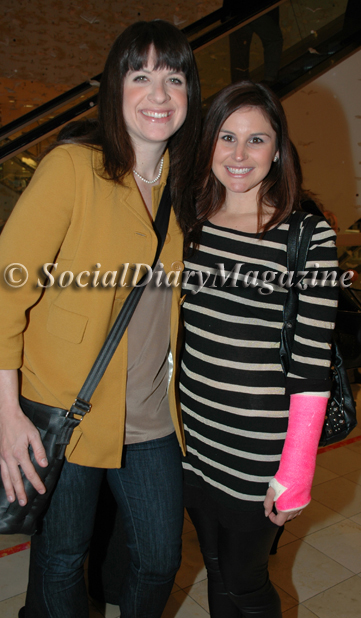 reported by Margo Schwab
web technician support by Scott Johnston
Please join us for fun informative updates on Twitter and Facebook

Social Diary Magazine HOME Page
The Buzz!!
Golf Inc.'s Most Powerful Person in Golf, Eric Affeldt, CEO of ClubCorp, with the Social Diary Magazine's Margo Schwab and Kima Schwab-Johnston. With private clubs nationally and internationally, Eric has led ClubCorp to the top by synergizing club renovations with a family friendly atmosphere. Congratulations Eric!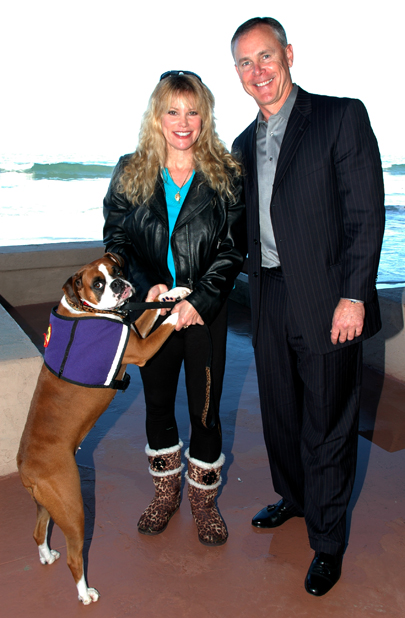 Email Commentary to be added
email TheSocialDiary.com
* Margo Schwab, MBA, more formally known as Margaret E. Schwab, has produced, written, interviewed and photographed for various media organizations since 1989. Schwab attended Holton Arms School, La Jolla Country Day School and La Jolla High School. Schwab has a B.A. from Scripps College, spent a business internship with S.A.I.C., Science Applications International Corporation, and earned a Masters of Business degree, M.B.A., from the University of San Diego by way of Claremont Graduate School . Schwab additionally took college courses from Harvard University, and Syracuse University. Schwab volunteers for numerous charity organizations. She also continues to support animal organizations and the prevention of people and animal abuse. Schwab is the editor and co-owner of The Social Diary.
Margo Schwab and Scott Johnston of The Social Diary Magazine are pleased to announce a partnerships with the Arthritis Foundation of San Diego County, their dog Kima is the Arthritis Dog honoree for the 3rd year, the San Diego Humane Society and SD METRO Magazine. They have also partnered with Country Friends and the San Diego American Heart Association.
Margo Schwab and Scott Johnston are both members of the La Jolla Beach & Tennis Club (Margo Schwab since 1974) and both are now members of the University Club and its worldwide ClubCorp Compass Society. Margo Schwab and Scott Johnston are Police Press credentialed by the Chief of Police, William Lansdowne.
San Diego's The Social Diary would like to say a special thank you to our advertisers.
Eclat Catering
Designer Millinery
Chic Fashion Tours
The San Diego Food Bank
Carol Bader Designs / Del Mar Hat Company
The San Diego Opera
The Museum of Contemporary Art San Diego
Giuseppe Restaurants and Fine Catering
The University Club and ClubCorp
Papalulu's Catering & Restaurant in La Jolla Shores
Maggie B Clothing at Rancho Santa Fe Plaza
Nancy's Nails on Pearl Street in La Jolla - for nails and reflexology!
H. Moradi Fine Jewelers on Prospect Street in La Jolla, now 2 locations!
Jordan Art Couture and Animal Fashions by Jordan
WineSellar & Brasserie
Cafe Milano on Pearl Street in La Jolla
Extreme Pizza in La Jolla
Neptunic Sharksuits
The Animal Hospital of La Jolla
Eugene Ladopoulos of Mistra Estates Olive Oil
Warning ** photos, video and writing on this site are the
2011 copyright, all rights reserved, of The Social Diary LLC and its subsidiaries including San Diego Diario Sociales - Su Conexión Con la Sociedad, no reproduction of any part or parts is allowed without written permission by Social Diary Magazine