Fashionable Party at the One and Only Neiman Marcus
Neiman Marcus served up a great fashion show May 4th, 2010. There were Spring's great trends, Tribal, Blue and Draping. Martinis and tasty appetizers were served. The only thing competing with the fashion show was the shopping... can we say Men's Brioni?
Among the mix there were Susan Ulevitch and Maureen Sullivan from event co-sponsor San Diego Magazine.
Please enjoy the photos.
Be advised strictly no downloading of photos. Please email purchase requests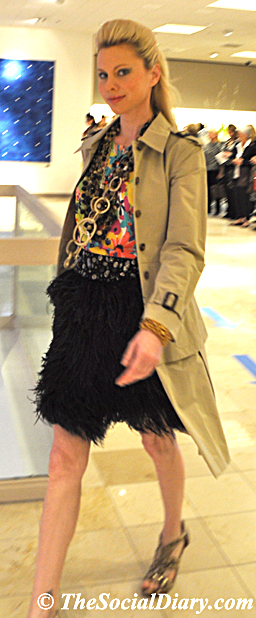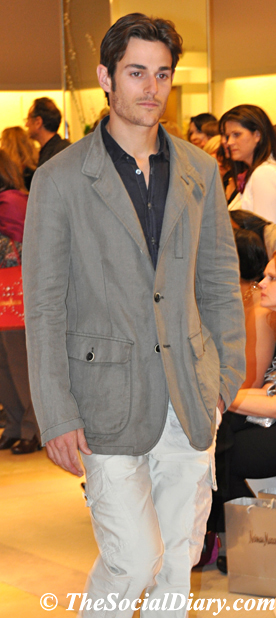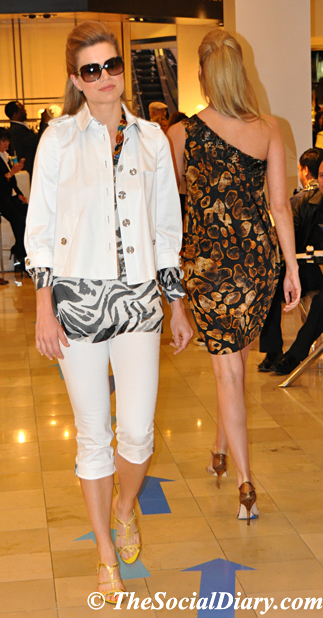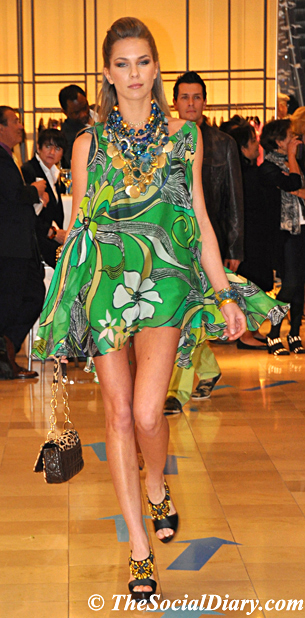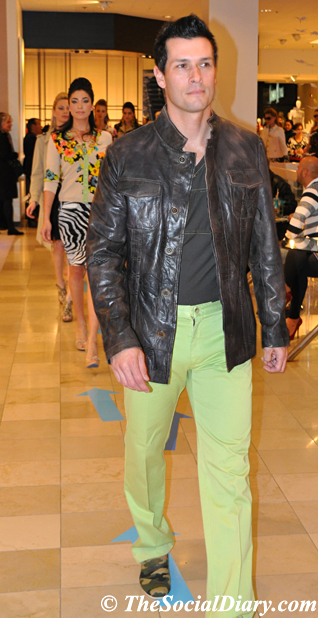 advertisement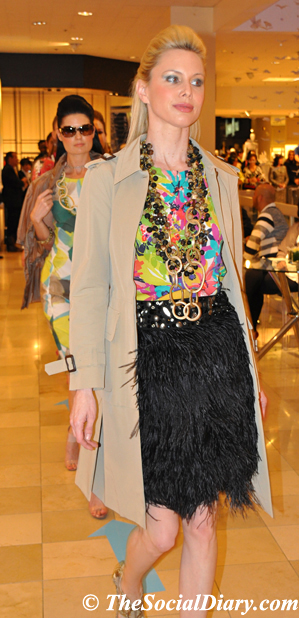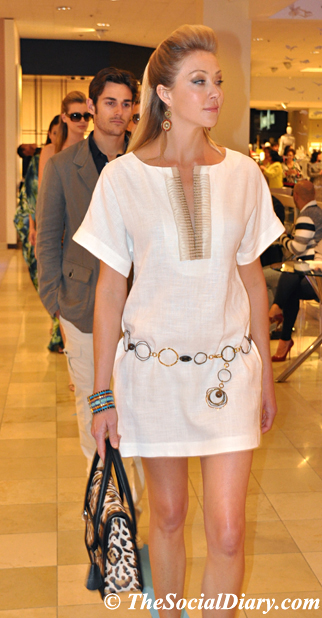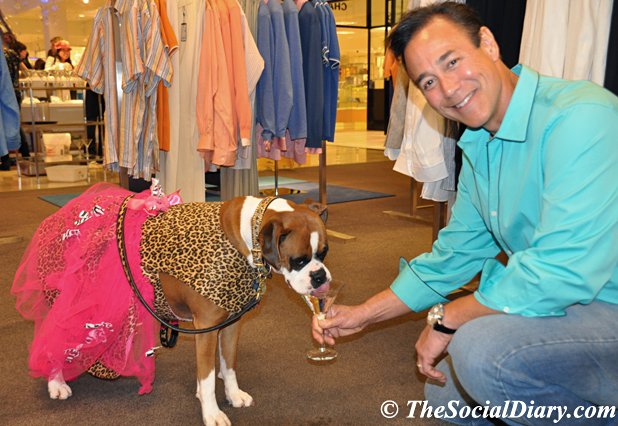 Kima livin' large drinking H2O from a martini glass....
reported by Margo Schwab
photoshopped by Scott Johnston
The Buzz
Okay we confess. Shopping at Neiman's was so fun that we went back for lunch and more shopping.... ran into a lot of friends.
They don't have the lobster cobb salad anymore (it's out of season) but they have this grilled salmon salad..... quite good with chevre on top!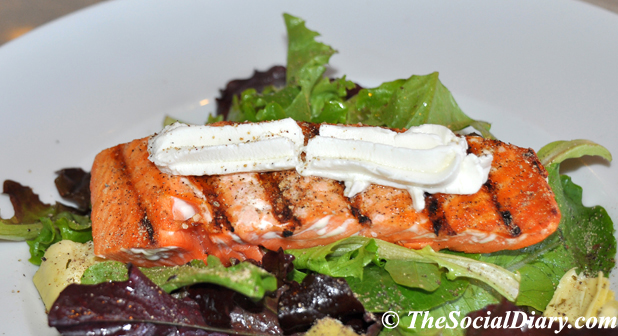 Meanwhile seaside...
The Marine Room is the place to be for seaside dining. We tried happy hour in the lounge the other night and found triumph after triumph for appetizers. But it was the
Pumpkin Seed Coated Blue Crab Cake
Buckwheat Noodle, Serrano Ham, Tangerine Lace, Açai Berry Infusion
that won us over....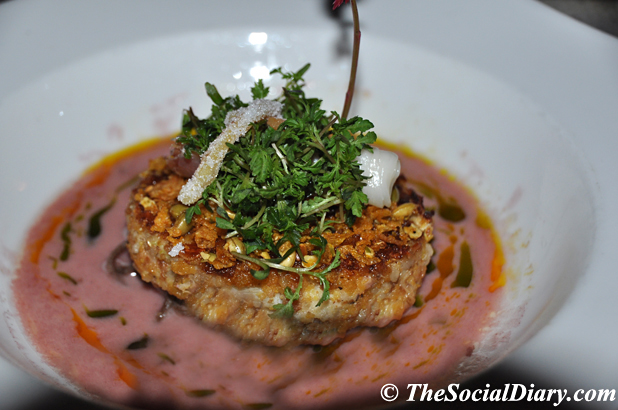 Okay it's official....
In addition to being the Arthritis Dog Honoree for the San Diego Area Chapter for the second year, Kima Schwab-Johnston, a rescue German Boxer, is thrilled to be the Dog Honoree for San Diego's American Heart Association Walk and the K-9 Lifeguard for this year's Heart Beach Ball.
To join Kima's arthritis walk team, visit www.arthritiswalksandiego.org , and to learn more about the American Heart Association's 'Heart Beach Ball,' visit www.sdheartball.org
fyi, Kima is hosting parties for special friends for both events!!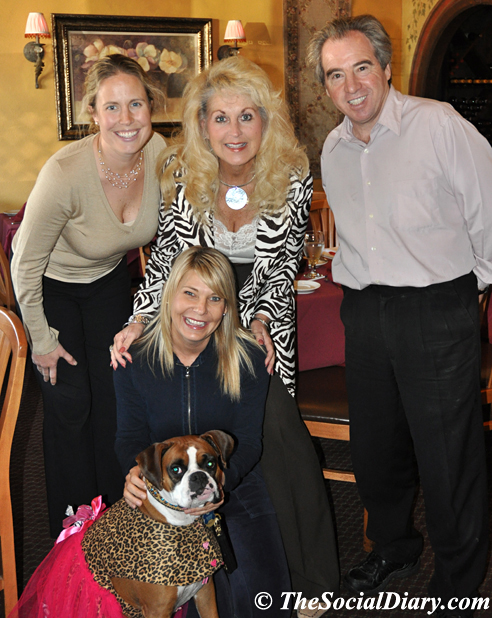 San Diego's American Heart Association Dog Honoree Kima with her friends at Cafe Milano. Pictured here are (standing) Alison Beck, Cheryl Mitchell, Pasquale, and Melissa Wilimas.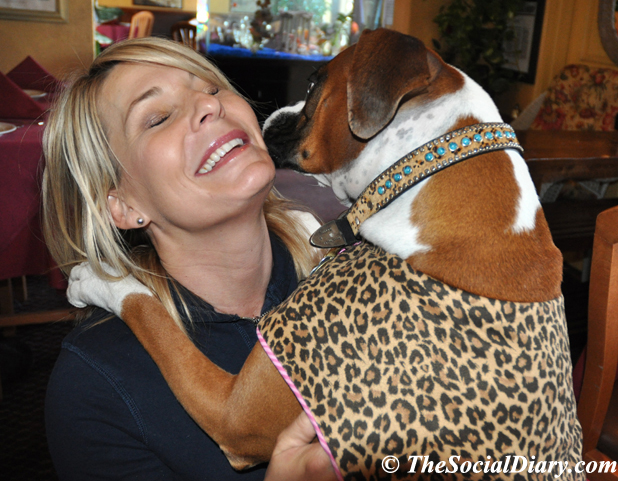 Kima giving a heartfelt kiss to Melissa Wilimas

____________________________________________________________
Photoshopping and Photography Services
Photos on this website available if it is of you
available by The Social Diary
~ 619-384-7333
email TheSocialDiary.com
_______________________________________________________________
Email Commentary to be added
* Margo Schwab, more formally known as Margaret E. Schwab, has produced, written, interviewed and photographed for various media organizations since 1989. Schwab attended Holton Arms School, La Jolla Country Day School and La Jolla High School. Schwab has a B.A. from Scripps College, spent a business internship with S.A.I.C., Science Applications International Corporation, and earned a Masters of Business degree, M.B.A., from the University of San Diego. Schwab additionally took college courses from Harvard University, and Syracuse University. Schwab volunteers for numerous charity organizations. She also continues to support animal organizations and the prevention of people and animal abuse. Schwab is the editor of The Social Diary.
Margo Schwab and Scott Johnston of The Social Diary are pleased to announce partnerships with the San Diego Humane Society & ASPCA.
San Diego's The Social Diary would like to say a special thank you to our advertisers.
Valerie and Harry Cooper supporting the San Diego Opera
Valerie and Harry Cooper supporting The Museum of Contemporary Art San Diego
Judith C. Harris, Blair Harris, and Robert Singer, MD supporting the
Dian Fossey Gorrilla Fund International
The Old Globe Theatre
Rancho Coastal Humane Society
Sammy's Woodfired Pizza
Roppongi Restaurant and Sushi Bar
Mosaic Catering
La Jolla Beach & Tennis Club
La Jolla Shores Hotel
The Shores Restaurant
The Marine Room
Dr. Laurie Marker of The Cheetah Conservation Fund
H. Moradi Fine Jewelers on Prospect Street in La Jolla
Pamela Pogue of Juelerie
Kary Favish of the Worth Collection
Diana Cavagnaro of Designer Millinery
Jordan of Jordan Art Couture and Animal Fashions by Jordan
Lizz Russell of The Lizz Russell Collection
Gary Parker of WineSellar & Brasserie
Owner and Chef Pasquale of Cafe Milano
Kevin Smith of Extreme Pizza in La Jolla
Jeremiah Sullivan of Neptunic Sharksuits
Drs. Sue and John Morizi of The Animal Hospital of La Jolla
Eugene Ladopoulos of Mistra Estates Olive Oil
Warning ** photos, video and writing on this site are the
2010 copyright of The Social Diary LLC and its subsidiaries.
no reproduction of any part or parts is allowed without written permission by The Social Diary