~ The Social Diary ~
~~~~~~~~~~~~~~~~~~~~~~~~~~~~~~~~~~~~~~~~~~~~~~~~~~
The Grand Opening of 'Mister B' in La Jolla
'European Clothing for the American Man'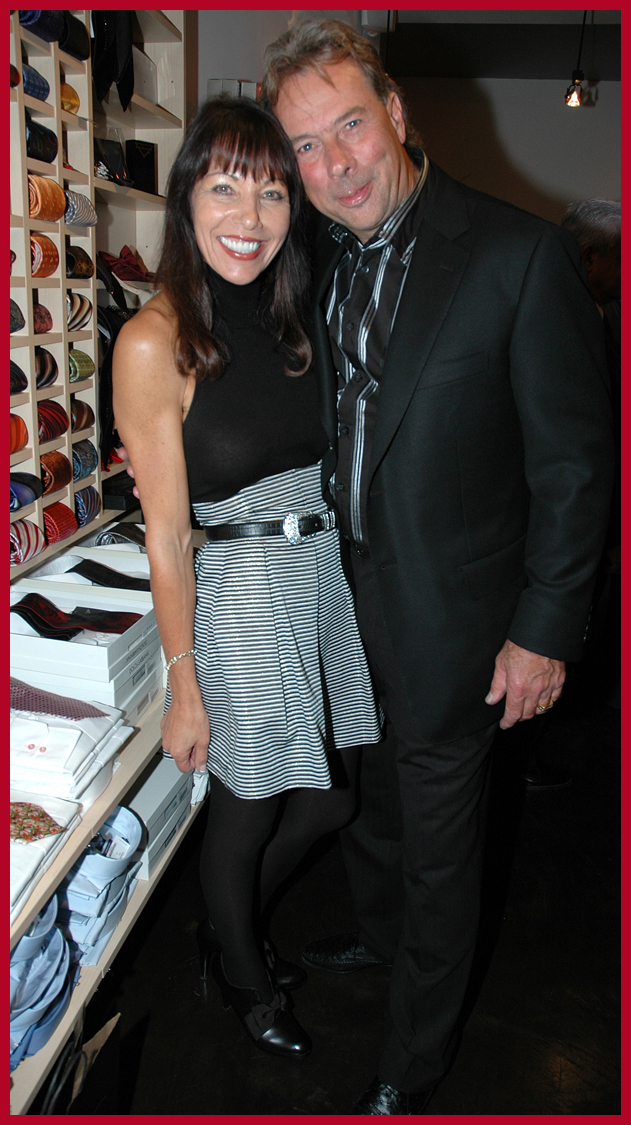 Owners of Mister B - Maggie and Gary Bobileff
Maggie Bobileff is wearing Giorgio Armani
Gary Bobileff is wearing a Pal Zileri Jacket and Trousers with a Shirt by Sigmet
September 27th, 2007 the Grand Opening took place for 'Mister B' in La Jolla. This is the second store for owners Maggie and Gary Bobileff. Their first store is in the Ranch on Rancho Santa Fe Road.
'Mister B' is named after Gary Bobileff. He is also the owner of Bobileff Motorcar Company. It's Gary's wife Maggie Bobileff though who runs the show for their exclusive men's stores billed as 'European Clothing for the American Man.' After 20 or so years in the upper strata's of the European clothing world, Maggie has brought her knowledge, aka her je ne sais quoi, and Swiss smarts this way. Already a hit with their first store in the Ranch, Mister B's second store is conveniently located on exclusive Girard, just up from Prospect Street.
For this night it was VIP fun. A violinist played, Vincent Grummel of Sireno's Restaurant in Escondido provided the incredible appetizers, and wine flowed.
Among the guests were Carol Karlovich, Bob Stefanko, Esther Nahama, Arjang, Dr. Jerry Pikolysky, Luca Spano of Pal Zileri USA, Marie and Buzz Burnett, Scott Johnston with Kima the Canine Connoisseur, and some very dapper gentlemen modeling Hugo Boss, Giorgio Armani, Pal Zileri and more. Of course the' tie girl' was a hit too.
A young lady modeled a top fashioned of luxury silk ties. Maggie did the honors of raffling off ties. Dr. Jerry Pikolysky won the first one. It will go well with his Ferrari.
Speaking of cars. Gary Bobileff parked some of his Bobileff Motorcar Company eye candy out front. Among the highlights, a multi- award winning 1973 Ferrari 365 GTS/4 Daytona Spyder, a 1971 Lamborghini Miura 'SV' formerly owned by His Imperial Highness Shah Mohammed Reza Pahlavi, a 1968 Lamborghini Miura Spyder owned by Mr. Adam Gordon of New York City and being restored by the Bobileff Motorcar Company, and a 1988 Bizzarrini BZ 2001 with V!2 owned by Joe Glickman of La Jolla. Bobileff did the modification on that car's cooling system. Had to. The car is beyond fast. It can zip to 60 in 3.9 seconds!
Extraordinary cars, superb clothing, and a fun mix of clientele made for one great night! 'Mister B'... and just in time for the holiday shopping too!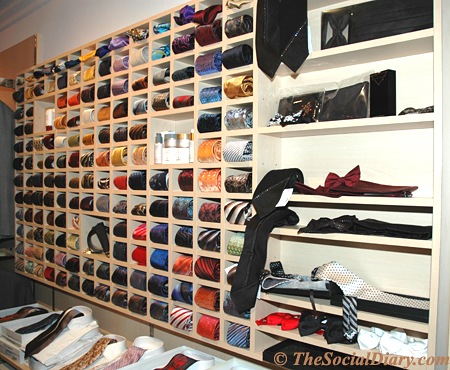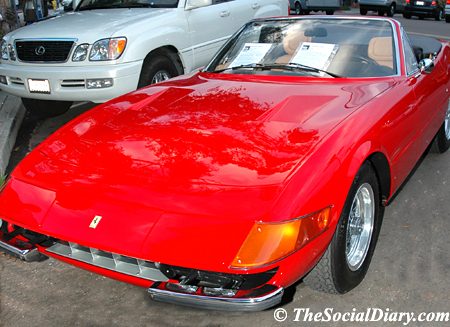 Reported by The Social Diary's Margo Schwab
* Margo Schwab has produced, written, interviewed and photographed for various media organizations since 1989. Schwab attended Holton Arms School, La Jolla Country Day School and La Jolla High School. Schwab has a B.A. from Scripps College and a Masters of Business degree, M.B.A., from the University of San Diego. Schwab volunteers for numerous charity organizations. She also continues to lobby for water safety and for family violence mitigation. Schwab is the editor of The Social Diary. Margo is currently writing a book based on La Jolla.
Warning ** photos, video and writing on this site are the
copyright of The Social Diary, San Diego Social Diary
no reproduction of any part or parts is allowed without written permission by The Social Diary