~ The Social Diary ~
the on-line magazine covering High Society ..& more
____________________________________________________________
Olympic Stars with Winning Hearts

by the Social Diary Columnist David Mirisch
Column #4, February 16th, 2006
After meeting Scott Hamilton at The Victor Awards, I've had the pleasure of having him play in a number of my charity golf tournaments. And, whenever he brought his skating show to either Los Angeles or San Diego, he would get me front row seats and whichever of my six grandchildren I would have with me he would instruct the skaters to always look for my family member and bring them on the ice with another 6-10 children that they pushed around on wheelbarrows on the ice. That's the kind of nice man that he is. The image that the public sees on television is exactly what he is like off the ice. I know that he has gone through two tough medical situations but being the champion that he is he has overcome them to show people in the same situations that "if there is a will there is a way."

During the past 32 years I have been responsible for booking over 600 world-class athletes to attend The City of Hope Victor Awards which is the longest running sports award show on television. It has been held at The Las Vegas Hilton and has raised millions of dollars for The City of Hope. These great athletes donate their time to be honored at this wonderful black-tie event.
(pictured here - Olympic Star Picabo Street with Margo Schwab)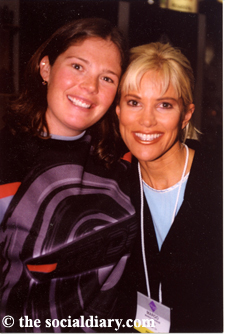 During the years I have had the pleasure of having in attendance the following great athletes, many of whom have remained friends through the years.

Figure Skating - Scott Hamilton, Kristi Yamaguchi, Brian Boitano
Speed Skating - Bonnie Blair, Apolo Anton, Ohno, Casey FitzRandolph, Derek
Parra, Cathy Turner
Women's Hockey - Cammi Granato
Skiing - Bill Johnson, Picabo Street
Bobsled - Vanetta Flowers, Jill Bakken
Snowboarding - Ross Powers, Kelly Clark
Skelton - Tristan Gale, Jimmy Shea, Jr.
Aerial Skiing - Nikki Stone, Eric Bergousi

It has been my honor to have personally met these 19 Olympic Gold Medal Winners and we hope that many of the young men and women competing in the Games at Turin, Italy may also bring home an Olympic medal to proudly have in their possession the rest of their lives.
* David Mirisch - David Mirisch is a Celebrity Producer (David Mirisch Enterprises) for numerous charitable events. Part of a remarkable Hollywood lineage, Mirisch's family produced "Some Like it Hot,""The Pink Panther Series" and more, for a total of 72 motion pictures, and 24 Academy Awards. Mirisch also discovered Farrah Fawcett. Mirisch's celebrity knowledge is personable and unique. You can reach Mirisch at:
back to New this Week......David Mirisch's Archives...... Home
Warning ** photos, video and writing on this site are the
copyright of the author, The Social Diary, San Diego Social Diary, margomargo.com and Margo Schwab.
no reproduction of any part or parts is allowed without written permission by Margo Schwab