~ The Social Diary ~
the on-line magazine covering High Society ..& more
____________________________________________________________
Davis Cup, Tennis Stars, Celebrities - Fundraising Reflections

by the Social Diary Columnist David Mirisch
Column #3, January 31st, 2006
With the Davis Cup fast approaching it brings me back to my days when I
produced over 200 celebrity tennis tournaments for charities all over the
world. These are tournaments where movie and television stars and famous
athletes donate their time to help worthwhile causes. I've done tournaments
in Japan, Ecuador, Mexico, Canada and in cities from Florida to Oregon. Some
of my hosts for these tournaments were stars such as Charlton Heston, John
Forsythe, The Supremes, Michael Landon, Lorne Green, Pat Boone, Dennis
Weaver, Mike Connors, Diahann Carroll, Jack Kramer, Tony Trabert, Robert
Wagner, Jill St.John, Bruce Jenner, Tracy Austin, Pancho Segura, Kenny
Rogers, Lloyd Bridges, Mary Hart, Connie Stevens, Kate Jackson, Lee Majors,
Chad Everett, Joanna Kerns, Byron Scott, Michael Cooper, Martina
Navratilova, Cliff Robertson, Vicki Lawrence, Margaux Hemingway and John
McEnroe.
Photo - Tennis legend Pancho Segura pictured on the right, with tennis coach Martin Barba on the left...Martin is the former coach of Martina Navratilova and a very good friend of Farrah Fawcett and Vince Van Patten, who is also a very good tennis player... and actor.. Martin and Pancho are photographed here at the exclusive La Costa Resort and Spa on the famed golf course, Charlton Heston, Cliff Robertson at a Westgate Hotel Event celebrating the Oscars. Robertson is pictured here with Event's Chair Elisabeth Bergan, - photo credits The Social Diary and Margo Schwab).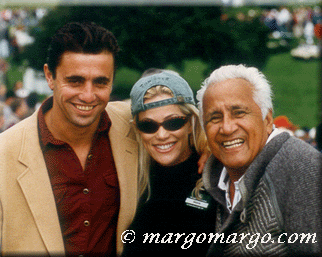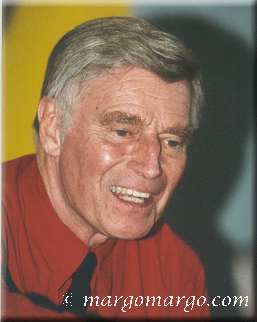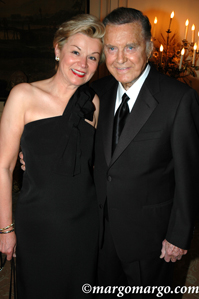 My two most recent tournaments were for Childhelp USA and was hosted by my
former client and long time friend Merv Griffin. They were held at The
Beverly Hills Country Club.
Through the years I have had the pleasure to meet and work with some of the
greatest tennis players in the world. To see who they are go to my web site, www.davidmirisch.com , click on photos and scroll down to the tennis
ball collage. Hope you have fun looking through it.
Editor's note - Mirisch's collection of photos are a remarkable, and historical sampling of the celebrity events that he has produced to benefit so many charities to this day.
* David Mirisch - David Mirisch is a Celebrity Producer (David Mirisch Enterprises) for numerous charitable events. Part of a remarkable Hollywood lineage, Mirisch's family produced "Some Like it Hot,""The Pink Panther Series" and more, for a total of 72 motion pictures, and 24 Academy Awards. Mirisch also discovered Farrah Fawcett. Mirisch's celebrity knowledge is personable and unique. You can reach Mirisch at:
back to New this Week......David Mirisch's Archives...... Home
Warning ** photos, video and writing on this site are the
copyright of the author, The Social Diary, San Diego Social Diary, margomargo.com and Margo Schwab.
no reproduction of any part or parts is allowed without written permission by Margo Schwab