La Traviata Music Worth Seeing & Celebrating! - The Photos!
May Zawaideh's Birthday Party at Delicias
La Traviata Opera Festivities (on SDNN)
___________________________________________________
The Social Diary
would like to recognize
Max Gurney
for his recent prestigious award, the L'Ordre de Saint-Charles,
received from HSH Prince Albert II at the Monaco Palace.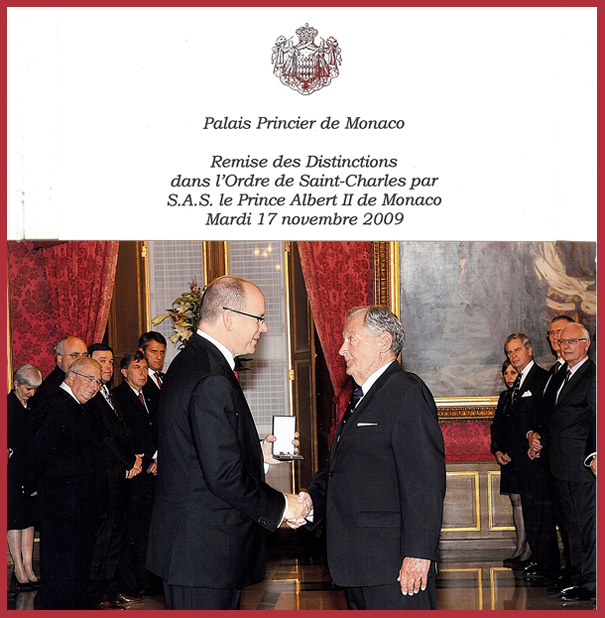 (photo courtesy du Palais Monaco)
At Monaco's National Holiday on November 17th , 2009 Max Gurney was the only American receiving the promotion to Officer of the Saint-Charles Order by HSH Prince Albert II of Monaco at the Prince's Palace in Monaco.
Max Gurney has been a resident of La Jolla since 1993, after having served Pan American World Airways for 45 years.
Max was based in Monaco by Pan Am and lived there for over 10 years and is presently representing the Principality of Monaco as an Honorary Consul. He is also an associate member of the San Diego Consular Corps.
Together with Tony Haymet, Director of Scripps Institute of Oceanography (SIO) in La Jolla, Max Gurney was able to successfully bring about the effective partnership of SIO and the Monaco Institute of Oceanography.
Albert II of Monaco formalized the cooperative agreement between the two Oceanographic Science Research facilities and was awarded the 2nd Revelle Prize on October 23 in La Jolla.
And on June 10th, Max Gurney will be celebrating his birthday at the Monaco Palace with good friends Lee Clark and Dr. Jerry Pikolysky and HSH Prince Albert II.
__________________________________________________________________
The Social Diary would like to say
a special thank you to our advertisers.
Valerie and Harry Cooper supporting the San Diego Opera
Valerie and Harry Cooper supporting The Museum of Contemporary Art San Diego
Judith C. Harris, Blair Harris, and Robert Singer, MD supporting the
Dian Fossey Gorrilla Fund International
Old Globe Theatre
Rancho Coastal Humane Society
Lisa Shapiro of Pure Barre La Jolla
Dr. Laurie Marker of The Cheetah Conservation Fund
H. Moradi Fine Jewelers on Prospect Street in La Jolla
Pamela Pogue of Juelerie
Kary Favish of the Worth Collection
Diana Cavagnaro of Designer Millinery
Jordan of Jordan Art Couture and Animal Fashions by Jordan
Lizz Russell of The Lizz Russell Collection
Gary Parker of WineSellar & Brasserie
Owner and Chef Pasquale of Cafe Milano
Kevin Smith of Extreme Pizza in La Jolla
Jeremiah Sullivan of Neptunic Sharksuits
Drs. Sue and John Morizi of The Animal Hospital of La Jolla
Eugene Ladopoulos of Mistra Estates Olive Oil
The Social Diary, Margo Johnston, Scott Johnston and Kima are or have been featured on:
New York Sockal Diary, The San Diego Opera, Las Patronas Jewel Ball, Town & Country Magazine,
Scripps Mercy Hospital and Leonard Simpson's 10 Best Dressed in San Diego,
Arthritis Foundation of San Diego, St. Madeleine Sophie's Center,
The Kymberli and Vaughn Parker Family Charitable Foundation,
A New Parth, Ronald McDonald House Charities, Moores UCSD Cancer Center Luau
& Longboard event, La Jolla Beach & Tennis Club, Rainforest Alliance,
The International Seakeepers Society, San Diego Magazine,
La Jolla Chamber Music Society, La Jolla Music Society,
University of San Diego Magazine, KPBS, Jordan Art Couture, the Cheetah Conservancy Foundation,
San Diego Humane Society, P.A.W.S. aka Pets Are Wonderful Support, Gretchen Productions,
The Reader of San Diego, the San Diego Union Tribune, Sign on San Diego, SDTheatre.com,
Ranch & Coast Magazine, Leonard Simpson's Fashion Forward, La Jolla Light, La Jolla Today Magazine.
La Dolce Idea with Sabrina, Jemima Garcia Designs, L.A. Fairchild, KUSI News, Vista Hill, San Diego Rescue Mission,
Zandra Rhodes Fashion Shows, FCC aka Fashion California College, the BBC, KFMB CBS 8,
News 8, Discover San Diego, Muscular Dystrophy Association, Fox 6 News, San Diego News 6, La Jolla Light,
La Jolla Village News, Rancho Santa Fe Review, San Diego Woman Magazine,
Cuisine of Southern California with Chef Bernard Guillas, After the Finish Line Newsletter with Dawn Mellen,
the feature film Step Into Liquid, Baywatch, RosieTisch.com The Roger Hedgecock Radio Show,
Time Warner Cable
Eye on L.A. Tahiti segment with Jann Carl
http://www.newyorksocialdiary.com/node/1206202
** photos, video, writing, all material on this site are the
2010 copyright with all rights reserved for The Social Diary LLC, and its subsidiaries,
including but not limited to San Diego Social Diary,
MargoMargo.tv, MargoMargo.com and Schwab Photography
no reproduction of any part or parts is allowed without
written permission by The Social Diary