~ The Social Diary ~
~~~~~~~~~~~~~~~~~~~~~~~~~~~~~~~~~~~~~~~~~~~~~~~~~~
Tuesday Nights Massages & Martinis at Roppongi's - Pure Bliss!
Hosted by La Jolla Spa MD and Roppongi Restaurant & Sushi Bar

March 17th , 2007
The Social Diary Columnist & Photographer Margo Schwab
(high resolution photos available by request )
A chic crowd gathered March 6th for the launching of Tuesday Night Massages & Martinis. The event was hosted by Roppongi Restaurant & Sushi Bar and America's Top Medical Spa, La Jolla Spa MD.
The evening was pure fun with a touch of hedonism. Guests gathering by the intimate fire pit on the patio chose from a martini list including the Zentini or The Pampered Pomegranate. Combined with a 15 minute shoulder and neck massage, this weekly event from 5-9 pm Tuesdays has already become quite the chic social draw. And for $25, quite the deal.
Roppongi restaurant also features the award winning cuisine of Chef/Owner Stephen Windows.
Ian with Heidi Hageman ** Sami and Sharon Ladeki, owners of Roppongi Restaurant and Sammy's Woodfired Pizza
Margo Schwab with Sharon Ladeki ** Sooze Flery and Dominic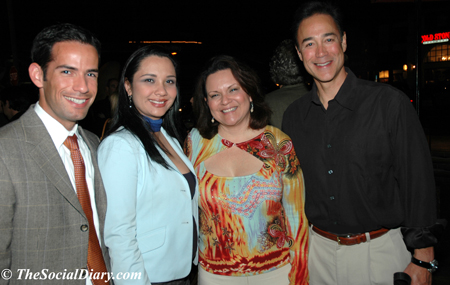 Jason Sigala, the beauties, Jessica Wadley and Lillian Wills, with Scott Johnston
Sharon Ladeki with La Jolla Spa MD Medical Director Dr. Mitchel P. Goldman and Margo Schwab ** Erika Rahlson with Tom Penn and Megan Burgess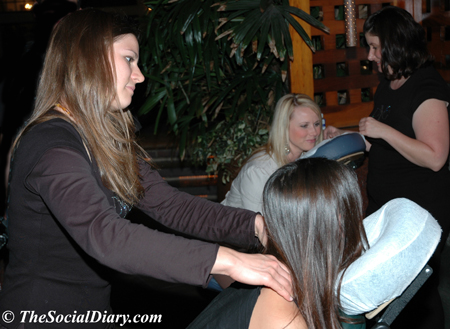 The very popular shoulder and neck massages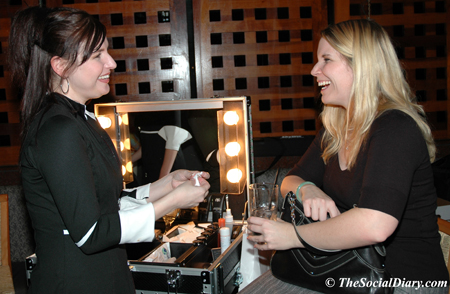 & DYG Mineral Makeup to keep you looking perfect.... fun!
* Margo Schwab has produced, written, interviewed and photographed for various media organizations since 1989. Schwab has a B.A. from Scripps College and a Masters of Business degree, M.B.A., from the University of San Diego. Schwab volunteers for numerous charity organizations. She also continues to lobby for water safety and for family violence mitigation. Schwab is the owner and publisher of The Social Diary. Margo is currently writing a book based on La Jolla.
back to New this Week.....Margo Schwab Archives...... Home
Warning ** photos, video and writing on this site are the
copyright of The Social Diary, San Diego Social Diary, margomargo.com and Margo Schwab.
no reproduction of any part or parts is allowed without written permission by Margo Schwab