7th ANNUAL UCSD CANCER CENTER LUAU & LONGBOARD INVITATIONAL
Scripps Institution of Oceanography
Wins ** Cancer Research Wins!!
And it was lucky number 7 for the surfing team of Scripps Institution team of Scripps Instititution of Oceanography (SIO) August 27 at the 7th Annual UCSD Cancer Center Luau & Longboard Invitational. The SIO team surfing phenom consisted of Sam Iacobellis, Carsten Kooyman, John Colosi, David Sandwell and their luck of the draw legend, Peter Townend or P.T. SIO super slid with styling cheater 5's, soul arches and walkovers down the line of the Scripps waves.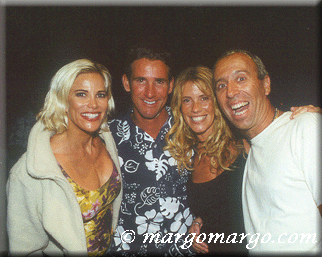 Margo, WingNut, Pato Gil, and Fernando Aguerre ** & Click Photos
************
All for a great a cause. This event benefits cancer research to help people diagnosed with cancer enjoy a better quality of life. This is the mission of the MENSA scientist laden UCSD Cancer Center and it's brilliant Director David Tarin. And in the heart of each guest and sponsor was to raise big cancer fighting dollars. And they did so to the $$Tsunami sum of $200,000 plus! Among the many key players were title sponsor Ericsson, location host SIO, Qualcomm, Peregrine, Cooley Godward LLP, TTC, Agouron Pharmaceuticals (the 2nd place team), Silicon Valley Bank, the Waitt Family Foundation (the "Can't Waitt" to beat Cancer Team placed third), SDG&E, Silvergate Bank, Yahoo! SimpleNet, WP Carey, BD PharMingen, PropART, Chungai/Gen-Probe, Cymer DPR Construction, Pacific Interiors, Motorola and "The Last Team." Other big donors there included Peggy and Peter Preuss, Lee and Frank Goldberg and stylish Charmaine Kaplan of Charmaine and Maury Kaplan.
Charmaine Kaplan deserves extra kudos for serving as my personal Honorary Surf Coach, I surfed on the ever awesome Qualcomm team which consisted of Pat Connor, Doug Jones, Ty Aberle, Grant Chu and legendary board shaper Bing Copeland. And a big hand especially goes to Chair Ken Powers and Co-Chairs Steve Blank and Fred Borrelli. (Fred's Catering By Design did the awesome luau feast) for a luau in the true spirit of aloha. The aloha spirit was there in multitudes as surf legends joined the fight on cancer. This year's legends were Bing Copeland, Peter Townend, Robert August, LJ. Richards, Rabbitt Kekai, Skip Frye, Ricky Grigg, Y, Donald Takayama, Henry Ford, Rusty Preisendorfer, Corky Carroll, Mickey Munoz, Mark Martinson, John Peck, Mike Doyle, Paul Strauch, Jericho Poppler, David Nuuhiwa, Sonny Vardeman, Linda Benson, Wingnut (Mr. Fun of Endless Summer II) and Kemp Aaberg.

Those missed were Bill Otterson who fought cancer so hard and contributed so much to the UCSD Cancer Center. Rell Sun, "The Queen of Makaha" was also there in spirit. Rell's memorial awrd went this year to cancer fighter Chuck Gorder for his generosity and spirit of true aloha. Mahalo Chuck! And Mahaho to the UCSD Cancer Center for great work!!! To learn more please ring about UCSD Cancer Center at 858-822-0022.
*******************************************
margo's thank you's
margomargo.tv & The Surf Savvy School would like to thank these "surfperlative" people:
SHRED ALERT, Rusty & RUSTY'S BOARDHOUSE Team, Leah Butler & SMITH'S SUNGLASSES, Jeffe Fernando Aguerre of REEF BRAZIL, Joel at AMIGAZ ACCESSORIES, Tom, Lee & Pat of O'Neill WETSUITS, OXBOW, HAWAIIAN PRO DESIGNS' Donald Takayama, SURF TECH SOFTBOARDS, WOODY & LA JOLLA EMBROIDERY, TERRY & OCEAN GIRL, RUDY'S CAFE, SPICE 'N RICE RESTAURANT, MISS CHINA RESTAURANT,
Miranda Eadie & THE BBC, LA JOLLA BEACH & TENNIS CLUB, THE SEA LODGE, LA VALENCIA HOTEL, INN BY THE SEA, the L'AUBERGE DEL MAR RESORT & SPA
also, THE UCSD CANCER CENTER & its LONGBOARD INVITATIONAL EVENT organizers, Sam Iacobellis & Jill Ives of SCRIPPS INSTITUTION OF OCEANOGRAPHY, Leonard Simpson of FASHION FORWARD, INTERNATIONAL DESIGNER Zandra Rhodes, Blair Sadler of CHILDREN'S HOSPITAL, Hugh Davies of the MUSEUM OF CONTEMPORARY ART, the MUSEUM OF PHOTOGRAPHIC ART, LOGHMAN'S JEWELERS and the awesome LAS PATRONAS LADIES of the JEWEL BALL.
Copyright Margo Schwab 2005. All rights protected.