San Diego Social Diary LLC All rights reserved 2011 (This material may not be published, broadcast, rewritten or redistributed)
619-708-1933
The Best Number to have...!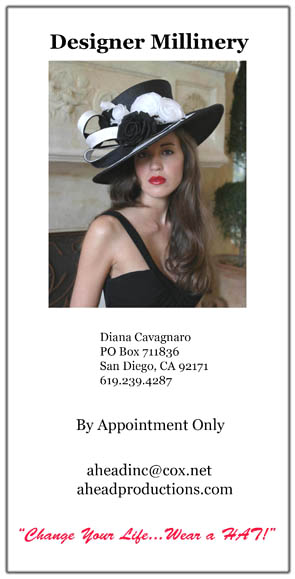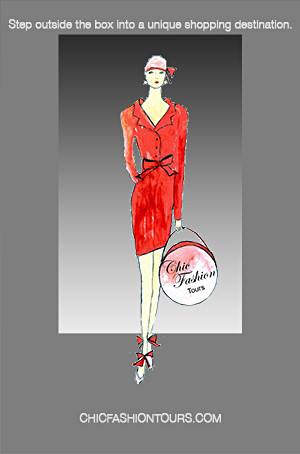 ________________________
Security Consultation
Services by Scott Johnston
SDPD Offcr. (Ret.)
619-384-7333
_______________________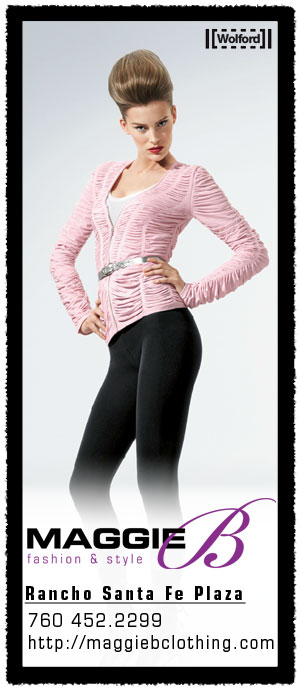 SPECIALS EVERY DAY - Open 7am-3pm!
Homemade, Delicious Food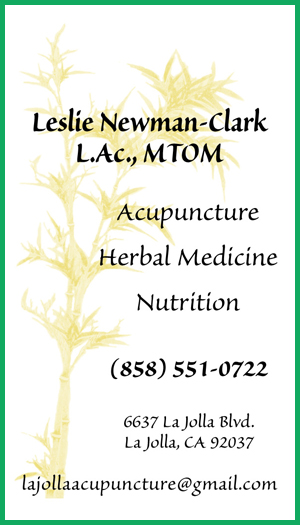 'Thank you so much for referring me to Leslie for acupuncture.' - T.N.
WineSellar & Brasserie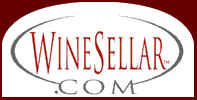 858-450-9557
Restaurant, Gary Parker's Wine Club,
Wine Store and
~ Wednesday & Saturday wine tasting's ~
XXXXCheck out Gary Parker's Pick... X...XXXXXXXa 2007 Clos de la Roche, Grand XXXXXXXXCru for $54 WineSellar Club XXXXPrice,this Pinot Noir is STELLAR!
_________________________
For Advertising, please
your inquiry.
Ask about you can support your favorite organization!
_________________________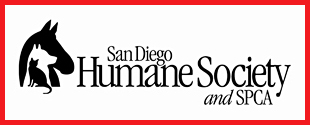 Lady

Breed: Pit Bull (mix)
Color: White/Brown
Age: 3 years
Sex: Female
Hair: Short
Adoption Fee: $105

Lady is a loving and sweet companion looking for a special family and home to call her own.
Lady unfortunately came to us after being hit by a car. With the care and love from the San Diego Humane Society, she has been getting better every day. She is still on restricted exercise, so she will need a family who will help her with her recovery. She is thrilled to go on short walks. Lady loves to play and spend quality time with her favorite people friends. She will do well in a variety of homes, but an adults-only home is recommended. She would also prefer to be the only pet in the home.
Her adoption fee is $105 and includes her spay, current vaccinations, permanent microchip identification, certificate for a free veterinary exam, and more! During the adoption process a Humane Society Veterinarian will be present to explain her medical history, answer any questions, and share how to best care for me in the future.
Nico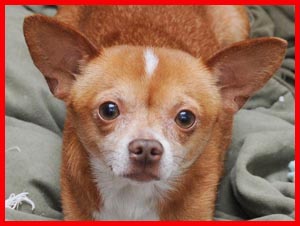 Breed: Chihuahua mix
Color: Tan/White
Age: 1 year
Sex: Male
Hair: short
Adoption Fee: $105
Nico is an affectionate, loving dog looking for a home. Nico has the unfailing ability to brighten anyone's day. A sweet little ball of love, he can't wait to find a family to cherish.
Nico came to us as a stray with bite wounds to his chest, and this resilient little pup has won over the hearts of our entire Veterinary Medicine department! Nico has fully recovered and loves spending time with people friends that he knows and trusts. While he can be a little shy at first, he warms up quickly. He gets along very well with other dogs and enjoys interacting with them.
Nico will do well in a variety of homes, but due to his initial shyness with new faces and places, a home with children 12 years and older is recommended. Visit us in person at the San Diego Humane Society to see all of our great available pets. We look forward to seeing you soon!
Tiger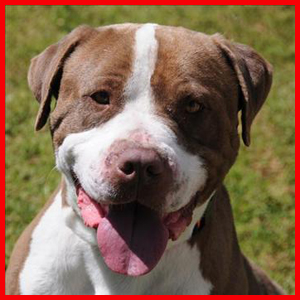 Breed: Pit Bull Terrier (mix)
Color: Brown/White
Age: 5 years
Sex: Male
Weight: 70 pounds
Adoption Fee: $180

Tiger is an adorable, 5-year-old Pit Bull mix with a big heart! He absolutely loves spending time with his people friends and can be very affectionate. Tiger is mellow and easy-going, yet loves to play with his squeaky toys and go for long walks too. This handsome guy is a social butterfly and he gets along great with cats and other dogs. Tiger is very smart and loves to learn. He takes treats gently from your hand. Tiger's housetrained and also is thrilled to go for car rides.
Tiger will do well in a variety of homes, but a home with older children is recommended. Tiger would do great in a home with other dogs! His adoption fee is $180 and includes his current vaccinations, permanent microchip identification, certificate for a free veterinary exam, and more!
Rusty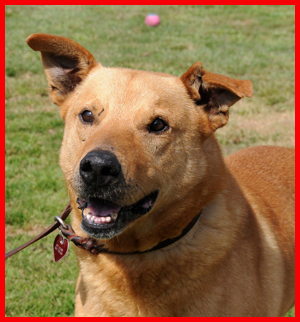 Breed: Shepherd mix
Age: 6 years
Sex: Male
Adoption Fee: $105

Rusty is a sweet, social and friendly love-bug looking for a new home. He likes the "great outdoors", but also enjoys spending time with his companions inside. Rusty is an easy-going, ideal companion who loves to play and entertain his people friends. He will do well in a variety of homes but a home with children 8 years and older is recommended. His adoption fee is $105 and includes his neuter, current vaccinations, permanent microchip identification, a certificate for a free veterinary exam and more!
SpaSAN DIEGO HUMANE SOCIETY & SPCA
GAINES STREET CAMPUS
5500 GAINES STREET
SAN DIEGO, CA 92110
(619) 299-7012
www.sdhumane.org rky
with other dogs or cats.

Where the locals dine
for Homemade Pastas, Raviolis, and Sauces
Cafe Milano
711 Pearl St, La Jolla
858- 454-3806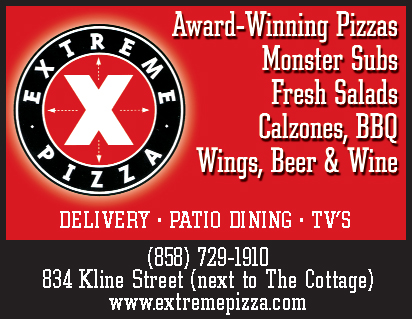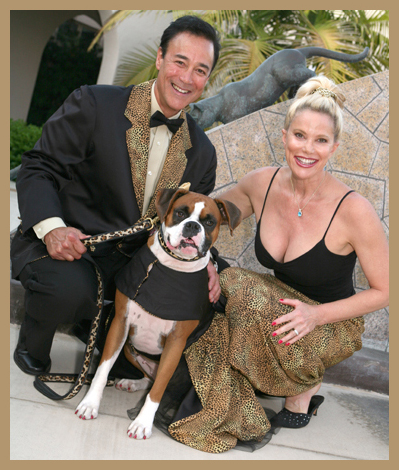 Scott Johnston, Margo Schwab and Kima!
3 Laureates Celebrated at Kyoto Prize Gala 2011
The Kyoto Prize Symposium celebrated its 10th year with a gala April 4th, 2011, at the Hilton Bayfront Hotel downtown.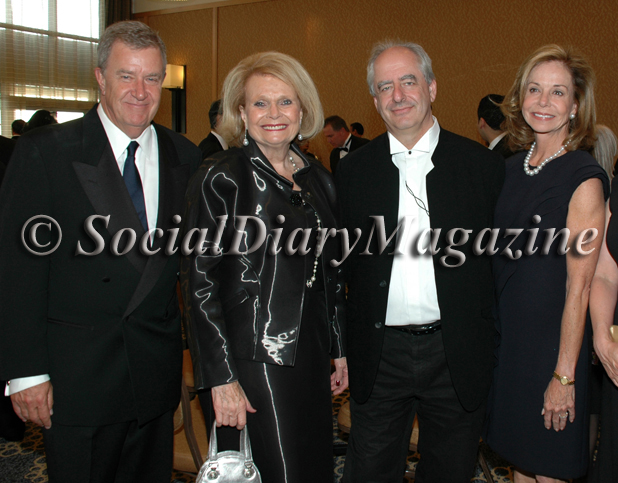 Hugh Davies with Joan Jacobs, William Kentridge, and Robin Parsky
Three Laureates were honored for their outstanding lifetime achievements in the fields of advanced technology, basic sciences and arts and philosophy. This year's laureates are Shinya Yamanaka, for his advanced stem cell research at Kyoto University; Hungarian mathematician László Lovász, who specializes in large computer systems; and South African William Kentridge, whose work in painting, sculpture, architecture and design have been focused on human rights.
Influential was the common denominator as a who's who mingled before the awards' dinner.
Among the supporters there were Honorary Chairs Irwin Jacobs (he's the founder of Qualcomm) and his wife Joan Jacobs, ResMed's Peter Farrell, and Union Bank's Masashi Oka. Also there were Lynda Forsha and Dr. Hugh M. Davies, he's the David C. Copley Director of the Museum of Contemporary Art San Diego, oceanographer and past recipient Dr. Walter Munk and Mary Coakley, Marci and John Cavagnau, Renee and Duane Roth (Duane's head of UCSD's CONNECT), past President Stephen Weber, Ph.D. of San Diego State University, Chancellor Marye Anne Fox, Ph.D. of the University of California, San Diego, and President Mary E. Lyons, Ph.D. of the University of San Diego.
These 3 universities hosted free lectures by the laureates over 2 days. Point Loma Nazarene will be added to the host universities next year.
Dr. Kazuo Inamori, the Kyoto Prize's founder, has long time ties to San Diego. Since 1971, San Diego has been the North American headquarters for his company Kyocera. Dr. Inamori has been very generous to the Kyoto Prize Symposium over the years.
Be advised strictly no downloading, publishing, broadcasting, printing, or copying of photos or content. Please email purchase requests of photos you are in.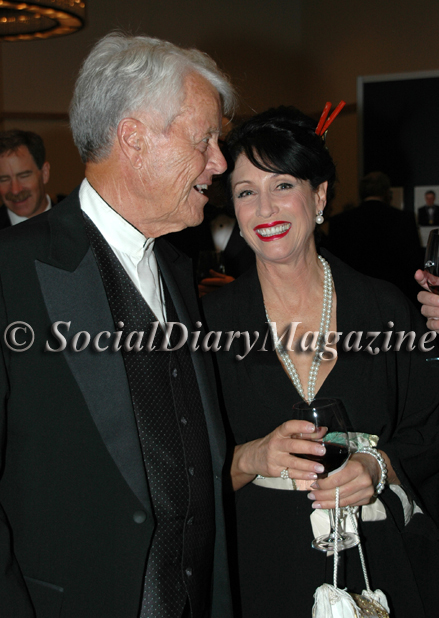 Malin Burnham with Sherarn Wuerfel
advertisement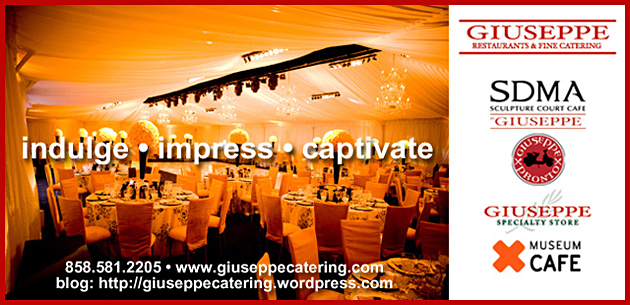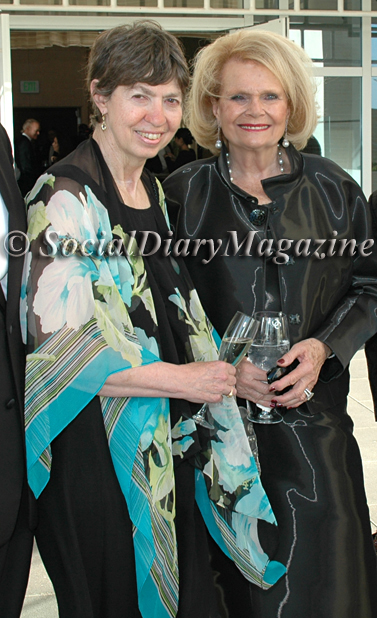 Marye Anne Fox and Joan Jacobs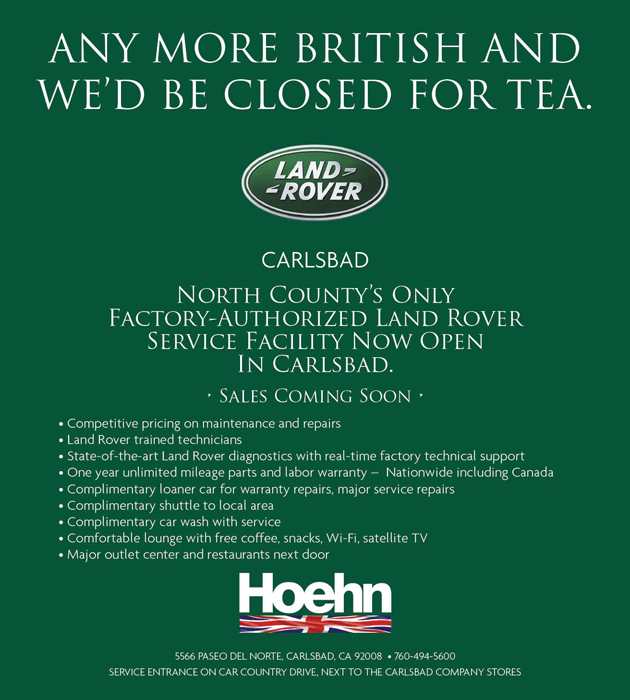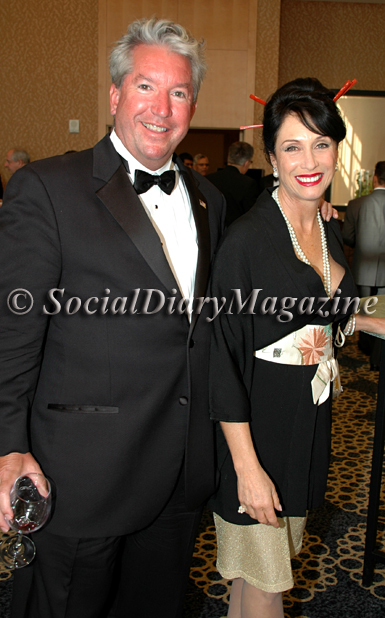 Ed Mracek with Sherarn Wuerfel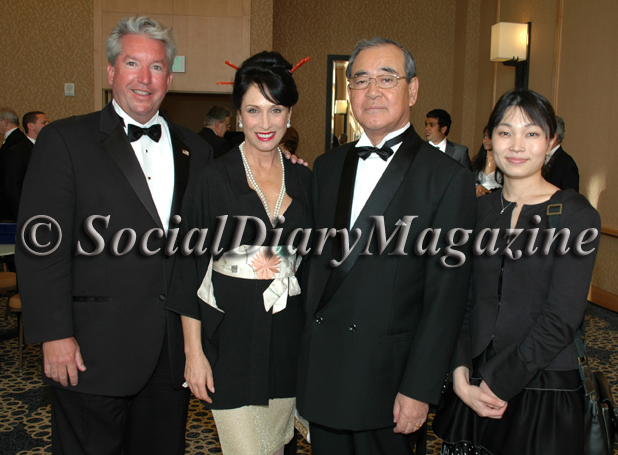 Ed Mracek with Sherarn Wuerfel and Inamori Foundation's Toyami Inamori with his assistant Haruka Nagamachi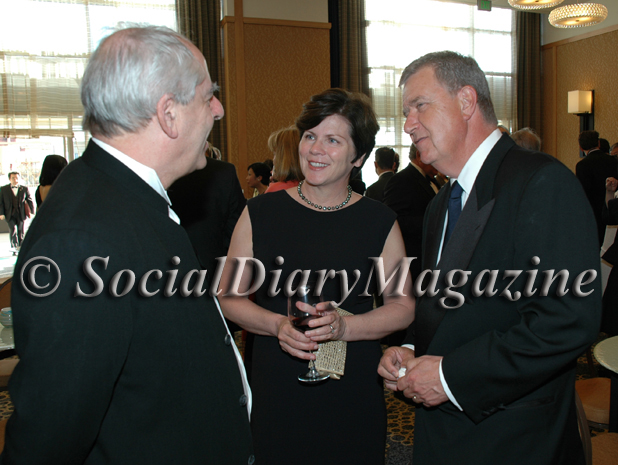 Kyoto Prize recipient William Kentridge with Lynda Forsha and Hugh Davies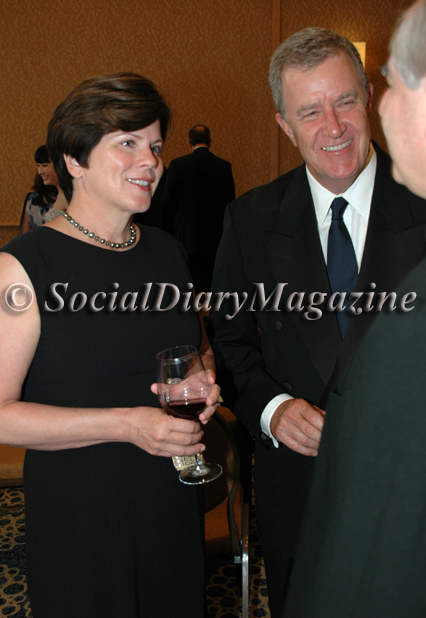 Lynda Forsha and Hugh Davies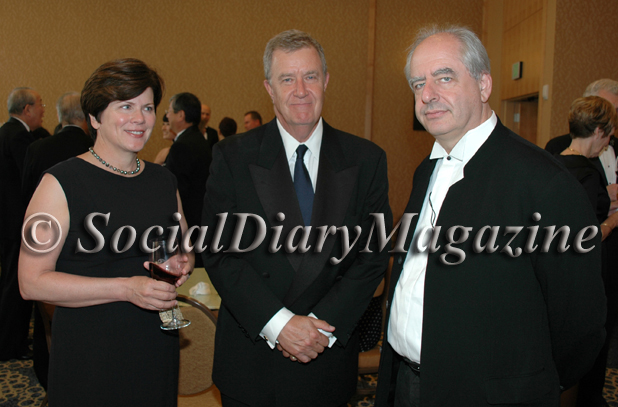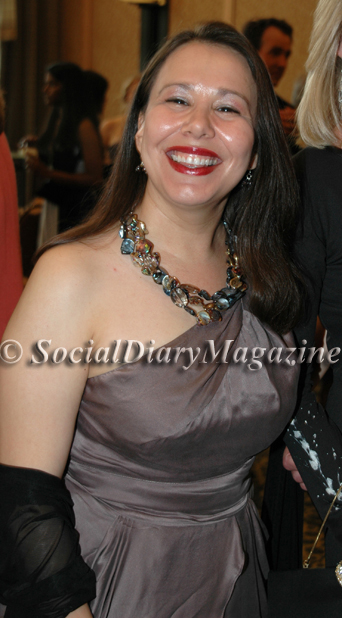 Melanie Cruz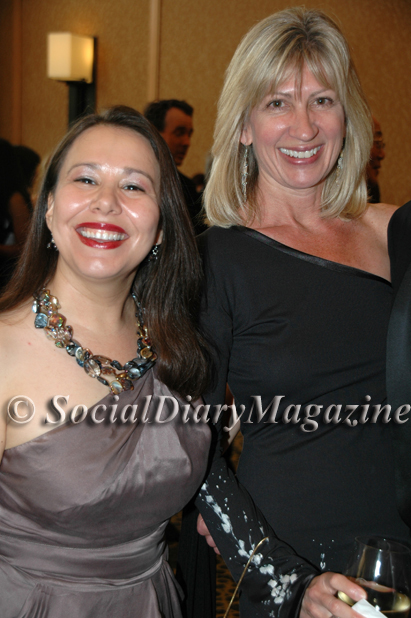 Melanie Cruz with Marsi Cavagnau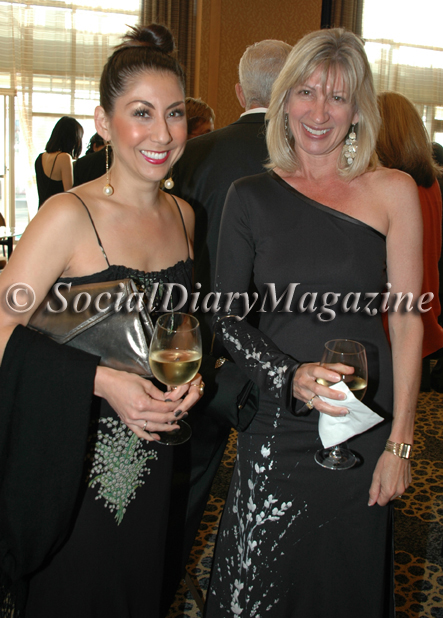 Mia Stefanko with Marsi Cavagnau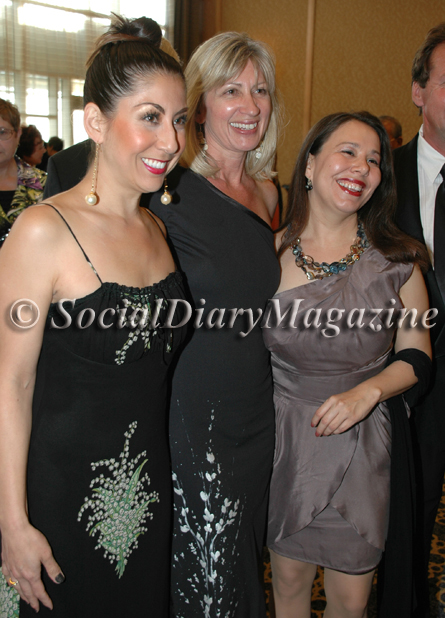 Mia Stefanko with Marsi Cavagnau and Melanie Cruz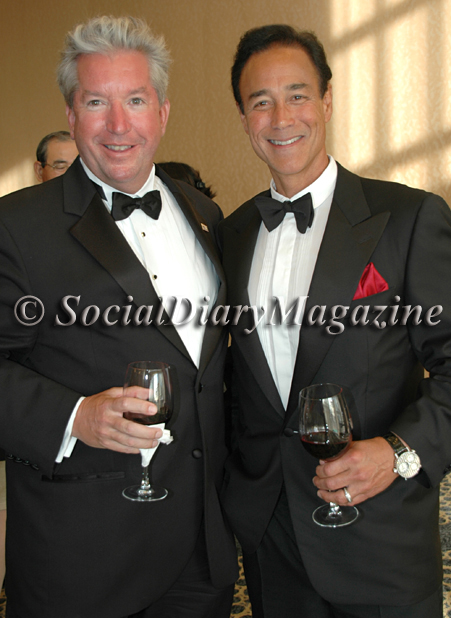 Ed Mracek and Scott Johnston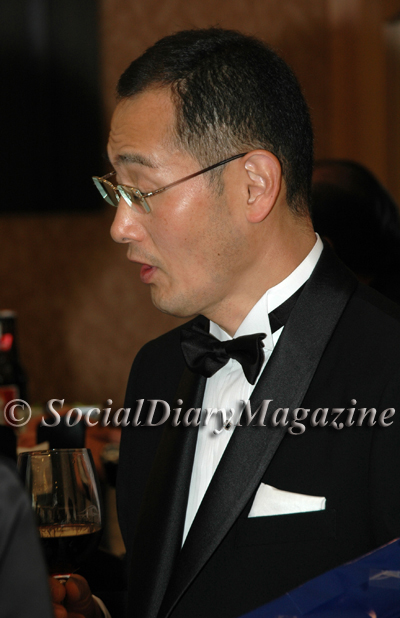 Above and Below, Kyoto Prize Recipient Shinya Yamanaka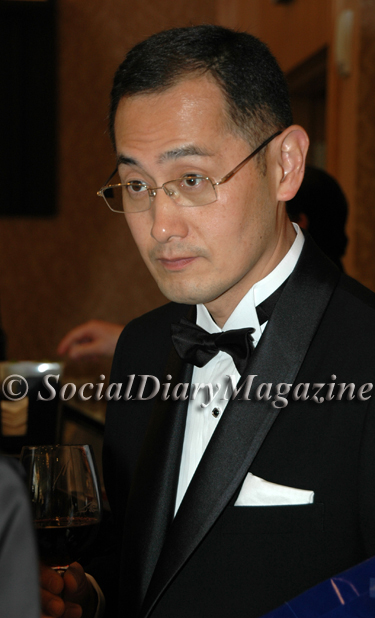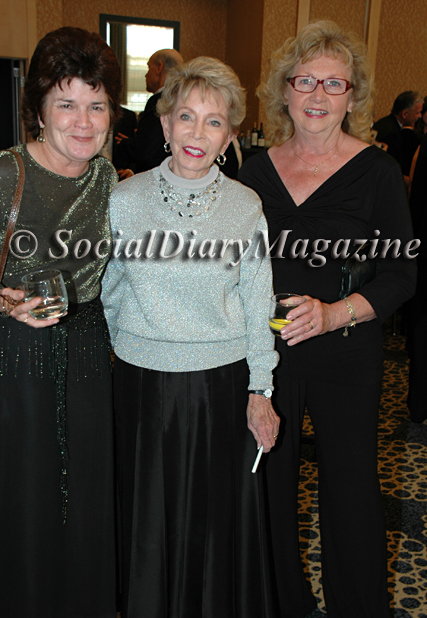 Kate Callen with Pat Jacoby and Winifred Cox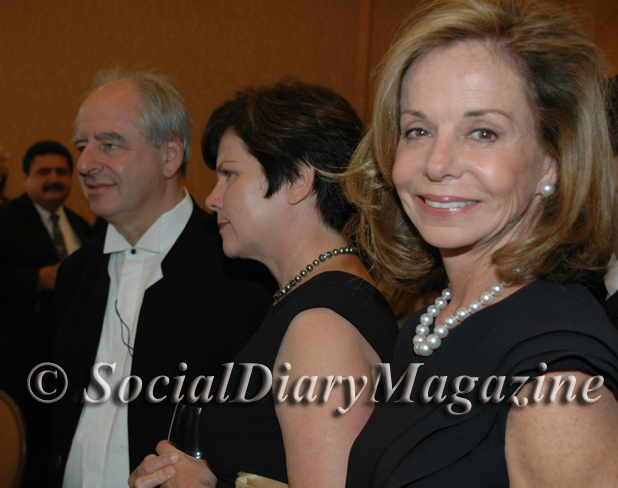 William Kentridge with Lynda Forsha and Robin Parsky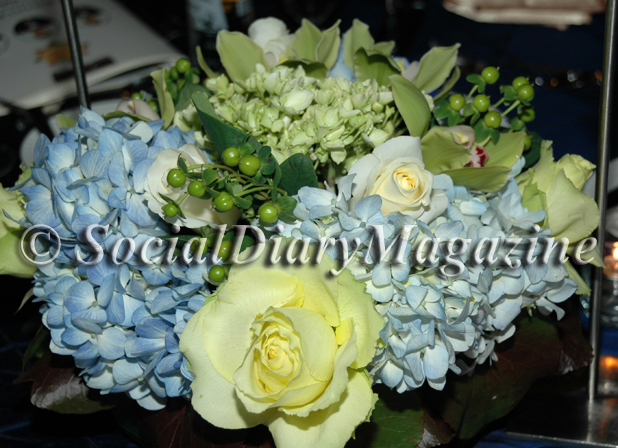 A dinner table floral centerpiece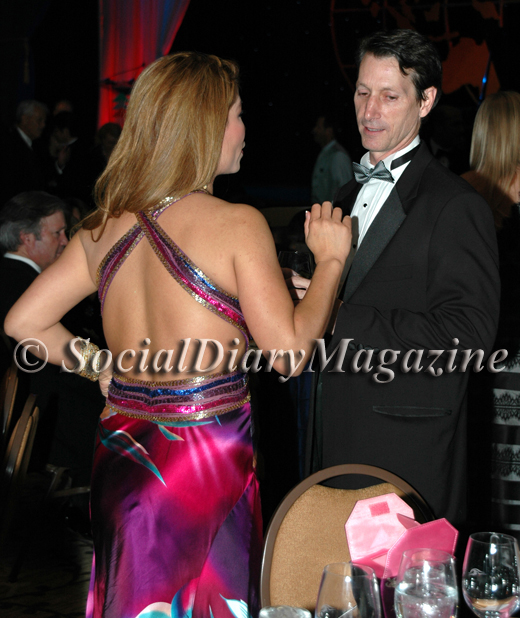 The scene before dinner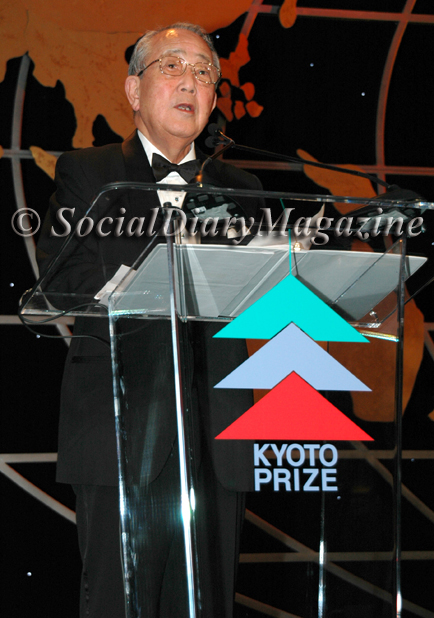 Dr. Kazuo Inamori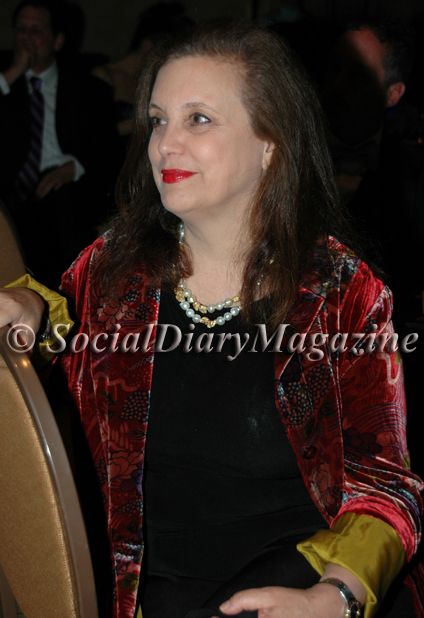 Doreen Schonbrun
advertisement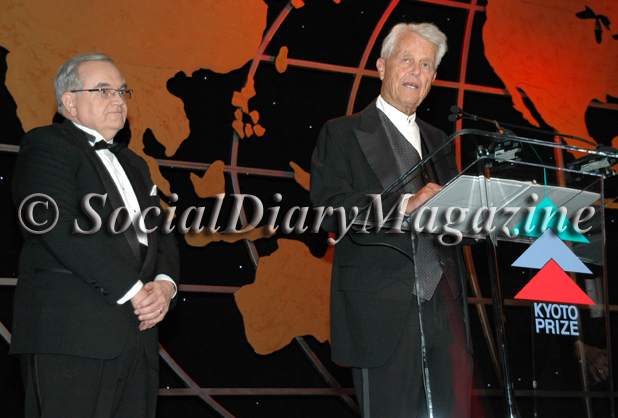 Malin Burnham at the podium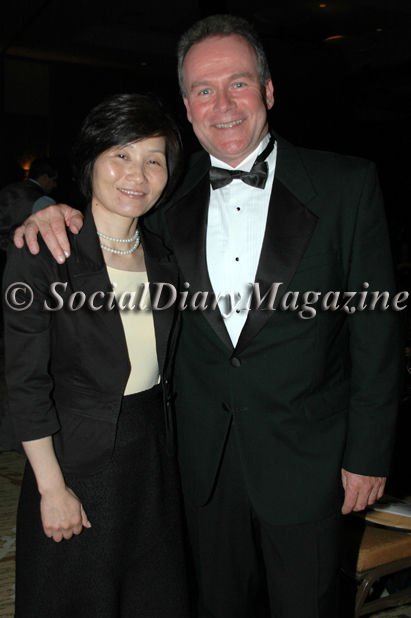 President of the Japan Society for San Diego and Tijuana, Dave Tuites with his wife Maho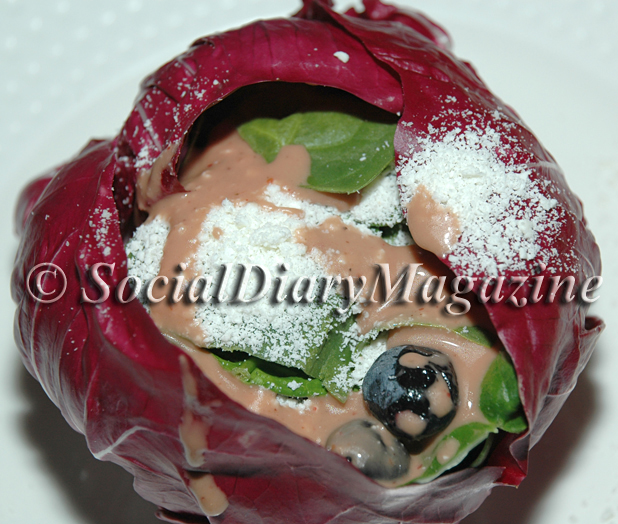 Above and below a delicious and creative dinner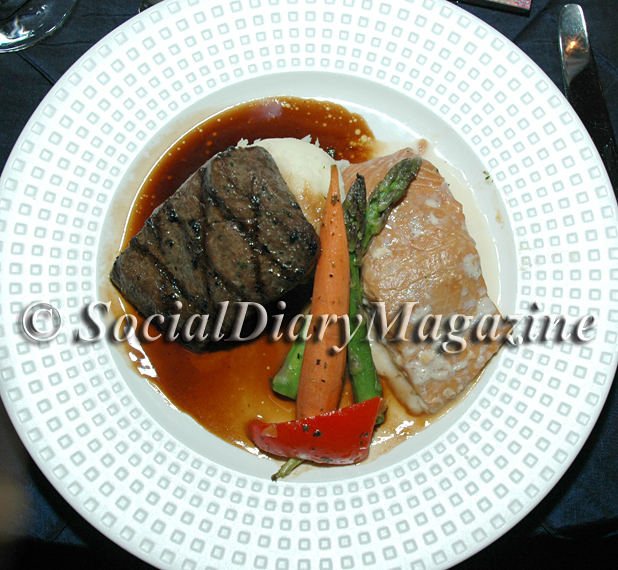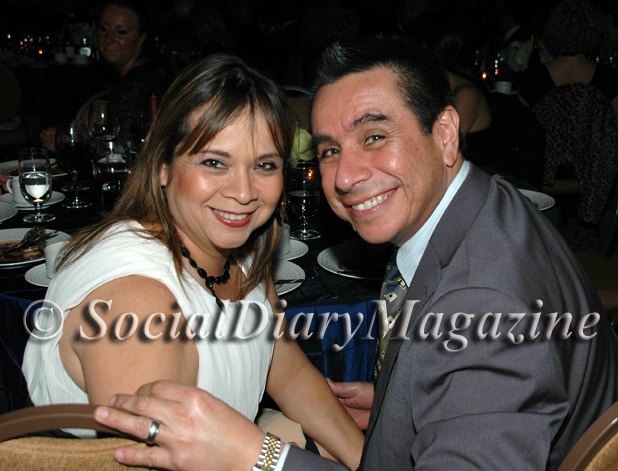 The owners of Diego and Son Printing
For more information about the Kyoto Prize Symposium,
please visit www.kyotoprize.org .
reported and photographed by Margo Schwab
web technical support by Scott Johnston
Please join us for fun informative updates on Twitter and Facebook

The Buzz!!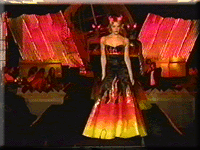 Click above to see SDM's Margo Schwab modeling at the Golden Hangers for Make A Wish.... about 20 seconds in ....
And below, Dr. Katherine Schwab, noted professor, artist and lecturer of Ancient Greece, with writer Natasha Josefowitz. Both are graduates of Scripps College.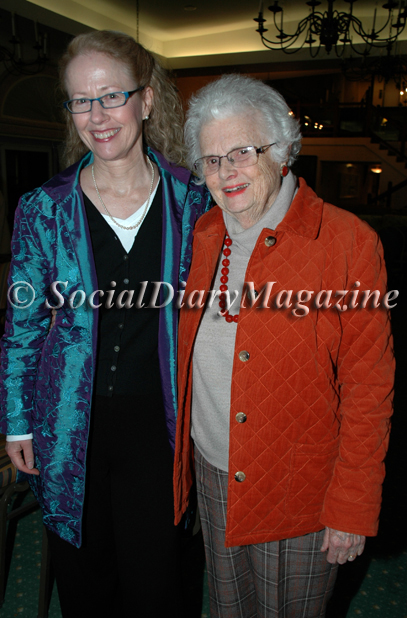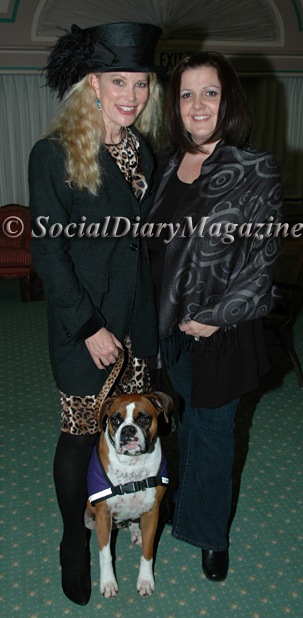 SDM's Margo Schwab with Nasia Ampelas of Eclat Catering ..specializing in Greek and Mediterranean cuisine....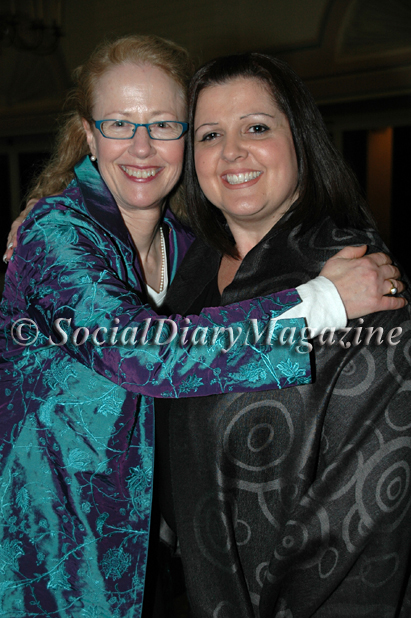 Email Commentary to be added
email TheSocialDiary.com
* Margo Schwab, MBA, more formally known as Margaret E. Schwab, has produced, written, interviewed and photographed for various media organizations since 1989. Schwab attended Holton Arms School, La Jolla Country Day School and La Jolla High School. Schwab has a B.A. from Scripps College, spent a business internship with S.A.I.C., Science Applications International Corporation, and earned a Masters of Business degree, M.B.A., from the University of San Diego by way of Claremont Graduate School . Schwab additionally took college courses from Harvard University, and Syracuse University. Schwab volunteers for numerous charity organizations. She also continues to support animal organizations and the prevention of people and animal abuse. Schwab is the editor and co-owner of The Social Diary.
Margo Schwab and Scott Johnston of The Social Diary Magazine are pleased to announce a partnerships with the San Diego Humane Society and SD METRO Magazine. They have also partnered with Country Friends and the San Diego American Heart Association and the Arthritis Foundation.
Margo Schwab and Scott Johnston are both members of the La Jolla Beach & Tennis Club (Margo Schwab since 1974) and both are now members of the University Club and its worldwide ClubCorp Compass Society. Margo Schwab and Scott Johnston are Police Press credentialed by the Chief of Police, William Lansdowne.
San Diego's The Social Diary would like to say a special thank you to our advertisers.
Eclat Catering by Athanasia Ampelas - Home Delivery Availabe Too
Hoehn Motors Land Rover
Lizz Russell Couture Designed Gowns and Purses
Diana Cavagnaro's Designer Millinery
Jordan's Art Couture
San Diego Center for Children - March 12th. 2011 Gala
Designer Millinery by Diana Cavagnaro
Juelerie by Pamela Pogue
The Museum of Contemporary Art San Diego
Giuseppe Restaurants and Fine Catering
The University Club Atop Symphony Towers and ClubCorp
Leslie Newman Clark - La Jolla Acupuncture
Maggie B fashion and style in Rancho Santa Fe Plaza
Papalulu's Restaurant and Catering in La Jolla Shores
Nancy's Nails on Pearl Street in La Jolla
H. Moradi Fine Jewelers on Prospect Street in La Jolla, now 2 locations!
San Diego Opera
WineSellar & Brasserie - featuring the Gary Parker Wine Club
Cafe Milano on Pearl Street La Jolla
Extreme Pizza in La Jolla
Neptunic Sharksuits
The Animal Hospital of La Jolla
Eugene Ladopoulos of Mistra Estates Olive Oil
Warning ** photos, video and writing on this site are the
2011 copyright, all rights reserved, of The Social Diary LLC and its subsidiaries including San Diego Diario Sociales - Su Conexión Con la Sociedad, no reproduction of any part or parts is allowed without written permission by Social Diary Magazine