Margo Schwab's
~ San Diego Social Diary ~
the on-line magazine covering High Society ..& more
at sandiegosocialdiary.com, sdsocialdiary.com & margomargo.com
__________________________Home______________________________
Joey Cabell's Surprise Birthday December 10th, 2005
Yana Deaton threw the surprise party of the parties, for her love, Joey Cabell, the legendary surfer and restauranteur. Yana explains how the party came to fruition.
"Joey and I had an invitation to visit the island of Namotu, Fiji in October. We both agreed that Namotu was one of the most amazing places we had ever been in the world! There we found perfect surf, sun, shelling and beautiful Fijian people, so I decided to throw Joey a Fijian surprise birthday party."
So Yana organized the big surprise party for Joey in Oahu.....
"I created a feeling that our guests would be walking into a tropical island in their "sarong" attire. Tropical trees lined the entry way, colorful lights and disco ball dazzled the eyes, seashell leis hung about. Guests were greeted by our "Party Pig" on the buffet table and handed the "Namotu Skull Drag Cocktail," named after the skull drag where they tow you behind a boat and you are dragged across the beautiful reefs. Our food was catered by The Chart House, Honolulu of course! Joey walked into his "surprise," the band broke out into "Happy Birthday" and he was shocked! Joey was surrounded by family and friends who all love him so much! It was another surprise and honor to have surf legend George Downing join in on the celebration."

Aloha Yana and Joey
and a Big Happy Birthday to you Joey!!! Yana organized a great celebration!!
xoxo San Diego Social Diary
The invite on the cake ........... Yana and Joey blowing out the candles!
George Downing with Yana and Joey Cabell..... & The Party Pig all dressed up.
(photo on left) Lifeguards Mark Cunningham of Hawaii & Kip Kennedy of California with Kayte Kilabrew (photo on right) Joey Cabell (center) with Yana's son's Godparents, Dr. Scott McCaffrey and his wife Deborah Lucket
(photo on left) Ricardo Pomar, Diana Novoselic, Yana Deaton and Joey Cabell, Nani Naish. (photo on right) Gerry Mosel, Joey Cabell and Yana Deaton, Nani Naish, Chris Smith and George Downing
(photo on left) David from Italy and Deena (they did the incredible lighting and design for the party), Yana Deaton and Joey Cabell. (photo on right), Yana and Joey still blowing those candles.
Trevor Cabell behind his dog Liko, Stoney and Logan (Sunny Garcia's kids), Sunny and Raina Garcia, Joey and Yana...(photo on the right) Joey Cabell with Trevor Cabell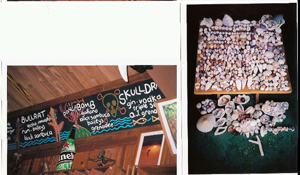 The inspiration for the party theme.... Namotu, Fiji!
these photos are copyright protected by Yana Deaton for the use of San Diego Social Diary, all rights reserved 2006