Private, Picturesque ......home of the Scorpion Bay Surfing and Fishing Club, founded by Fred Borrelli
Scorpion Bay Surfing and Fishing Club
frequented by legends of surfing and CEO's of business
~~~~~~~~~~~~~~~~~~~~~~~~~~~~~~~~~~~~~~~~~~~~~~~~~~~~~~~~~~~~~~~~~~~~~~~~~~~~~~~
~ The Social Diary ~
all photos and content are the strict copyright of TheSocialDiary.com
photos are available for purchase
~~~~~~~~~~~~~~~~~~~~~~~~~~~~~~~~~~~~~~~~~~~~~~~~~~~~~~~~~~~~~~~~~~~~~~~~~~~~~~~~~~~~~~~~
'Yes on Prop 2' aka Stop Farm Animal Cruelty Fundraiser
Hosted by Pam and Jerry Cesak
"The purpose of the event was to raise funds and awareness for Prop 2, the Farm Animal Cruelty Prevention Act. It seeks to ban three of the most abusive confinement practices on factory farms. You can find out all you want about the ballot measure at www.YesonProp2.com."
- Wayne Pacelle, President & CEO, The Humane Society of the United States
Supporting guests for 'Yes on Prop. 2' gathered for a fundraiser October 10th, 2008 at the La Jolla hilltop home of Pam and Jerry Cesak. Prop 2 is the Farm Animal Cruelty Prevention Act.
Among the many there were Beverly Kaskey of HSUS, actress Alicia Silverstone, Alicia's mother Didi Silverstone, actor James Cromwell, actress Persia White, Star 94.1's Tommy Sablan and his wife Michelle, and La Jollan Peggy Howell.
Peggy is down to 5 rescue dogs right now. She used to have many more and a dog walker too. But as she says at this stage in her life, that is what she can do. Aside from donate BIG to animals of course.
Also there was Lorri Bauston, Co-founder Farm Sanctuary, and President, Animal Acres, a Los Angeles Farm Animal Sanctuary & Compassionate Living Center. Lorri lives and breathes rescue 24/ 7. In her words, "If a person treated a dog or cat the way farm animals are treated, he would be convicted of cruelty to animals. Cows, pigs, and chickens feel pain and fear like any other animals, and they deserve, and need, to be protected from cruelty. Please VOTE YES ON PROP 2 to be kind to ALL animals."
Other animal lovers there were the hosts, Pam and Jerry Cesak of course. Jerry had this to say."This event sold out despite financial hard times. It proved to me that "Yes On Proposition 2" is important to people who have a heart beating in their chest. I was overwhelmed. Nothin' but love, nothin' but fun."
Speaking of fun..... Jerry, the "Jer" of Jeff and Jer Radio Show on 94.1, put some big 'teeth' into the night literally. Jerry got up to the podium with Jer as in Jerry Lewis teeth and voice that were spot on from The Nutty Professor. It worked. Got everyone's attention to the cause of the evening..... humane treatment of farm animals.
Movie star and animal star Alicia Silverstone took it one thought further. Alicia added, if anyone would like to give up eating one animal, that would be fine, as in really great too.
3 Cheers to HSUS and animal supporters who will never give up supporting what puts the civilized back in civilization!
To learn more about Yes on Prop 2 please click here...www.YesonProp2.com
Please enjoy the photos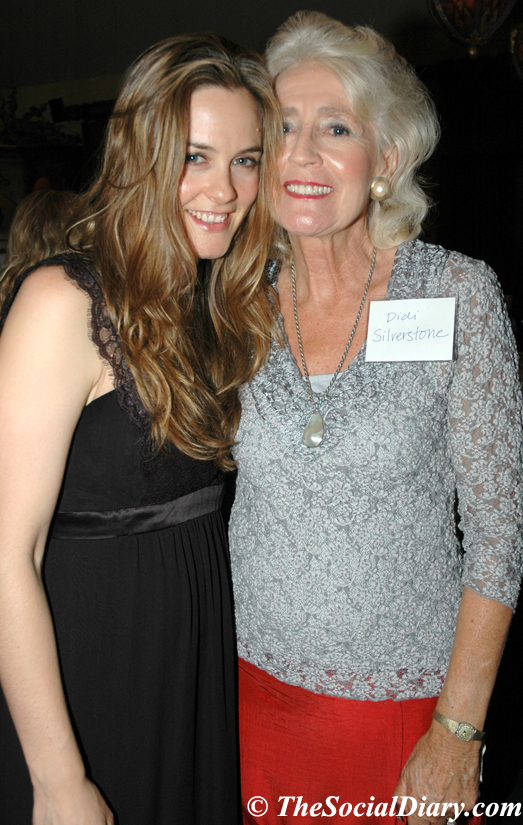 Alicia Silverstone and her mother, Didi Silverstone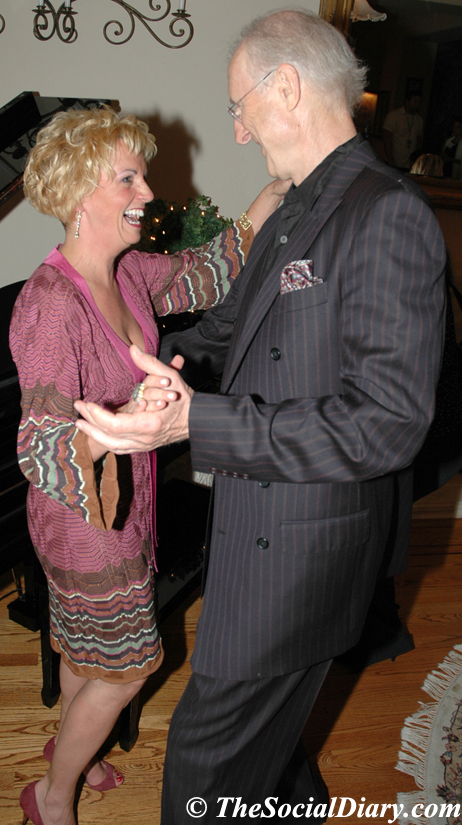 Pam Cesak and James Cromwell doing a little impromptu dancing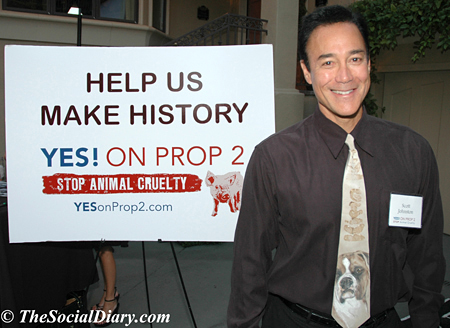 Yes on Prop. 2 Supporter, Mr. 911 and 441, off-duty Officer Scott Johnston in his Kima by Jordan Art Couture handpainted Tie!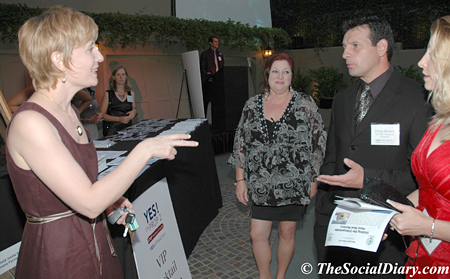 Robin Moler of HSUS Greeting Guests
Margo Schwab and Pam Cesak ** Lorri Bauston ** Guest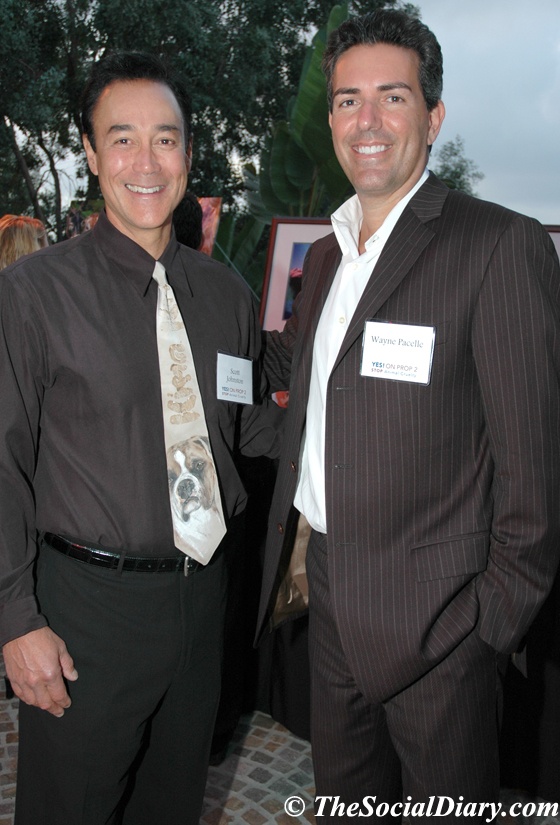 Scott Johnston, the '5-0' of Animals with Wayne Pacelle, the President and CEO of the Humane Society of the United States
Guest talking with 'Jer' aka Jerry Cesak ** Two Petite Animal Loving Guests
Sandra Waldman with her husband ** Guest with a great dress! ** Margo Schwab in her 'Kima by Jordan Gown' with Alicia Silverstone and Didi Silverstone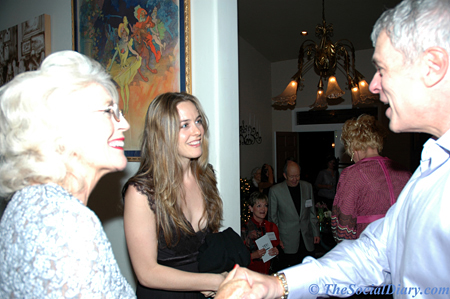 Didi Silverstone and her daughter Alicia Silverstone greeting host Jerry Cesak
Lorri Bauston with Alicia Silverstone ** Wayne Pacelle with the Next Generation of Animal Lovers ** The Doug Rumer's
Bryan Pease ** Peggy Howell with Wayne Pacelle
Guest with James Cromwell and Lorri Bauston
Jake Garelick and Lisa Osborne ** Dr. T.C. Ghosh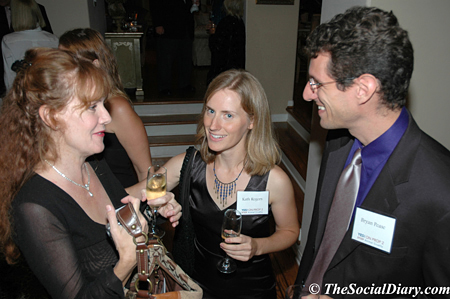 Guests with Kath Rogers of the Animal Protection & Rescue League and Bryan Pease
Guest with Tommy and Michelle Sablan ** Jerry Cesak with Wayne Pacelle ** Dr. Nancy Harrison
Wayne Pacelle with Robin Moler ** Mike Erlanson and Dr. Dana Ryan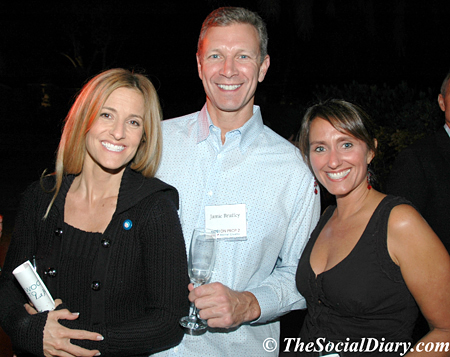 Guest with Jamie Bruffey and Christina
Jerry Cesak getting into his 'Jerry Lewis' mode teeth and all ** Guest with Persia White
Actor James Cromwell enjoying Jerry Cesak's repartee
Margo Schwab explaining the Jordan Art Couture Custom Gown for auction to benefit HSUS ** Guest with Brooke Feuling ** Guest Speaker
Alicia Silverstone speaking about Prop 2 ** Guest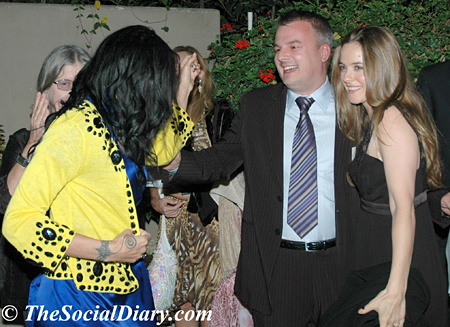 Above and Below Chris Hoar getting appreciative hugs from Persia White and Alicia Silverstone for donating $10,000 during the live auction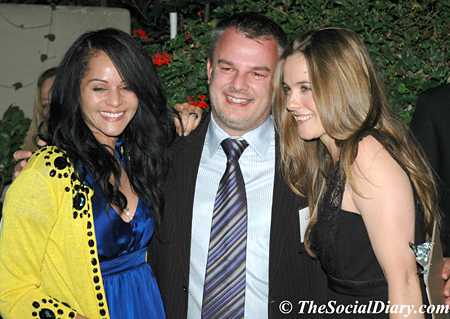 Host Pam Cesak ** Actress Persia White
and a flashback to other animal events and friends including the Genesis Awards, The Animal Ball, Tippi Hedren's Ranch Shambala, and on set with Pamela Anderson
At the Animal Ball in the 90's - Kim Basinger with Margo Schwab ** Alicia Silverstone ** Alec Baldwin ** Below, Linda Blair and Elvira, aka Cassandra Peterson ** Elizabeth Berkley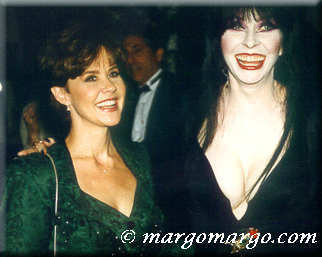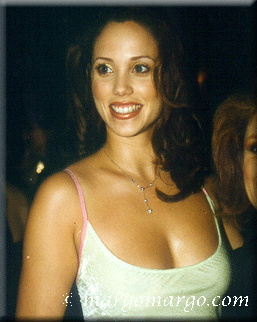 On set with animal loving Pamela Anderson - Margo Schwab with Pam Anderson ** Pam Anderson with Producer & Director Douglas Schwartz ** Pam Anderson
At the Genesis Awards for HSUS in the 90's - Actors Ed Begley Jr. and his wife Rachelle Carson ** Bob Brunson, Kim Devore, Pierce Brosnan and Keely Shaye Smith, and Erika Brunson ** Leeza Gibbons with Kim Devore
At the Genesis Awards for HSUS in 2005 ** Genesis Awards Founder Gretchen Wyler with Benjie ** Sofia Vassilieva ** Lake Bell ** Linda Blair with Lake Bell
Pictured Below ** Scott Johnston with Actors Steve Valentine and Shari Valentine ** Persia White on the left ** Tippi Hedren on the left ** Matt and Paige Talmach with James Cromwell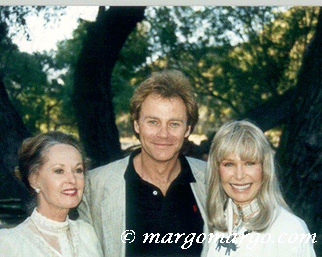 At Tippi Hedren's Shambala Ranch - Tippi Hedren with Tristan Rogers and Loretta Swit
Wayne Pacelle with Margo Schwab ** Scott Johnston, Margo Schwab and Kima in 'Kima' from Jordan Art Couture at the San Diego Humane Society's Fur Ball
Reported by Margo Schwab who would like to say a special thanks to Robin Moler, and hosts Pam and Jerry Cesak for facilitating our coverage. And a big thank you to Jordan Art Couture for donating a gown to benefit prevention of cruelty to animals.
Yes on Prop. 2!!
Email Commentary to be added
email editor@thesocialdiary.com
* Margo Schwab, more formally known as Margaret E. Schwab, has produced, written, interviewed and photographed for various media organizations since 1989. Schwab attended Holton Arms School, La Jolla Country Day School and La Jolla High School. Schwab has a B.A. from Scripps College, spent a business internship with S.A.I.C., Science Applications International Corporation, and earned a Masters of Business degree, M.B.A., from the University of San Diego. Schwab volunteers for numerous charity organizations. She also continues to support animal organizations and the prevention of people and animal abuse. Schwab is the editor of The Social Diary.
Warning ** photos, video and writing on this site are the
copyright of The Social Diary, San Diego Social Diary
no reproduction of any part or parts is allowed without written permission by The Social Diary