Kima on Facebook! & Kima's Fan Page & Kima on Kintera! & Article on Kima
p.s. Thank you to all who supported the Arthritis Walk., over $150,000 raised and more coming in!!...
Thank you and Xoxo ** Kima!
_______________________________________________________________________________________________________________________
TODAY'S COLUMN FEATURING GRANT COOPER'S CELEBRATION & THE BUZZ WITH FRED SAXON AND SOME LIKE IT HOT REUNION!

all photos and content are the strict copyright 2009 of TheSocialDiary.com
no downloading!! photos are available for purchase if it is of you!
Grant Cooper Graduation Celebration
He's got the looks, he's got the dedication, and lucky guy, he has the great parents too that helped him celebrate his college graduation.
The lucky guy? Grant Cooper who just graduated from Pitzer College. His parents Terry and Greg Cooper threw the backyard bash at their La Jolla home May 23rd, 2009, and as Terry said, it was a whole lot of cooking on her part for the whole week... and she enjoyed every minute of it.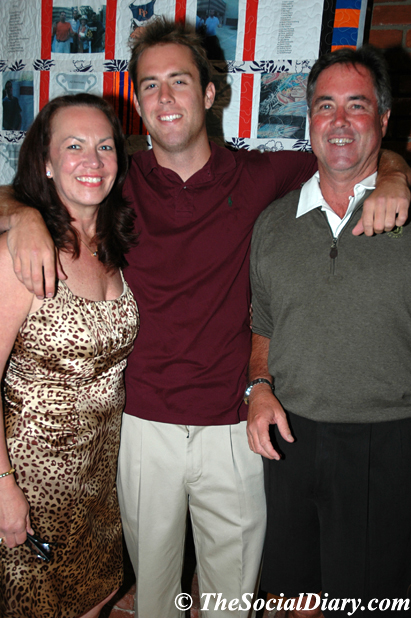 Grant Cooper with his proud parents, Terry and Greg Cooper
Guests coming to the celebration came in casual chic attire. The buffet spread was big and so were the congratulations to Grant.
Among the mix there were Stu and Wendy Segall, Diane and Roy Bell, Roy Clark, Pam and Chris Smith, Sue and Lyle Kalish, Alison and Eric Figi, Beth and Tom Murray, and Susan and Fred Oliver.
More there included Terry's father, Jim Tehan and Terry's grandmother, Jo Tehan. They wouldn't miss this celebration for the world.

For Terry, it was a labor of love. "As far as the menu goes...I cooked all week long! We originally were going to have it catered and then Grant made some changes in his travel plans...so I decided to cook for everyone! I have cooked large quantities of food for many years, never professionally. Have you ever tried to feed 20 hungry collegiate water polo players in your backyard? It is almost the same as feeding 40- 50 adults!"

The Menu included -

"Soup Shooters" - No spoons necessary, served in 4 oz. cups for sipping!
Tomato Basil,
Shitake Mushroom
Carrot Orange

Finger Sandwiches-
Mini Croissants filled with turkey and provolone cheese
Foccacia sandwiches of roast beef and jack cheese,
Foccacia sandwiches of black forest ham and swiss cheese

Curried Chicken and blueberry salad/served with crackers and cucumber slices - I am always asked for this recipe, but there isn't one....I just make it!

Cranberry Meatballs

Chilled Orange Vodka Shrimp

Chilled Shrimp with Traditional Sauces

Buffalo Chicken Wing Dip

Spicy Shrimp Dip

Baked Brie

Chilled Whole Artichokes

Crudities

Fruit Platters

Nuts and dried fruits

Milk Chocolate Fountain - Rice Krispie Treats, strawberries, pound cake squares
Coconut/Chocolate Chip Macaroons
Paula Taylor's PB/Choco Bars
Mini Cupcakes

As a note..."Mad Housewife" wine was served, and it was a hit!"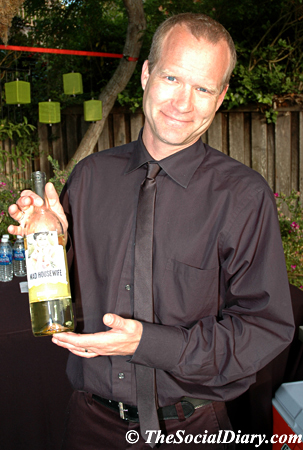 Mad Housewife Chardonay being served!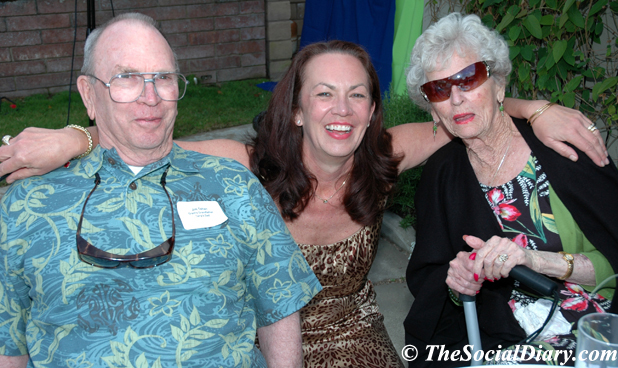 Terry Cooper with her Dad Jim Tehan, and her Grandmother Jo Tehan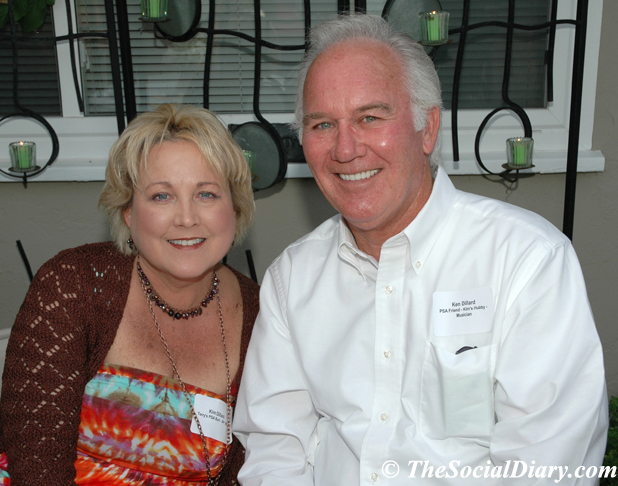 Kimberly and Ken Dillard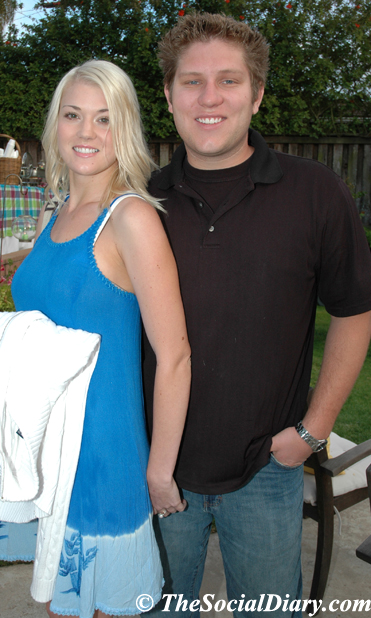 Kassandra Mudd and James Heck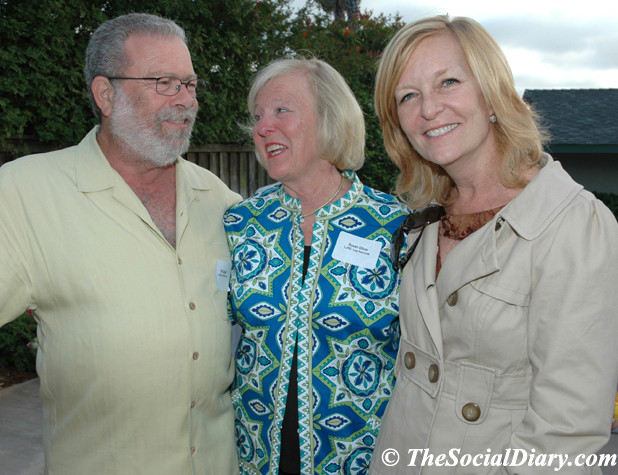 Stu Segall with Susan Oliver and Stu's wife, Wendy Segall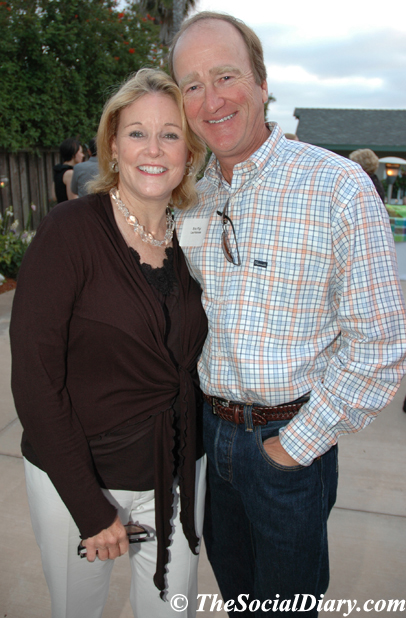 Alison and Eric Figi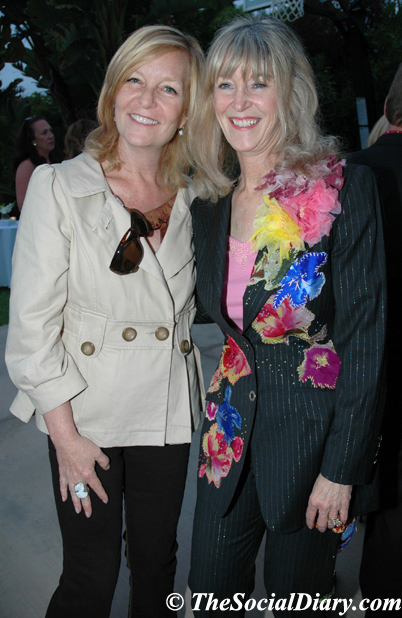 Wendy Segall with Diane Bell
Grant Cooper with his grade school teacher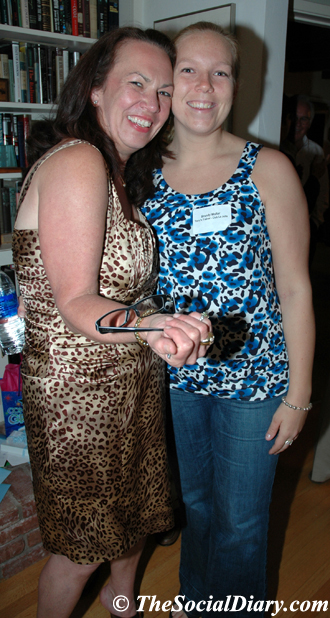 Terry Cooper with her trainer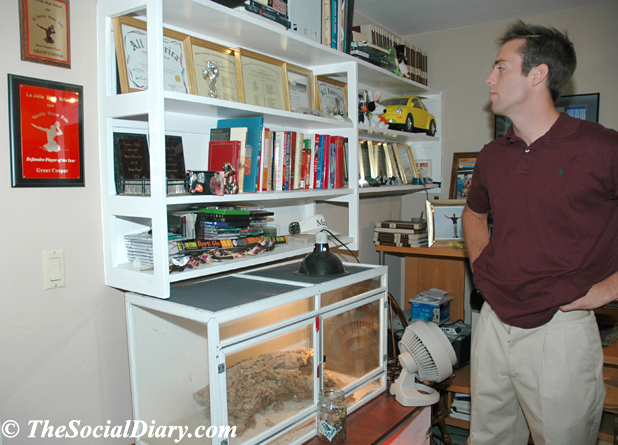 Grant Cooper with his pets including anaconda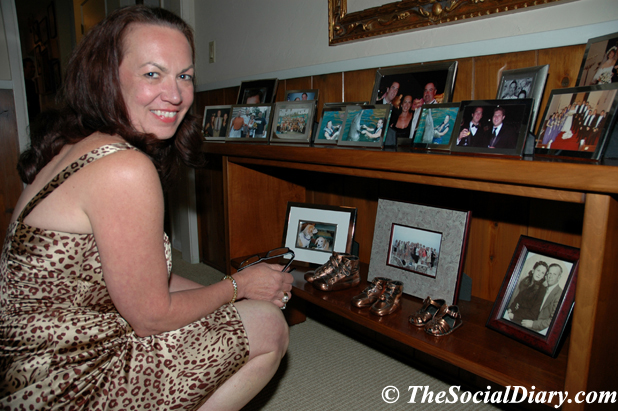 Terry in front of family's display of key photos and bronze baby shoes
Terry Cooper and Vicky Eddy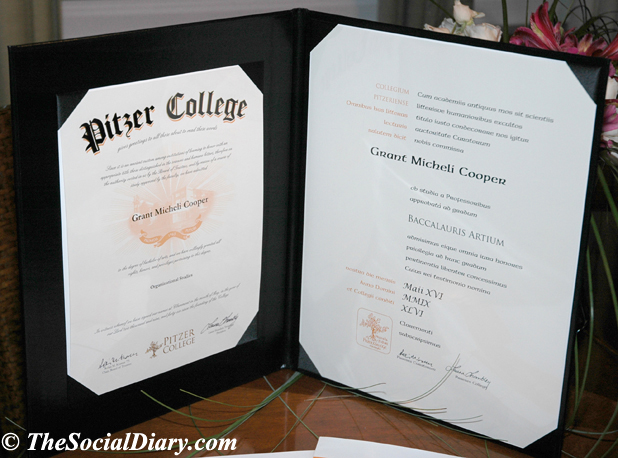 The Graduate Diploma!
reported by Margo Schwab
The Buzz
Crime Stoppers held their 2009 Enough is Enough luncheon in Mission Valley. This luncheon awards some incredible heroes in the fields of law enforcement and investigation who go the extra mile to capture the bad guy. The honorees this year were Officer Juan Uribe, Detective Gina Grippo, Officer Shawn O'Neill, Officer Don Hansen, Officer Mario Sainz, Special Agent Dean Giboney, Detective Scott Hildebrand, Corporal Derek Ayedlotte, Detective Michael Brown, Deputy Marc Snelling, District Attorney Investigator William Cahill, Corporal Mike Rich, Detective Robert Connaughy and Officer Carla Kuamoo.
...................
And the Del Mar Fair aka San Diego County Fair is up and running. Pre-opening day, the annual media day is always well attended .... and a lot of resumes were being handed from colleague to colleague as media sorts braces for more shuffling of jobs and downszing.....times they are a changing say inside sources....
....................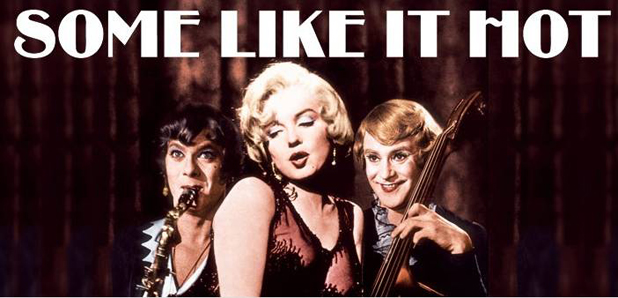 Some Still Like It Hot
By Fred Saxon

This is the 50th anniversary of the release of "Some Like It Hot", the Oscar-winning and highly acclaimed comedy starring Marilyn Monroe, Tony Curtis and Jack Lemmon. In 1984, I was working for the Australian version of "The Tonight Show" when my camera crew and I came down to San Diego to cover the 25th anniversary of "Some Like It Hot." The event took place at the Hotel Del Coronado where the film was shot, and those in attendance would include the surviving cast members Jack Lemmon and Tony Curtis along with director Billy Wilder. Marilyn Monroe had died 22 years earlier.
Director Billy Wilder suggested that during my interview we put the Hotel behind him. Explaining "When you shoot in Paris, you see the Eiffel Tower, you don't have to say you're in Paris. So if you're shooting at the Hotel Del, you see the hotel, you don't have to say where you are." I told him it was great to be directed by the great Billy Wilder. He said "I'm not directing, I'm just suggesting. DeMille made the Ten
Commandments, I make the ten suggestions".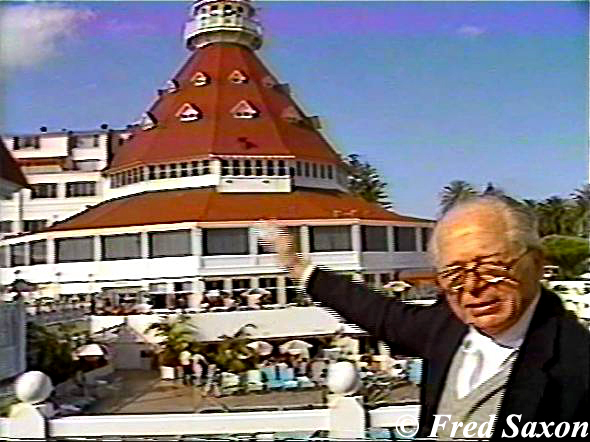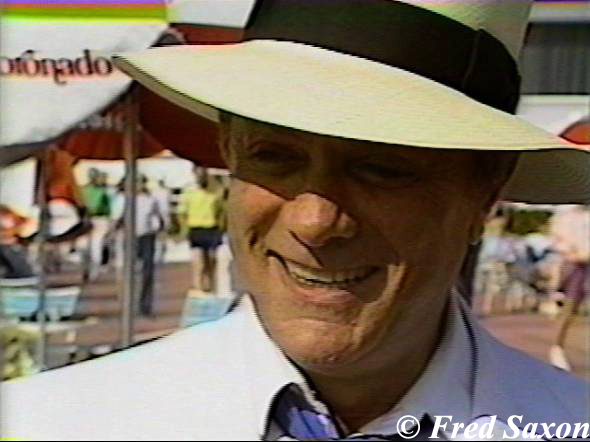 Tony Curtis told me he was thrilled when he was cast in the film and he knew with Billy Wilder directing, and co-stars Jack Lemmon and Marilyn Monroe, it would turn out to be a good movie. Tony said he was especially pleased when Billy Wilder came to him and said he wanted him for the film. Tony said for him that was "top drawer".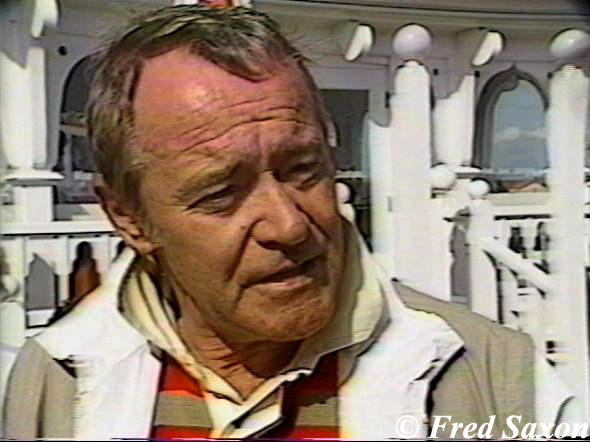 I asked Jack Lemmon if it seemed like it had been 25 years since they made the movie. He said, "It seemed like yesterday." Jack said he couldn't believe the time had passed so quickly. Now, 25 years later, I can truly appreciate what he said
That evening the celebration continued with a cocktail party and I was able to get a shot of Jack Lemmon and Tony Curtis, arms linked, toasting each other with champagne. It was a memorable moment.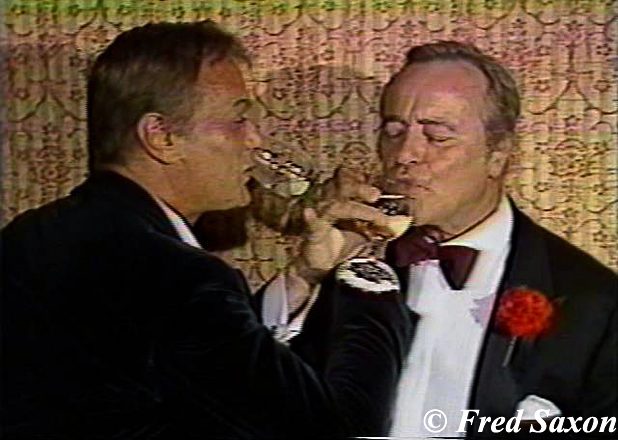 Upcoming Events
June 17th - Fashion at the Timken - Guest Speaker Patricia O'Connor, Founder / CEO of Fashion Careers College and Timken Docent. For reservations, please visit www.timkenmuseum.org
June 18th - The San Diego Center for Children's Annual Dinner, The Magic of Music will take place at the U.S. Grant Hotel. The center has offered comprehensive day and residential treatment for children with behavioral, emotional, social and educational issues since 1887. Doreen Schonbrun will Chair the event and Mayor Jerry Sanders and First Lady Rana Sampson, the San Diego Center for Children's new Senior Director of Development and Marketing, are the Honorary Chairs. The evening will also honor Sundiata Kata, the Center's Music Director, for his 40 years of service to the San Diego Center for Children.
For tickets, please call Jessica Johnson at 858-569-2148 or email jjohnson@centerforchildren.org. And visit online at www.centerforchildren.org for details
June 19th - The Rainforest Alliance promises a wildly fun night of fundraising. Postponed....until October....
June 20th - RITZ, San Diego Zoo Gala Fundraiser themed Midnight at the Oasis. Lisa Casey and Chris Andrews are the Chairs. For tickets and details please visit www.sandiegozoo.org
July 30th - 'After the Finish Line's' summer fundraiser, A Tribute to the Majesty of Thoroughbreds. Please visit www.afterthefinishline.org for details.
August 1st - Old Globe Gala will host its black tie soiree to coincide with the production of the First Wives Club. Please visit www.oldglobe.org for details.
August 8th - Las Patronas will host its Silk & Spice themed Jewel Ball at the La Jolla Beach & Tennis Club. Please visit www.laspatronas.org for details and tickets.
August 15th - The 'Catch the Royal Wave' will be the theme for the Fur Ball at the San Diego Humane Society. Please visit www.sdhumane.org for details.
August 29th - The Art of Fashion at The Timken Museum in collaboration with Fashion Careers College. For reservations, please visit www.timkenmuseum.org
September 14th - Crime Stoppers Golf Tournament.

Proud to be partnered with San Diego News Network
________________________________________________________________
Photoshopping and Photography Services
Photos on this website available if it is of you
available by The Social Diary
~ 619-384-7333
email TheSocialDiary.com
_____________________________________________________________________
Email Commentary to be added
email editor@thesocialdiary.com
* Margo Schwab, more formally known as Margaret E. Schwab, has produced, written, interviewed and photographed for various media organizations since 1989. Schwab attended Holton Arms School, La Jolla Country Day School and La Jolla High School. Schwab has a B.A. from Scripps College, spent a business internship with S.A.I.C., Science Applications International Corporation, and earned a Masters of Business degree, M.B.A., from the University of San Diego. Schwab additionally took college courses from Harvard University, and Syracuse University. Schwab volunteers for numerous charity organizations. She also continues to support animal organizations and the prevention of people and animal abuse. Schwab is the editor of The Social Diary.
The Social Diary is pleased to announce new partnerships with the San Diego Humane Society and San Diego News Network.
Warning ** photos, video and writing on this site are the
2009 copyright of The Social Diary LLC and its subsidiaries.
no reproduction of any part or parts is allowed without written permission by The Social Diary