~ The Social Diary ~
the on-line magazine covering High Society ..& more
____________________________________________________________
CRUISING THE RED CARPET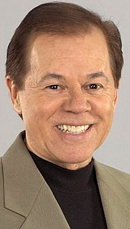 by The Social Diary Entertainment Columnist Fred Saxon
Column #1, January 29th, 2006

CRUISING THE RED CARPET
Tom Cruise was in the news often in 2005. His romance with Katie Holmes, the couch-jumping on Oprah, and his verbal sparring with Matt Lauer on The Today Show all made entertainment news headlines. But with that kind of publicity, 2005 was probably not the best year for Tom Cruise's image.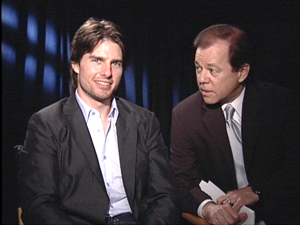 ©Fred Saxon 2006
I met Tom Cruise before he even had an image.
It was December of 1981. I was interviewing for CNN on the red carpet at the premiere of "Taps" a movie starring Oscar winner Timothy Hutton and George C. Scott. As Tim Hutton approached me I noticed he was with a young man. I started to ask Tim about the movie and he stopped me.
"Before we talk about me-or the movie I want you to meet this guy."
He reached over and put his arm around a young actor I didn't recognize. Pulling him closer toward my microphone Tim said, "He's in the movie with me and he's a terrific actor. His name is Tom Cruise and he's going to be a big star some day. Tom, this is Fred Saxon with CNN. " Tim took a step back leaving me face to face with a wide-eyed and nervous young actor.
He was a handsome kid but I really had no interest in talking with 'new guy' Tom. I was there for the main attraction, Tim Hutton. Tim had made it a point to introduce him so I thought it best to be polite but at the same time not let the star of the movie walk away without getting the sound bite I wanted. I had to ask Tom a question that he could answer quickly so I could get back to the Oscar winner. "Hello Tom, nice to meet you. How was it making this movie?"
He was young and seemed a little embarrassed as he gave a simple and short answer. "It was good. All of the actors did a great job and I'm happy I was in the movie". I was only half listening while watching Tim Hutton to be sure he didn't disappear. Fortunately the kid's answer was short and I had done my part. I then directed my attention to Timothy Hutton to get the interview I came for.
As Tom Cruise's career began to explode I searched for the tape from that night, but it had been destroyed.
I next spoke with Tom Cruise twenty years later as I sat down with the actor to talk about his movie "Minority Report", which was directed by Steven Spielberg. Before we talked about the movie I reminded Tom of that night we first met, back in 1981.

As I told him about my memories of the premiere and meeting him on the red carpet I could tell he was thinking, rewinding his mental tape, and going back those 20 years. He said, "I remember that, I remember that premiere. That was really very exciting."
"You were nervous I think, right? That was your first big film. You were a little chubby."
"Of course I was nervous, that was the first big picture I'd done. Wait…did you say I was chubby?"
"Weren't you a little heavier then?"
"I was actually lighter than I am now."
"Yes, but you're muscle now."
"I was young, I was 18 years old. And Hutton was great. He was always very generous."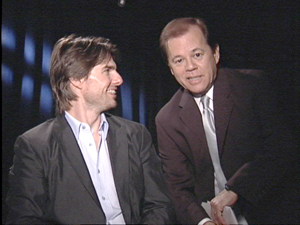 ©Fred Saxon 2006
I steered the conversation to Tom's new movie "Minority Report" and he told me how much he liked the story idea from his first reading of the script and how fortunate he was to be able to work with directors like Steven Spielberg.
Tom Cruise was with Steven Spielberg the last time I spoke with him. It was the summer of 2005, at a press conference for "War of the Worlds" in New York City. I was in a group of about 70 broadcast and print reporters who were there to ask questions of the actor and director. Someone from Toronto asked about Tom's new-found romance with Katie Holmes. Someone from Utah asked him about openly expressing his views on Scientology on national TV. I was fortunate to be one of the dozen people who got to ask a question. And it was this: "Your fellow actors in the film say you have boundless energy on the set. So I'm wondering, when you're not jumping up and down on Oprah Winfrey's sofa, what's the secret to your energy?"
Tom laughed, and so did the whole room. Then he told us simply that he always has a lot of energy because he is excited about life. He loves being alive. Then the press conference was over.
Certainly Tom Cruise is a big star and-in 2005-an outspoken and controversial one. Before the confrontation with Matt Lauer on NBC Tom seemed to always display a quality that few actors have. When sitting and talking with Tom, one-on-one, he made me feel more important and special than he was. He smiled, laughed easily, was most courteous, and seemed genuinely happy to be there.
Will Tom Cruise get back to doing what made him a big star or will he do more of what he did in 2005? Let's watch and see.
©Fred Saxon 2006

* Fred Saxon was selected as the first Hollywood-based entertainment reporter for CNN in 1980 and has been interviewing Hollywood stars ever since. Fred has appeared daily on CNN, The Nine Network Australia, KUSI MORNING NEWS, and FOX IN THE MORNING with his entertainment reports, movie reviews and celebrity interviews. Fred has also hosted the half-hour shows "Closeup," and "Fred Saxon's Inside Entertainment." He has been awarded two EMMYS for his work on television. For more on Saxon please visit www.fredsaxon.com
back to New this Week......Fred Saxon Archives...... Home
Warning ** photos, video and writing on this site are the
copyright the author, The Social Diary, San Diego Social Diary, margomargo.com and Margo Schwab.
no reproduction of any part or parts is allowed without written permission by Margo Schwab