Scorpion Bay Hotel, Private, Picturesque ........VIP and Club Memberships Available >>> Scorpion Bay Hotel
founded by Fred Borrelli
~~~~~~~~~~~~~~~~~~~~~~~~~~~~~~~~~~~~~~~~~~~~~~~~~~~~~~~~~~~~~~~~~~~~~~~~~~~~~~~
~ The Social Diary ~
~~~~~~~~~~~~~~~~~~~~~~~~~~~~~~~~~~~~~~~~~~~~~~~~~~~~~~~~~~~~~~~~~~~~~~~~~~~~~~~~~~~~~~~~
Foundation for Women
"ART FOR A CAUSE"
A BENEFIT FOR:
FOUNDATION FOR WOMEN
DOTTIE STANLEY, REALLY "KNOWS HOW"!
DOTTIE STANLEY'S "KNOW HOW" IS REVEALED IN MANY SECTORS:
AS A VICE-PRESIDENT AT MERRILL LYNCH IN LA JOLLA,
THEN, HER AWARD WINNING, ARTISTRY OF THE PALETTE
IS REFLECTED ON CANVAS AND IN THE COMMUNITY.
DOTTIE STANLEY DESIGNED A DELIGHTFUL, SUNDAY AFTERNOON
OF WINE, FOOD, MUSIC, REENA HOROWITZ'S FABULOUS GEM DESIGNS
AND LOVELY, PLEIN AIR COLLECTABLES BY TALENTED LA JOLLA ARTISTS.
ALL OF THESE IRRESISTIBLES
WERE ENHANCED BY VERY SPECIAL, BEST FRIENDS
AT PATRICIA AND BUD LYNCH'S BREATHTAKING SETTING
IN THEIR GORGEOUS HOME
WITH BEAUTIFUL PEOPLE GALORE."
HONORARY CHAIR, SALLY B. THORNTON
The Foundation for Women was started in 1997 by Deborah Lindholm with a goal of eliminating poverty with a good dose of microcredit. With this in mind, guests gathered March 9th, 2008 at the lovely ocean view home of Patricia and Bud Lynch's in La Jolla.
It was a lovely afternoon to peruse artist works, enjoy a light buffet, and a glass of wine.
All for a great cause as noted by Deborah Lindholm who also serves as the Executive Director. "Together as a community we are truly changing the world. I am very grateful and deeply thankful for each and every one of you who has been a part of this miracle. I invite you to stay connected and continue to be part of our grassroots movement to eliminate global poverty through microcredit, to be the voice for so many women whose voices are not heard – and to do all of that with joy and celebration of our special connection and community."
Roseanne Perrone agreed and added this regarding the purpose of the day's event. "Through the generous efforts of Dottie Stanley and the local Allied Artists Association, the Art for a Cause fundraiser was held to support the Foundation for Women whose mission is to eliminate global poverty through microcredit. Sally B. Thornton was the Honorary Chair for this event where local artists sold their work and donated a portion of their proceeds to help the Foundation for Women eliminate global poverty. The Foundation is exceptionally grateful to Dottie and David Stanley, Sally B. Thornton, and Bud and Pat Lynch who generously donated their home for the event, because each of these individuals' effort allowed the Foundation to raise $9000 to continue their mission."
Among those supporting this important cause were Karina Lion and Thom Tullis, Mary Walker, Carol Karlovich, Jeanne Jones, Kathryn Fishback, Phyliss Parrish, Reena Horowitz, Patti Cooprider, and Dottie and Dave Stanley.
Contributing artist Dottie Stanley summed up the day."The afternoon was filled with wonderful art, opera music, beautiful displayed jewelry and a convivial atmosphere was enjoyed by all who attended."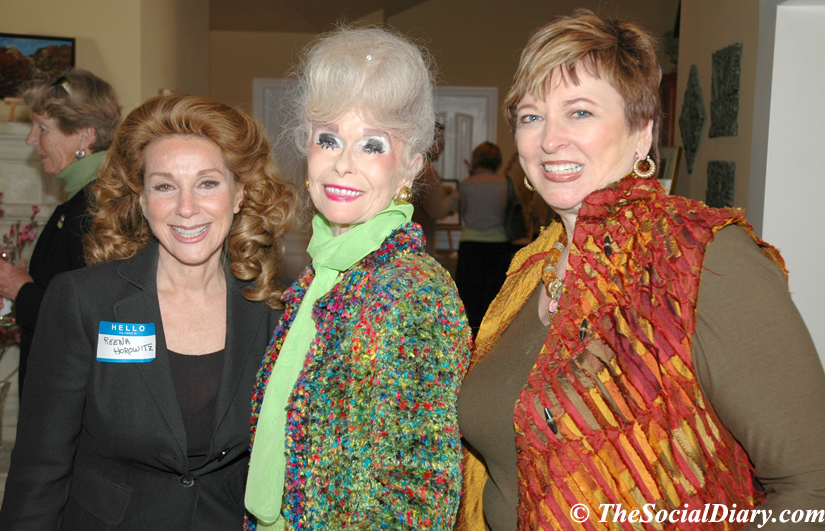 Jewelry Designer Reena Horowitz, Honorary Chairperson Sally B. Thornton and artist Dottie Stanley
Jeanne Jones ** Kathryn Fishback
Phyliss Parrish ** Guest and Kathyrn Fishback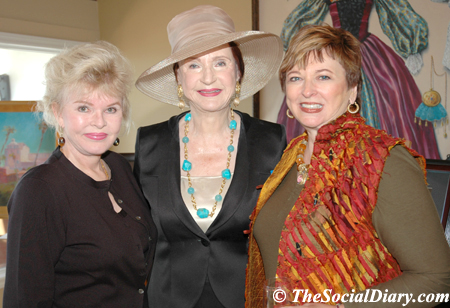 Carol Karlovich with Mary Walker and Dottie Stanley
Dottie and Dave Stanley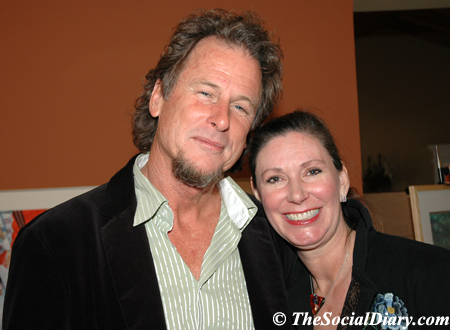 Mark with Susan Clifton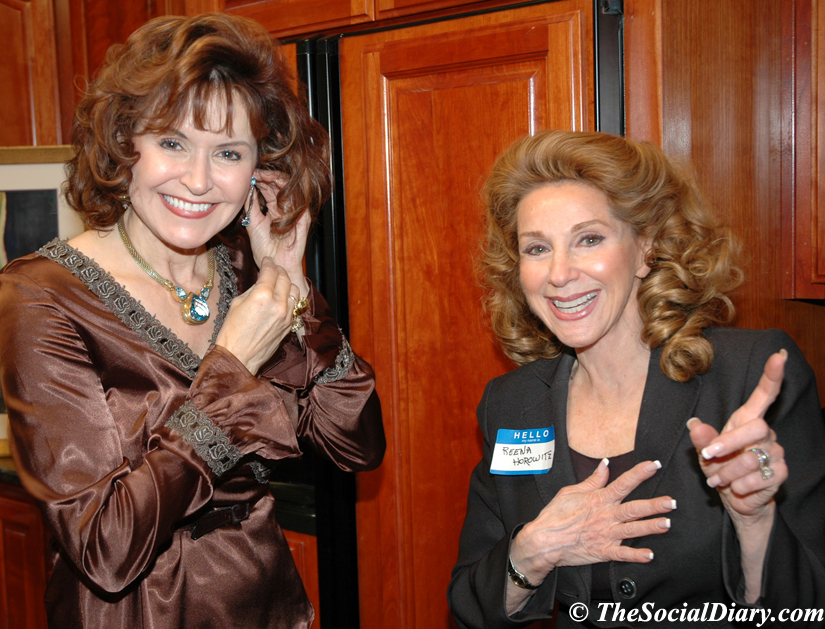 Guest trying on some beautiful, unique jewelry by Reena Horowitz
Thom Tullis and Karina Lion ** Roseanne Perrone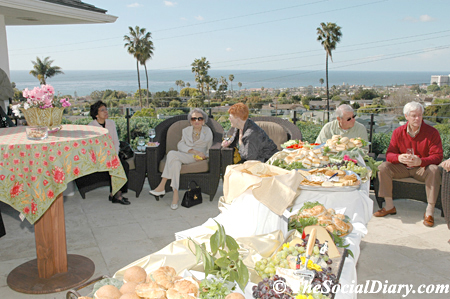 The beautiful views over La Jolla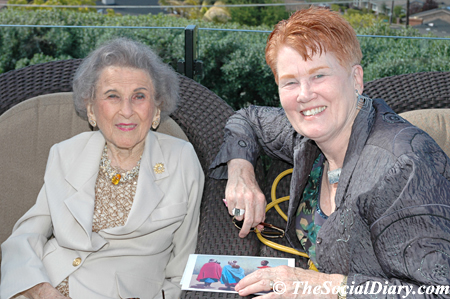 Guest with Patti Cooprider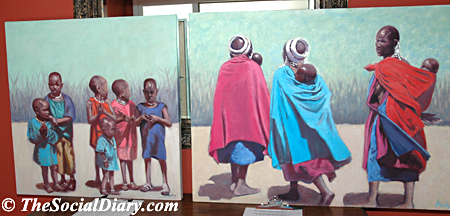 a painting by artist Dottie Stanley
To learn more about the Foundation for Women please visit www.foundationforwomen.org
reported by Margo Schwab
* Margo Schwab, more formally known as Margaret E. Schwab, has produced, written, interviewed and photographed for various media organizations since 1989. Schwab attended Holton Arms School, La Jolla Country Day School and La Jolla High School. Schwab has a B.A. from Scripps College, spent a business internship with S.A.I.C., Science Applications International Corporation, and earned a Masters of Business degree, M.B.A., from the University of San Diego. Schwab volunteers for numerous charity organizations. She also continues to support animal organizations and the prevention of people and animal abuse. Schwab is the editor of The Social Diary.
Warning ** photos, video and writing on this site are the
copyright of The Social Diary, San Diego Social Diary
no reproduction of any part or parts is allowed without written permission by The Social Diary