~ The Social Diary ~
~~~~~~~~~~~~~~~~~~~~~~~~~~~~~~~~~~~~~~~~~~~~~~~~~~
Ooh La La & The Fashionable at Fairbanks Ranch Country Club

May 3rd , 2007
The Social Diary Columnist & Photographer Margo Schwab
(high resolution photos available by request )
On April 27th, 2007 the annual ladies' fashion luncheon took place at the prestigious Fairbanks Ranch Country Club. Well dressed members shopped among accessory purveyors, nibbled on lunch, and watched a parade of models organized by Leonard Simpson of Fashion Forward. All models wore Ooh La La Boutique's cutting edge fashion from Del Mar Plaza.
Those among the mix enjoying the show included Sally Thornton, Vivian Hardage and Doreen Schonbrun.
Models included Christopher and Wade, Darah Grimm, Daran Grimm, Mary Ellen of Bloomingdale Poodles, Kirstine Grant, Roxi Link, Anita Neff and The Social Diary's Margo Schwab, moi......It was fun!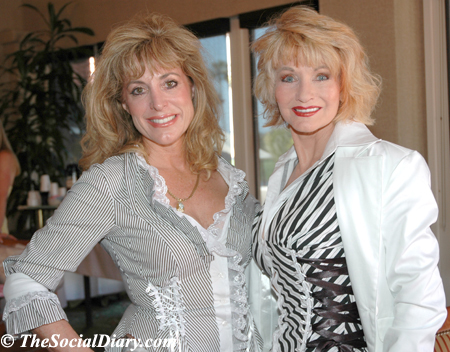 * Margo Schwab has produced, written, interviewed and photographed for various media organizations since 1989. Schwab has a B.A. from Scripps College and a Masters of Business degree, M.B.A., from the University of San Diego. Schwab volunteers for numerous charity organizations. She also continues to lobby for water safety and for family violence mitigation. Schwab is the editor of The Social Diary. Margo is currently writing a book based on La Jolla.
back to New this Week.....Margo Schwab Archives...... Home
Warning ** photos, video and writing on this site are the
copyright of The Social Diary, San Diego Social Diary, margomargo.com and Margo Schwab.
no reproduction of any part or parts is allowed without written permission by Margo Schwab