~ San Diego Social Diary ~
the on-line magazine covering High Society ..& more
__________________________________________________________
Miami Heats Up During The 2005 Holidays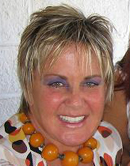 by SDSD Columnist Electra Anderson
Column #2, December 31st, 2005
Miami Beach was full of fun and parties during the Holidays. The Penrod's, owner's of Nikki Beach, Jack and Lucia had a very cool party on their Palm Island 1928 classical estate, to watch the boat parade from their dock which is all covered and full of lounging sofas and chaises. Their waiters and waitresses were in white flowing harem pants with big, huge, leather,low slung belts. They were all eye candy. The intimate party of 40 was catered by Nikki Beach and everything was yummy. They are going to launch a Nikki Beach Boat in 2008, I'm planning on living on it. It will go all over the world and stop at all The Nikki Beaches, and will be a floating party. I hate packing and unpacking so it's perfect for me.
I had a little party for 200 Peruvians at my No. Bay Road home. I was installed as the new Vice President of The Peruvian American Chamber of Commerce. We had 12 Peruvian Dancer's and a famous Peruvian band. Santiago Silva, and fire dancers with torches and swords. Some of the Peruvians were a little nervous, I guess they got pretty close. I was up on my balcony watching with an old flame Ron Barbarita from 72'. I used to be a pyro when I was Electra Flash. I threw flames and only ate flaming food. I'm mostly over it. I had to have an extension made in my Electra Flash Belt, I'm not a 28" waist anymore. Nudie the rodeo taylor made my belt, he's famous for making Elvis's gold lame suit.
My new concept is Princesita Electra. I'm opening a play ground in a very poor part of Lima in March called Electralandia. It will be a gift from me to the kids. The Mayor gave me an old park in town that I'm turning into a mini Disneyland. My Dad, Popular Bob and Walt were partners in Disneyland and I was the first child with him on the monorail when it opened. I have plans for other playgrounds in Mexico and Nicaragua.
The Nicaraguan Gala was fantastic, I won the Masquerade contest with my daughters. These masks I got are pieces of art. You can see them on my website Electraland.com under Charities. Well I'm off to New York and I've got to pack those 14 LV bags, I am putting bags inside of bags…….shopping …somebody's got to do it!
Kisses, Electra
P.S. More will be revealed……………
* Electra Anderson is a columnist and author. Expect intrigue from this Beverly Hills Hotel heiress as you see her life through her eyes, at her speed. Yes, Anderson is known to hit the race track at speeds of 200 mph .... and win. Anderson is also known for amazing social and travel adventures. She is based in Miami or on a jet.You can learn more about Electra Anderson at www.electraracing.com and www.electraland.com .
back to New this Week ....... Home
Warning ** photos, video and writing on this site are the
copyright of the author, San Diego Social Diary and Margo Schwab.
no reproduction of any part or parts is allowed without written permission by Margo Schwab