~ the Social Diary ~
the on-line magazine covering High Society ..& more
____________________________________________________________
My Beginnings in Beverly Hills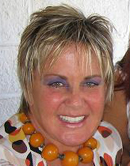 by the Social Diary Columnist Electra Anderson
Column #1, December 31st, 2005
I started selling gossip about the neighbors when I was 7, in the street in front of my house in BH. (Beverly Hills). It sold much better than the lemonade the cook made.
I have written for The Beverly Hills Courier, The Vallarta Today, those 2 papers in LJ, The La Jolla Light and The La Jolla Village News, and I have a book at the Library of Congress called, The Beverly Hills Hotel. My family built the first hotel in Hollywood in the 1890's and started Beverly Hills with the building of The BH Hotel in 1910.It opened in May of 1912. My Aunt Ruth's diary for 1912 said, 'That Titantic sinking isn't going to be good for the opening." They had to hire extra's from the studios to pose as guests. My father was born in Bungalow 1. I'm working on a book of 5 generations of the women in my family called The Anderson Women. It's a kind of a Roots, of wealthy enterprising women. Oprah is interested. It's taking longer than I thought because I'm still jet setting around the world getting more material ….. hahahahaha.
Kisses, Electra Anderson
P.S. My movie star mother Ellen always says,"The truth is in the pudding." I've never understood her.
* Electra Anderson is a columnist and author. Expect intrigue from this Beverly Hills Hotel heiress as you see her life through her eyes, at her speed. Yes, Anderson is known to hit the race track at speeds of 200 mph .... and win. Anderson is also known for amazing social and travel adventures. She is based in Miami or on a jet.You can learn more about Electra Anderson at www.electraracing.com and www.electraland.com .
back to New this Week....Electra's Archive's.... Home
Warning ** photos, video and writing on this site are the
copyright of the author, San Diego Social Diary and Margo Schwab.
no reproduction of any part or parts is allowed without written permission by Margo Schwab