Costume Council Celebrates its 20th Birthday with Fashion Among the Very Fashionable

On September 17 a fashionable parade of guests gathered at the Spreckels Organ Pavilion in Balboa Park. The occasion was not only to support the Costume Council of the San Diego Historical Society, but to view over 100 couture outfits that have never been collectively viewed.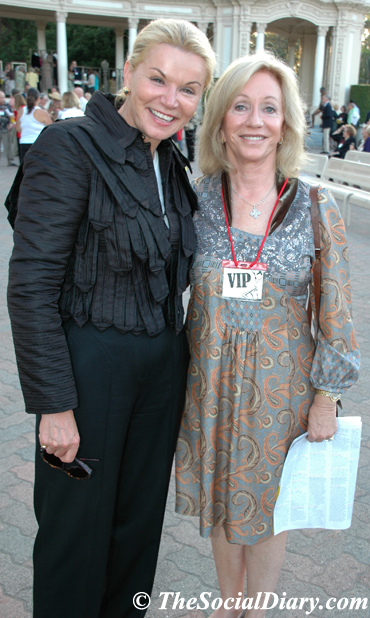 Mary Drake ** Elisabeth Bergan and 2009 Best Dressed Susie Spanos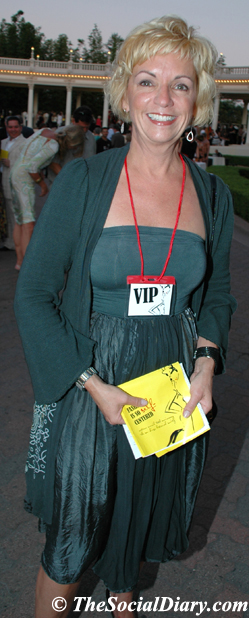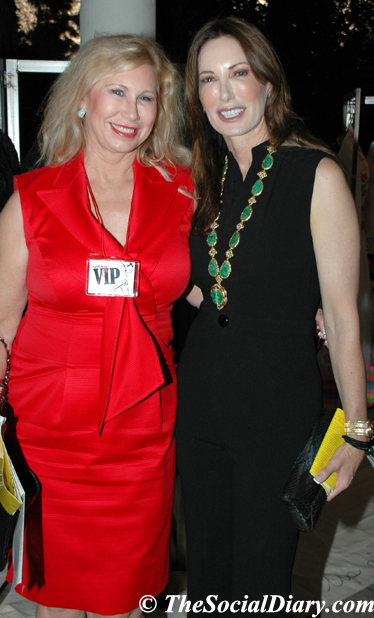 Pam Cesak ** Colette Carson Royston with Valerie Cooper
The outfits were on loan from San Diego's best and fun dressed sort. Iris Strauss loaned a custom Christian Lacroix from Paris that she wore to the 1997 San Diego Opera Gala she chaired, Ann Jones loaned a custom Bill Blass that she wore to her daughter Julie Smitherman's wedding, Valerie Cooper loaned a Bob Mackie gown that she wore to a San Diego Opera gala and then later to the Prince of Wales Trust Dinner at Buckingham Palace, Mary Drake loaned a white Chanel dress that she wore for her wedding, and Colette Royston loaned a colorful Bob Mackie dress that brings back fond memories of a Monte Carlo fundraiser event that she wore it too.
Guests mixed among Speedo clad male models and 'briefly' clad female models who were embellished with graffiti consisting of couture names like Chanel, Prado and Dior.
Light in calorie appetizers were served. After all fashionistas don't eat said the invite. Appetizers might have been light, but the fashion viewing was heavy duty fun!
As committee member Jeff Dunigan re-iterated the event's theme, "Fashion is so self-centered."
The theme was fun but it has a serious side too as noted by San Diego Historical Society Executive Director David Kahn. "Funds generated by the event will help support the preservation and exhibition of the San Diego Historical Society's costume collection, which is one of the largest and most important on the West Coast."
It was well enjoyed too.
"Amazing clothes and stories from wonderful women in this community - it made history very current and a lot of fun!" said Kate Adams.

"Loved seeing all those dresses gently moving in the breeze on a perfect Chamber of Commerce San Diego night in one of San Diego's treasures – that wonderful organ pavilion," said Event Co-Founder Judy Smith. "What stories those dresses told! Part of the fun was matching the dresses to their owners – amazing how many people made the match – we really are what we wear in many ways. It seemed like a charming get-together of old friends reminiscing about past San Diego events through those amazing clothes."
"Clothes are but a symbol of something hid deep beneath," noted Virginia Woolf in 1928.
This evening everything was out in the open for all to enjoy. Among the fun and fashionable there was Jeanne Jones, La Vonnya Fisher, Susie Spanos, Roxi Link, Michala Lawrence, Bea Epsten, Rana Sampson, Karen Sickels, Karon Luce, Judi Freeman, Kathleen Buoymaster, Valerie Lee, Peggy Matthews, Brittany Simpson, Susan McClellan, Janet Sutter, Suzan Black, Joyce Glazer, Sheryl White, and Carol Chang.
Committee members who made this event happen included Kate Adams, Karen Cohn, Katy Dessent, Jeffrey Dunigan, Ann Jones, Virginia Monday, Pam Palisoul, Judy Smith, Dixie Unruh, David Kahn, and Barbara ZoBell.
Event Co-Founder Barbara ZoBell noted this. "Everyone loved a peek into some of the best closets in town. Fantastic clothes of all kinds."
All kinds indeed. This reporter loaned a custom surf outfit by Chasa Vollaro and hand painted surf helmet with cheetah motif by Jeff Alexander. Four legged German Boxer daughter Kima was not to be left out. Kima's custom burgundy holiday gown by Jemima Dutra was on view too. It's embellished with red roses.

To learn more about the San Diego Historical Society, visit www.sandiegohistory.org
Please enjoy the photos.
If you wish to purchase photos, please email your inquiry. No downloading of photos without express written permission by The Social Diary thank you.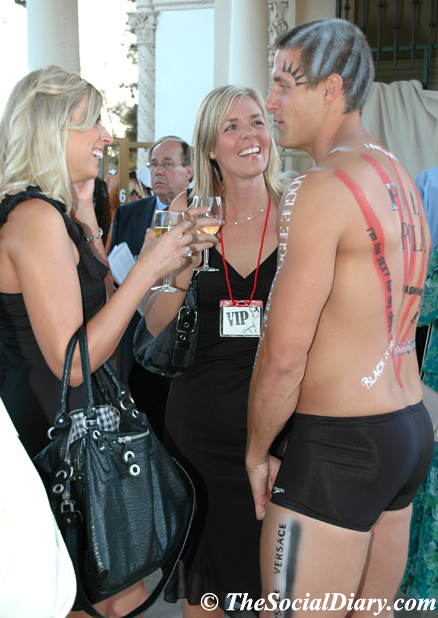 'Model Conversation'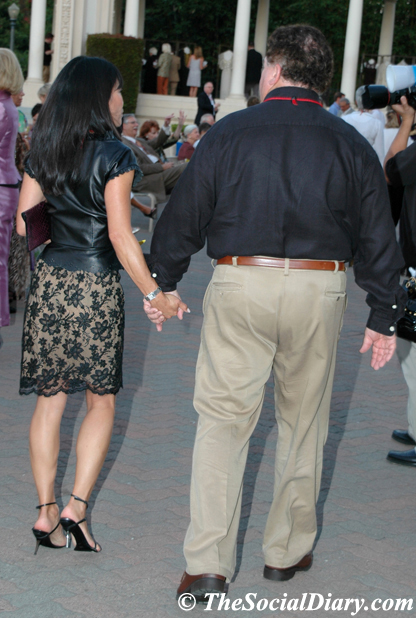 2009 Best Dressed Jennifer Greenfield with husband Dr. Richard Greenfield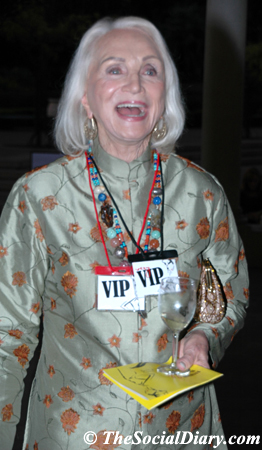 Veryl Mortenson having a double VIP laugh! ** Michala Lawrence ** Rana Sampson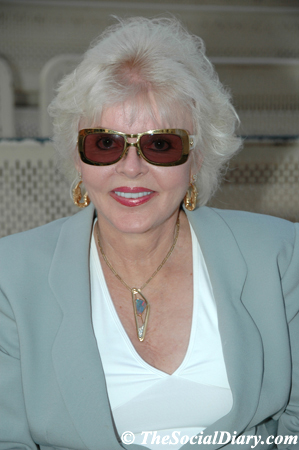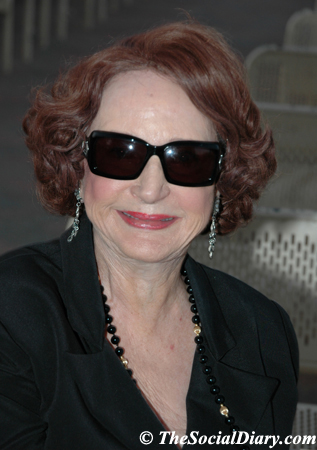 Carol Karlovich ** Mary Walker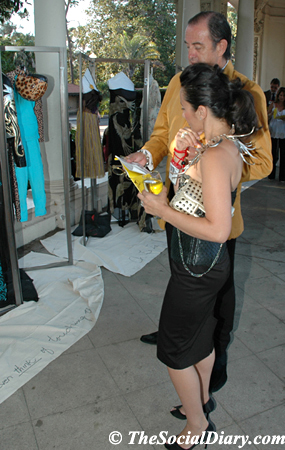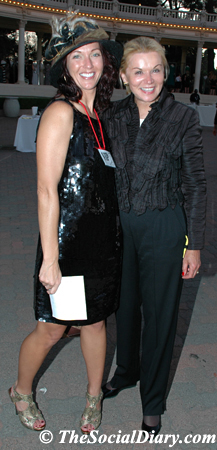 Mahjuba Levine with Gilbert Meza ** Guest with Elisabeth Bergan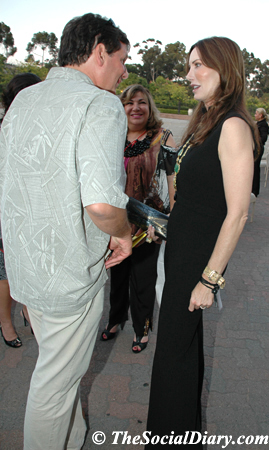 The Social Diary reporter Margo Schwab in Jordan Art Couture ** Bob Stefanko talking with Valerie Cooper and May Zawaideh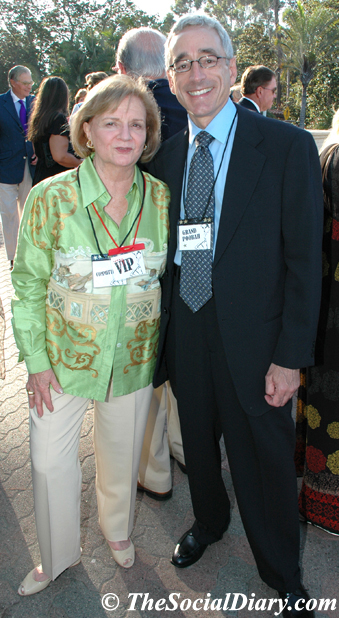 Judy Smith with David Kahn
Sheryl White with Karen Cohn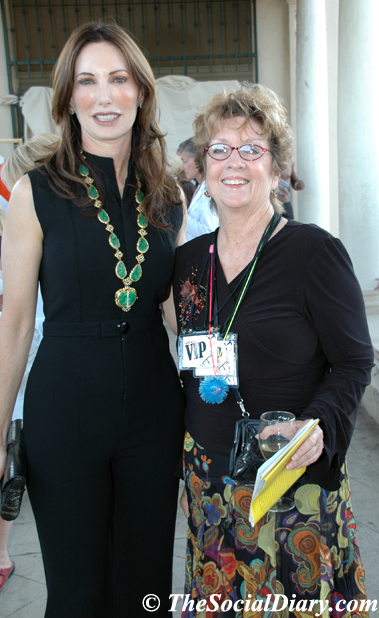 Valerie Cooper with Pat O'Connor of FCC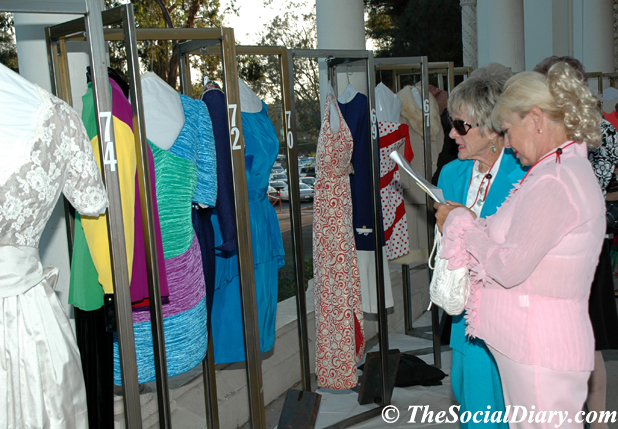 The Scene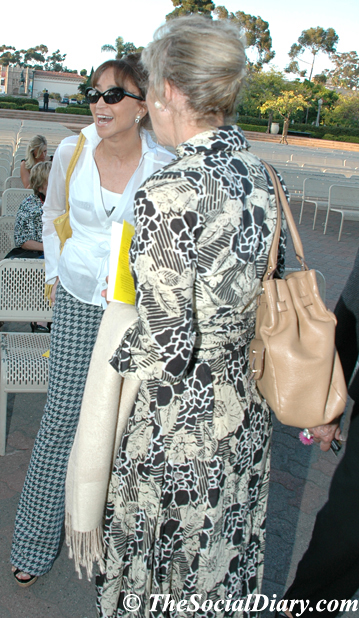 Eloisa Haudenschild with Maria Siani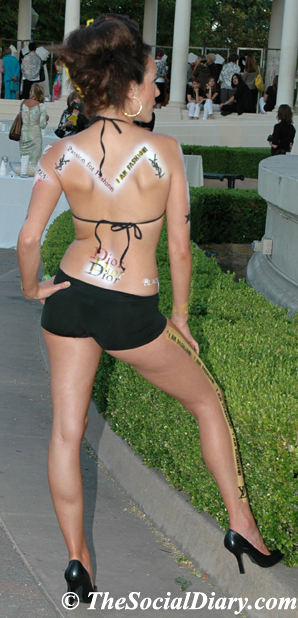 'Strike A Pose' ** David Marino with Jennifer Greenfield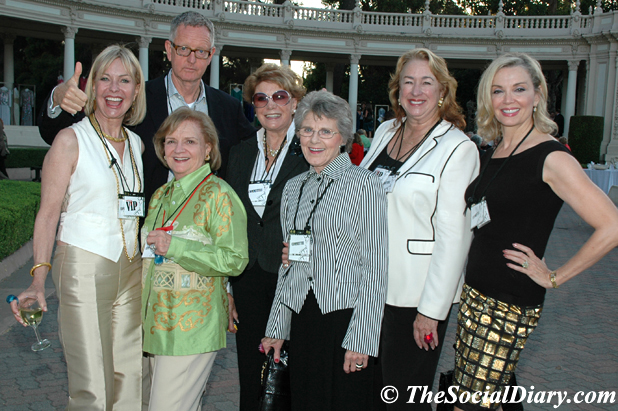 Committee Members - most pictured, included - Kate Adams, Karen Cohn, Katy Dessent, Jeffrey Dunigan, Ann Jones, Virginia Monday, Pam Palisoul, Judy Smith, Dixie Unruh, David Kahn, and Barbara ZoBell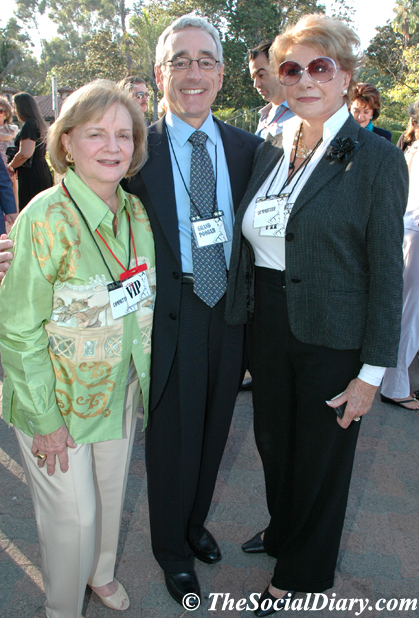 Judy Smith with David Kahn and Virginia Monday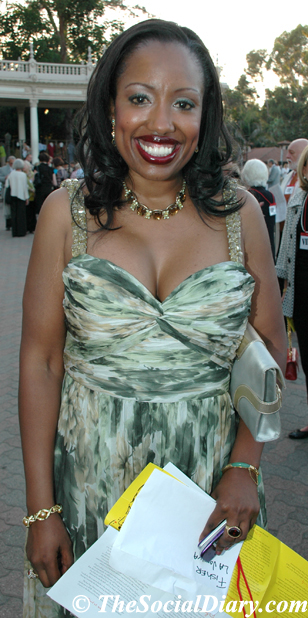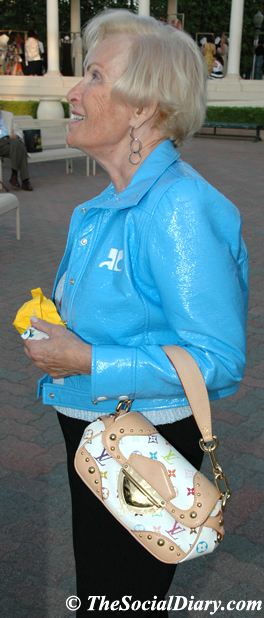 La Vonnya Fisher ** Bea Epsten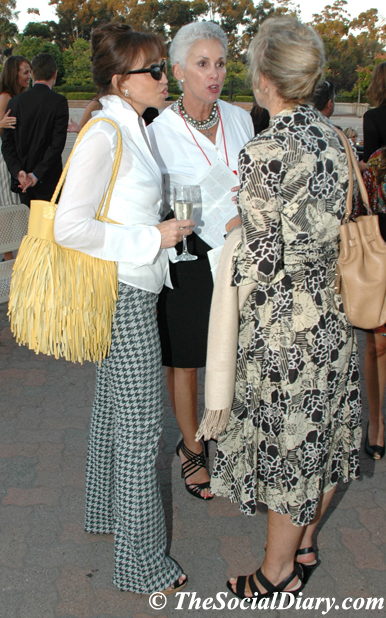 Chris Haudenschild with Mary Drake and Maria Siani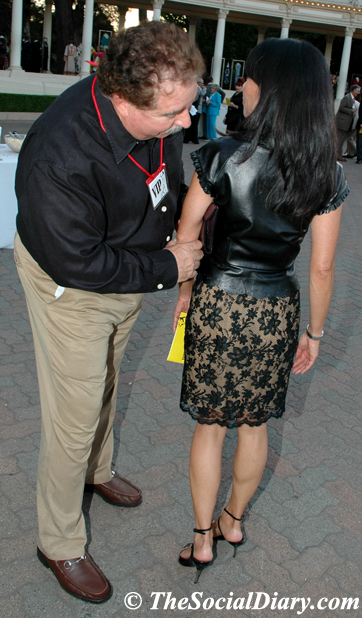 Dr. Richard Greenfield checking out his wife Jennifer Greenfield's fashionably attired backside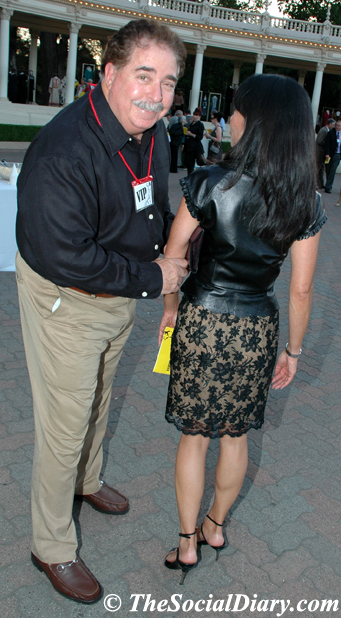 ... definitely got the doctor's okay!!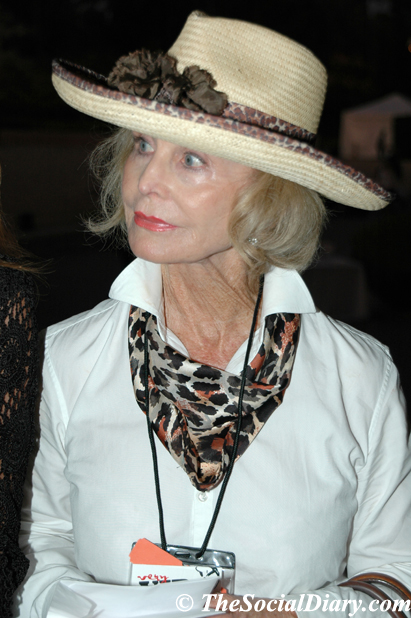 Fran Golden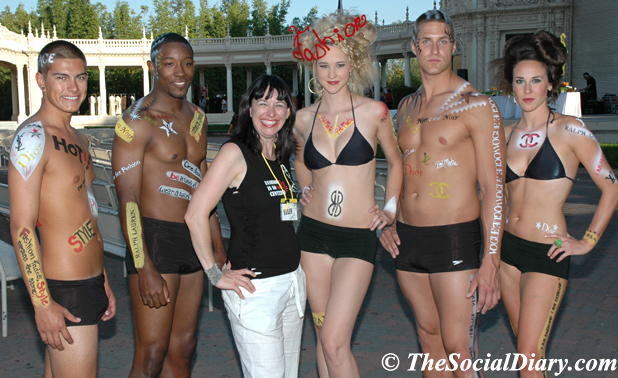 Tanya McAnear with her models
Judy Smith with Betty Kornreich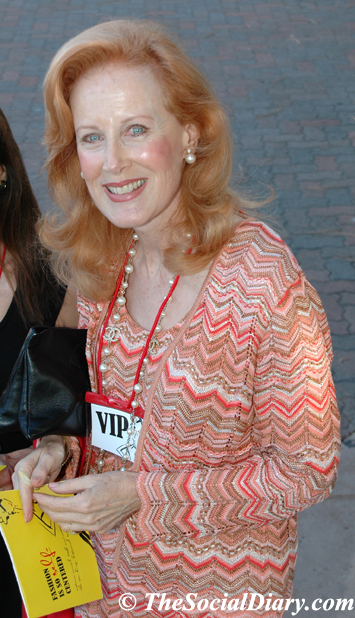 Marsha Shahon in Missoni ** Carol Chang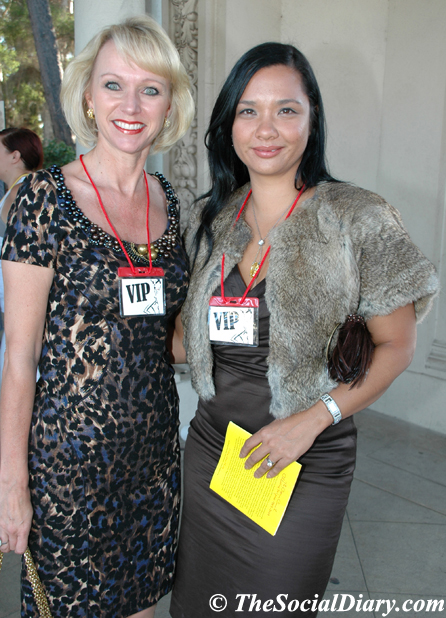 Lynelle Lynch with Jessica Wadley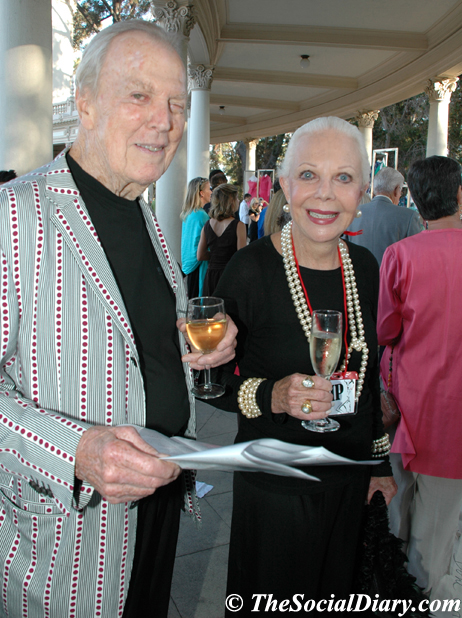 Don Breitenberg with Jeanne Jones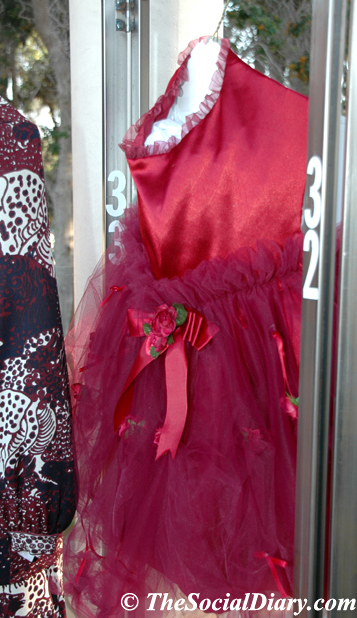 Kima's reversible Christmas Dress by Jemima Dutra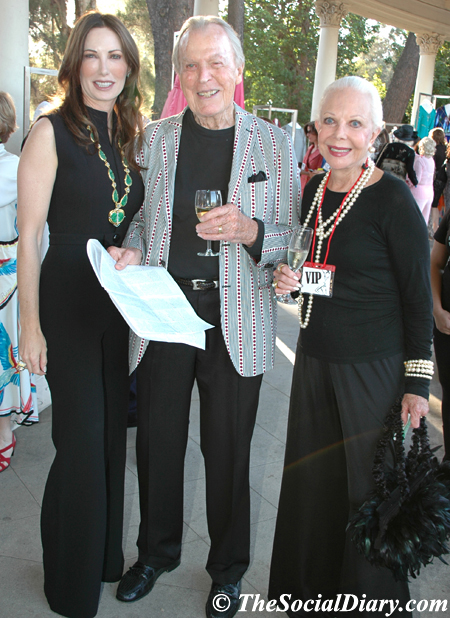 Valerie Cooper with Don Breitenberg and Jeanne Jones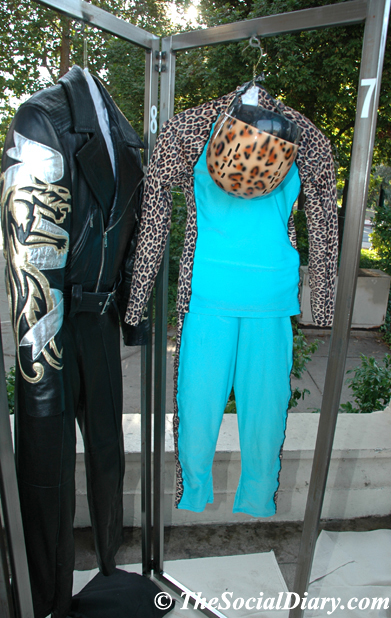 reported by Margo Schwab wearing Jordan Art Couture. This photo Margo's custom surf outfit by Chasa Rae Vollaro and custom surf helmet painted by artist and surf pioneer, Jeff Alexander. (surf outfit is next to Lael Kovtun's favorite leathers!)
The Buzz
Yummy Romance at Tapenade with the San Diego Opera
.......................
The San Diego Opera is pleased to announce the return of "Taste of Opera,"at some of San Diego's hottest restaurants.
Coming up....
Tapenade, La Jolla
Wednesday, October 28, 2009 at 6:30 PM, 7612 Fay Avenue, La Jolla.
Join Dr. Nicolas Reveles as he talks about romantic French operas and Romeo and Juliet.
$40 per person for 1 glass wine, prix fixe menu, tip & tax.
visit Taste of Opera for details.
Upcoming Events
October 16th - The Rainforest Alliance will host its gala. It promises to be 'wild' fun!
October 17th - Sundt Memorial Fundraiser.
October 17th - The Rancho Coastal Humane Society will host its Animal House fundraiser. For details please visit
http://rchumanesociety.org/event_details.asp?ID=62
October 22nd - The Walden Family Services will host their 6th Annual wine D'Vine event. Please visit www.waldenfamily.org for more details.
October 24th - A Reason To Survive or ARTS will be hosting a fun fundraiser. Please visit www.AReasonToSurvive.org for details.
October 28th - Tapenade, La Jolla at 6:30 PM
7612 Fay Avenue, La Jolla. Join Dr. Nicolas Reveles as he talks about romantic French operas and Romeo and Juliet.
$40 per person for 1 glass wine, prix fixe menu, tip & tax.
visit Taste of Opera for details.
November 7th - The Golden Hangers / FCC benefit for Make-A-Wish and San Diego Variety Children's Network.
November 13th - Scripps Mercy Hospital will host its 2nd Annual 'Dressed to the Nth Degree' evening featuring San Diego's 10 best dressed women and 10 best dressed men as chosen by Leonard Simpson. Michael Neil will be the Honorary Chair. For details and tickets please visit:
http://www.scripps.org/events/an-evening-of-glitz-glamour-and-more

____________________________________________________________
Photoshopping and Photography Services
Photos on this website available if it is of you
available by The Social Diary
~ 619-384-7333
email TheSocialDiary.com
_______________________________________________________________
Email Commentary to be added
email editor@thesocialdiary.com

What great photos!! Lots of fun and lots of thank you!!! - Barbara ZoBell
* Margo Schwab, more formally known as Margaret E. Schwab, has produced, written, interviewed and photographed for various media organizations since 1989. Schwab attended Holton Arms School, La Jolla Country Day School and La Jolla High School. Schwab has a B.A. from Scripps College, spent a business internship with S.A.I.C., Science Applications International Corporation, and earned a Masters of Business degree, M.B.A., from the University of San Diego. The first part of her M.B.A. was spent at Claremont Graduate School. Schwab additionally took college courses from Harvard University, and Syracuse University. Schwab volunteers for numerous charity organizations. She also continues to support animal organizations and the prevention of people and animal abuse. Schwab is the editor of The Social Diary.
Margo Schwab and Scott Johnston of the Social Diary are pleased to announce partnerships with the San Diego Humane Society, San Diego News Network and now, San Diego Home & Garden Magazine.
The Social Diary would like to say a special thank you to our advertisers.
H. Moradi Jewelers on Prospect Street in La Jolla
Valerie and Harry Cooper, Patrons of the San Diego Opera
Valerie and Harry Cooper, Patrons of The Museum of Contemporary Art San Diego
Judith C. Harris, Blair Harris, and Robert Singer, MD supporting the
Dian Fossey Gorrilla Fund International
Dr. Laurie Marker of The Cheetah Conservation Fund
Pat O'Connor of Fashion Careers College
Pamela Pogue of Juelerie
Kary Favish of the Worth Collection
Diana Cavagnaro of Designer Millinery
Jacqueline and Matt Rimel of Rimel's Rotisserie, Zenbu Sushi and Restaurant, & Home Grown Meats
Jordan of Jordan Art Couture
Lizz Russell of The Lizz Russell Collection
Gary Parker of WineSellar & Brasserie
Chef Pasquale of Cafe Milano
Alex Gonzalez of Mercedes Benz of San Diego
Diane Bousquin of Holistic Traditions
Kevin Smith of Extreme Pizza in La Jolla
Jeremiah Sullivan of Neptunic Sharksuits
Drs. Sue and John Morizi of The Animal Hospital of La Jolla
Jemima Garcia Dutra of Dutra Designs
Eugene Ladopoulos of Mistra Estates Olive Oil
Warning ** photos, video and writing on this site are the
2009 copyright of The Social Diary LLC and its subsidiaries.
no reproduction of any part or parts is allowed without written permission by The Social Diary