7928 Ivanhoe, La Jolla * 858-805-5062 * www.purebarre.com

Chopard Celebrates 150 years with Animal Collection and Glittering Guests
When you think Chopard, a history of famous watchmaking comes readily to mind. So does luxe jewelry. 150 years worth to be exact.
As such the Geneva based company celebrated stateside April 29th, 2010 in New York City at Manhattan's Frick Museum. with an exclusive party. A few of the lucky chic of the celeb and socialite world were invited to attend.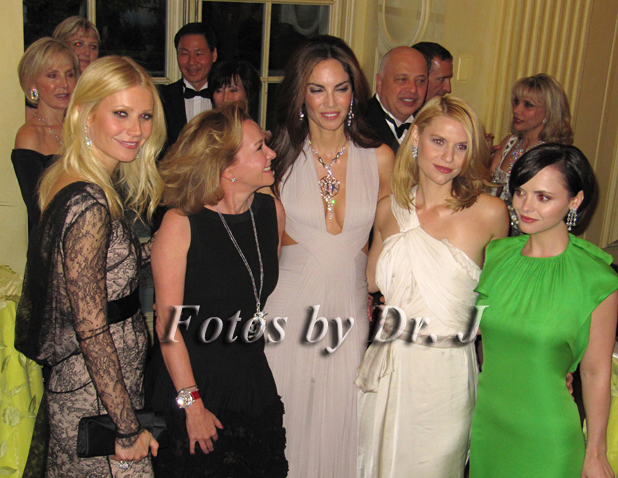 Gwyneth Paltrow with Chopard Co-President Caroline Gruosi-Scheufele, model Eugenia Silva, Claire Danes and Christina Ricci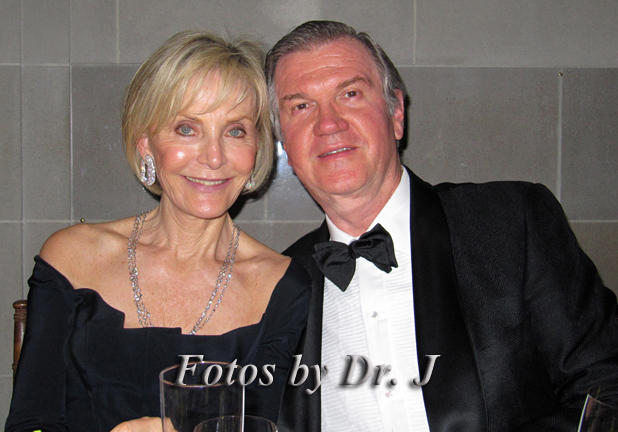 La Jollans Lee Clark and Jerry Pikolysky at Chopard's 150th Celebration
Among the pretty mix dazzling in Chopard jewelry were Oscar winning actress Gwyneth Paltrow in a lace Antonio Berrardi gown with diamonds ie lots of Chopard diamonds, actress Kate Hudson in an understated Lanvin and about 600 carats of diamonds, sapphires, iolite, and chalcedony mixed with beautiful multi-hued South Sea pearls, actress Christina Ricci wore a vintage Galanos gown in green with diamond chandelier earrings, Claire Danes wore Lanvin in white with diamond chandelier earrings and a diamond bracelet with a plentitude of the rare Paraiba Tourmalines from the mines in Brazil, and model Eugenia Silva wore black and white diamonds with a swallow theme from Chopard's new 150th Anniversary Collection, Animal World.
Also there were Lee Clark and Jerry Pikolysky of La Jolla, they flew in specially for this fete, 6 time Grammy Award winning John Legend, he also performed, Chopard Co-President Caroline Gruosi-Scheufele and Georgina Chapman. She is the designer of Marchesa whose dresses all of the models were wearing.
Guests enjoyed a viewing the mind boggling collection of Animal World on displays and models. Elaborate jewels of monkeys eating fruit, swans and zebras were among the exquisite collection.
Inivtees then were seated for a plated dinner of langoustine and tournedos of beef which later culminated in the dessert 'show.' Waiters poured hot chocolate over guests' dessert confections to reveal the number 150 in a sugary formation. There were ohs, aaahs and lots of applause for that.
Many guests came in with quite a few sparkling accessories and left with more. One noticeably added a good bit more that evening. Allen Salmasi bought his wife Nicole a very nice Chopard necklace. It was a fun addition to the one she was already wearing! Lucky girl!!
Please enjoy the photos.
Be advised, these photos are strictly the copyright of Dr. J.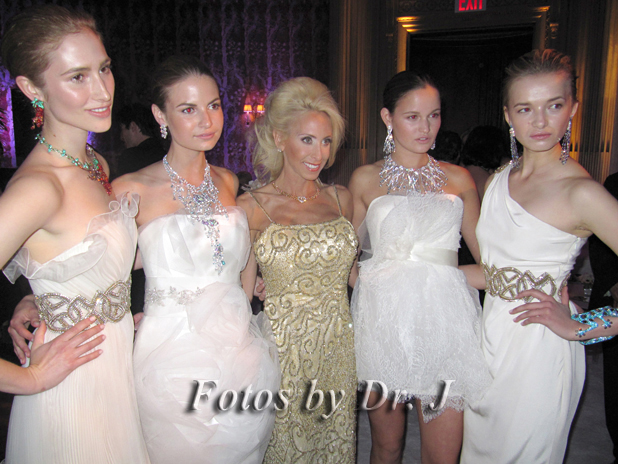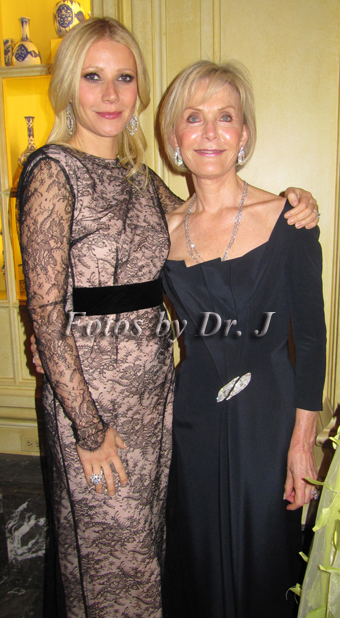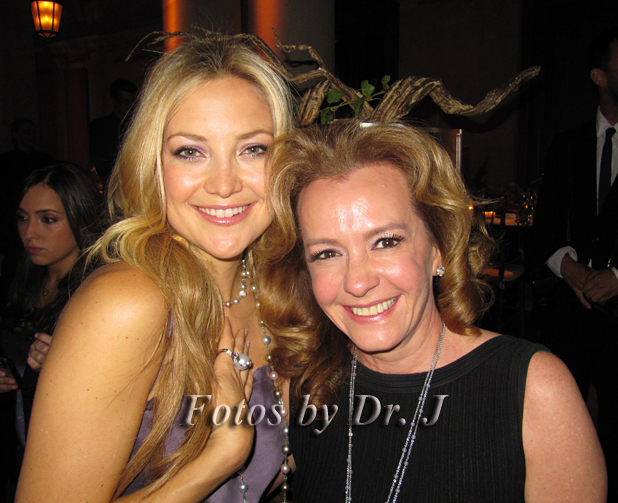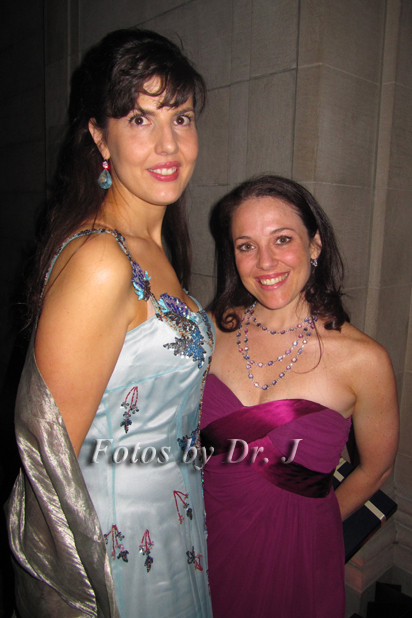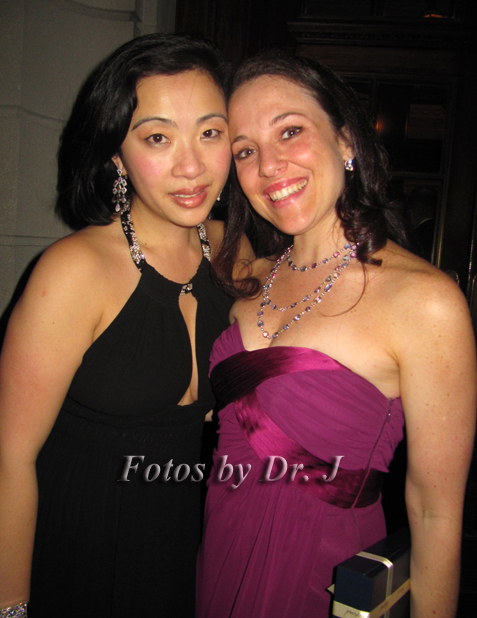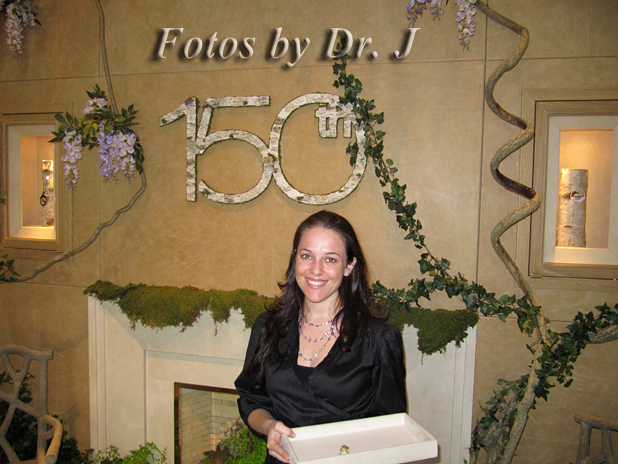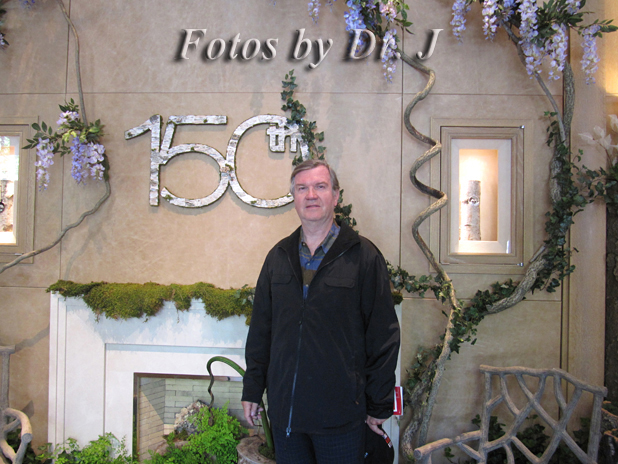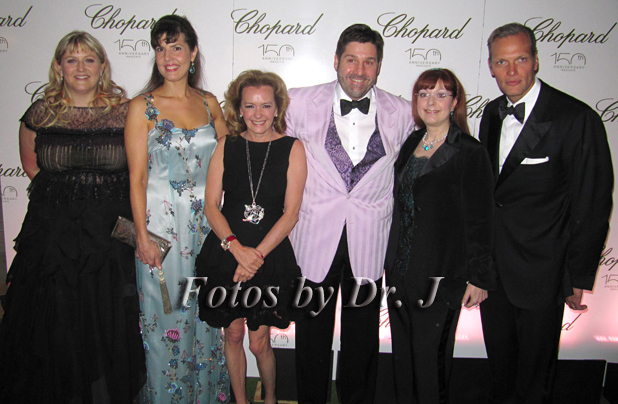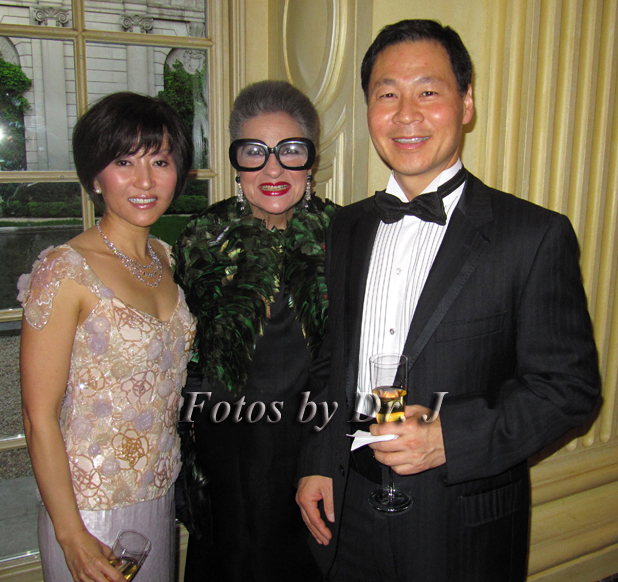 advertisement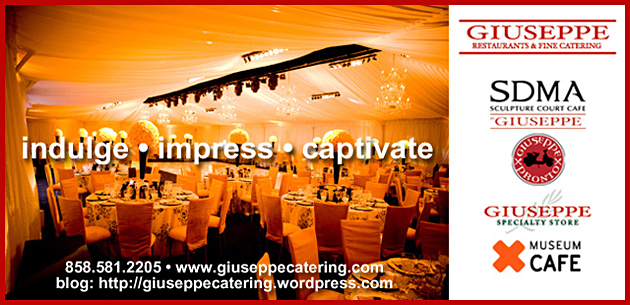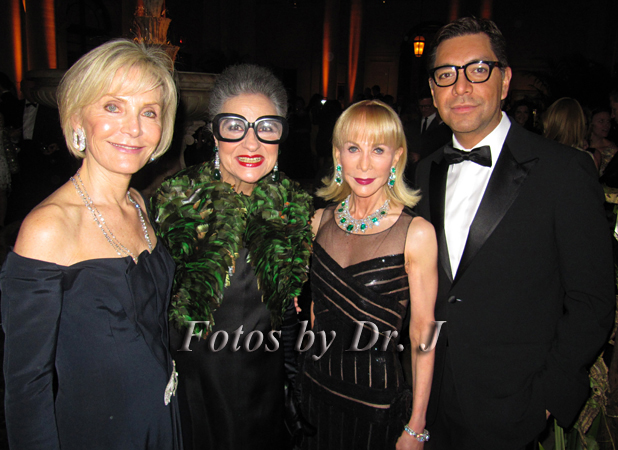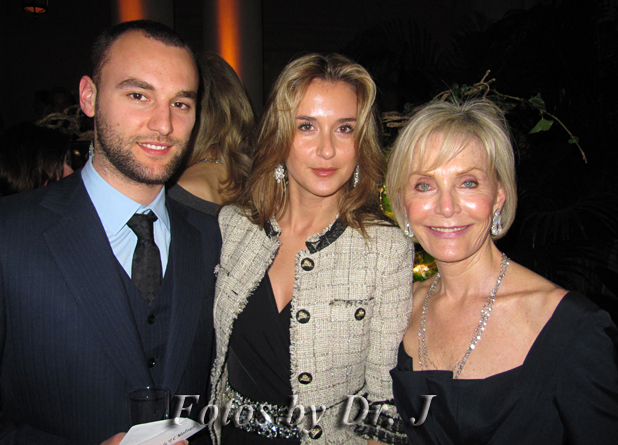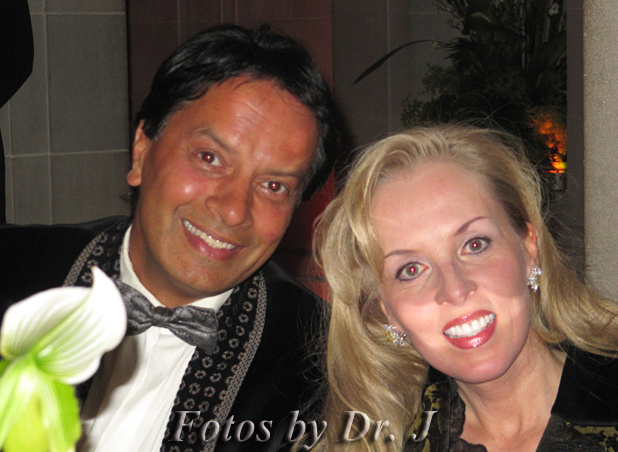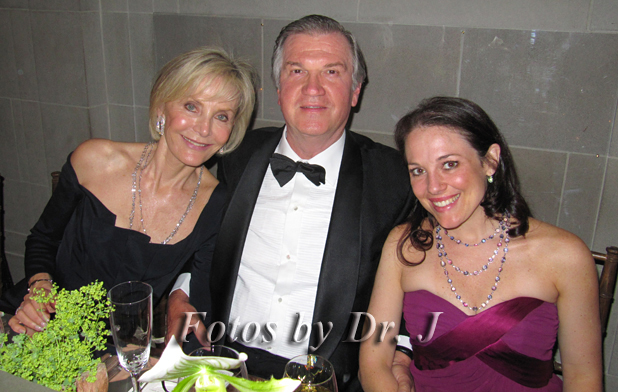 advertisement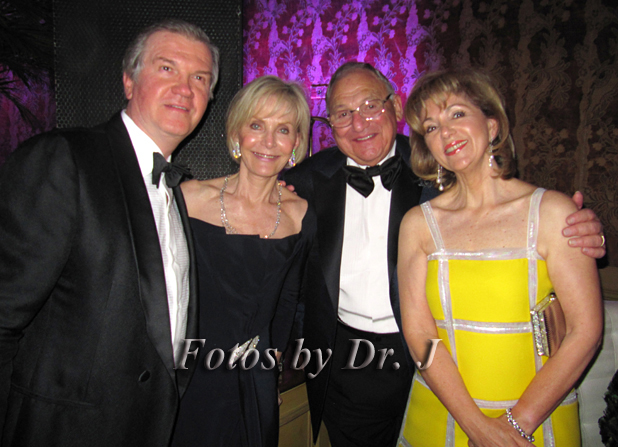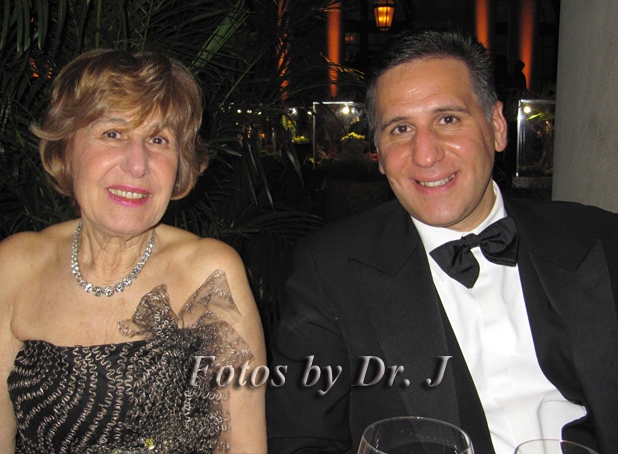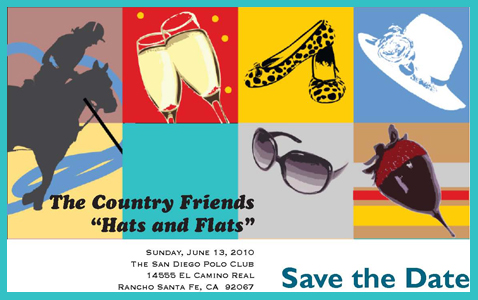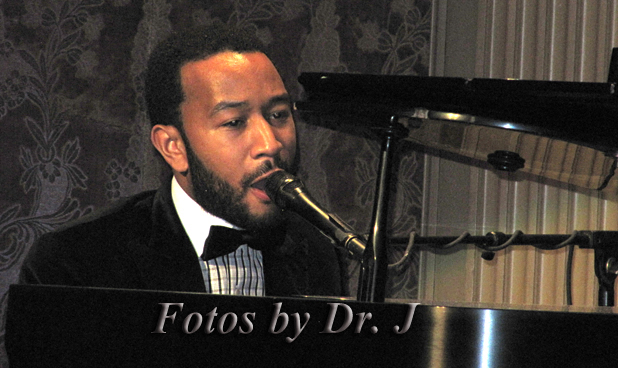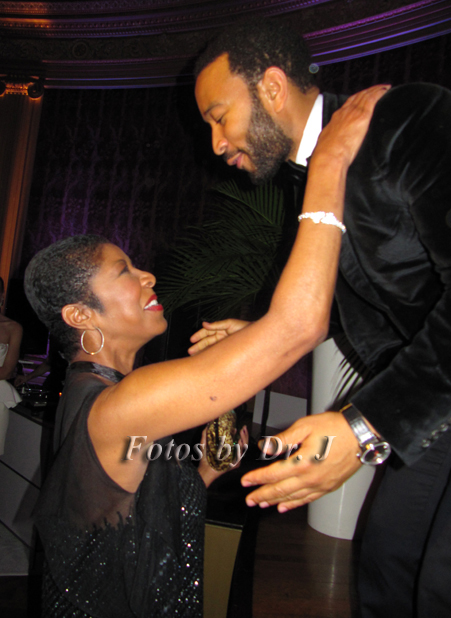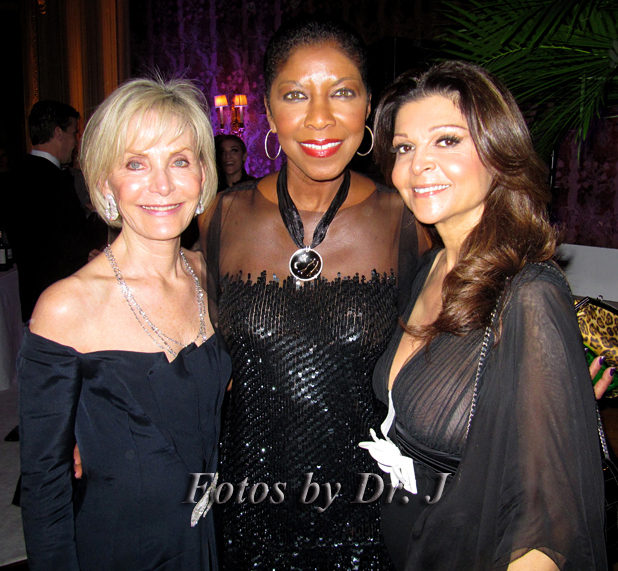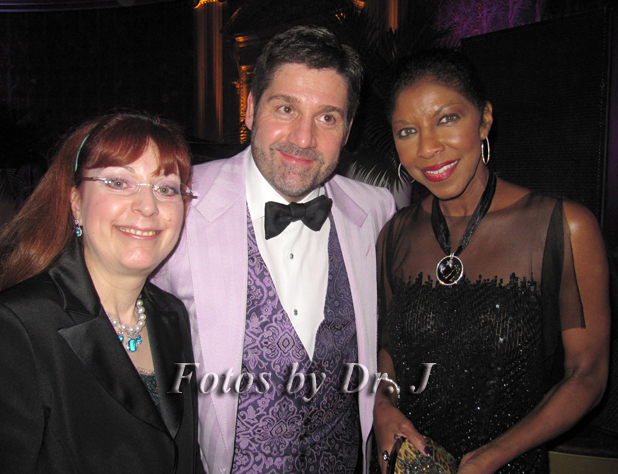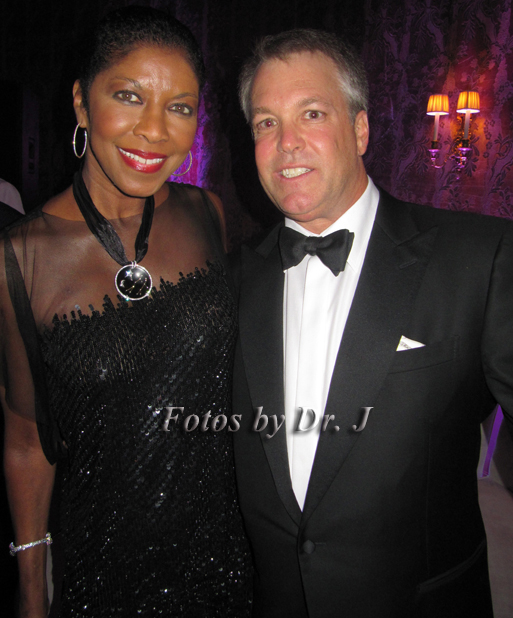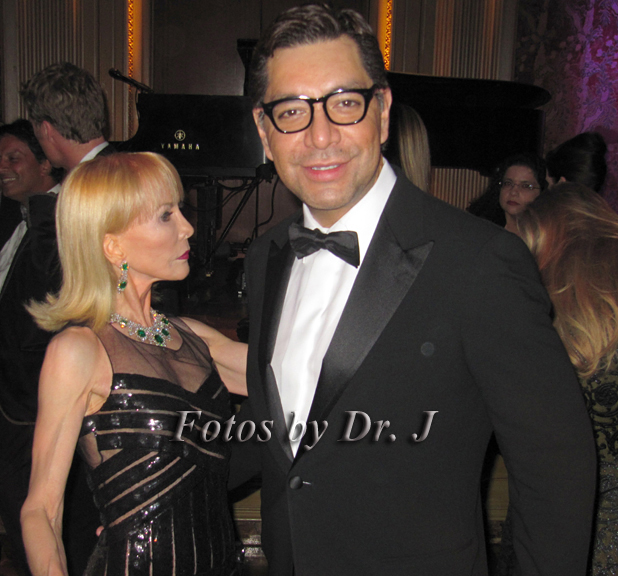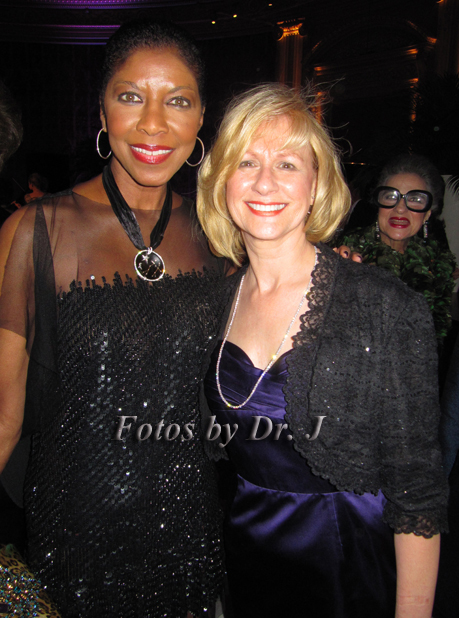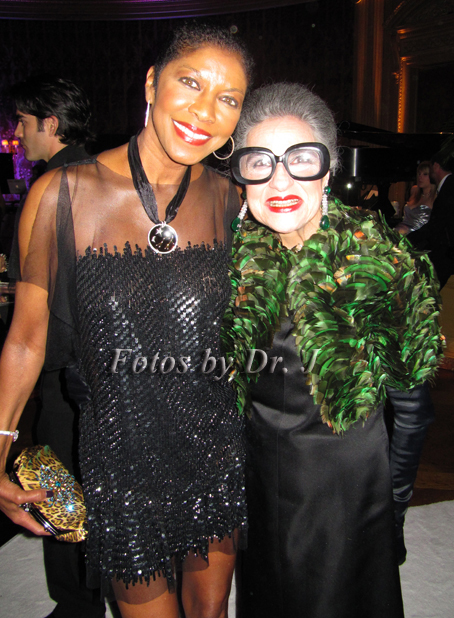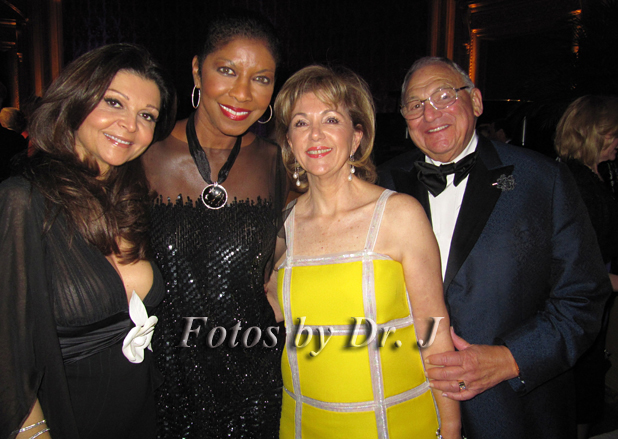 And the Chopard 'Animal Collection Jewels.....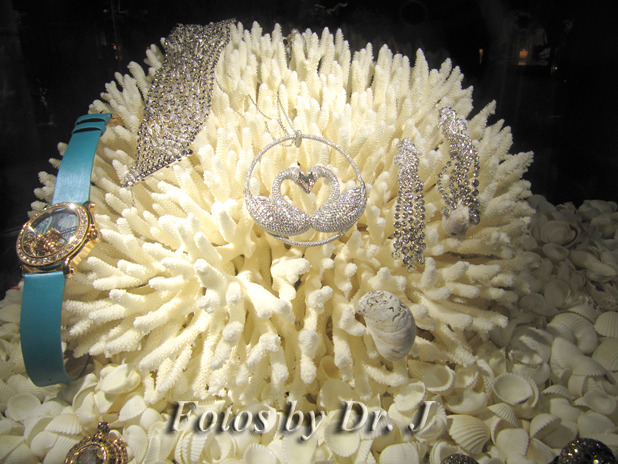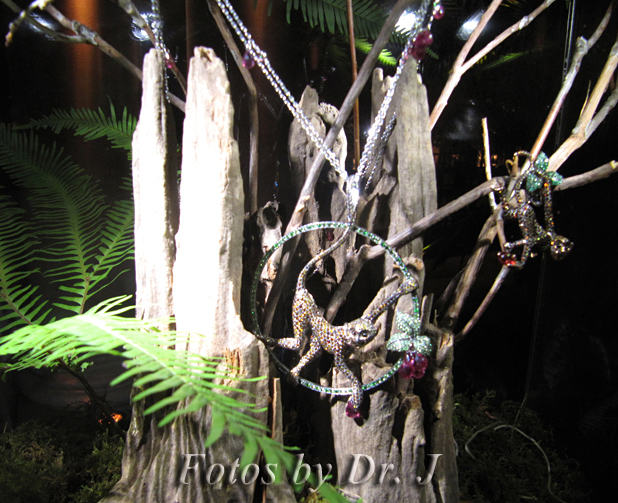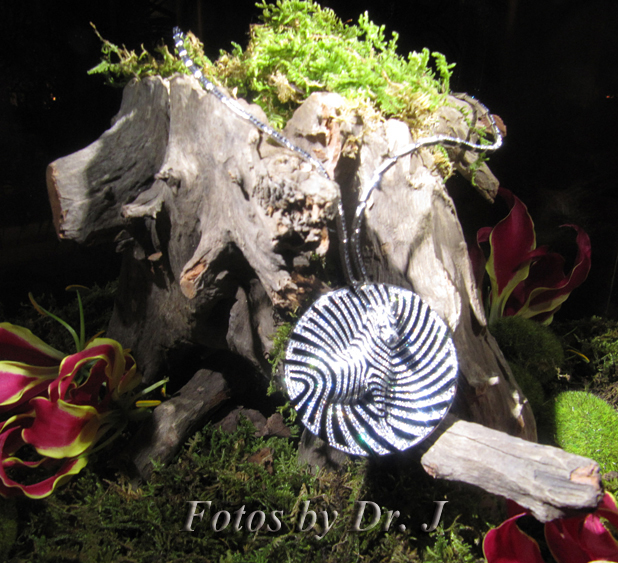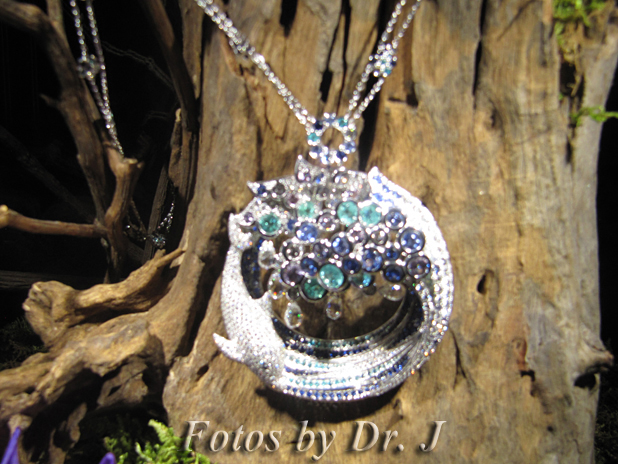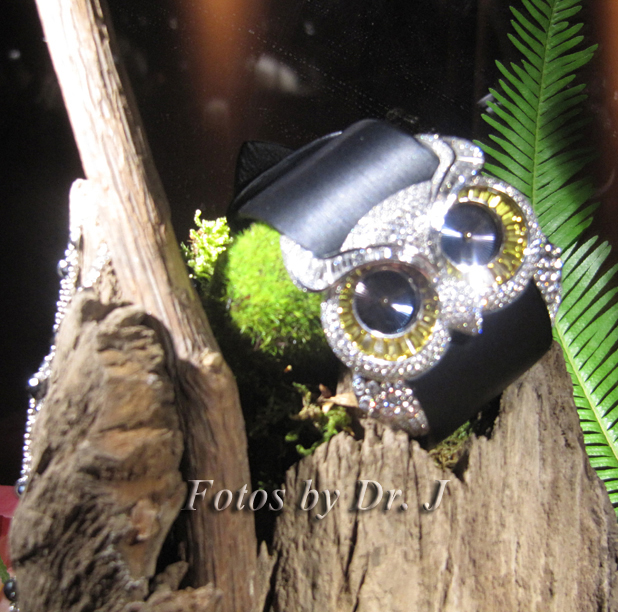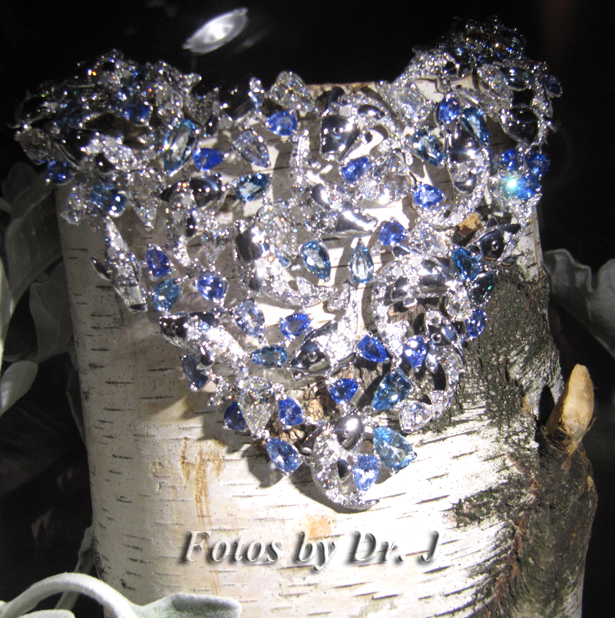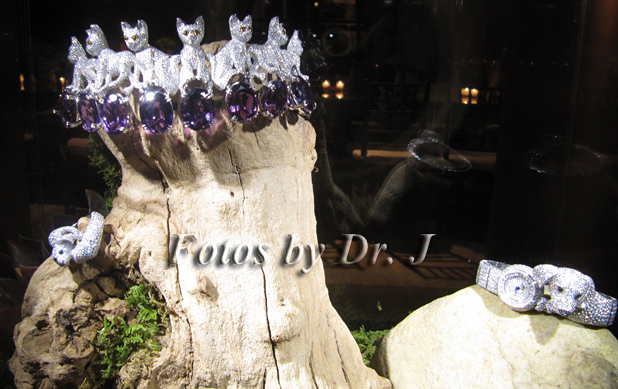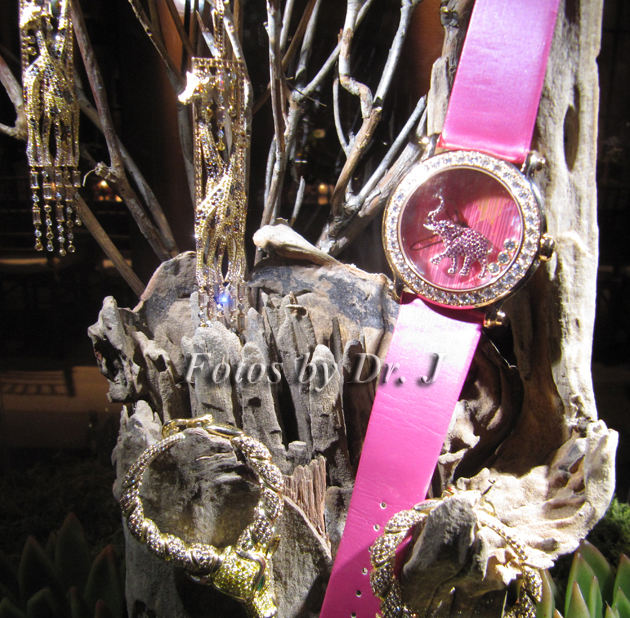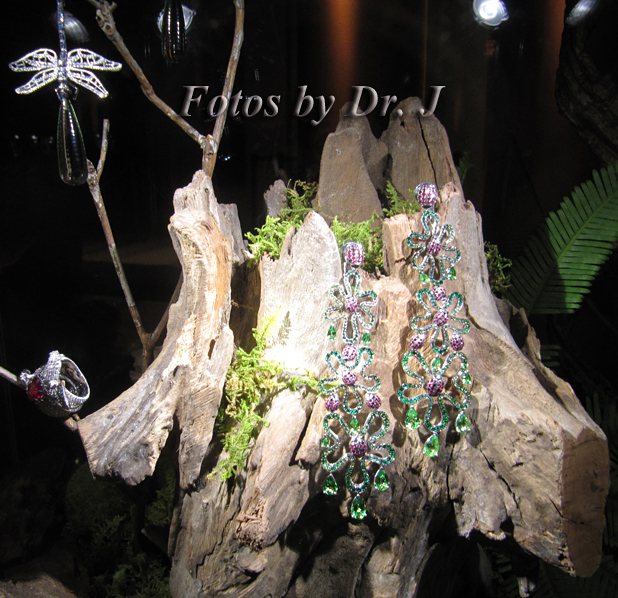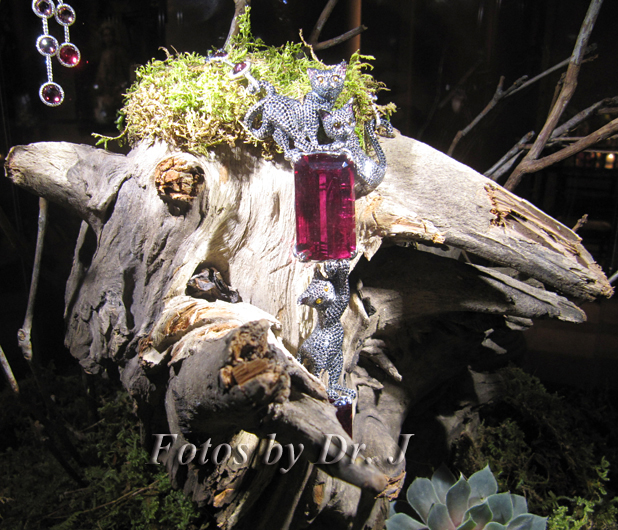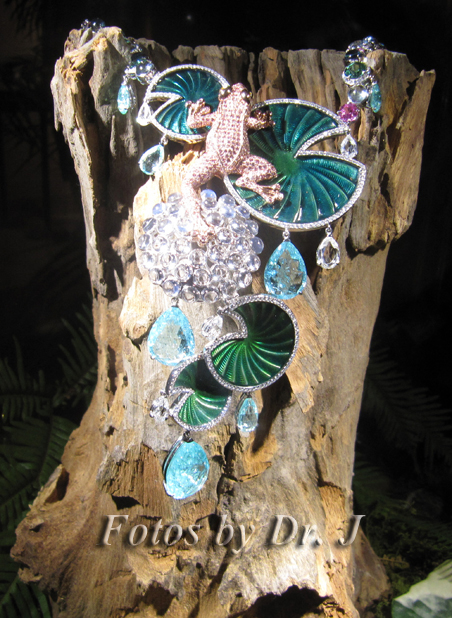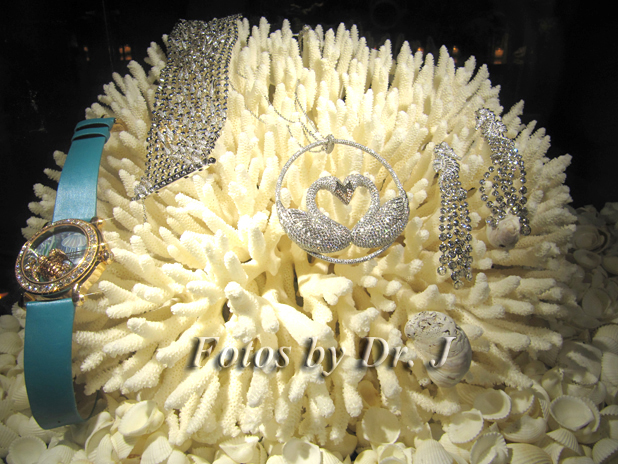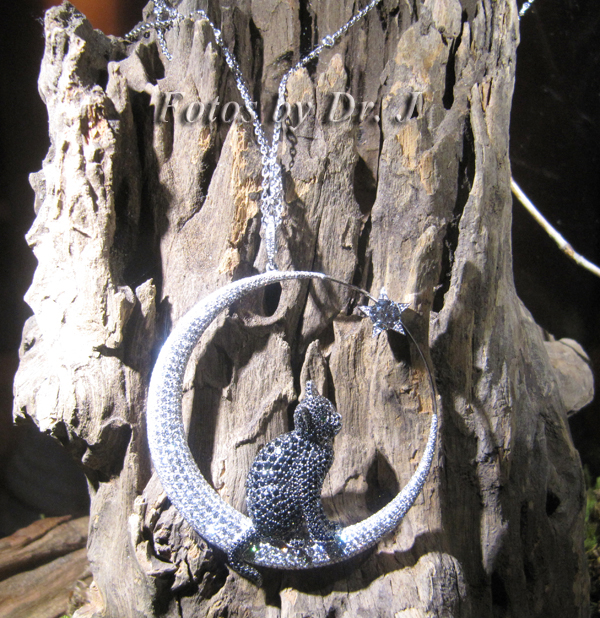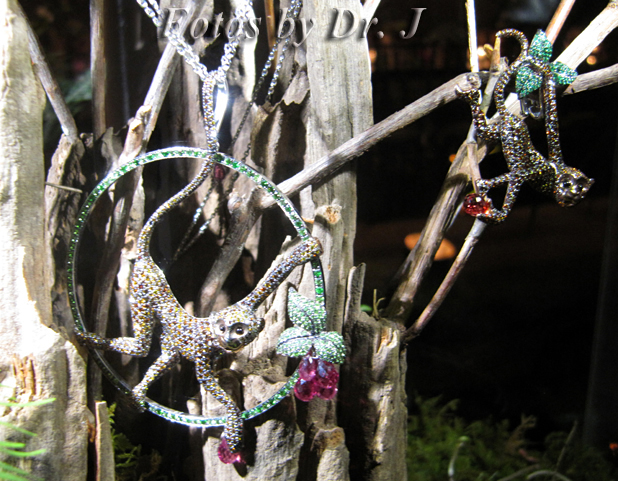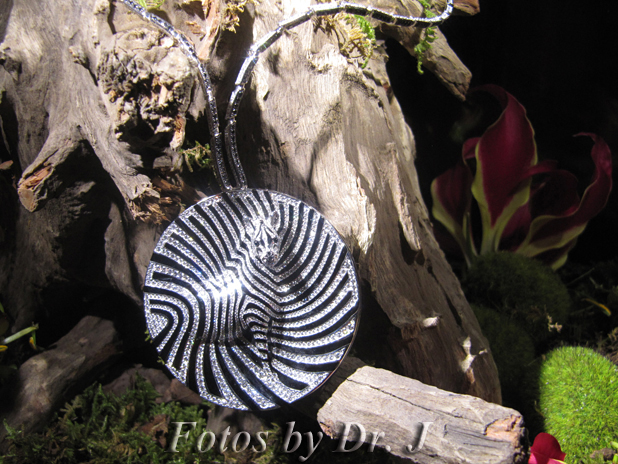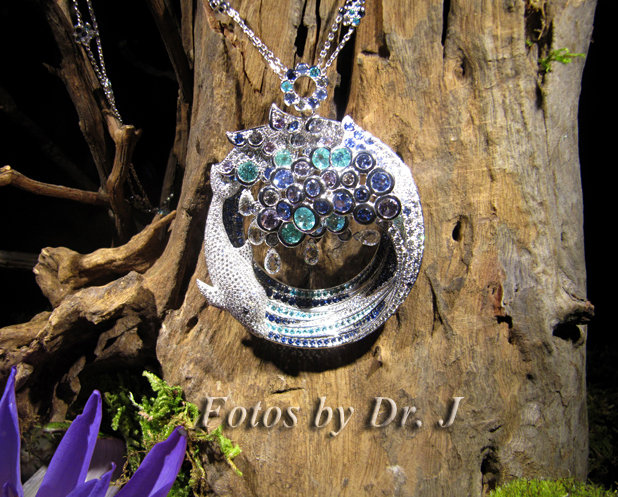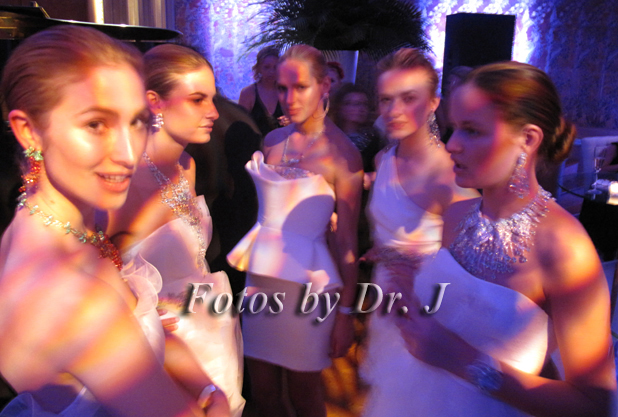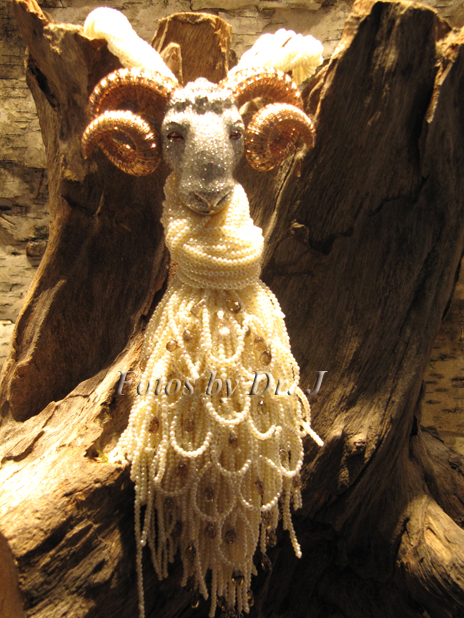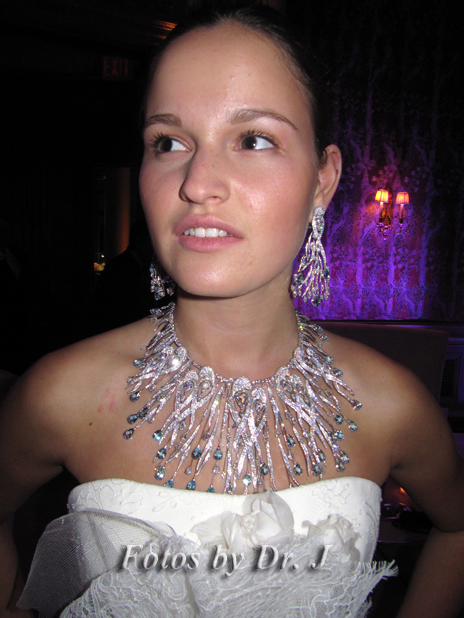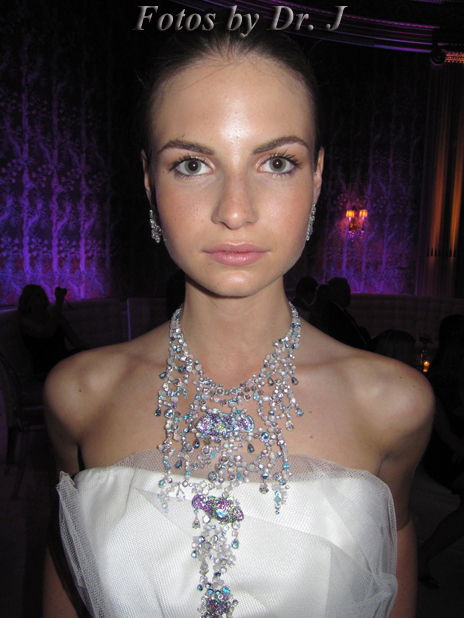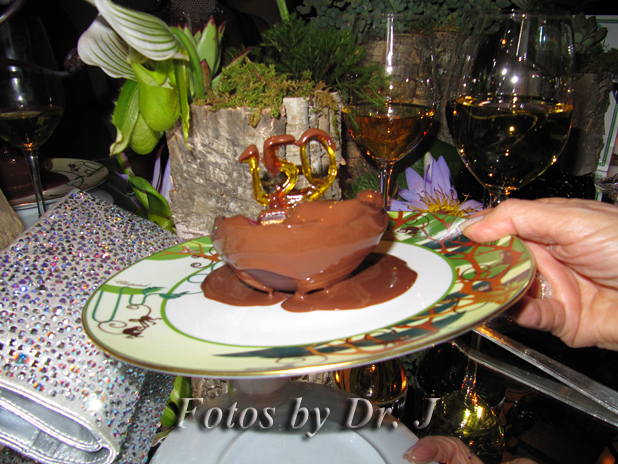 That wonderful dessert!!
A Chopard tidbit .....
Chopard has been a partnering sponsor for the Cannes Film Festival since 1997. As such they have created the prestigious award, the Golden Palm Award or Palm D'Or for directors of the best feature from the Official Competition. Made of 24 carat gold and hand cast, this award is in some talented winners' homes including Martin Scorcese, Quentin Tarrantino, and Francis Ford Coppola!
reported by and photoshopped by
Margo Schwab and Scott Johnston
Please join us for updates on Twitter and Facebook

The Buzz
Joan Jacobs was one of the lucky moms invited to tea by First Lady Michelle Obama. The next day, Mother's Day, Joan spent with family at Rancho Valencia.... her son Jeff Jacobs and investors bought the resort for a cool $15 million.... a smart deal at that. Word is that blueprints for future plans at the resort are being reviewed right now.
..................................
Recently Scripps Spinoff Auction made over $1 million dolllars. ARC-SD's gala made $50,000.
.......................................
In other news, Kima's team has raised nearly $4,000 directly for the Arthritis Walk!!
Kima is leading the way for the Arthritis Walk.... !! Please join the effort to get rid of one of the costliest diseases for healthcare....!!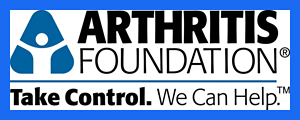 Kima says thank you for your support!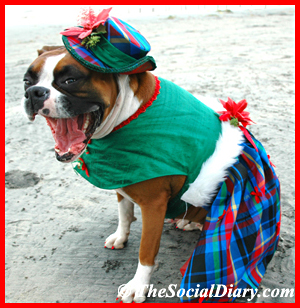 More Buzz
2 Furry Reasons to go to Lions,
Tigers and Bears!!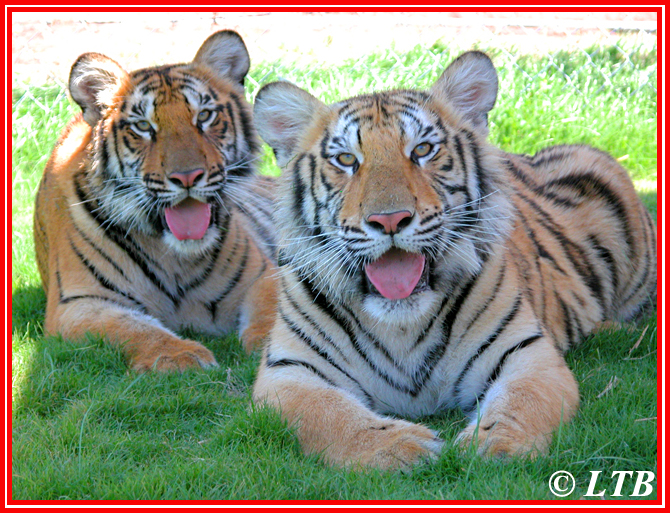 Located in Alpine, LTB is a quick 40 minute drive up 8 from La Jolla and elsewhere. Come see the wild cats. You can also stay at White Oaks, the private suite at LTB.... where you can wake up to the ROAR of the cats!!
Learn more about this event and other ways to visit, and support the cats by visiting www.lionstigersandbears.org
The Social Diary is proud to donate $100 to Rancho Coastal Humane Society to replenish the money stolen from donation boxes. The money will help the following situation.
Cat Burglar Plunders Pet Coffers
Cricket Corner Dog Park Donation Boxes Broken into
at Rancho Coastal Humane Society
The donation boxes that help fund the maintenance of the free Encinitas community dog park, Cricket's Corner, were broken into. The theft was discovered this morning by a shelter employee and Rancho Coastal Humane Society is asking the public to report any information they have about this crime. It is estimated that $100.00 was stolen and there will also be expense to repair the donation boxes. Animal shelters in San Diego have been on-going targets of thieves over the past two years.
"This was a selfish act," said President Jim Silveira. "It is obvious that the person who committed this crime has no regard for the plight of animals in our community. We rely on the generosity of dog park patrons to help us maintain the park. The person who did this, is not only stealing from our shelter animals, but from everyone in our community."
It costs RCHS approximately $5,000 annually to operate the dog park, which is a free service to the community. To report information about this crime please call (760) 753-6413 or to make a donation to the dog park, visit www.rchumanesociety.org
__________________________________________________________________

____________________________________________________________
Photoshopping and Photography Services
Photos on this website available if it is of you
available by The Social Diary
~ 619-384-7333
email TheSocialDiary.com
_______________________________________________________________
Email Commentary to be added
* Margo Schwab, more formally known as Margaret E. Schwab, has produced, written, interviewed and photographed for various media organizations since 1989. Schwab attended Holton Arms School, La Jolla Country Day School and La Jolla High School. Schwab has a B.A. from Scripps College, spent a business internship with S.A.I.C., Science Applications International Corporation, and earned a Masters of Business degree, M.B.A., from the University of San Diego by way of Claremont Graduate School . Schwab additionally took college courses from Harvard University, and Syracuse University. Schwab volunteers for numerous charity organizations. She also continues to support animal organizations and the prevention of people and animal abuse. Schwab is the editor of The Social Diary.
Margo Schwab and Scott Johnston of The Social Diary are pleased to announce partnerships with the Arthritis Foundation of San Diego County, Country Friends, the San Diego American Heart Association, and the San Diego Humane Society.
Margo Schwab and Scott Johnston are members of the La Jolla Beach & Tennis Club since 1974 and will be new members of the University Club atop Symphony Towers.
San Diego's The Social Diary would like to say a special thank you to our advertisers.
Valerie and Harry Cooper supporting the San Diego Opera
Valerie and Harry Cooper supporting The Museum of Contemporary Art San Diego
Giuseppe Restaurants and Fine Catering
YourManifest.com
Judith C. Harris, Blair Harris, and Robert Singer, MD supporting the
Dian Fossey Gorrilla Fund International
Old Globe Theatre
Rancho Coastal Humane Society
Lisa Shapiro of Pure Barre La Jolla
Dr. Laurie Marker of The Cheetah Conservation Fund
H. Moradi Fine Jewelers on Prospect Street in La Jolla
Pamela Pogue of Juelerie
Kary Favish of the Worth Collection
Diana Cavagnaro of Designer Millinery
Jordan of Jordan Art Couture and Animal Fashions by Jordan
Lizz Russell of The Lizz Russell Collection
Gary Parker of WineSellar & Brasserie
Owner and Chef Pasquale of Cafe Milano
Kevin Smith of Extreme Pizza in La Jolla
Jeremiah Sullivan of Neptunic Sharksuits
Drs. Sue and John Morizi of The Animal Hospital of La Jolla
Eugene Ladopoulos of Mistra Estates Olive Oil
Warning ** photos, video and writing on this site are the
2010 copyright, all rights reserved, of The Social Diary LLC and its subsidiaries.
no reproduction of any part or parts is allowed without written permission by The Social Diary