www.arthritis-sandiego.org/walk
Kima on Facebook! & Kima's Fan Page & Kima on Kintera!
p.s. Kima would like to thank Elaine and Don Evans for signing up this week for the Arthritis Walk!
_______________________________________________________________________________________________________________________

all photos and content are the strict copyright 2009 of TheSocialDiary.com
no downloading!! photos are available for purchase if it is of you!
Childhelp Hosts Red White & Blue 'USO' Gala on USS Midway!
"The Southern California Auxiliary event commemorating Childhelp's 50th Anniversary was not only monumental, but truly magical from start to finish. From the moment the Founders of Childhelp Sara O'Meara and Yvonne Fedderson and Arizona Governor Jan Brewer landed on the flight deck with U.S. Marine escorts from San Diego's MCRD to a special very heartwarming appearance by the Childhelp Village Choir the air was buzzing with excitement. And that magical feeling continued into the evening with dignitaries such as Lt Governor John Garamendi, Vice Admiral Thomas Kilcline and General Mike Aguilar and celebrities entertainers such as Norm Crosby and Della Reese. There are very few moments in time when everything comes together so completely that it creates an event so special and magical that everyone will remember it for a very long time and this amazing fundraising event would fall into that category. Magic was certainly all around especially in the generosity of those that came to help us continue the mission of Childhelp to end the cycle of child abuse.
- Ron McMillan President, Childhelp Southern California Auxiliary
Childhelp Southern California Auxiliary held a USO themed gala May 1st, 2009 aboard the USS Midway Aircraft Museum in San Diego.
The star studded evening featured performances by actress and singer Della Reese (Touched by an Angel), comedian Norm Crosby, and Grammy nominated composer and singer Stan Beard.
And San Diego's big names came out to support Childhelp's nationwide mission to combat and prevent child abuse.
Among the many there were Sheriff Bill Kolender, Undersheriff Bill Gore, San Diego District Attorney Bonnie Dumanis, California Congressman Dana Rohrabacher, San Diego Chief of Police Bill Lansdowne, and California Lt. Governor John Garamendi.
One special guest came from out of state. That was Arizona's State Governor Jan Brewer.
Co-Chairs Daran and Ray Grimm ** Co-Chair Sue Berkman
Among the politicos were some very patriotically attired guests in red, white and blue. Co-chair Daran Grimm wore a red Valentino suit with a multi-layer sparkling crystal necklace by local designer Pamela Pogue, Elizabeth McKinnon wore a pretty red cocktail dress from Azzaria, Richard Esgate wore a red white and blue tie with flag motif, and Sally B. Thornton embellished her outfit with a red feathery boa.
Rita Szczotka was there in festive attire and so was a foot injured Cindy Goodman. Cindy stayed in theme though, she wore a red shoe on her left foot, and a blue and white foot cast on her right.
French Gourmet provided the fine cuisine for appetizers and dinner, and the popular Heroes Band, played the dancing tunes that had guests 'Boogie Woogie-ing to Company B' into the night.
Two very special guests there were Childhelp Founders Sara O'Meara and Yvonne Fedderson. They arrived by helicopter in outfits that could be described as polka dot fun! Or 'clownish' as the ladies both said. Actually the descriptive should be historic. Yvonne and Sara were appearing as they originally did as actresses for a USO show in 1959.
Yvonne Fedderson described the event as "fun, it's great." Sara O'Meara added it was the "most exciting thing."
That's the most exciting thing yet. In the 50 years since Yvonne and Sara founded the Childhelp organization has been established "as a leading national non-profit organization dedicated to helping victims of child abuse and neglect and at-risk children. Childhelp's approach focuses on advocacy, prevention, treatment and community outreach."
"Childhelp is a wonderfully caring organization that provides help and assistance directly to the children," said guest Charlie Grebing. "It has proven that the persons in charge of the organization truly have the interests of "our children" at heart." The battleship Midway venue, which hearkens back to the circumstances that brought two American entertainers to recognize the plight of unfortunate and abused children oversees, is a perfect reminder of the fact that the need existed then and now, to undertake the task of caring and providing for abused children here and abroad. It is an honor to support their efforts."
And support guests did.
And with that in mind, guests bid big on such auction items as a shearling wrap from the Worth Collection, a luxury stay at Rancho Valencia Resort & Spa with tennis and dinner, a very coveted lizard clutch by Oscar de la Renta, a dinner for 6 with wine pairing by Chef Jeffrey Strauss of Pamplemousse Grille, and a kids, and parents dream. A birthday bash for 25 children including bistro meal at McDonalds, movie tickets to Ultra Star Theatres, and custom cupcakes by CupCake Love.
And it's for the love of a child that Childhelp endeavors to help children lead happy healthy lives.
As Co-chair Daran Grimm said "Childhelp is about saving beautiful, innocent children."
Daran was joined in this spirit by her fellow Co-chairs, Ray Grimm, and Sue and Peter Berkman, Childhelp President Ron McMillan, Dawn DuCharme and Charlie Grebing, Dan Blackwood, Derelys and David Delano, Kim Penny and Bob Ludwig, Darcy Smith, Renee Schatz, Angie Preisendorfer, Marti Avila and Tim Anders, Nancy Laturno, Steve Kelly, Elizabeth and Mark McKinnon, Tamie and Joe Lizura, Leonard Simpson and Christopher Baidoo, and a few hundred guests.
Childhelp Information:
As part of the 50th Anniversary, Childhelp is launching a 50 state "End Child Abuse Now" bus tour to raise attention and awareness to the issue. Though the organization has accomplished much and made an impact in the lives of millions of children over the last 50 years, much more needs to be done. Child abuse cases have been increasing across the nation as CPS workers are being laid off during budget cuts and parents struggling with financial problems and venting their frustrations on their children.

The Childhelp National Child Abuse Hotline, 1-800-4-A-CHILD®, operates 24 hours a day, seven days a week, and receives calls from throughout the United States, Canada, the U.S. Virgin Islands, Puerto Rico and Guam. Childhelp's programs and services also include residential treatment services; children's advocacy centers; therapeutic foster care; group homes and child abuse prevention, education and training. Childhelp also created the Childhelp National Day of Hope®, held each April during National Child Abuse Prevention Month, that mobilizes people across America to join the fight against child abuse.
To learn more about Child Help, visit www.childhelp.org
Daran Grimm and Leonard Simpson making a dash to greet guests arriving by helicopter ** Scott Johnston
Mark and Elizabeth McKinnon ** Sally B. Thornton with Bob Stefanko and Cindy Goodman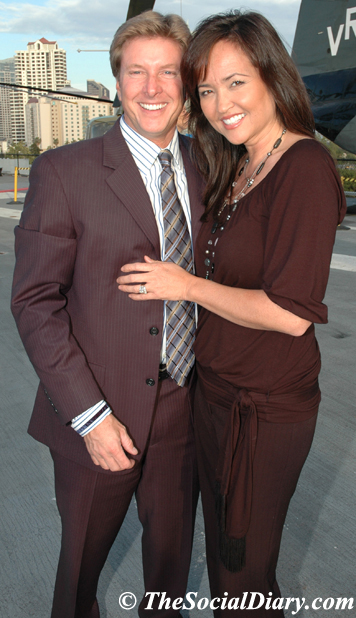 Joe and Tamie Lizura
San Diego Police Chief William Lansdowne with Scott Johnston ** Scott Johnston with Sheriff Bill Kolender
Nadia modeling diamonds ** Rita and Michael Szczotka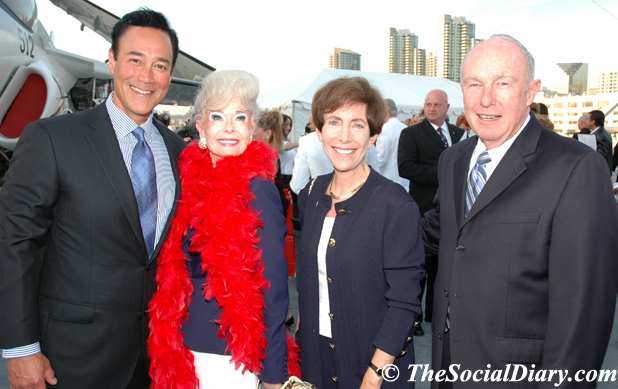 Scott Johnston with Sally B. Thornton, Cindy Goodman and SDPD Chief William Lansdowne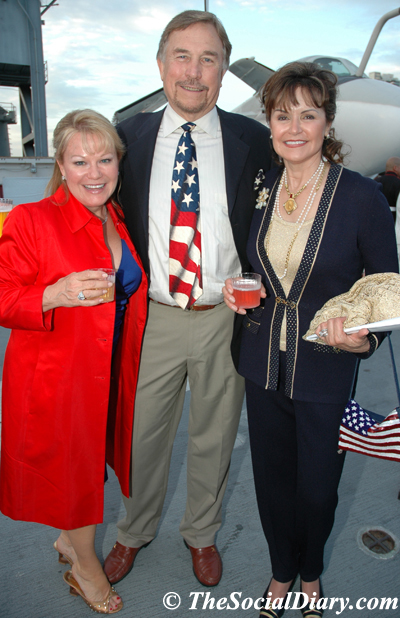 Guest with Richard and Arlene Esgate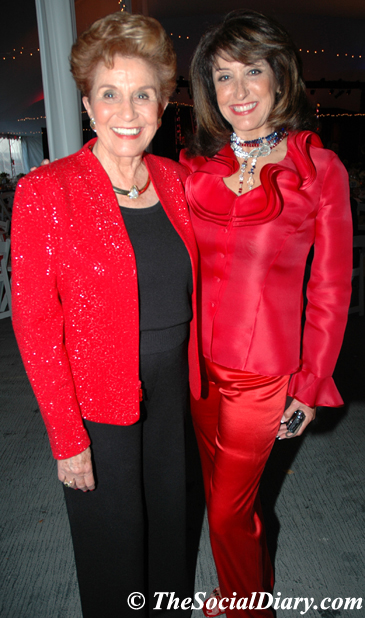 Derelys Delano with her daughter Daran Grimm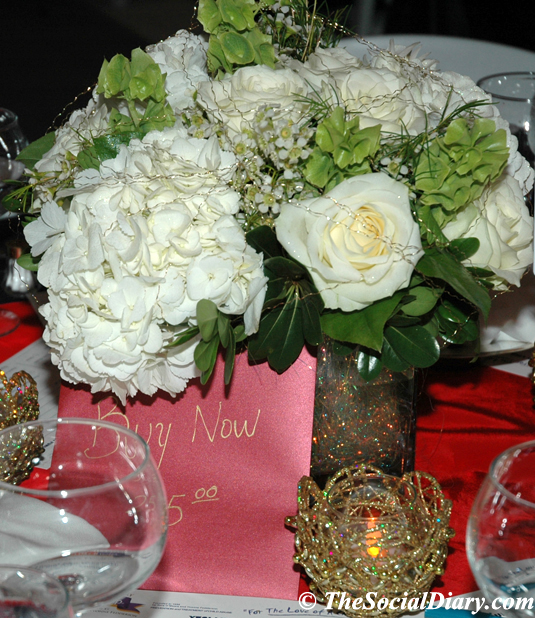 A Table Setting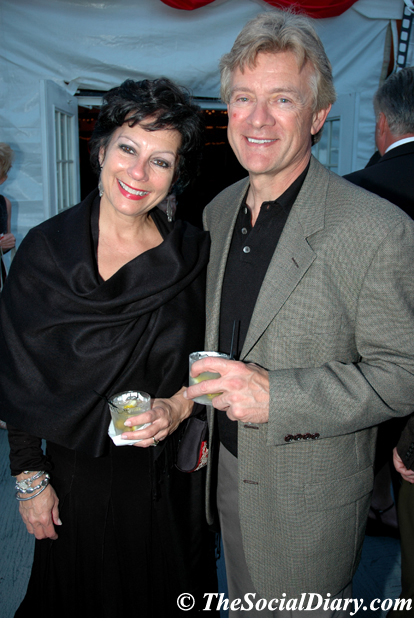 Kim Penny with Bob Ludwig
Staff Sgt. Jonathan White ** Childhelp Co-Founders Sara O'Meara and Yvonne Fedderson
Dawn DuCharme and Charlie Grebing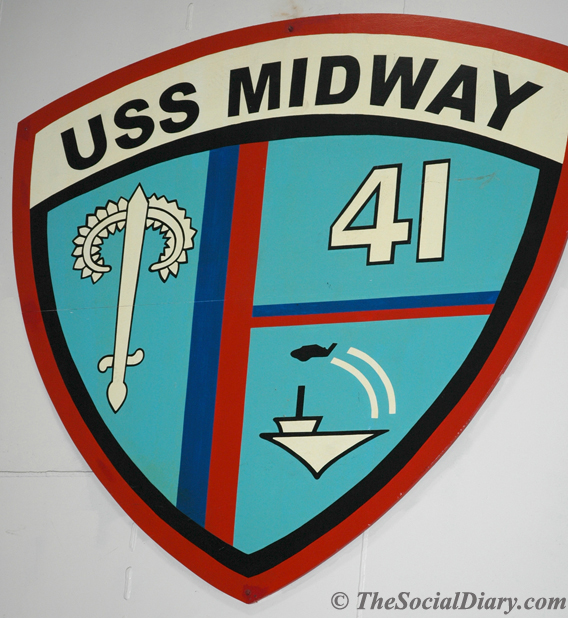 The Historic USS Midway Aircraft Carrier Museum Emblem
reported by Margo Schwab
The Buzz
Some very feisty ladies and a few cheating men are coming to town.....
The Old Globe has announced the cast for the world premiere, Broadway-bound musical, The First Wives Club. The cast features Broadway veterans Karen Ziemba (Contact, Curtains) as "Annie," Adriane Lenox (Doubt; Kiss Me, Kate) as "Elyse," Barbara Walsh (Company, Hairspray) as "Brenda," John Dossett (Gypsy) as "Aaron," Kevyn Morrow (Dreamgirls) as "Bill," Brad Oscar (The Producers) as "Morty," Sara Chase as "Trophy Wife," Sam Harris (The Life) as "Duane," Ari Lerner and Austyn Myers alternating as "Jason," with Michelle
Aravena, Mark Campbell, Thursday Farrar, Jenifer Foote, Bob Gaynor, Matthew LaBanca, Victoria
Matlock, Hayley Podschun, Martin Samuel and Richard Waits as the Ensemble.
The production will run in the Old Globe Theatre July 15 –
August 23, 2009,

for Tickets to the First Wives Club—The Musical contact the Globe Box
Office at (619) 23-GLOBE or online at www.TheOldGlobe.org.
First Wives Club will be produced on Broadway by Paul Lambert
meanwhile at the Globe....
The Old Globe's acclaimed "Classics Up Close" series continues with Arthur Miller's The Price. A protective wife watches as her husband, a policeman nearing retirement, and his brother, a successful brain surgeon, face the truth about themselves when they meet to sell their late father's possessions. Starring Dominic Chianese, Andy Prosky, James Sutorius and Leisa Mather. Playing in The Old Globe Arena Stage at James S. Copley Auditorium in the San Diego Museum of Art, May 9 – June 14.
followed by......
From the co-creator and Executive Producer of the hit HBO series "Big Love" comes Cornelia, an epic slice of history – welcome to Alabama, 1970, recently-divorced beauty queen Cornelia Folsom has her eye set on Governor George Wallace, and will do anything to be the next first lady of Alabama. But this is the South, and there's more than hanky-panky going on in this sweeping, provocative tale of sex, power, and bare-knuckled American politics. Starring Robert Foxworth, Melinda Page Hamilton and Beth Grant. For Mature Audiences. Playing in The Old Globe Theatre May 16 – June 21.
and those Vista Hill 'Dolls' Went Barbie all the Way.......
Vista Hill presented its 18th Annual Spring Fashion Show April 29th and it was 'Barbie-rific!'
The Theme was Barbie, 50 and Fabulous... and it was fabulous. The Barbie dolls Barbie Spinazzola and Barbara Brown co-chaired...
Vista Hill supporter Sally B. Thornton had this to say.
"Hey there, 'Barbie' girl!"
Barbie Spinazzola, that is!!
Your excellence was everywhere.
You had the perfect touch.
Fabulous Fashions, thrilled & delighted…!
Simply Scrumptious!
Thanks to the Manchester Grand Hyatt.
Vista Hill's on a roll!
Stay tuned…"
Stay tuned we will. Events like this raise monies and support for Vista Hills programs that are integral to the purpose of putting families on the healthy path.
Jewelry designer Pamela Pogue was thrilled to contribute a spectacular necklace to the cause.
"A fashionable event that beautifully honored and supported recovering families in need. This important cause continues to provide quality programs for children, adults and families resulting in ongoing success stories. Great attendance! Fabulous fashion show! Congratulations Vista Hill on your endeavors and successes!"
and is this the coolest bridge .....
The Longest StressRibbon Bridge in the World opened May15th, 2009
The Lake Hodges Bicycle/Pedestrian Bridge provides an important connection between Escondido and San Diego.
And it's not just beautiful, it is a landmark structure to peacefully view by walking or bicycling, some of San Diego's remaining wildlife habitat. For more information, details on how they built the bridge, and wildlife you may view, please visit
www.sdrp.org
"The bridge took ten years of planning, funding and construction that seemed interminable. But when I look at it today I know it was worth the effort because the community has gained a rare asset; a public improvement that not only expands recreational opportunities but also serves as a dramatic and beautiful sculptural element for all to enjoy." - Dick Bobertz, Executive Director of the San Dieguito River Park Joint Powers Authority
and on a serious note....
We would like to salute the life of Lisa Bols. We met her a few years back at a Monte Carlo gala. We were impressed by her warmth. Since then, she and husband J.D. have attended numerous events, the La Jolla Playhouse, Ronald McDonald House Charities, and countless others. In the face of cancer, Lisa never strayed from being a positive and bright light on the social circuit.
Even as things turned worse, Lisa and J.D. planned a cancer fundraising event for Scripps Hospital which was held last week. There were a lot of cheers to Lisa, who battled the good battle, and whose spirit lives on.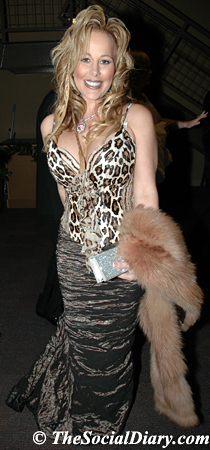 Upcoming Events
June 6th - Helen Woodward Animal Center's Spring Fling
The annual Spring Fling gala titled Shangri Paw (an eternal paradise) is Helen Woodward Animal Center's black-tie extravaganza featuring 20 of San Diego's best restaurants, live entertainment, unique libations, amazing auction items for you and your best friend, and dancing till midnight! The 2009 Spring Fling will take place on Saturday, June 6, 2009. Kima will be there too as Dog Honoree for the Arthritis Foundation Walk.... More information first on the Helen Woodward event..... More information
June 6th - The Arthritis Foundation Walk.
The Arthritis Walk® is the Arthritis Foundation's annual nationwide event that raises awareness and funds to fight arthritis, the nation's most common cause of disability. It is a tremendous opportunity to help improve the lives of the 46 million men, women and children doctor-diagnosed with arthritis.
And Kima is the Dog Honoree for the walk! So 'Let's Move Together!'
To learn more about arthritis and this walk, please visit
www.arthritis-sandiego.org/walk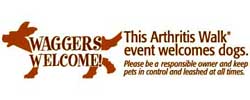 Dogs get Arthritis too!
June 14th - The Fiesta Garden Party for P.A.W.S. or Pets Are Wonderful Support will host its fundraiser for aiding people with financial or disability needs, care for their pets. Animal activist and Emmy Award winning Loretta Swit will be attending the fundraiser. The event will be held on the grounds of an historic 1920's estate adjacent to Balboa Park. Well behaved and leashed dogs are welcome to attend. Kima will be wearing a custom Jordan Art Couture outfit that will be available by live auction. Please visit www.pawssdc.org for more details and tickets.
Save the Date
June 17th - Fashion at the Timken - Guest Speaker Patricia O'Connor, Founder / CEO of Fashion Careers College and Timken Docent
June 19th - The Rainforest Alliance promises a wildly fun night of fundraising.
June 20th - RITZ, San Diego Zoo Gala Fundraiser
July 30th - 'After the Finish Line's' summer fundraiser, A Tribute to the Majesty of Thoroughbreds
August 1st - Old Globe Gala
August 8th - Jewel Ball
August 15th - The Fur Ball at the San Diego Humane Society
August 29th - The Art of Fashion at The Timken Museum in collaboration with Fashion Careers College

Proud to be partnered with San Diego News Network
________________________________________________________________
Photoshopping and Photography Services
Photos on this website available if it is of you
available by The Social Diary
~ 619-384-7333
email TheSocialDiary.com
_____________________________________________________________________
Email Commentary to be added
email editor@thesocialdiary.com
A terrific group of event and photos. You and Scott will make an even better team when he retires, if possible.. Kima, is so lucky to have all those Arthritis Foundation friends! Loved the Turquoise material!Best! - Elaine & Don Evans
* Margo Schwab, more formally known as Margaret E. Schwab, has produced, written, interviewed and photographed for various media organizations since 1989. Schwab attended Holton Arms School, La Jolla Country Day School and La Jolla High School. Schwab has a B.A. from Scripps College, spent a business internship with S.A.I.C., Science Applications International Corporation, and earned a Masters of Business degree, M.B.A., from the University of San Diego. Schwab additionally took college courses from Harvard University, and Syracuse University. Schwab volunteers for numerous charity organizations. She also continues to support animal organizations and the prevention of people and animal abuse. Schwab is the editor of The Social Diary.
The Social Diary is pleased to announce new partnerships with the San Diego Humane Society and San Diego News Network.
Warning ** photos, video and writing on this site are the
2009 copyright of The Social Diary, San Diego Social Diary
no reproduction of any part or parts is allowed without written permission by The Social Diary