~ The Social Diary ~
~~~~~~~~~~~~~~~~~~~~~~~~~~~~~~~~~~~~~~~~~~~~~~~~~~
Gloria Steinem at CCS High Tea

April 12th , 2007
The Social Diary Columnist & Photographer Margo Schwab
(high resolution photos available by request )
Guests arrived March 14th, 2007 to the 8th Annual "Tea by the Sea," held this year at the Sheraton San Diego Hotel & Marina. With quite a hundred participants in attendance, it is very evident that the hosting Center for Community Solutions, or CCS, has quite a lot of support from San Diegans for its mission.
Since 1969, CCS has assisted more than 12,000 men, women and children affected by relationship violence and sexual assault by the programs it provides.
Past CCS Board President Debra Palmer had this to say about this year's tea event. "Eight years ago, I chaired the first Tea by the Sea, and at the time, we dreamed of having Gloria Steinem as our speaker. So to sit in a packed ballroom and hear her call CCS a "national treasure" was amazing and filled me with great pride."
And Gloria Steinem had some poignant remarks too regarding domesetic violence. One is the following. "Challenge the normalizing of it in the home and in the culture."
And there was pride as honorees Chrissy Cmorik, Sami Longo-Disse, Dustin Slack, representatives from the The Junior Seau Foundation, Verizon, and Jeanne Johnson stepped forward to the podium and received great applause.
Liza Boyer and Jewel Kelley served as Co-Chairs.
Council Member Toni Atkins with Chief of Staff Denise Price ** Barbara ZoBell with Debra Palmer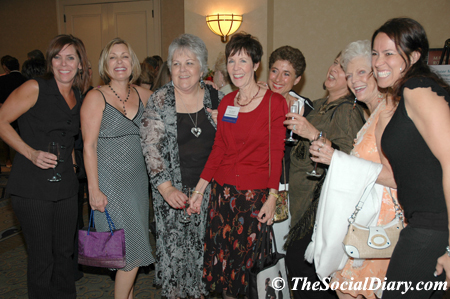 Guest ** Joyce Glazer and Elaine Arm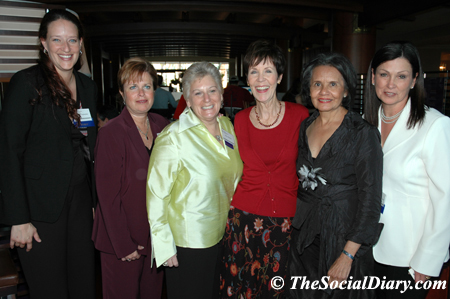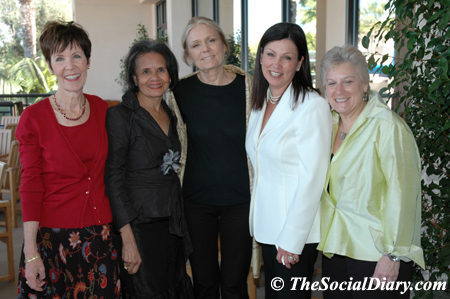 Gloria Steinem in the center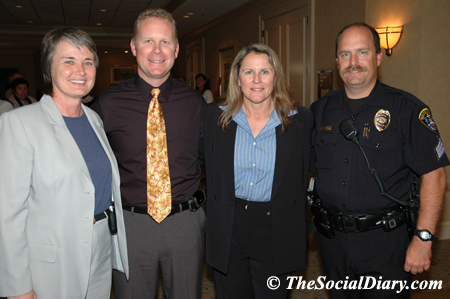 San Diego Police Department and the Domestic Violence Unit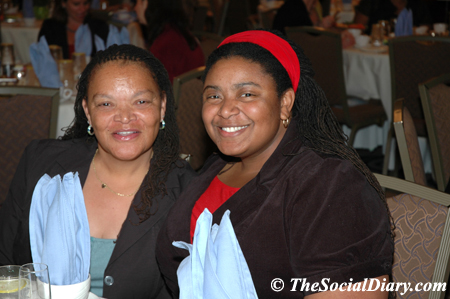 * Margo Schwab has produced, written, interviewed and photographed for various media organizations since 1989. Schwab has a B.A. from Scripps College and a Masters of Business degree, M.B.A., from the University of San Diego. Schwab volunteers for numerous charity organizations. She also continues to lobby for water safety and for family violence mitigation. Schwab is the editor of The Social Diary. Margo is currently writing a book based on La Jolla.
back to New this Week.....Margo Schwab Archives...... Home
Warning ** photos, video and writing on this site are the
copyright of The Social Diary, San Diego Social Diary, margomargo.com and Margo Schwab.
no reproduction of any part or parts is allowed without written permission by Margo Schwab