Scorpion Bay Hotel, Private, Picturesque ........VIP and Club Memberships Available >>> Scorpion Bay Hotel
an international destination for World Class Surfing and Fishing
founded by Fred Borrelli
~~~~~~~~~~~~~~~~~~~~~~~~~~~~~~~~~~~~~~~~~~~~~~~~~~~~~~~~~~~~~~~~~~~~~~~~~~~~~~~
~ The Social Diary ~
all photos and content are the copyright of TheSocialDiary.com
~~~~~~~~~~~~~~~~~~~~~~~~~~~~~~~~~~~~~~~~~~~~~~~~~~~~~~~~~~~~~~~~~~~~~~~~~~~~~~~~~~~~~~~~
Carol Karlovich Hosts Celebrity Suite Day at Del Mar
When Carol Karlovich sends you a 'save the date card' for a day of fun at the Del Mar Thoroughbred Club, you know you don't want to miss it. The excitement, the glamour.... it was all there as Carol hosted about 80 of her friends in the Bing Crosby Celebrity Suite.
Among the mix was her good friend Mary Walker, Sally B. Thornton, Cindy Goodman, Virginia Foster and Arthur Hammons, Edith Ricketts, Matthew Midgett, hat designer Diana Cavagnaro and George Bates, Irene Schultz, Vincent Andrunas, and Joan Bowes with Larry Davis.
Wine was poured, a lovely buffet enjoyed, and plenty of winning streaks.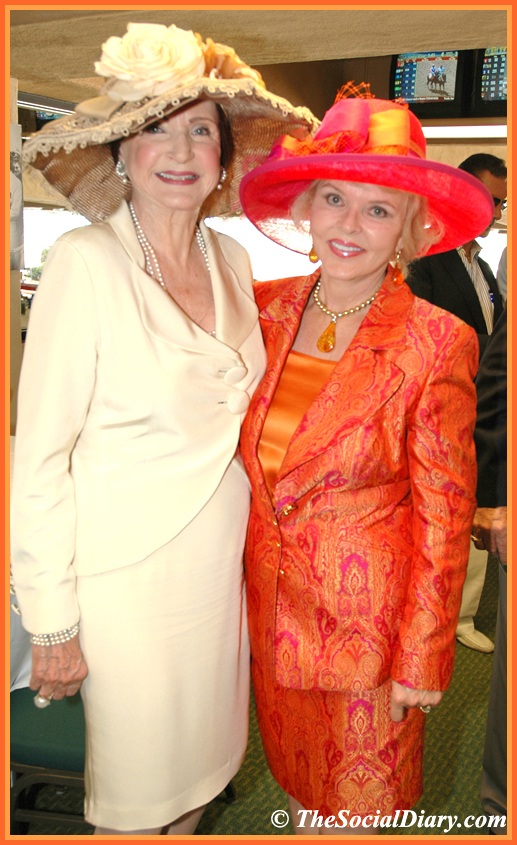 Mary Walker with Host Carol Karlovich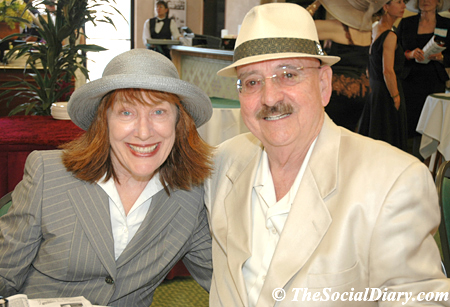 Diana Cavagnaro and George Bates
Irene Schultz with Margo Schwab ** Scott Johnston ** Matthew Midgett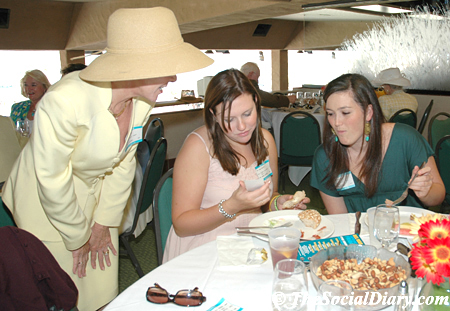 Guests checking out their betting options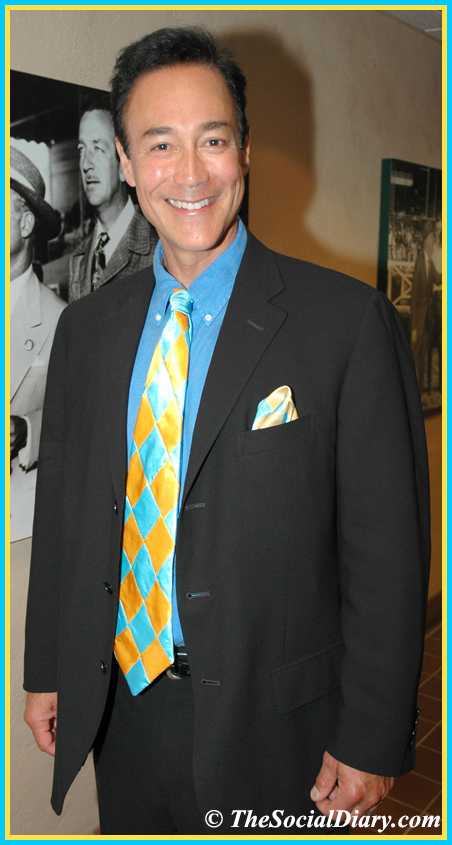 Scott Johnston in Polo suit with custom Del Mar racing tie and pochette by Jemima Garcia of La Jolla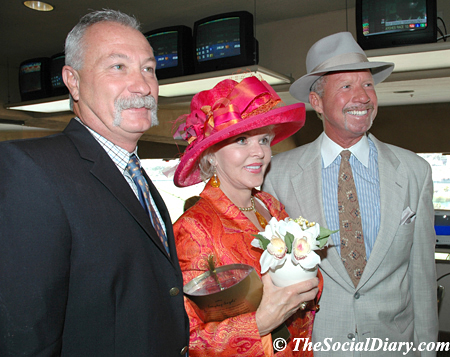 Patrick with Carol Karlovich and Matthew Midgett
Guest with Edith Ricketts ** Margo Schwab ** Joan Bowes and Larry Davis
and then it was off to the Turf Club
Maitre D' Jimmy ** Lenny Recabaren
Terry Mele ** Terry and Art Mele
reported by Margo Schwab (next to her favorite Maitre D' Jimmy) in a custom dress and doll hat by Jemima Garcia of La Jolla and Lizz Russell Purse
For all the news that is the Del Mar Thoroughbred Club news,
please visit www.dmtc.com
and don't forget the Pacific Classic this Sunday the 24th!!
*******************************************
Email Commentary to be added
* Margo Schwab, more formally known as Margaret E. Schwab, has produced, written, interviewed and photographed for various media organizations since 1989. Schwab attended Holton Arms School, La Jolla Country Day School and La Jolla High School. Schwab has a B.A. from Scripps College, spent a business internship with S.A.I.C., Science Applications International Corporation, and earned a Masters of Business degree, M.B.A., from the University of San Diego. Schwab volunteers for numerous charity organizations. She also continues to support animal organizations and the prevention of people and animal abuse. Schwab is the editor of The Social Diary.
Warning ** photos, video and writing on this site are the
copyright of The Social Diary, San Diego Social Diary
no reproduction of any part or parts is allowed without written permission by The Social Diary