Heart of San Diego Gala 2010 Beats Strong for the CVC
The 13th Annual UCSD "Heart of San Diego" Cardiovascular Gala was held February 27th, 2010 at the Four Seasons Resort Aviara in Carlsbad, where there were many San Diegan hearts pumping for a common purpose. Funds raised by the event will significantly benefit construction of the new comprehensive Sulpizio Family Cardiovascular Center (CVC).
Among the gala-dressed guests were Honorees Judy and Jack White, Honorary Event Chairs Jeanne Jones and Don Breitenberg and Evelyn and Ernest Rady, and Event Chairs Salah Hassanein and Zandra Rhodes.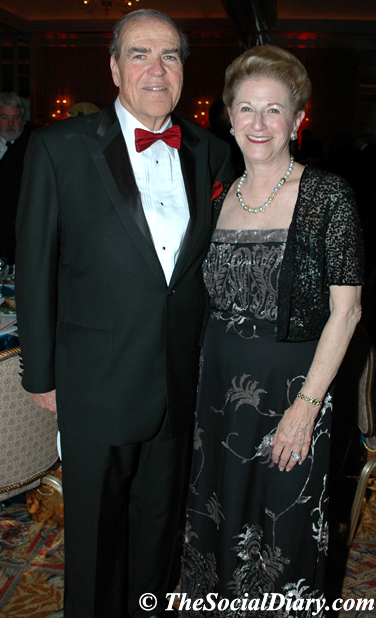 Heart of San Diego 2010 Honorees Jack and Judy White
Zandra was easy to spot with her trademark pink hair and wearing one of her own couture designs. She carried a purse in the fashion of a dog too!
More among the fashionably attired included Jeanne Jones in a vintage, devore velvet Zandra Rhodes, Valerie Cooper wore a Monique Lluillier and new coif by Glidia featuring long bangs, Tanya Brandes wore Gucci with pretty chain draping detail, (Tanya had lavender colored nails too), Carol Chang in Jordan, Sheryl White wore a golden Naeem Khan, Sarah B. Marsh-Rebelo wore a gown by Marisa Baratelli, Sherarn Wuerfel wore a classic vintage Halston and Mary Drake wore Catherine de Regehr, a new de rigeur' designer among the chic set.
Despite the glamour, the event had important issues as its foundation.
"We stand in awe of the research by Dr. Stuart Jamieson and his team," said Sarah B. Marsh- Rebelo. "To imagine robotic surgery conducted in India by a heart specialist in La Jolla is the stuff that dreams are made of. UCSD Cardiovascular Center is indeed the result of the amazing generosity of people like Jack and Judy White and the courage of our heart physicians to dream."
"The Heart of San Diego Ball provides a wonderful platform to honor those who have given so much of themselves to advance the state of the art in eliminating cardiovascular disease," added Mary Drake. "Jack and Judy White are a perfect example."
Guests enjoyed a "heart smart" meal including seared wild Shetland Islands salmon, an auction with an intriguing internship opportunity with Zandra Rhodes at her London studio, and dancing to The Society Beat.
Among the sponsors were Sheri and Dr. Stuart Jamieson (Dr. Jamieson is the Director-Elect for the CVC as well as a world renown cardiovascular surgeon), Gaby and Richard Sulpizio, the Viterbi Family Grant Fund, the John M. and Sally B. Thornton Foundation and Dr. Anthony DeMaria (he's the Director of the CVC) and his wife Lori DeMaria.
"After 13 Galas, the end is in sight," said Lori DeMaria. "The building is nearing completion and will be officially opened before the next Gala. This Gala began our celebration of the reality of a CVC that will exist at UCSD and will be unique in bringing all specialties together for the prevention, clinical care, research and teaching of cardiovascular disease."
"The Heart of San Diego Gala is a wonderful illustration of the community's support and appreciation for UC San Diego's Sulpizio Family Cardiovascular Center, which provides outstanding cardiovascular care for the region," said UCSD Chancellor Marye Anne Fox. " Thanks to our generous donors, we are one step closer to completing our new comprehensive facility which will house this exceptional center."
More guests there supporting the CVC were Ofelia and John Alksne, Joni and Elliiot Alpert, Muffy Walker and John Reed, Lori and Bill Walton, Sally and John Thornton, Dixie and Ken Unruh, Audrey Geisel and Alex Butterfield, Patti and Coop Cooprider, Betty and Bob Beyster, Sharon and Sami Ladeki, Lisette and Michael Farrell, Olivia and Michael Farrell, Joyce Gattas, Dr. Doris Howell, Esther Nahama, Renee and Duane Roth, and Susan and Ron Heller.
Great turnout for an important cause.
"The University of California, San Diego Health Sciences has long been known as a place where discoveries are made. Today, we are known as a place where discoveries are delivered," said David A. Brenner, Dean for the School of Medicine at UCSD.
Please enjoy the photos.
Be advised strictly no downloading of photos. Please email purchase requests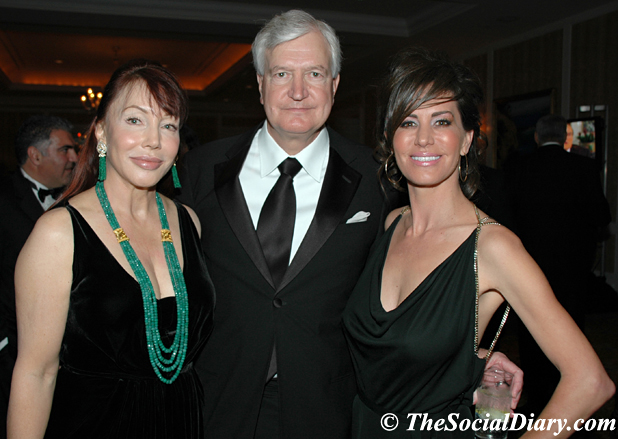 Sheri and Dr. Stuart Jamieson with Tanya Brandes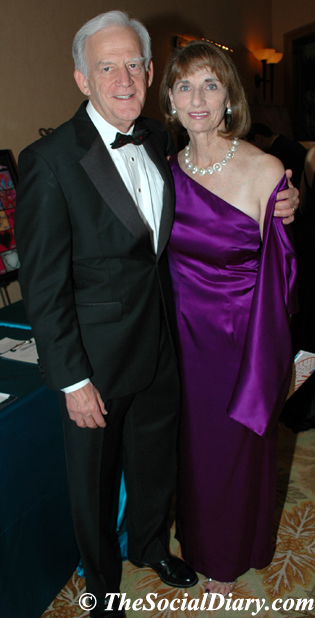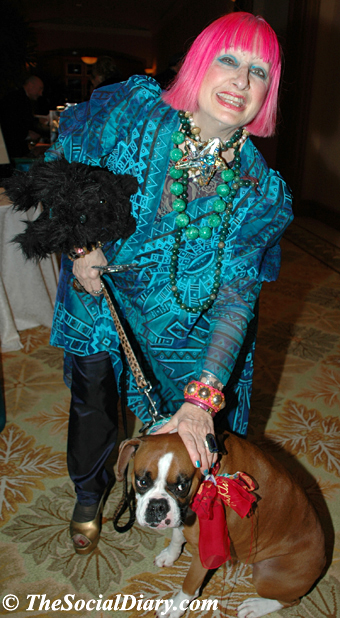 Dr. Anthony DeMaria and Lori DeMaria ** Zandra Rhodes and Kima both in Zandra Rhodes designs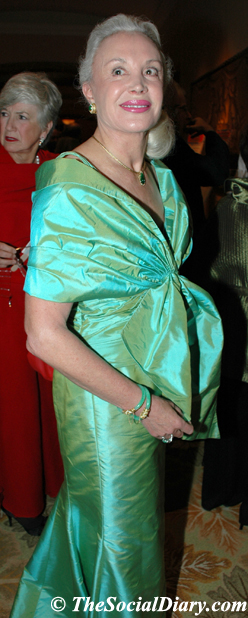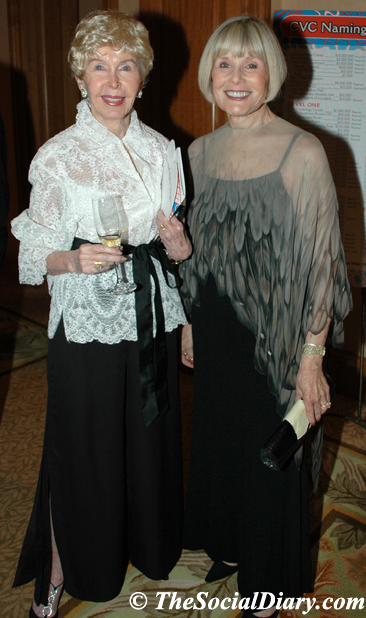 Sarah B. Marsh-Rebelo ** Audrey Geisel with Carol Chang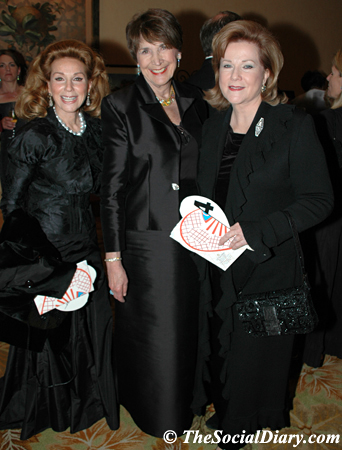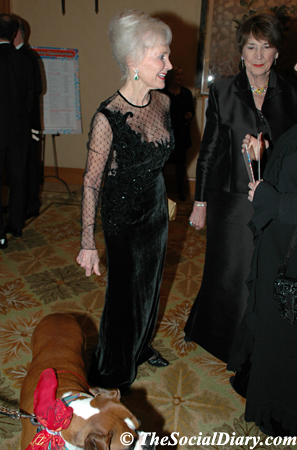 Reena Horowitz with Sheila Potiker and Carole Laventhol ** Lael Kovtun with Sheila Potiker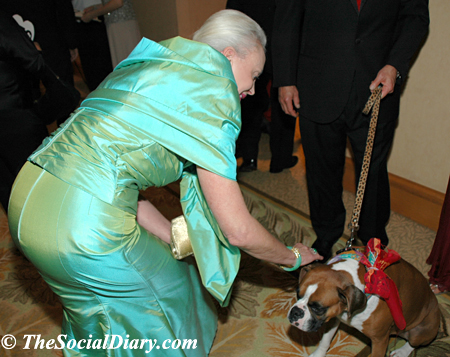 Sarah B. Marsh-Rebelo greeting Kima, San Diego's Heart Association Dog Honoree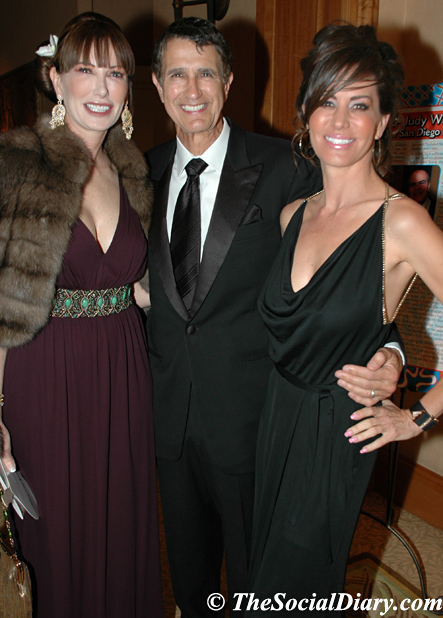 Valerie Cooper with Charles and Tanya Brandes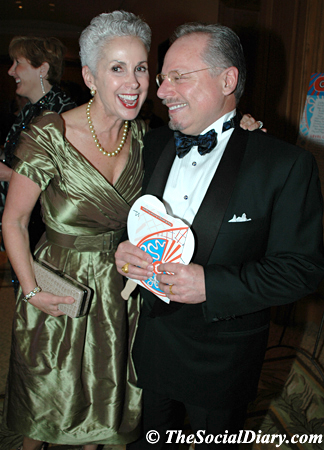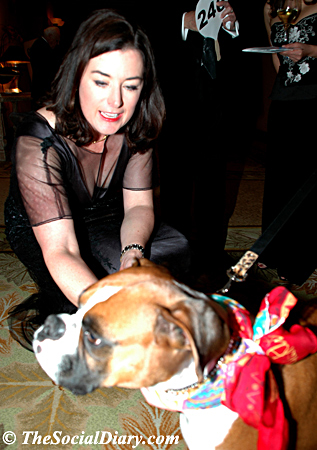 Mary Drake with Clinton Walters ** Olivia Farrell with Kima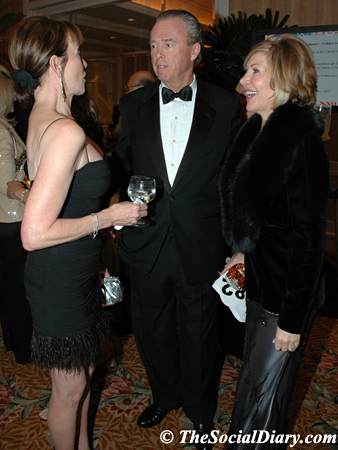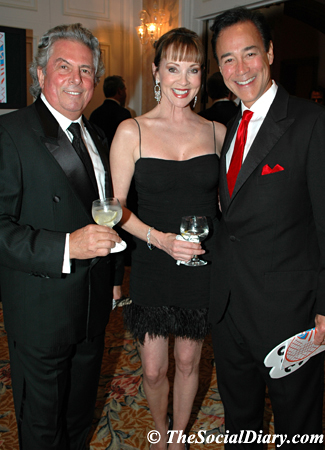 Denise Hug with Don and Linda Swortwood ** Bertrand and Denise Hug with Scott Johnston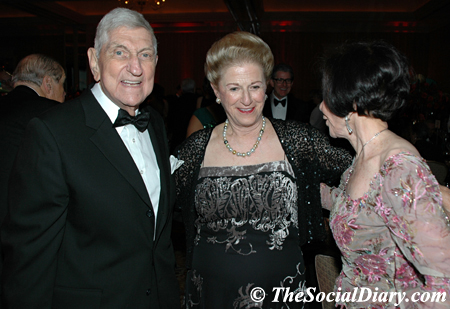 Marvin Levine with Judy White and Reinette Levine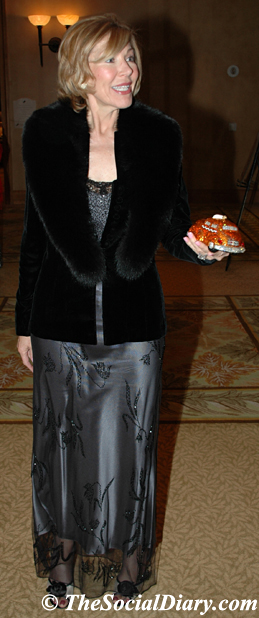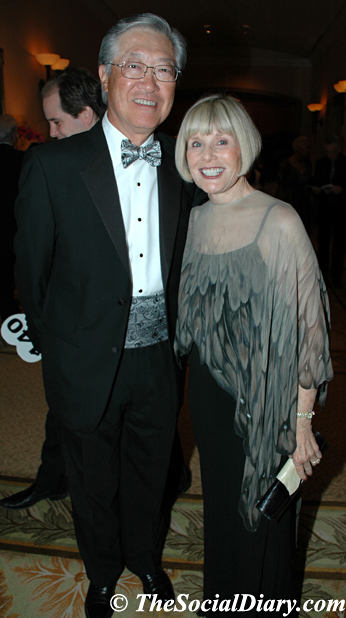 Linda Swortwood ** Dr. Jeffrey Chang and Carol Chang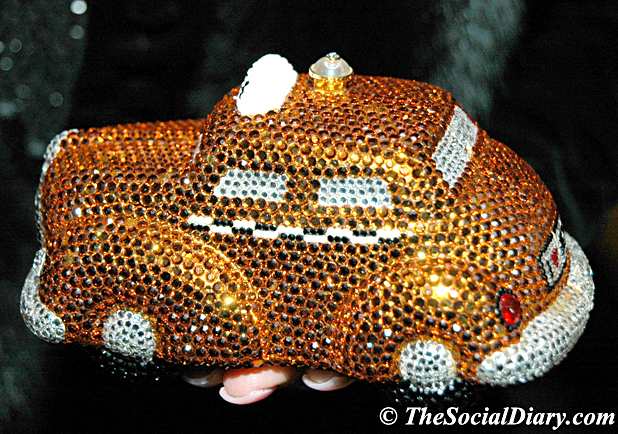 Linda Swortwood's 'Yellow Cab' Purse!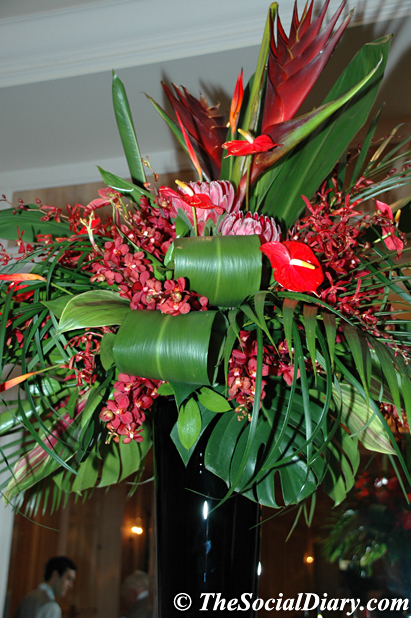 Jeanne Jones ** A Floral Display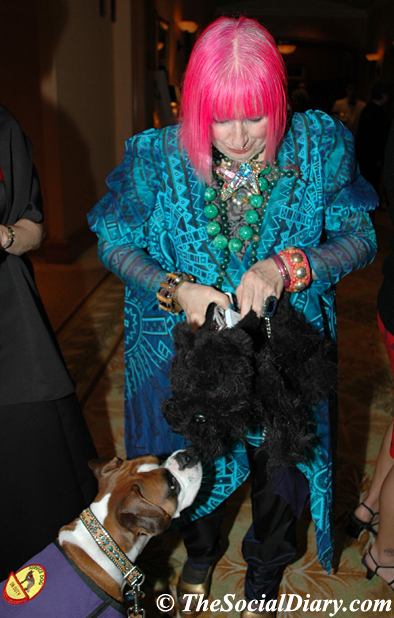 Kima looking forward to her gift from Zandra Rhodes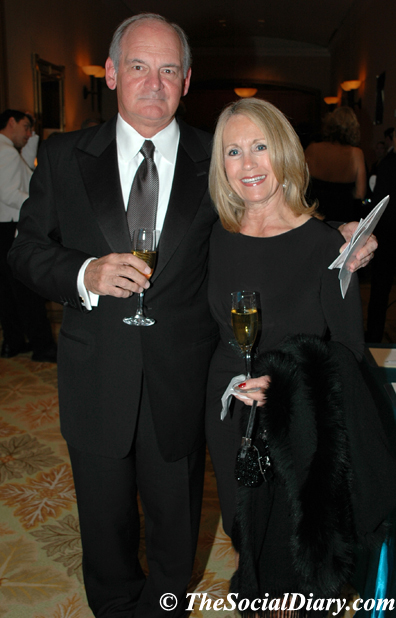 Rudy and Carla Rehm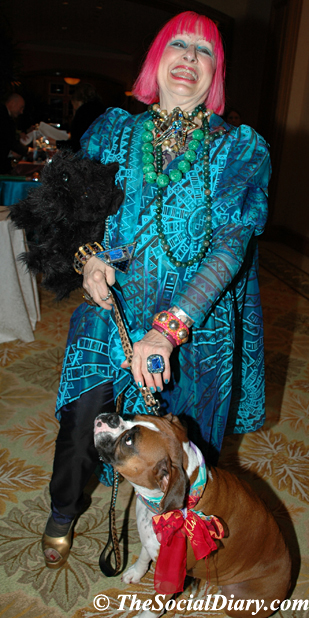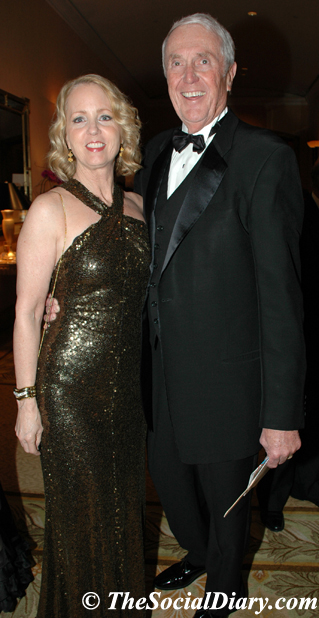 Zandra Rhodes with dog purse and Kima ** Sheryl and Harvey White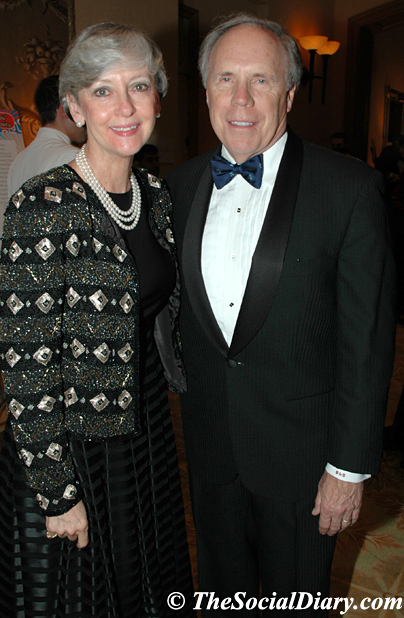 Georgia and Blair Sadler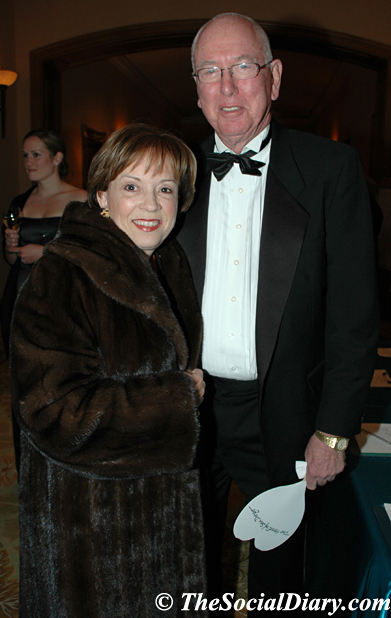 Marie and Merrel Olesen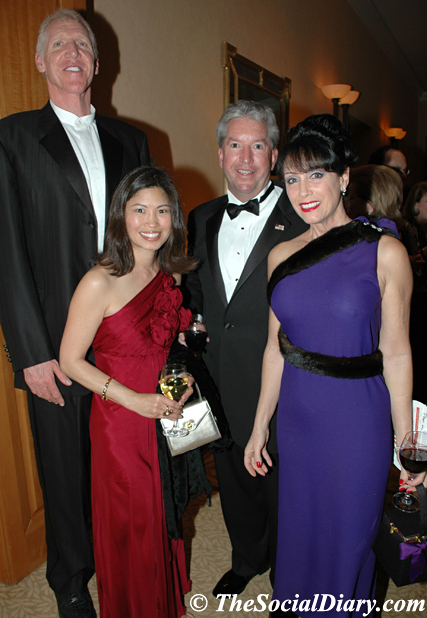 Bill and Lori Walton with Ed Mracek and Sherarn Wuerfel
advertisement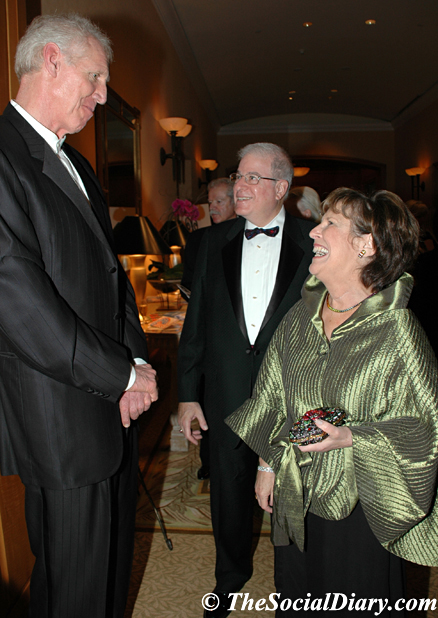 Bill Walton with Jeffrey and Sheila Lipinsky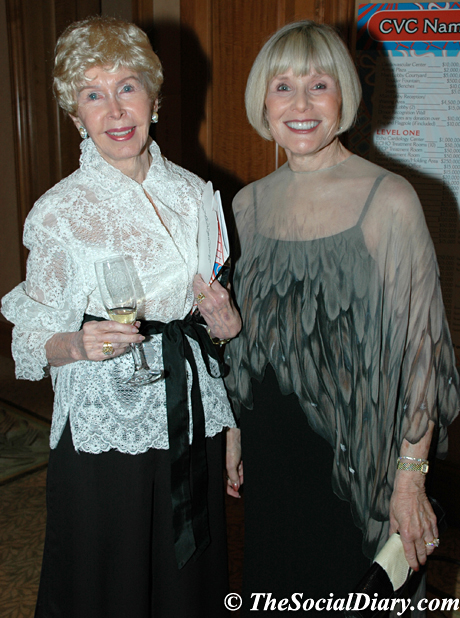 Audrey Geisel and Carol Chang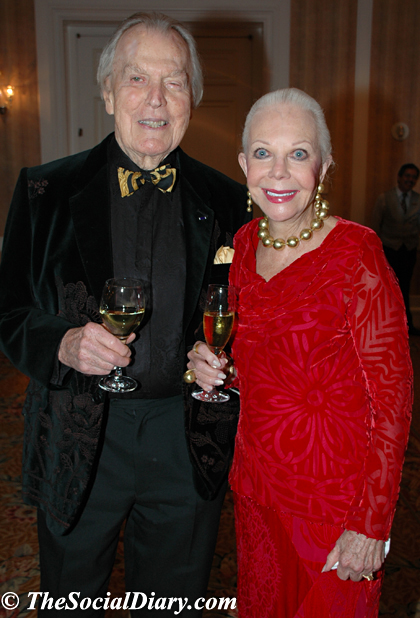 Don Breitenberg and Jeanne Jones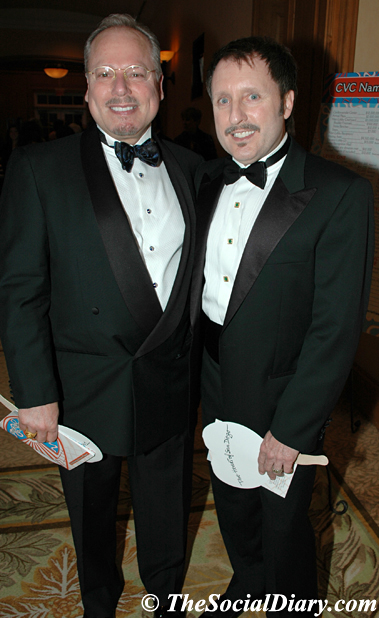 Designer Clinton Walters and Vince Heald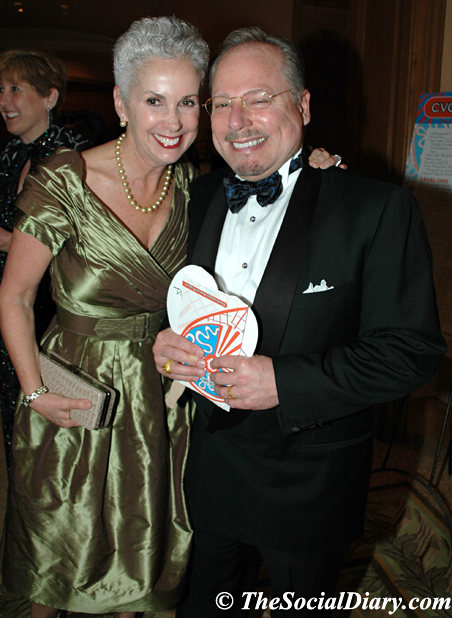 Mary Drake with Clinton Walters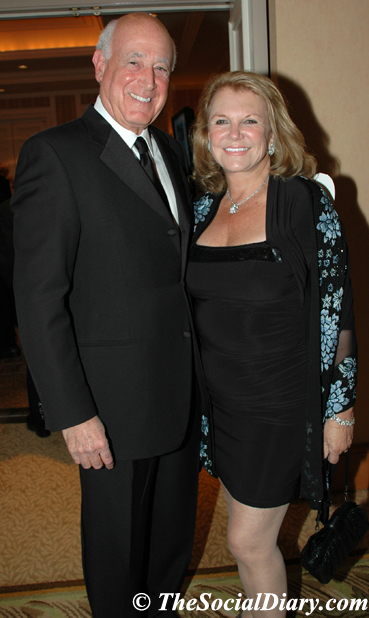 Walter and Lola Green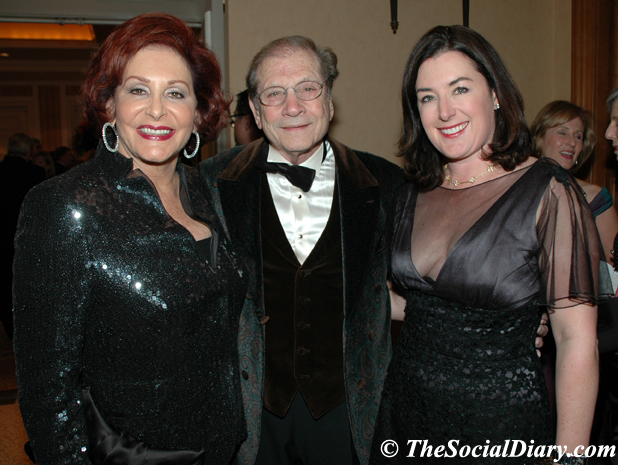 Iris and Matthew Strauss with Olivia Farrell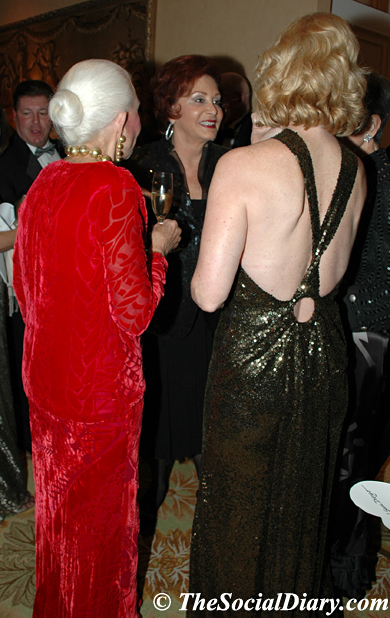 Jeanne Jones with Iris Strauss and Sheryl White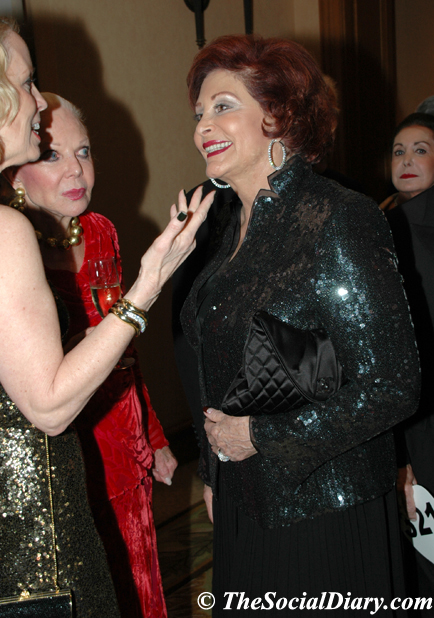 Sheryl White with Jeanne Jones and Iris Strauss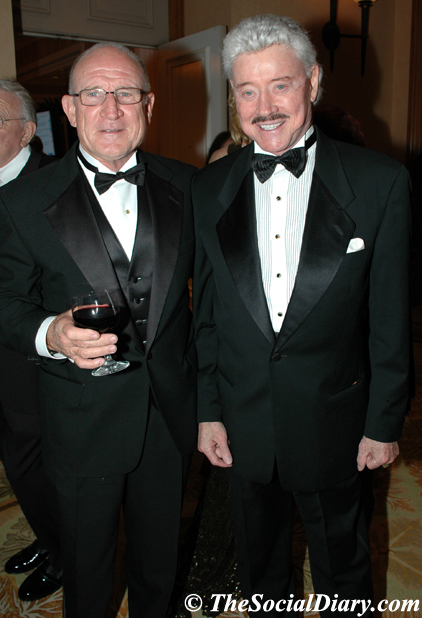 Peter Farrell with Harry Cooper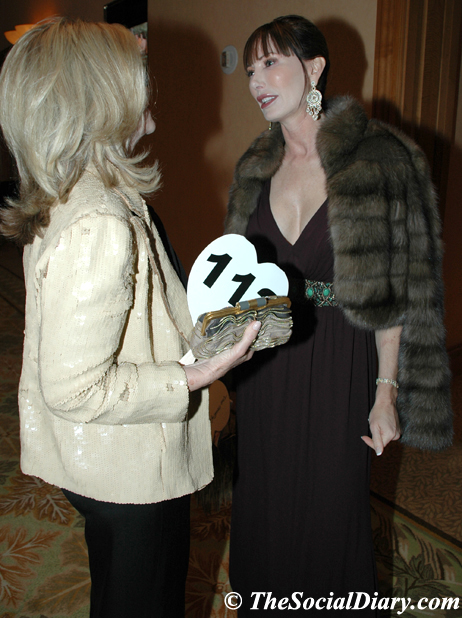 Sharon Ladeki with Valerie Cooper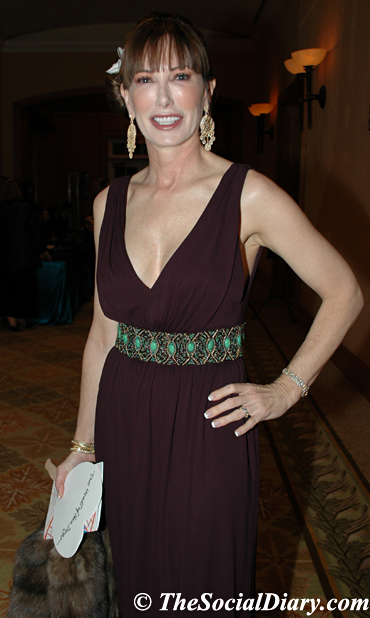 Valerie Cooper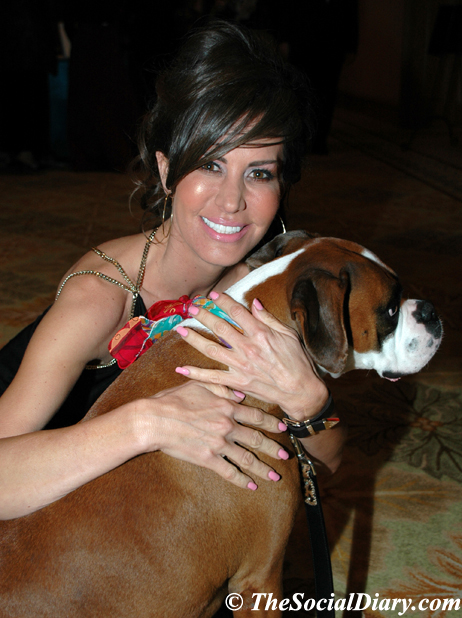 Tanya Brandes meeting Kima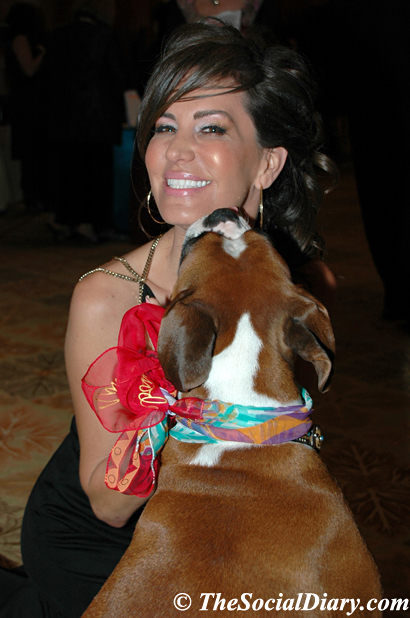 Above and Below ** Tanya Brandes getting loved by Kima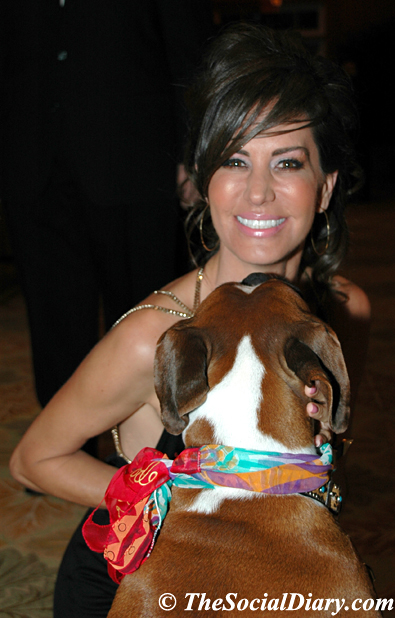 Valerie Cooper with Tanya Brandes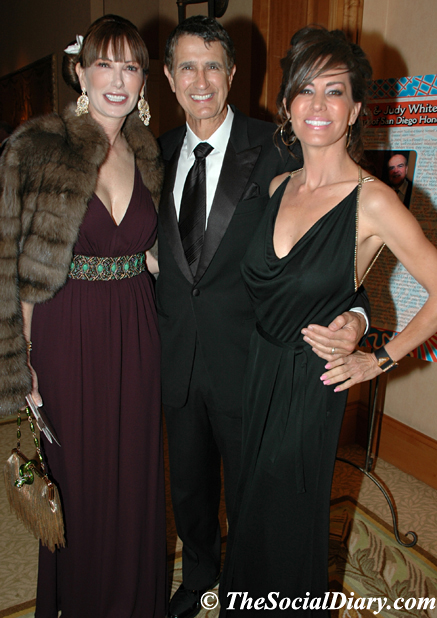 Valerie Cooper with Charles and Tanya Brandes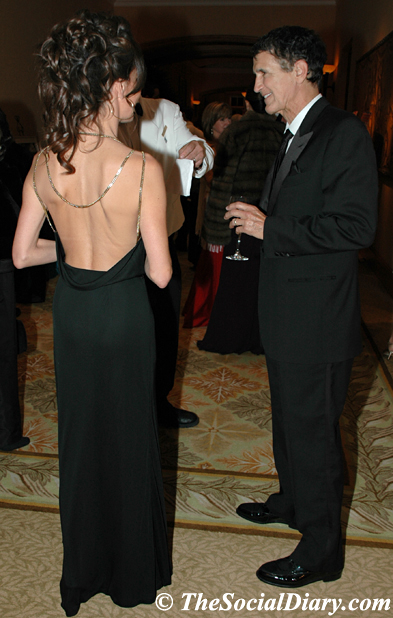 Tanya and Charles Brandes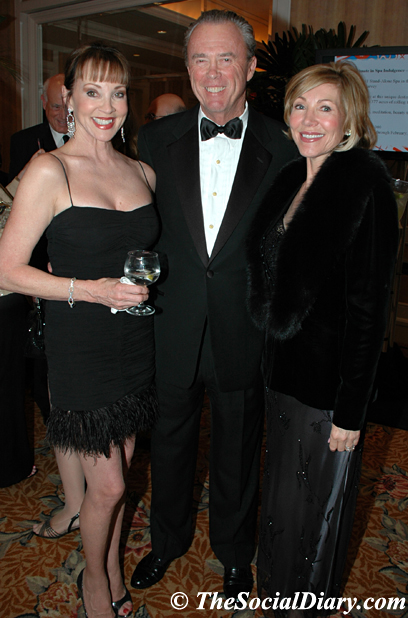 Denise Hug with Don and Linda Swortwood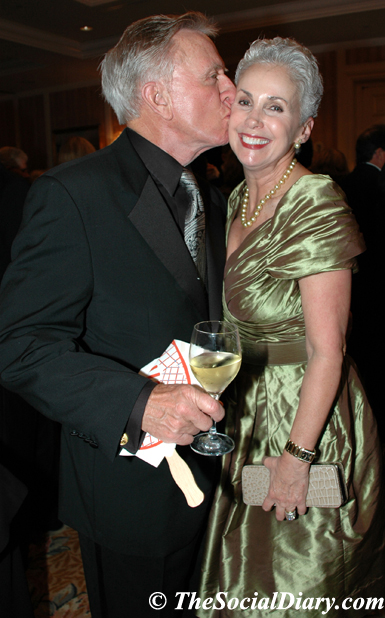 Above and Below ** Hudson and Mary Drake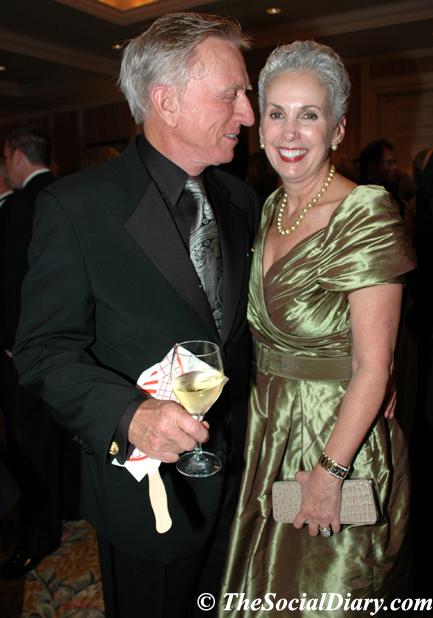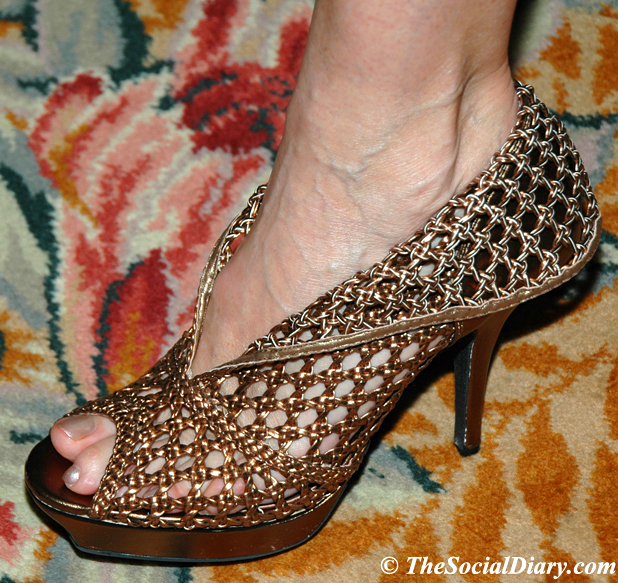 Une Chausseur Magnifique!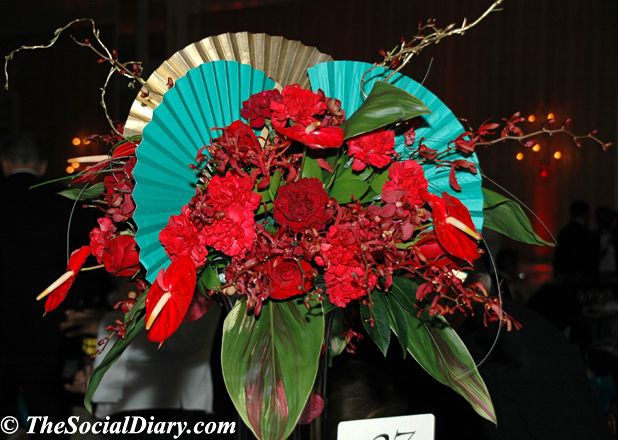 A Dining Table Floral Display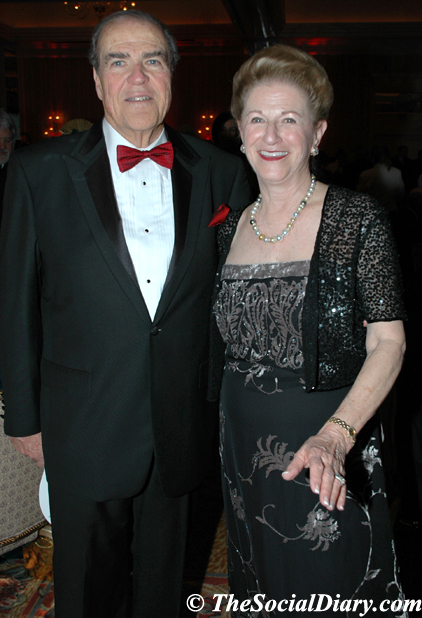 Jack and Judy White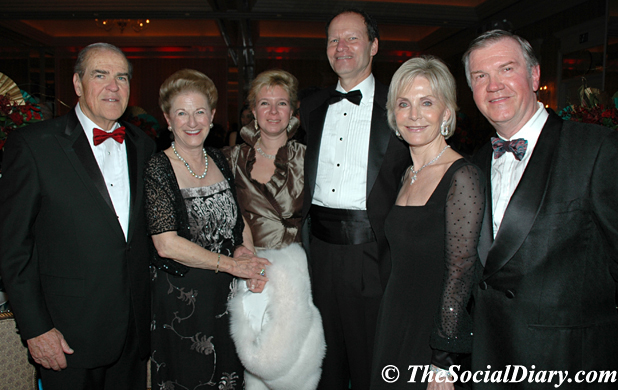 Jack and Judy White with the David Brenner's and Lee Clark and Jerry Pikolysky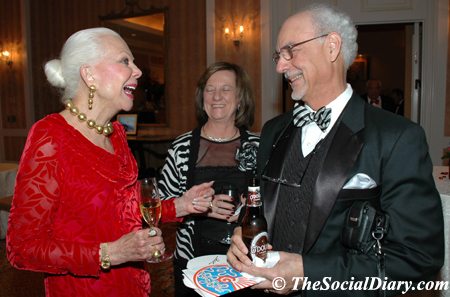 Jeanne Jones with Kathy and Mike Issa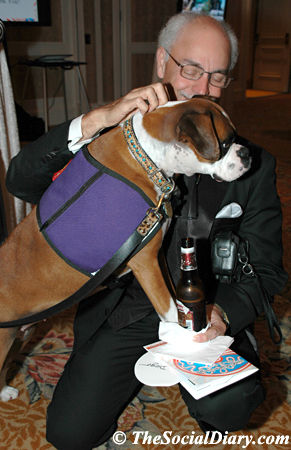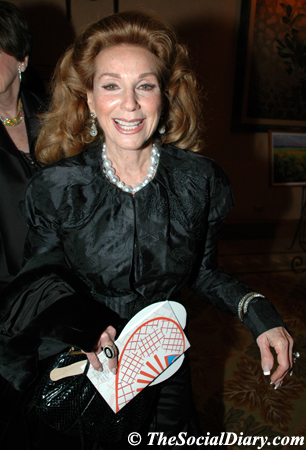 Kima with Mike Issa ** Reena Horowitz
To learn more about the CVC, visit www.ucsdmedicalcenter.com .
reported by Margo Schwab
photoshopped by Scott Johnston
The Buzz
In addition to being the Arthritis Dog Honoree for the San Diego Area Chapter for the second year, Kima Schwab-Johnston, a rescue German Boxer, is thrilled to be the Dog Honoree for San Diego's American Heart Association Walk and the K-9 Lifeguard for this year's Heart Beach Ball. As such, Kima attended the reception for the CVC gala where Zandra Rhodes dressed her in an original Zandra Rhodes scarf. It's a dog's life!
To join Kima's arthritis walk team, visit www.arthritiswalksandiego.org , and to learn more about the American Heart Association's 'Heart Beach Ball,' visit www.sdheartball.org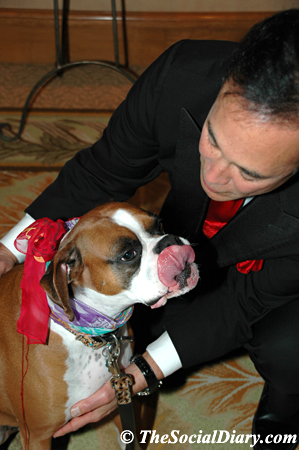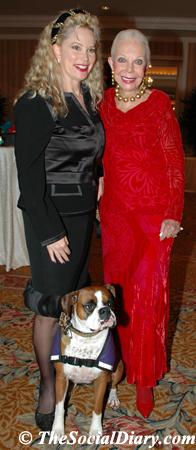 Kima with 'Daddy' Scott Johnston ** Kima with Jeanne Jones and M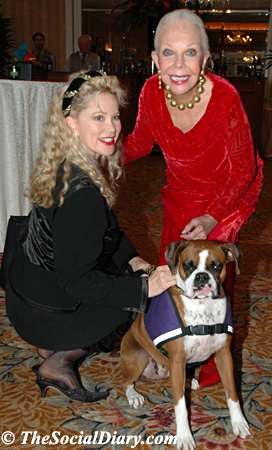 ...other news

____________________________________________________________
Photoshopping and Photography Services
Photos on this website available if it is of you
available by The Social Diary
~ 619-384-7333
email TheSocialDiary.com
_______________________________________________________________
Email Commentary to be added
Kima looked WONDERFUL the other night, what a pretty girl !! - Sarah B. Marsh-Rebelo
* Margo Schwab, more formally known as Margaret E. Schwab, has produced, written, interviewed and photographed for various media organizations since 1989. Schwab attended Holton Arms School, La Jolla Country Day School and La Jolla High School. Schwab has a B.A. from Scripps College, spent a business internship with S.A.I.C., Science Applications International Corporation, and earned a Masters of Business degree, M.B.A., from the University of San Diego. Schwab additionally took college courses from Harvard University, and Syracuse University. Schwab volunteers for numerous charity organizations. She also continues to support animal organizations and the prevention of people and animal abuse. Schwab is the editor of The Social Diary.
Margo Schwab and Scott Johnston of The Social Diary are pleased to announce partnerships with the San Diego Humane Society & ASPCA.
San Diego's The Social Diary would like to say a special thank you to our advertisers.
Valerie and Harry Cooper supporting the San Diego Opera
Valerie and Harry Cooper supporting The Museum of Contemporary Art San Diego
Judith C. Harris, Blair Harris, and Robert Singer, MD supporting the
Dian Fossey Gorrilla Fund International
Rancho Coastal Humane Society
Sammy's Woodfired Pizza
Roppongi Restaurant and Sushi Bar
Mosaic Catering
La Jolla Beach & Tennis Club
La Jolla Shores Hotel
The Shores Restaurant
The Marine Room
Dr. Laurie Marker of The Cheetah Conservation Fund
H. Moradi Fine Jewelers on Prospect Street in La Jolla
Pamela Pogue of Juelerie
Kary Favish of the Worth Collection
Diana Cavagnaro of Designer Millinery
Jordan of Jordan Art Couture and Animal Fashions by Jordan
Lizz Russell of The Lizz Russell Collection
Gary Parker of WineSellar & Brasserie
Owner and Chef Pasquale of Cafe Milano
Kevin Smith of Extreme Pizza in La Jolla
Jeremiah Sullivan of Neptunic Sharksuits
Drs. Sue and John Morizi of The Animal Hospital of La Jolla
Eugene Ladopoulos of Mistra Estates Olive Oil
Warning ** photos, video and writing on this site are the
2010 copyright of The Social Diary LLC and its subsidiaries.
no reproduction of any part or parts is allowed without written permission by The Social Diary