~ The Social Diary ~
the on-line magazine covering High Society ..& more
____________________________________________________________
The 9th Annual UCSD Cardio Gala 2006 - 'The Heart of San Diego'

March 12th, 2006
by The Social Diary Columnist & Photographer Margo Schwab
'The Heart of San Diego' pulsed generously as over 550 elegantly dressed patrons gathered at the historic Hotel Del Coronado for the 9th Annual UCSD Cardiovascular Gala fundraiser. And once again, Zandra Rhodes and Salah Hassanein chaired the event. This couple supports many causes in San Diego, but the UCSD Cardio Gala really gets their hearts and generosity. As such, UCSD Chancellor Mary Anne Fox presented Zandra and Salah with the prestigious 'Heart of San Diego' award during the evening.
(pictured here - Sheri Jamieson with Hermeen Scharaga, Co-Chairs Salah Hassanein and Zandra Rhodes with actor Larry Hagman, Matt and Iris Strauss)
But first, the gala started with Thornton Winery champagne and 'Del delicious' appetizers, while guests mingled about the grand ballroom at the Del. Standing out among the many were Kate Adams, Ofelia Alksne with her husband Dr. John Alksne, he's head of the UCSD Neurology Department, Colleen and Augusto Angelucci, Rita and Dr. Richard Atkinson, Kathy and Dr. Ori Ben-Yehuda, Dr. Colleen Buono, Audrey Geisel with Alex Butterfield, Marsha and Bill Chandler, Patti and Coop Cooprider, and Valerie Cooper. Valerie caused quite the 'style stir' in her Marc Jacobs dress. The lace overlayed dress inspired many hearts to race including that of her Versace tuxedo'd husband, Harry Cooper.
Typical of Valerie though, she pointed the accolades to others."All the amazing Zandra dresses, I had never seen so many but at a fashion show. Zandra was definitely the belle of the ball in her acid green design. A beautiful combination with her pink hair. And did you know that Lael made all the table cloths for the party?"
(pictured here - Dr. Mickey Shahon, Sheri and Dr. Stuart Jamieson, Marsha Shahon, Sue and Dr.Ron Heller)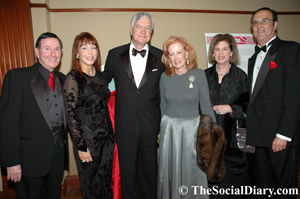 (pictured here - Marsha Shahon and Diane Clarke, Salah Hassanein with Zandra Rhodes and Larry Hagman, Erika Torri with the happily engaged, Kevin Ranker and Katharina Torri)
That's Lael Kovtun, who helped coordinate the table clothes in themes of black and pink. Lael was dressed in a black Zandra gown with gold and silver moon detailing. Others wearing Zandra couture included Jeanne Jones, Renee Roth and Lori DeMaria. Lori is the wife of Anthony aka Tony DeMaria, the Director of the Sulpizio Family Cardiovascular Center for which this event's $500,000 plus proceeds will go to.
UCSD Cardiovascular surgeons are known throughout the world. One prominent surgeon on hand was Dr. Stuart Jamieson. Stuart has raised the bar when it comes to heart and lung transplant surgeries. Stuart was joined by his lovely wife, Sheri Jamieson. Sheri has long been a big supporter of UCSD's medical, arts and educational programs. Sheri was dressed beautifully in a lacy black Zandra Rhodes couture original for the event.
After cocktails, guests were enticed to sit down to a heart healthy meal. Baked spiny lobster in a boursin tart drizzled with a roasted shallot vinaigrette, Cornish game hen stuffed with wild rice accompanied by seasonal vegetables to the side, and then it was time for the bomb. That's the warm chocolate lava bomb with raspberry coulis for dessert. The meal was so heart healthy you know it was Jeanne Jones, 'Cook It Light' approved.
And approve they did. More guests enjoying the festivities included Nancy and James Demetriades, Martha and Ed Dennis, John Evey, Sue and Mark Forster and Joyce Glazer, radiant in Ungaro couture from her October trip to Paris. Joyce was joined by her wonderful husband Ed Glazer.
Bill Gibbs was there too and so was Lee and Frank Goldberg, Lola and Walter Green (they underwrote a good portion of the evening), Daran and Ray Grimm, Anne and Ben Haddad, Maj and Larry Hagman, Nancy and Larry Hartigan, Teresa and Harry Hixson, Lael and Jay Kovtun, Sharon and Sami Ladeki, Reinette and Marvin Levine, Courtney and Ray Liddy, Anne and John Minteer, Veryl Mortenson, Gene Nocon, Pat O'Conner of FCC, Esther and Dick Paul, Dr. and Mrs. Tri Nguyen, Rose Marie and Charles Pipitone, Muffy and Dr. John Reed of the Burnham Institute for Medical Research, and Renee and Duane Roth (Duane's head of UCSD CONNECT).
There too were Hermeen and Sam Scharaga, Noni and Dr. Drew Senyei, Iris Strauss, regally dressed in a gold brocaded ensemble by Oscar de la Renta, with her husband Matthew Strauss, Gaby and Rich Sulpizio (very generous donors), Susan and Dr. Richard Ulevitch, Dixie and Ken Unruh, Erika and Fred Torri, Sheryl and Harvey White, Judy and Jack White, Dr. Florence and Dr. Paul Wolf, and Elizabeth and William Zongker.
During dinner there was the video and award tribute to Salah and Zandra, described poignantly by patron Erika Torri. "The tribute to Zandra and Salah was well done and was rightfully bestowed on one of the most deserving couples in San Diego. They both give lavishly of their resources, including time, talent and wealth and San Diego is a better place because of it. In addition, they add a festive atmosphere to any event they attend. We are grateful for their involvement."
And the entire program for the evening was well planned, and an event rarity, on schedule.
Lael Kovtun commented "I really enjoyed it." Lael's husband Jay Kovtun agreed adding the program was to the point, and flawless.
And many more agreed. Among them was patron Susan Ulevitch. "It was a very well organized event .... in addition to being beautifully decorated, everyone very dressed up, the program kept to a schedule and guests left knowing what the Cardiovascular Center does and who is involved. And this while having dancing throughout and without going too long or getting boring. And, best of all, by 9:15 the program was over and it was only dancing til the end! We were with Dr Robert and Sondra Berk (former chairman Radiology Dept, UCSD). Dr Tony DeMaria, Director of the Center, is obviously well respected and liked, and mingled with everyone."
British designated Royal Photographer Gene Nocon noted "great event as always with Salah and Zandra."
No stranger to chairing stellar galas, Joyce Glazer added, "It was evident that the city of San Diego has "a big heart". Proof of this was the some 500 people lead by Zandra and Salah to contribute to the 9th Annual Heart Ball! And a glamorous group they were!!!"
(pictured here - Harry and Valerie Cooper, William and Elizabeth Zongker)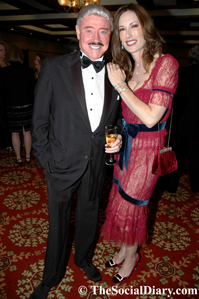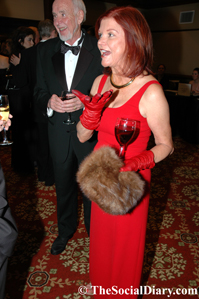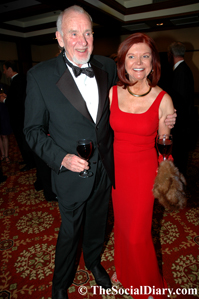 (pictured here - Diane Clarke with Elizabeth Zongker, Joyce Glazer, Dan Sullivan with Harvey White)
(pictured here - Dr. John Alksne, Rose Marie Pipitone, Hermeen Scharaga and Ofelia Alksne, Dr. Mickey Shahon, Dr. Stuart Jamieson, Marsha Shahon, Sue and Dr. Ron Heller)
(pictured here - Hermeen Scharaga with Ofelia Alksne, Teresa and Harry Hixson, Toby with Hermeen Scharaga)
(pictured here - Valerie Cooper with Sheryl White, Sharon Ladeki and Joyce Glazer)
(pictured here - Frank and Lee Goldberg with Pat and Bob Whalen)
Valerie Norman and Hanaa Hensersky ** Gene Nocon)
Lola Green had a superb time supporting the cause with her husband Walter Green. "Walter and I had a great evening supporting what will become San Diego's leading cardiovascular center, The Sulpizio Family Cardiovascular Center. Dr. Toni DeMaria, the Director of this center did a wonderful job sharing with all of us about the facility to come and everyone looks forward to seeing this center become a reality in our community. The setting of the gala this year at the ballroom of the Hotel Del Coronado was spectacular and everyone raved about the beautiful flowers that adorned each table and how incredible the room looked. And the dance band the "Kicks" put the finishing touch on the evening . Then we all departed with our crystal paperweights and heart shaped t shirts designed by honoree Zandra Rhodes. It was an absolutely beautiful and memorable evening for all who were there!"
John Evey of the Scripps Institution of Oceanography observed "Salah and Zandra were quite surprised and pleased with the video tribute, which they did not expect. It was fun to see Larry Hagman going down among the tables to encourage more bidding when his cowboy hat was auctioned (for $2750, I believe)."
Well, J.R. from television's Dallas always did know how to get the deal done.
And so do San Diegan's. The Sulpizio Family Cardiovascular Center at UCSD will be a great addition and expansion to UCSD's existing and highly regarded medical facilities.

More Parties......Margo Schwab Archives........New This Week.......Home
* Margo Schwab has produced, written, interviewed and photographed for various media organizations since 1989. Schwab has a B.A. degree from Scripps College and a Masters of Business degree from the University of San Diego. Schwab volunteers for numerous charity organizations. She also continues to lobby for water safety and for family violence mitigation. Schwab is the owner and publisher of The Social Diary.

Warning ** photos, video and writing on this site are the
copyright of the author, The Social Diary, San Diego Social Diary, margomargo.com and Margo Schwab.
no reproduction of any part or parts is allowed without written permission by Margo Schwab