~ The Social Diary ~
~~~~~~~~~~~~~~~~~~~~~~~~~~~~~~~~~~~~~~~~~~~~~~~~~~
The Buzz - May 10th, 2007 - Divorce Wars, White House Dinner with the Queen & !

May 10th , 2007
The Social Diary Columnist & Photographer Margo Schwab
(high resolution photos available by request )
When news of the TMZ made famous Alec Baldwin's phone message to his daughter Ireland broke, it made me think back to a happier time when Alec, and his wife Kim Basinger got along well. It was at the Animal Ball in L.A. years back. The crowd was strictly 'A' list. The cause, animal rights aka PETA.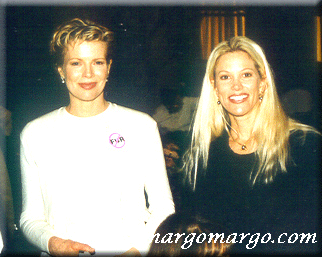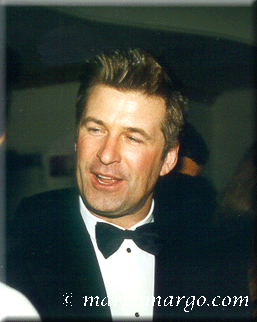 Alec and Kim were the Honorary Co-Chairs of the event. A friend of mine, Erika Brunson was Chairperson. It was a great night for animal rights. I remember Kim being extremely sweet, and Alec was polite.
Oh, and after this night, I was asked through Kim's security detail, assistant etc. to be her body double and stand-in. Kim was willing to pay 4 times the standard rate to ensure privacy. She is very big on privacy. That was fine, but they were moving East and that was that.
Now for Kim and Alec, it looks sadly like a 'great' fight in the family courts system. We wish them smoother sailing for their daughter's sake. So far the only winners are their attorneys. Their rich attorneys.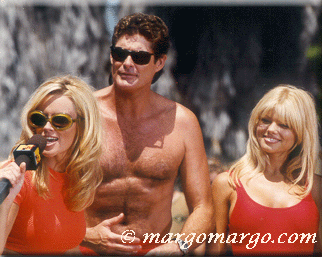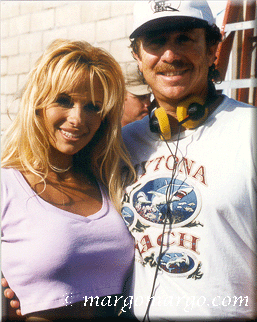 Speaking of sweet people, I met Jenny McCarthy years back at a humongous Malibu oceanside estate where MTV's Singled Out and Baywatch were filming at the same time. Jenny, nice as pie throughout the whole day, didn't demand any star treatment. Baywatch Executive Producer Douglas Schwartz said she only had one caveat. She didn't want to film on the same day as Pamela Anderson (someone I did double and stand-in for on a movie). .... Since then, all is friendly as the two have done multiple film projects together and are now buddy-buddy. p.s. - Pamela is nice too!
Since then Jenny has hooked up with Jim Carrey. And Pamela, well Pamela's life has been anything but boring. I remember a few years back when she showed me her engagement ring. You know the one from Kid Rock.... enough said!
And in current news, you can't talk about Baywatch without talking about 'the Hoff,' as in David Hasselhoff. Another unfortunate divorce in the news it seems. One thing to be said about David. He always got his lines right. He could say 3 pages plus of dialogue and get it right in one take, and then go back to joking around on set. Hasselhoff always had a way with making everyone on set feel welcome and equal..... even though he was a star, and one of the four Executive Producers.
One time Pamela Bach, his wife/ex-wife was on set as a guest star. Something she occasionally did. Her background was soap opera's but hey guesting on a show with a worldwide audience of 1.3 billion is not something to pass up!
Other fun people who came by set were such diverse characters as Hulk Hogan, one big guy, and Johnny Depp, before he became 'film star Johnny Depp.'
And here is a photo of Rudi Guiliani taken at a Nicole Miller fashion show years back. Rudi was front row, I sat next to him thanks to Nicole Miller. Down the way were Kathleen Turner and Sean Puffy Combs. The buzz was that Combs was starting a clothing line himself..... flash forward .... Sean Diddy, or whatever he calls himself lately, rakes in about a half billion a year on his Sean John clothing line now.
Photo number 2 of Rudi Guilliani is taken with Officer Scott Johnston aka 'La Jolla's favorite, handsome policeman.' Scott was assigned to the prestigious job of guarding Guiliani while he was in La Jolla at Torrey Pines and various locales.
Meanwhile, Rudi presses on in his White House bid. And he might win. He is well liked and respected by the very hard to please New York crowd..... and so many others!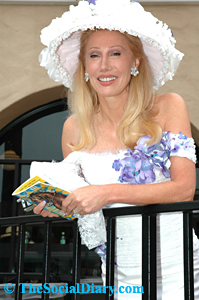 Speaking of the White House, part time Rancho Santa Fe residents Madeleine Pickens (pictured here at last year's Del Mar Race Track Opening Day) and T. Boone Pickens were among the few invites to the very coveted White House dinner with Queen Elizabeth and Prince Philip. With their Texan based charm, you know the Pickens fit right in. They also share a love of horses with Queen Elizabeth. In fact a few days later the Pickens were in Texas for a Human Society United States gathering. The Pickens you might recall are lobbying hard to prevent horse slaughter, especially retired race horse slaughter.
Also there curtseying and bowing to Queen Elizabeth and Prince Philip that evening were Ramona and Lee Bass. Lee is of the Bass family of Texas. The Bass's have been regular visitors to La Jolla for years. Ramona, always known as one of the Texan belles, is of the Arthur Seeligson family. The Seeligson's are no strangers to the world of horses and racing. Their horse Avatar won the 1975 Belmont Stakes.
Trivia. Ramona's brother Arthur Seeligson the III. sat next to me at a dinner party in London years back. We were joined by fellow Texans including Steve Wyatt, son of famed oil man Oscar Wyatt and Lynn Wyatt, famed socialite of socialites. We were joined that evening by Fergie, Duchess of York. But that is another story.
And that's the buzz for now!
* Margo Schwab has produced, written, interviewed and photographed for various media organizations since 1989. Schwab has a B.A. from Scripps College and a Masters of Business degree, M.B.A., from the University of San Diego. Schwab volunteers for numerous charity organizations. She also continues to lobby for water safety and for family violence mitigation. Schwab is the editor of The Social Diary. Margo is currently writing a book based on La Jolla.
back to New this Week.....Margo Schwab Archives...... Home
Warning ** photos, video and writing on this site are the
copyright of The Social Diary, San Diego Social Diary, margomargo.com and Margo Schwab.
no reproduction of any part or parts is allowed without written permission by Margo Schwab