~ The Social Diary ~
the on-line magazine covering High Society ..& more
____________________________________________________________
The "Buzz" - March 11th, 2006
by The Social Diary Columnist Margo Schwab
Word is that there is more to this St. Patrick's Day than Blarney Stone brouhaha...If you are up L.A. way, the Bel Air Hotel is putting on one of their fancy wine dinners with truffles galore. Chef Bruno is teaming up with Herve Poron from Plantin, a leading French truffle purveyor, to host a wine dinner all about truffles! Each course will be matched the finest of California Syrahs.
The five-course dinner will include an Amuse of Truffle Consommé en Croute followed by Coquille St. Jacques with Truffle Braised Endive, Veal Noisette Rossini Celeriac with Gratin and Morels >>> e-mail wine@hotelbelair.com.
(pictured here - Jenny McCarthy, David Hasselhoff and Donna D'Errico for a Baywatch meets MTV Singled Out show taping at a Malibu oceanfront mansion in the late 90's)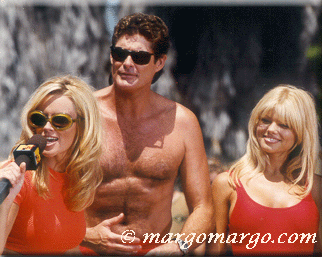 And the heat is on apparently for an unfortunate divorce proceeding between television star David Hasselhoff and his wife Pamela Bach. Back in the day on Baywatch, Pamela was a frequent guest star at the behest of David. David was also an Executive Producer of the show, as well as a main star. David, always seemed to go out of his way to spot light his wife.
According to news reports, Pamela's court request of a restraining order was denied. Let's hope all family court matters are settled amicably.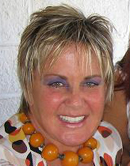 And for all of you Electra Anderson columnist fans, she will return. After recovering from illness the Electra way, can we say restaurant deliveries to the hospital suite, Electra is back to health and busy moving to an exclusive island off of Miami. More from Electra as soon as her computer is set up and ready to go.
And look for Ralph Elliott Starkweather to make a big photo splash starting this week. From the isles of England, this photojournalist's career commenced with the legendary days of Cassius Clay in the ring.
In tennis news, buzz is Andre Agassi is expressing that he is ready to play for the Davis Cup in April at Indian Wells. Grass is Andre's forte.
Teri Hatcher's witty debut book Burnt Toast is set to make its splash May 2nd in L.A. Among the many glitterai expected to attend is the book's illustrative artist, Colleen Ross. The book exposes Teri's humor and views on life. Buzz is big already. Oprah wants Teri booked for her show, and so follows a long line of media's 'who's who' all clamoring desperately, for 'Teri time.'
News is the Kahala Mandarin Oriental Hotel has been sold. Re-named as the Kahala Hotel & Resort, the claim is that the hotel will retain its luxury and impeccable service for its returning royals, dignitaries and celebs.
DYG Make Up is skedded for its official launch this week with a swank, private party at La Jolla Spa MD. DYG and La Jolla Spa MD President Dianne York Goldman, spent years developing this beautiful, mineral based make up. Count on big, big coverage. Mineral based of course!
And a flash from the past, pictured here is David Copley, generous supporter of so many San Diegan and national organizations, including the San Diego Literacy Council, The Revlon / UCLA Cancer Center, the Museum of Contemporary Art, San Diego, San Diego Hospice, the San Diego Museum of Art and so much more. David is pictured here at a Monte Carlo Gala pre-party with his guest, and your reporter, Margo Schwab in Badgley Mischka.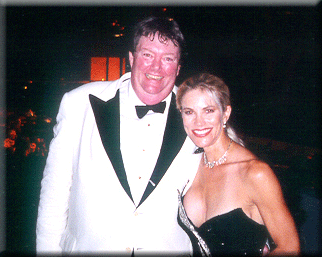 Warning ** photos, video and writing on this site are the
copyright of the author, The Social Diary, San Diego Social Diary, margomargo.com and Margo Schwab.
no reproduction of any part or parts is allowed without written permission by Margo