~ The Social Diary ~
~~~~~~~~~~~~~~~~~~~~~~~~~~~~~~~~~~~~~~~~~~~~~~~~~~
The Buzz - April 17th, 2007 ... Celebs, 'Kima-tini's' & Massage!

April 17th , 2007
The Social Diary Columnist & Photographer Margo Schwab
(high resolution photos available by request )
So he likes Rock 'N Roll and a little tennis too. That was Gavin Rossdale, front man for the music group Bush, who was playing tennis on a front court at the La Jolla Beach & Tennis Club a few days ago. Among the mix hitting also were Andre Agassi's former coach Darren Cahill, Martin Barba, Martin Navratilova's former hitting partner/ coach, and top men's player Mark Phillipousis ... who caused quite a few women's hearts to go pit pat in a big way.
Gavin, in case you don't know, is the husband of the second generation of 'Blonde Ambition,' Gwen Stefani, the very blond singer who has gone solo since fronting for the band No Doubt for years. Gwen is quite the entrepreneur with her design deals with Le Sportsac, and her own label L.A.M.B >> that's Love And Music Baby. Speaking of babies, Gwen and Gavin's baby Kingston is about to hit the bit 1 year marker. You can be sure they will throw quite the splashy birthday celebration too for the little tyke. Gwen and Gavin just bought a $15.5 million dollar Hollywood Hills home. A mere 10,000 plus square footer I'm told.
I remember when Gwen's makeup artist, Maureen Burke had a makeup shop on Prospect Street. She did my makeup once and the response was amazing. She did it that much better than I can! Maureen's now repped by the Ford Modeling Agency now. Big jobs, big success.
Speaking of a different Ford, I remember meeting Bill Ford years back at Smoketree Ranch in Palm Springs. I didn't know who he was. He asked what I did and I told him I was studying for my Masters of Business Administration. Then I thought, I guess I should ask him what he does. He told me he sold cars. I just didn't realize at the time that he sold cars worldwide as heir to the Ford Motor Company.
Okay more celebs. Yes that was Oscar nominated and Desperate Housewives' star Felicity Huffman getting in a little family time over Easter. Nothing like coloring eggs for the big Easter Egg hunt at the La Jolla Beach & Tennis Club.
And yes, Kima the RunAway Bride will be at Roppongi's again soon. She's not just man shopping. She's hoping for a virgin 'Kima-tini' at the Tuesday night Massage and Martini gathering..... yes an ear rub would suit her just fine too!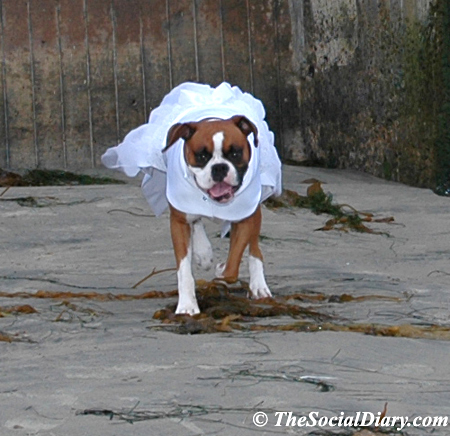 And just by the by, WineSellar and Brasserie has re-started their wine classes up again by popular demand. The sipping classes are divided into different knowledge groups..... all fun and friendly.
And Snoop Dogg is selling his mansion compound in Claremont by Pomona. The asking price is just over $2 million. Can you imagine the security on that place? Woof!
And am thinking fond memories of legendary Don Ho who just passed on. When you think "Tiny Bubbles" also think of big heart. A nice gentleman with aloha spirit. He touched so many. Rest in peace Don.....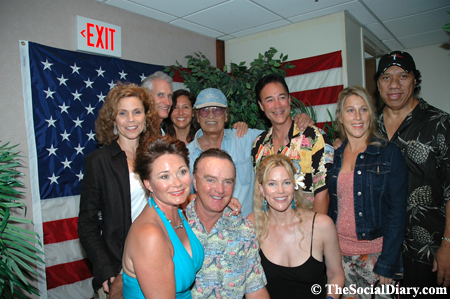 And Kima the Canine Connoisseur would like to help your event raise money. She is available for appearances, she loves to model and she loves people!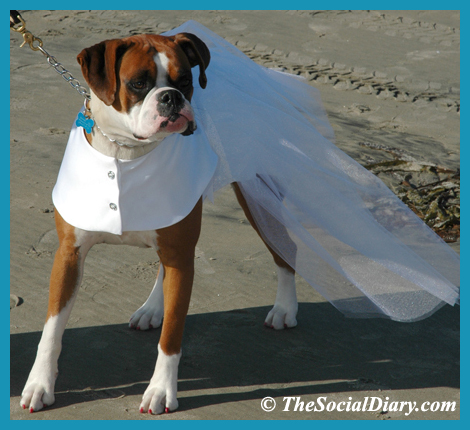 Please Email your request with date, description of duties and purpose of the event.
That's the Buzz for now!
* Margo Schwab has produced, written, interviewed and photographed for various media organizations since 1989. Schwab has a B.A. from Scripps College and a Masters of Business degree, M.B.A., from the University of San Diego. Schwab volunteers for numerous charity organizations. She also continues to lobby for water safety and for family violence mitigation. Schwab is the editor of The Social Diary. Margo is currently writing a book based on La Jolla.
back to New this Week.....Margo Schwab Archives...... Home
Warning ** photos, video and writing on this site are the
copyright of The Social Diary, San Diego Social Diary, margomargo.com and Margo Schwab.
no reproduction of any part or parts is allowed without written permission by Margo Schwab