~ The Social Diary ~
~~~~~~~~~~~~~~~~~~~~~~~~~~~~~~~~~~~~~~~~~~~~~~~~~~
The Buzz - April 1st, 2007 ... No Foolin'!
Presidential Hopefuls, Richest Givers in the World, and Don't Dig Too Deep!

April 1 st , 2007
The Social Diary Columnist & Photographer Margo Schwab
(high resolution photos available by request )
Billionaire hosts Presidential Hopeful - It was a sunny perfect day March 24th. Secret Service and SDPD were everywhere as billionaire Ted Waitt hosted an outdoor luncheon for Senator Hillary Clinton's exploratory campaign for President. Guest Susan Ulevitch describes the event well. "Fabulous!!!! Really. Huge turnout, beautiful day at gorgeous home, gracious and personable host, optimistic and enthusiastic guests and Senator Clinton was wonderful. Warm, friendly and gave a moving, intelligent, thoughtful talk. People who have seen her up close before were reminded of why they think she'd make an excellent President, and those who were hearing her for the first time in person were uniformly impressed. Trust me, they were. All in all, a very successful event."
Among the many other guests were Qualcomm's Joan and Irwin Jacobs. You might recall that the Jacobs' hosted then President Bill Clinton at their house years back. I recall Joan telling me on the aside that President Clinton was very personable and had the bluest eyes!
Now to the Richest in the World.... literally! - Well, I hadn't seen a friend of mine for moon. You know the kind you like, but circumstances well, you just lose touch. Well turns our dear old friend of mine is quietly working for the richest couple in the world, Melinda and Bill Gates. When I asked are they nice... the response was yes... quite nice in fact. And we at The Social Diary know the Gates have been quite nice to San Diego publicly and quietly as well. SSSSSHHHHHHH!!! (by the way friend... I am keeping your name under the radar!)
Under the radar no more are beauty secrets of the rich, social, and fabulous..... Am I the last to to catch on to the reality of beauty injectables and their benefits. This is definitely the new way to look beautiful among the socialites. And no down time. Very few socials acknowledge it though. Sounds kind of like celebrities being interviewed about plastic surgery in Hollywood. But all the au courant beauties are doing it... men too! And they look like a beautiful step back in time. Injectables don't stop at Botox. Think Restylane, Sculptra and Artefil. It's quick, it's easy, and it lasts. The going time frame is 9 months, 2 years for Scultpra. But don't just go to anyone. Go to the best doctor who specializes in this 15-20 minute procedure. You want dazzling results. The buzz on the best for beauties in San Diego, and those who privately jet in, is Dr. Mitchel P. Goldman at La Jolla Spa MD.
Careful where you dig -And thinking of remodeling in La Jolla? There is more than one remodel that's had a grave consequence. That's grave as in Indian burial ground found. One example in the Shores was a finding of two remains. $60,000 later, a few Indian representatives overseeing everything, the two were properly 'per their tribe' removed and reburied to their current Indian Reservation grounds.
Seems burial ground possibilities are the one thing left off of real estate purchase disclosures.... so far!
In the spirit of Going Green - Kerri Smith of the Rainforest Alliance is happy to report this. "More good news from the Rainforest Alliance. Scholastic has announced that it will use Rainforest Alliance certified paper in the US print run of the last of the Harry Potter series, Harry Potter and the Deathly Hallows!! This will be the largest print run of any book in the US totaling 12 million books and 22 million pounds of paper!!
fyi, - "The Rainforest Alliance works to conserve biodiversity and ensure sustainable livelihoods by transforming land-use practices, business practices and consumer behavior. For more information, visit www.rainforest-alliance.org."
And we at The Social Diary are proud to be GREEN. We are internet only. We plan to stay that way and focus forward.
On the home front....
And we encourage those who have La Jolla postage size lawns, to use hand mowers. Can you imagine if your gardener used a hand mower. Less noise and less petrol use. A lot less petrol use when you multiply that per community, per nation!
It's not mowing... but spicey haircuts in the news. - First Posh Spice wows us with 'cool as a cucumber couture' and 'Posh poses' for the camera. Next, adult film star Jenna Jamieson reappears with the same slim couture look and haircut. Days later, Posh has a totally new hairdo. Coincidence?
And The Social Diary was proud to participate as 'Celebrity Judge' at the Easter Bonnet Parade & Hat contest last Saturday at PetCo Park. This event has been going 12 years strong for a good cause. Event Founder and San Diego's renown custom hat maker Diana Cavagnaro has this to say. "The Easter Bonnet Parade & Hat Contest is a wonderful Family Event giving everyone the opportunity for fun & creativity and at the same time giving back to the community by raising funds for Children's Cancer Research at UCSD."
Talented kids and adults made their own hats for the contest with donated materials and the helpful volunteers. One standout hat maker.... a little boy with a safari styled hat, and his favorite, well behaved bird sitting on the front. He was definite winner!
The event raised roughly $5,000 plus, but a lot more than that in community fun, and cancer awareness.
And Kima the Canine Connoisseur would like to help your event raise money. She is available for appearances, she loves to model and she loves people!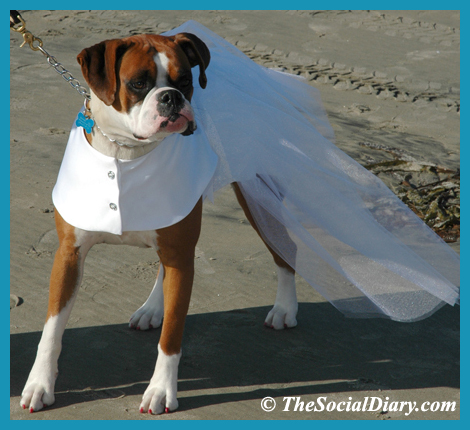 Please Email your request with date, description of duties and purpose of the event.
That's the Buzz for now!
* Margo Schwab has produced, written, interviewed and photographed for various media organizations since 1989. Schwab has a B.A. from Scripps College and a Masters of Business degree, M.B.A., from the University of San Diego. Schwab volunteers for numerous charity organizations. She also continues to lobby for water safety and for family violence mitigation. Schwab is the editor of The Social Diary. Margo is currently writing a book based on La Jolla.
back to New this Week.....Margo Schwab Archives...... Home
Warning ** photos, video and writing on this site are the
copyright of The Social Diary, San Diego Social Diary, margomargo.com and Margo Schwab.
no reproduction of any part or parts is allowed without written permission by Margo Schwab