~ The Social Diary ~
the on-line magazine covering High Society ..& more
updated daily
____________________________________________________________
"Diamond in the Rough" Raises Funds for
Pro Kids Golf & The Monarch School

January 25th, 2006
The Social Diary Columnist & Photographer Margo Schwab
January 21st, 2006 kicked off a big fundraiser for the hosting Century Club of San Diego and the Buick Invitational. The theme was the 1st Annual Diamond in the Rough Gala. The location was downtown San Diego's swank Manchester Hyatt Hotel. It was an elegant affair. Over 1,100 guests came ready to socialize, bid big on tempting golf and travel packages, enjoy fine wine tasting, (Silver Oak Cellars was a standout), and sit down to an incredible white gloved served dinner of fish and filet mignon. And then there was the entertainment. It was big too….
(Photos top row - Doug McKnight with Bart O'Rourke, Event Chairwoman Julie Dillon on left and President of the Century Club and 2006 Buick Invitational General Chairman William Potter, Lisa McVay, second row - Marty Levin of KNSD on the cell phone, Rana Sampson and Mayor Jerry Sanders with Event Chairwoman Julie Dillon and Jim Roberts
Vocalist Raymond Lee's smooth, smooth voice was a standout. But the entertainment did not stop there. Multi-Grammy award winning talent Trisha Yearwood took the stage and she enthralled listeners. She's beautiful too.
This was an evening attendees will remember for all of the right reasons, great event, great entertainment, for great causes.
(Pictured Scott Johnston with Bart O'Rourke, Judy Strada, Colin Seid and Nancy Gold with friend)
The first of the two beneficiaries for the evening are The Pro Kids Golf. Since 1994 their mission "has been to provide a safe, healthy and positive environment where children can spend their free time learning and playing golf. The Pro Kids Golf program helps combat juvenile delinquency in providing students an opportunity to learn new lifetime skills and be initiated into the strong value system of honesty and integrity that is an important part of the game of golf. Located in the City Heights area of San Diego, California, Pro Kids Golf utilizes the eighteen-hole par-three Colina Park Golf Course and clubhouse."
(Photos - Robert Horsman of San Diego National Bank, Stephanie and Bill Tribolet, second row - a friend with Alicia Seienka and Joe Biggers, hallway photo of Papa Doug Manchester and his wife Betsy with Arnold Schwarzenegger)

The second beneficiary for the evening is the The Monarch School." The Monarch School's mission is to provide an environment where homeless and at-risk youth can improve their lives through education. Monarch operates through a partnership between the San Diego County Office of Education, which provides the educational component, and the Monarch School Project, a non-profit formed to raise money for the non-traditional needs of Monarch's students, such as after-school programs, visual and performing arts, field trips, mentoring, tutoring, and post-graduation support, as well as, the basics of laundry facilities, food, clothing, and personal hygiene items."
(Photos - Fred Shuey with Maxine Gellens, Scott Johnston)
This fundraising event was made possible due to some hard working people. Among them were Chairwoman Julie Dillon, elegant in a Sue Wong dress, with Jim Roberts at her side, William S. Potter the President of the Century Club of San Diego and 2006 Buick Invitational Chairman, and Larry Peck, the Golf Marketing Manager of the Buick Motor Division, accompanied by his wife Molly. This group of extraordinary people, with a hard working committee team, made this event happen with finesse.
(Photos - Lydia with her husband, and vocalist, Raymond Lee, Jeff and Janet Miller)
More there enjoying the entertainment, including the steel drum music during dinner, were Ronnie Froman and Linden Blue of General Atomic, Kim and Marco Alessio, Kimberly Hunt of KUSI with her husband and the event's witty emcee Billy Ray Smith, Rick Schloss, Judy and Randy Strada, Diane and Bob Culbertson, Diane and Roy Bell, Patty and Michael Spacciapolli, Konnie and Jim Horton, Kris and James McMillan, and Steve Metcalf.
More there included Jim Flaherty, Amy and Bill Geppert, Marty and David Pendarvis, Joe Biggers and Alicia Seienka, David Broderick, Maxine Gellens, beautiful in a chinchilla wrap, with Fred Shuey, Stephanie and Bill Tribolet, Marti Gellens-Stubbs with T. Patrick Stubbs, Anne and Eric Chodorow, Nancy Gold with Colin Seid (Colin's from South Africa originally), Ann and Ben Haddad, Debbie and Ray Higgins, Gail and Marty Levin (Marty's with KNSD 7/39), Jocelyn and Richard Vortmann, Tom Wornham, Mike Mattucci, Nancy and Tony McCune (he's the big car salesman), Janet and Jeff Miller (Jeff is with the Boys and Girls Clubs of Greater San Diego), Karen and Jeff Silberman, Bart O'Rourke of The Ascot Shop in La Jolla, Lynn Gorguze and Councilman Scott Peters, Helene and Ron Roberts, Scott Johnston, Rana Sampson and His Honor, Mayor Jerry Sanders.
A lot of big names for some important causes. As Larry Peck stated, "thanks to the hard work and dedication of The Century Club, The Buick Invitational has donated nearly eight million dollars to San Diego area charities since we became the title sponsor in 1992."
And the tradition of giving is continued with many supporters and corporate sponsors that include: North Island Credit Union, Manchester Grand Resorts, JMI, Inc., San Diego National Bank, Cox Communications, Sports Marketing Entertainment and American Mortgage.
Some very cute kids were on hand to help too from Pro Kids Golf and the Monarch School. The smiling greeters included Chris Bojorquez, Tona Yann, Keeynan Bolden, Roberto Rosas, Jennifer Gastelum, Shadiya Hagisuri, Jennifer Boshears, Lori Marguet, Guerrero Campos, Laura Sanchez, Danielle Geladino, Ricci Geladino and Brandon Jenkins. On steel drums were Makayla Garcia and Jaron Garcia (they also sang the National Anthem), Dawn Horton and Steven Munier.
Join in and put a "Tiger" in the future of our kids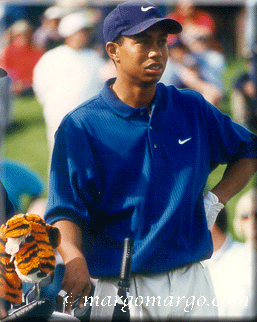 and make sure to follow the Buick Invitational 2006
To learn more please visit The Monarch Schools and Pro Kids Golf.
* Margo Schwab has produced, written, interviewed and photographed for various media organizations since 1989. Schwab has a Masters of Business degree from the University of San Diego. Schwab volunteers for numerous charity organizations. She also continues to lobby for water safety and for family violence mitigation. Schwab is the owner and publisher of the Social Diary.

back to New this Week.....Margo Schwab Archives...... Home
Warning ** photos, video and writing on this site are the
copyright of the author, The Social Diary, San Diego Social Diary, margomargo.com and Margo Schwab.
no reproduction of any part or parts is allowed without written permission by Margo Schwab