~ The Social Diary ~
~~~~~~~~~~~~~~~~~~~~~~~~~~~~~~~~~~~~~~~~~~~~~~~~~~
Diamonds Are Not Just a Girl's Best Friend
Diamond in the Rough Gala 2007 Sparkles for Kids!

February 26th, 2007
The Social Diary Columnist & Photographer Margo Schwab
(high resolution photos available by request )
The second annual Diamond in the Rough Gala drew a large crowd of supporters at the Manchester Hyatt January 20th, 2007. And it wasn't just for the night's superstar entertainment of the evening Jay Leno. This gala's beneficiaries were the San Diego Pro Kids and The Monarch School. Two very important groups to laying productive lifestyle foundations for children.
Super Comedian and Talk Show Host, Jay Leno with Jetta and Corky Lenox
Since 1994, "The Pro Kids Golf Academy & Learning Center's mission is to provide a safe, healthy and positive environment where children can spend their free time learning and playing golf. The Pro Kids Golf program helps combat juvenile delinquency by providing students an opportunity to learn new lifetime skills and to be initiated into the strong value system of honesty and integrity that is an important part of the game of golf."
The Monarch School benefits kids' lives by serving "homeless and at-risk students. Its mission is to provide an environment where homeless and at-risk youth can improve their lives through education. Monarch operates through a partnership between the San Diego County Office of Education, which provides the educational component, and the Monarch School Project, a non-profit formed to raise money for the non-traditional needs of Monarch's students, such as after-school programs, visual and performing arts, field trips, mentoring, tutoring, and post-graduation support, as well as, the basics of laundry facilities, food, clothing and personal hygiene items."
And the kids that learn from these organizations are amazing. Pro Kids Academy Honors Student, Maria Duong wowed guests when she spoke. And she is just one of many great examples exemplifying good foundations lay good foundations for lives.
This fundraising event is the creative idea of the Century Club of San Diego who also is the sponsor. The Century Club administers and hosts the annual Buick Invitational. The Century Club funnels the net earnings to charitable purposes. And Club members and their friends were present at this gala in force. President of the Century Club Corky Lenox and his wife Jetta were there. So were Judy and Vince Bartolotta, Susan Lennon and Michael Attansio, Cindy and Tom Warwick, Les Edelson, Diane and Roy Bell, Margo Schwab and Scott Johnston, Supervisor Ron Roberts, Katherine Kennedy and Robert Horsman, San Diego county Superintendent of Schools Randolph E. Ward, or, Randy Ward to his friends, and Willie Buchanon.
Willie isn't just a Hall of Fame star from the Green Bay Packers, he also has great voice to go with his great heart. Willie performed with others during the opening entertainment.
This event was seamlessly chaired by Jan and Jim Fitzpatrick. Jim Laslavic was Master of Ceremonies.
Following Jay Leno's wry comedic performance, everyone left with a smile. And with good deed reasons too.
Over $11 million has been raised by the Century Club for San Diego charities. Now that's putting a "Tiger"into children's futures.
Scott Johnston ** Guests
Tom and Cindy Warwick ** Roy Bell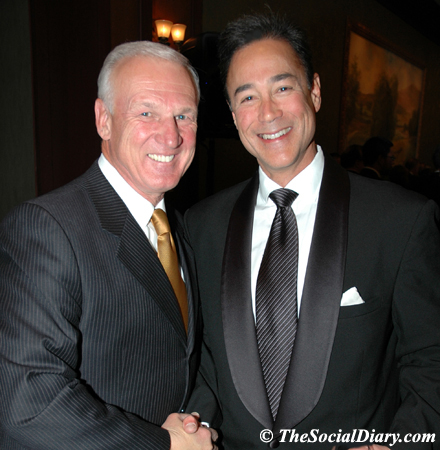 Supervisor Ron Roberts shaking hands with Scott Johnston
Guests
Wine being poured ** Guests
Guests
Diane Bell and Guests
Vince and Judy Bartolotta ** Guests
Susan Lennon with her husband Michael Attansio in the center,with Top Chef friends ** Guests
Margo Schwab in tuxedo, hat and Venetian boots ** San Diego County Superintendent of Schools Randolph Ward with Scott Johnston
Guests ** Floral Centerpiece for dinner
Willie Buchanon with Scott Johnston ** Guests
* Margo Schwab has produced, written, interviewed and photographed for various media organizations since 1989. Schwab has a B.A. from Scripps College and a Masters of Business degree, M.B.A., from the University of San Diego. Schwab volunteers for numerous charity organizations. She also continues to lobby for water safety and for family violence mitigation. Schwab is the owner and publisher of The Social Diary. Margo is currently writing a book based on La Jolla.
back to New this Week.....Margo Schwab Archives...... Home
Warning ** photos, video and writing on this site are the
copyright of The Social Diary, San Diego Social Diary, margomargo.com and Margo Schwab.
no reproduction of any part or parts is allowed without written permission by Margo Schwab