Big Brothers Big Sisters
Gets 'Big' Support

The Big Brothers Big Sisters organization, simply known as BBBS, held quite the swanky Gourmet Dinner fundraiser October 22 at the Hyatt Regency La Jolla. There were tables laden with seafood and tray passed Robert Armstrong arranged perfect bites. And this was just for the cocktail hour.
More than 600 guests were there to support BBBS's one-to-one mentoring relationship programs to keep kids on the right track. A concept noted by Robert Moore CFO of sponsoring LPL Financial. "Spending quality 1:1 time with children is what BBBS is all about. It works. Expanding that principle to the children of military personnel who have been deployed into action is tremendously important and inspiring."
That military program is called Operation Bigs. And it's a hit with all the 'Littles.' Supportive guests too.
Among the patrons there were Lisa and Steve Altman, he's President of Qualcomm, Jonathan Andrews, Padres radio broadcaster Jerry Coleman, football player Chris Chambers (formerly of the Chargers, now with the Kansas City Chiefs), former Padres player and Hall of Famer Dave Winfield, Linda and Steve Wendfeldt, Gregg Cantor of Murray Lampert Construction, Gourmet Dinner Chair Greg Anton, Katherine Kennedy and Robert Horsman, Kristen and John Frager, Christine Penrod, Robin and Hank Nordhoff, former heavyweight boxing champ Paul Vaden, and Marge and Paul Palmer.
Lynn Swann with T. Boone and Madeleine Pickens, and Paul Palmer
Paul Palmer, the CEO and President of BBBS of San Diego County had this to say about the evening's honorees, Madeleine and T. Boone Pickens. "The Pickens were great meeting guests, and graciously accepted their award, with the introduction from radio personality, Mark Larson, who has known them for several years. The morning of the event, Boone had an 8 AM meeting in New York, then the couple flew do Dallas for 4 hours on business, and then flew to San Diego for the 6 PM reception. A busy schedule for an 81 year old international icon. Boone and Madeleine's philanthropic passions are Children and the Military, so supporting BBBS one-to-one Mentoring of children of deployed Marines and Navy was a natural. They recently provided $3,000,000 over 5 years ($600,000 per year) for 22 BBBS agencies that have military programs."
The Pickens also threw in an extra $76,000 during the auction to round off the $124,000 in donations that came in to support future 'Little Brothers' and 'Little Sisters.'
All told the event netted in excess of $425,000. And those dollars will work hard. Over 80% of each dollar goes directly to mentoring the children.
The experience for 'Littles' and 'Bigs' is priceless as noted by new 'Big' Chad Black. "I first learned about BBBS when I was in high school. A family friend was involved with it, and it got me thinking that I wanted to do the same thing. I am the youngest of 3 boys in my family so I have never really been able to play the "big brother" role. My parents have always taught us that giving back is important, and I thought that BBBS would be the perfect way to do that. In fact, I became president of my fraternity Delta Tau Delta Theta Zeta at the University of San Diego last spring and Michael Purcell from BBBS has been in to talk to us about getting involved. So far, about 20 people within my fraternity have begun the registration process so I'm pretty excited about that."
In reference to Jaden, Chad's 'Little Brother,' Chad had this to say. "As far as Jaden goes, we have now known each other for 5 weeks. Our first visit was on September 15, and I have seen him now every Tuesday since then. The "Operation Bigs" program has been amazing. Meeting one time a week in the afternoon really has worked perfectly with my school and work schedule. "

BBBS Board Chairman John Frager added this. "All of our major corporate donors like LPL Financial and Jack in the Box thought it was one of our best dinners ever. It was a memorable evening that helped raise significant funding to advance mentoring in San Diego County and it will change children's lives."
LPL Financial's Robert Moore, rather the ''007' Roger Moore of Giving ' for the event, summed it up thusly. "The event showcased the genuine care and generosity found here in San Diego."
More Event Details
Adding a litttle humor, Tax Man Dan McAllister was busy on stage using his adding machine during the live auction.
$100 bucks got you an arm's length of opportunity tickets. Your odds increased with the length of your arms!
More Quotes
From BBBS of America Director of Development Cheyenne Palma comes this insight. "We are pleased to recognize T. Boone and Madeleine Pickens for their leadership and support of Big Brothers Big Sisters' military mentoring programs in San Diego and around the country. Our staff, volunteers and children served are thankful for their warmth and generosity. We are inspired by their dedication to better the lives of our country's military children and families, and happily celebrate as we honor their outstanding contributions."
BBBS of San Diego County Presdent and CEO Paul Palmer had lots more to say about the event." Lynn Swann was an exceptional MC. He has been on the BBBS National Board for 30 years and was flawless in talking about BBBS. He was warm, informal, funny, and told great USC, Pittsburgh Steelers, NFL and childhood stories. He is a Hall of Fame NFL player and has 4 Super Bowl rings…but wore only one."
"San Diego County BBBS was the first in the nation to open an on-base military program. Operation Bigs started 5 years ago at Camp Pendleton to serve Marine children whose parents are deployed. Maria Shriver came to the launch at Mary Faye Pendleton Elementary School October 2004, and returned to visit the expanded Operation Bigs program in 2007. With support from the Pickens, the Nice Guys, and Jack in the Box, Operation Bigs military program has recently expanded to Pt. Loma and Coronado to serve children of deployed Navy, including the Navy Seal families living on the Strand on Coronado. All Navy Seals serving around the world are trained at Coronado.
BBBS has grown from mentoring 250 children 6 years ago, to now serving almost 1,700 children this year. The SD agency serves children with a parent incarcerated; 70% of kids with a parent in prison will also end up in jail without an intervention like having a Big Brother or Sister. Our school-based serves many Latino and African American children. We also mentor children at the Monarch School for homeless children. We also have a high school Bigs program where high school students mentor elementary school children. Our Sports Bigs program attracts men who take their Little to sports events, AND play sports with them; also attending clinics on health and fitness.
Back to the program, a Little Sister who will soon be matched with her Big Sister was 12 year-old Bibi Valdarama, who beautifully sang "America the Beautiful" acapella, and received a standing ovation from the crowd.
The auction of 9 items brought in over $75,000. 2 donors paid $10,000 each for "dinner for 20 friends at Brian Malarkey and James Brennan's new downtown restaurant." A trip to the Super Bowl in Miami, great wines trips to Napa and Sonoma, a long weekend at a $10million penthouse condo, and first class Hawaiian Airlines travel and the Fairmont Hotel resort on the Big Island were other highlights of the auction. The opportunity for guests to sponsor future Little Brother and Sisters matches, which costs about $1400/year, brought in $124,000. The Pickens decided to "round-off" that amount by donating $76,000 to make it $200,000.
Like many non-profits, BBBS of San Diego County has experienced a drop in revenue this year; (about $200,000, or 10%). The funds from the Gourmet Dinner event will help offset that deficit. For 2009 and 2010, the agency has reduced expenses and office space, without reducing Program services to children. In fact, with fewer resources, the agency is now serving more children than ever before. The current economic problems have actually increased the number of single-parents and grandparents requesting a volunteer Big for their child. The number of dedicated volunteer Bigs willing to be a mentor for a child has continued to grow."
"We are grateful to the Pickens not only for their financial support; but for being willing to be our guests of honor tonight, which has helped us raise significant revenue during tough economic times."
"I am most proud of our dedicated staff that, with fewer financial resources, now serves and mentor a record number of children."
And from BBBS of San Diego Chairman of the Board John Frager. The "night turned out fantastic. As you know, organizing these events is a ton of work and our event chair, Greg Anton, did a superb job. The BBBS staff has really honed their event management skills and demonstrated a high level of teamwork and professionalism. The board of directors gets big kudos for really getting involved and helping sell tables. Feedback on the event has been awesome. Lynn Swan was an excellent MC and very entertaining. It was an honor to have the Pickens there and to learn about their huge support for the children of military families."
If you wish to purchase photos, please email your inquiry. No downloading of photos without express written permission by The Social Diary thank you.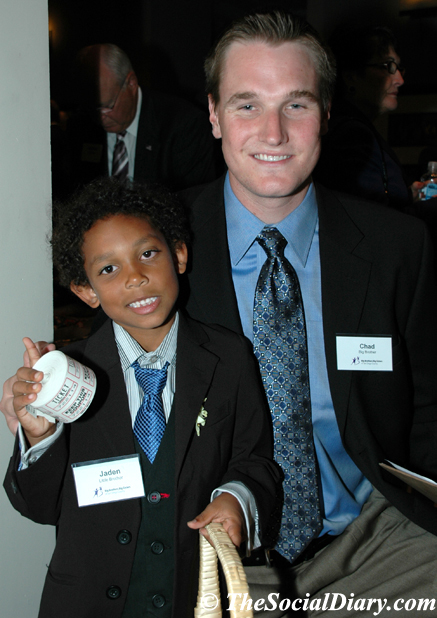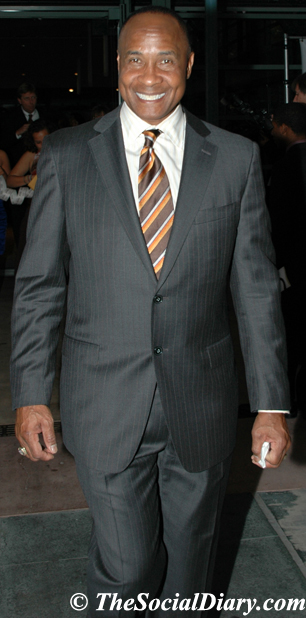 Jaden with his 'Big Brother' Chad Black ** Lynn Swann, Football and BBBS Great!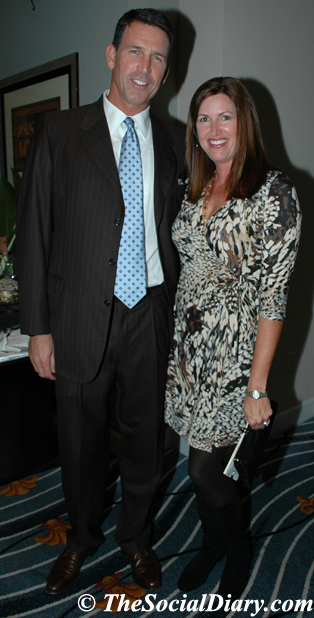 Dr. Peter Farrell of ResMed ** John and Kristen Frager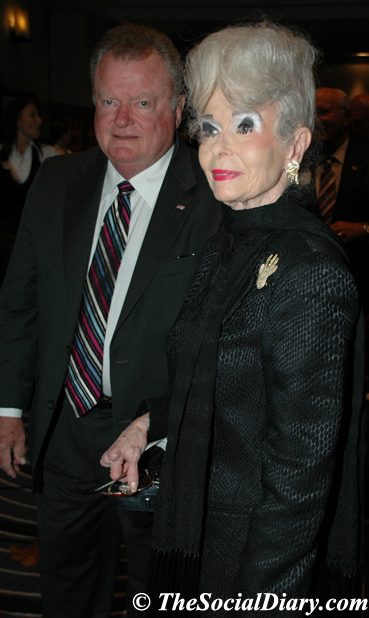 Robin Nordhoff with Katherine Kennedy ** John and Sally Thornton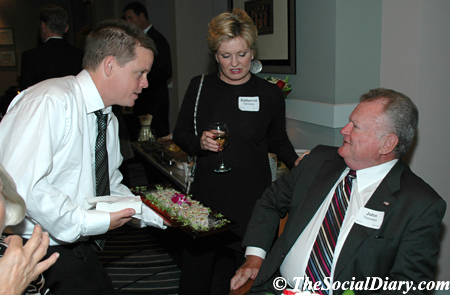 Hyatt Regency La Jolla cuisine being offered to Katherine Kennedy and John Thornton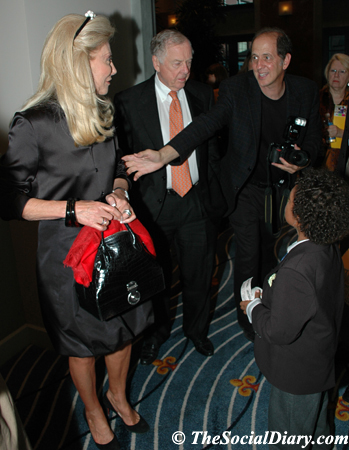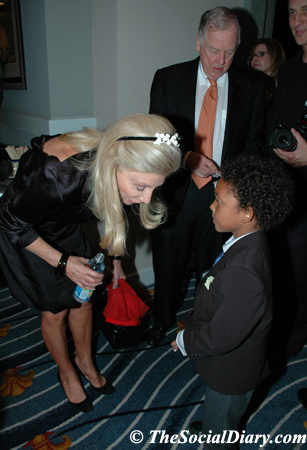 Madeleine and T. Boone Pickens being offered opportunity tickets by Jaden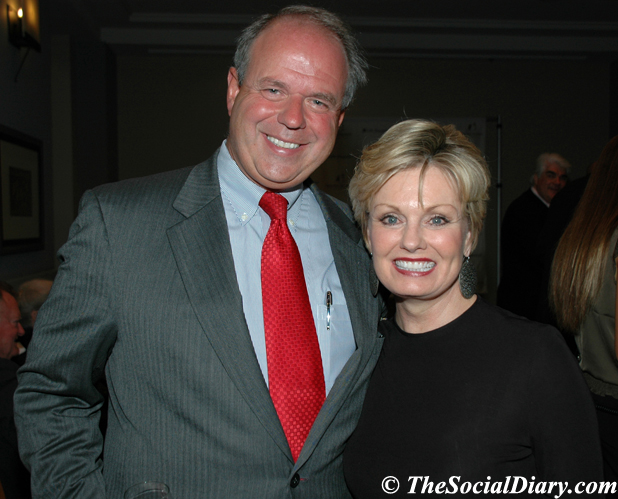 Robert Moore of Lead Sponsor LPL Financial with Katherine Kennedy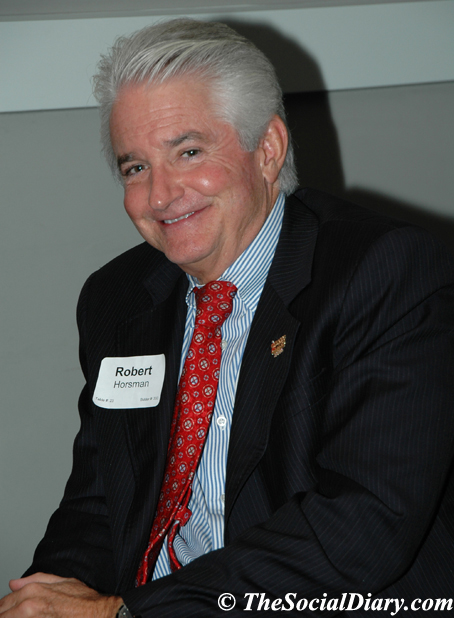 Robert Horsman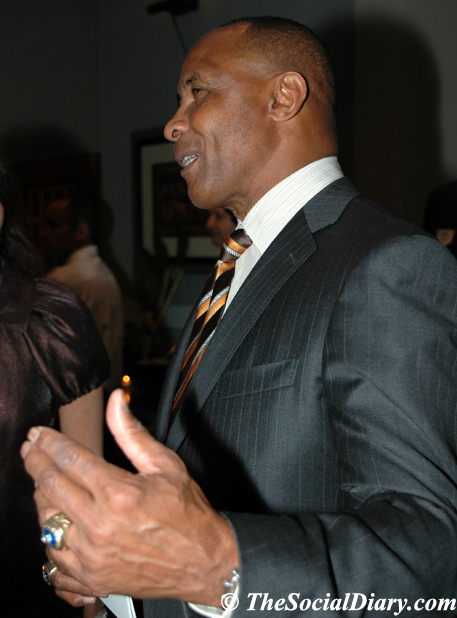 Lynn Swann with one of those SuperBowl Rings!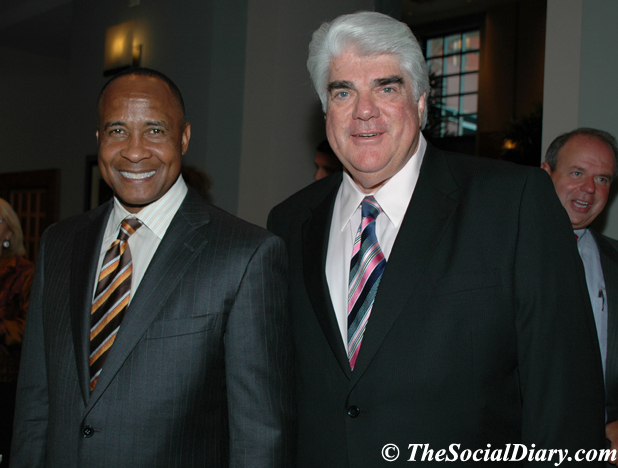 Lynn Swann with Paul Palmer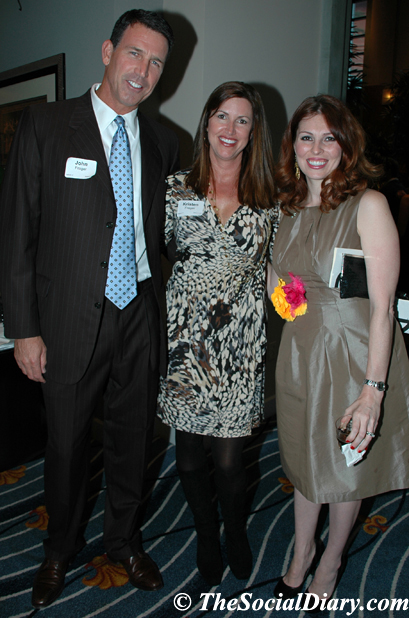 John and Kristen Frager with Cheyenne Palma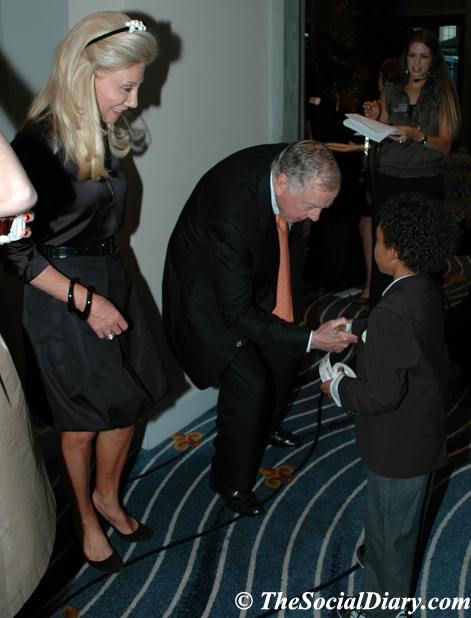 Madeleine Pickens watching husband T. Boone Pickens take out a roll of $100's to buy lots of opportunity tickets from Jaden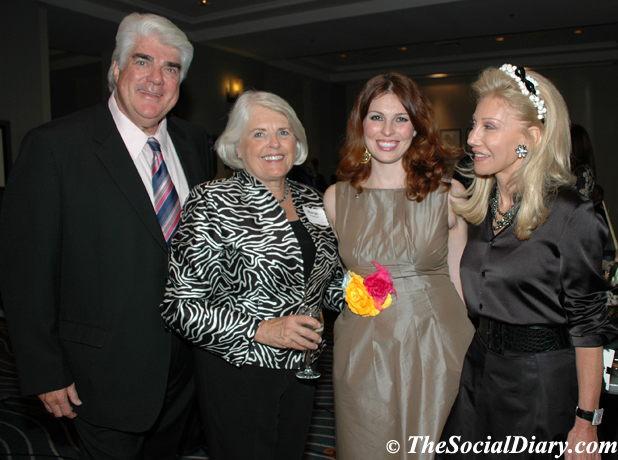 Paul and Marge Palmer with Cheyenne Palma, and Madeleine Pickens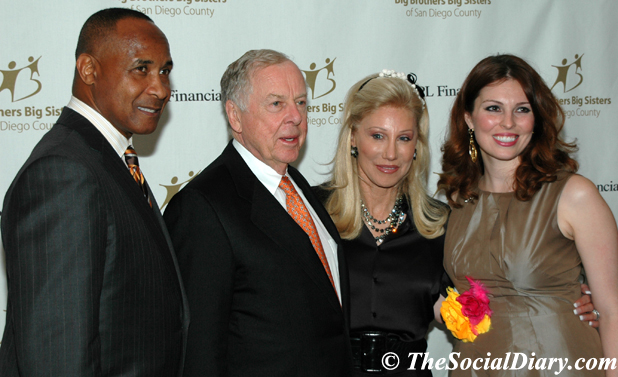 Lynn Swann with T. Boone and Madeleine Pickens, and Cheyenne Palma
To learn more about Big Brothers Big Sisters of San Diego County,
please visit www.sdbigs.org
reported by Margo Schwab
The Buzz
Denise Hug and Jennifer Greenfield.....
two of San Diego's Best Dressed who will be featured November 13th for Scripps Mercy Hospital's 2nd Annual 'Dressed to the Nth Degree'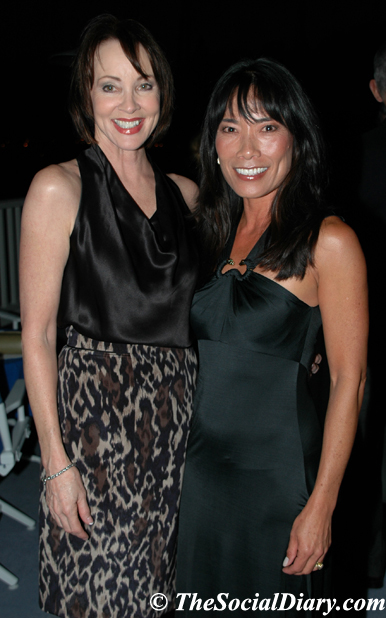 Leopard and Roberto Cavalli....terrrrrrrrrific!
event details below...
Upcoming Events
November 7th - The Golden Hangers / FCC benefit for Make-A-Wish and San Diego Variety Children's Network.
November 13th - Scripps Mercy Hospital will host its 2nd Annual 'Dressed to the Nth Degree' evening featuring San Diego's 10 best dressed women and 10 best dressed men as chosen by Leonard Simpson. Michael Neil will be the Honorary Chair. For details and tickets please visit:
http://www.scripps.org/events/an-evening-of-glitz-glamour-and-more

____________________________________________________________
Photoshopping and Photography Services
Photos on this website available if it is of you
available by The Social Diary
~ 619-384-7333
email TheSocialDiary.com
_______________________________________________________________
Email Commentary to be added
email editor@thesocialdiary.com
Thanks for your coverage of the event and helping bring awareness to BBBS of San Diego. - John Frager
* Margo Schwab, more formally known as Margaret E. Schwab, has produced, written, interviewed and photographed for various media organizations since 1989. Schwab attended Holton Arms School, La Jolla Country Day School and La Jolla High School. Schwab has a B.A. from Scripps College, spent a business internship with S.A.I.C., Science Applications International Corporation, and earned a Masters of Business degree, M.B.A., from the University of San Diego. Schwab additionally took college courses from Harvard University, and Syracuse University. Schwab volunteers for numerous charity organizations. She also continues to support animal organizations and the prevention of people and animal abuse. Schwab is the editor of The Social Diary.
Margo Schwab and Scott Johnston of the Social Diary are pleased to announce partnerships with the San Diego Humane Society, San Diego News Network and now, San Diego Home & Garden Magazine.
San Diego's The Social Diary would like to say a special thank you to our advertisers.
Valerie and Harry Cooper, Patrons of the San Diego Opera
Valerie and Harry Cooper, Patrons of The Museum of Contemporary Art San Diego
Judith C. Harris, Blair Harris, and Robert Singer, MD supporting the
Dian Fossey Gorrilla Fund International
Dr. Laurie Marker of The Cheetah Conservation Fund
H. Moradi Jewelers on Prospect Street in La Jolla
Pat O'Connor of Fashion Careers College
Pamela Pogue of Juelerie
Kary Favish of the Worth Collection
Diana Cavagnaro of Designer Millinery
Jordan of Jordan Art Couture
Lizz Russell of The Lizz Russell Collection
Gary Parker of WineSellar & Brasserie
Chef and Owner Pasquale of Cafe Milano
Alex Gonzalez of Mercedes Benz of San Diego
Kevin Smith of Extreme Pizza in La Jolla
Jeremiah Sullivan of Neptunic Sharksuits
Drs. Sue and John Morizi of The Animal Hospital of La Jolla
Jemima Garcia Dutra of Dutra Designs
Eugene Ladopoulos of Mistra Estates Olive Oil
Warning ** photos, video and writing on this site are the
2009 copyright of The Social Diary LLC and its subsidiaries.
no reproduction of any part or parts is allowed without written permission by The Social Diary