~ The Social Diary ~
~~~~~~~~~~~~~~~~~~~~~~~~~~~~~~~~~~~~~~~~~~~~~~~~~~
Zandra Rhodes Resort Fashion Show Tickles Guests Pink!!
'Starring Tamara Alter Jewelry, Diana Cavagnaro Hats, and a Jeanne Jones Designed Luscious and Light Lunch'

Mix the colorful and inspired new cruise wear collection from Zandra Rhodes, Tamara Alter's breathtaking one of a kind jewelry, Diana Cavagnaro's signature hats, and a superb lunch designed by world renown cookbook author Jeanne Jones, and you have perfection! And perfection too was the setting in the Westgate Hotel's elegant Versaille Room room with its crystal chandeliers adding a backdrop of elegant drama.
And fashionable drama it was on and off the runway. Yes Zandra was there buzzing about the pre-show. Easy to spot with her bright pink hair and silver mirrored tunic!
More there in the sea of beautiful women, without pink hair I might add, were Sheryl White in a very pretty Dolce Gabanna suit with Prada shoes and purse, Dianne York-Goldman in a summery white suit by Monique Lhuillier, Iris Strauss in a magnificent amethyst, pearl and gold necklace by Tamara Alter, Karen Cohn in Spring Zac Posen, and Jeanne Jones in head to toe Zandra. That's purse, caftan and eye catching earrings that matched the entire ensemble.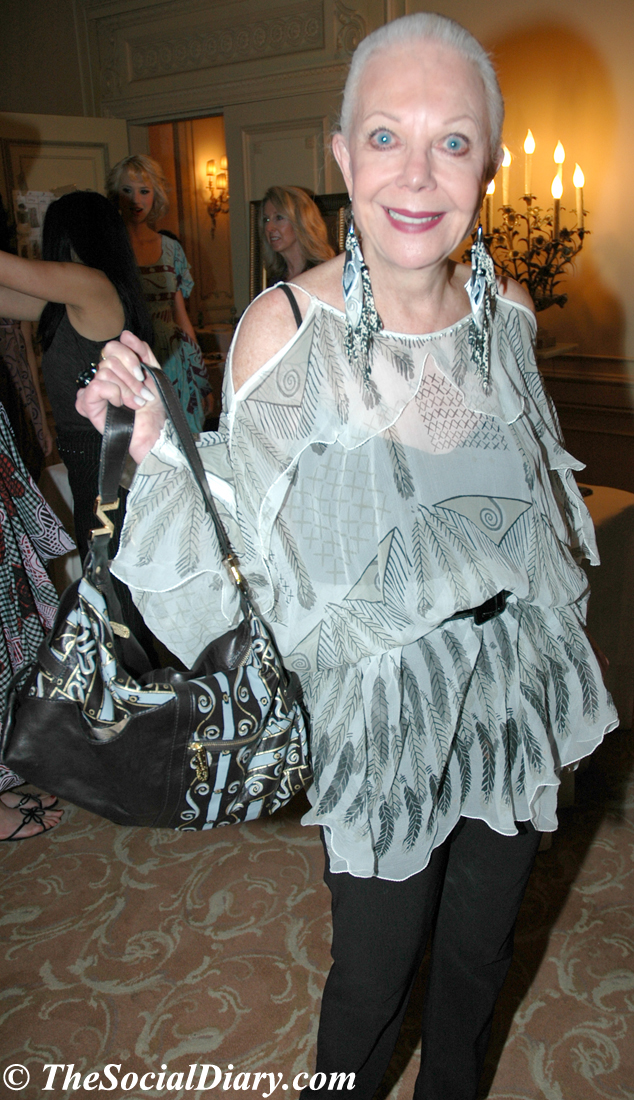 Jeanne Jones in her own Zandra Collectibles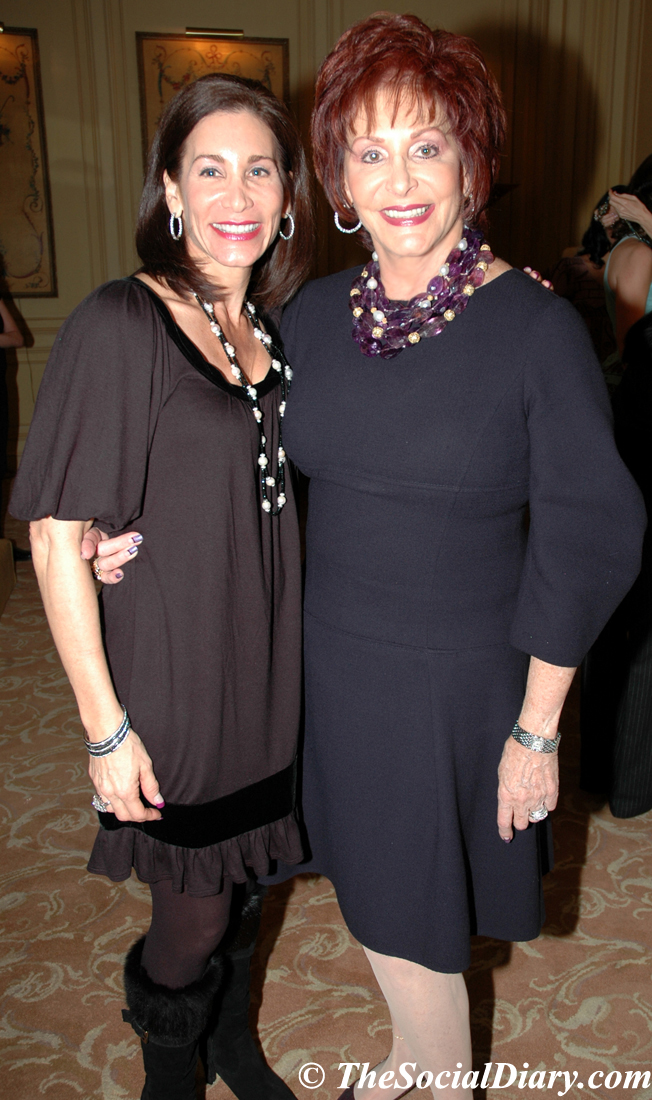 Jewelry Designer Tamara Alter and Iris Strauss, both wearing Tamara Alter one of a kind necklaces
Zandra designed Jeanne's outfit, but Jeanne Jones designed the menu. Chilled ginger carrot soup, a curry chicken salad with tropical fruit and Baked Alaska with bourbon vanilla ice cream, wild strawberry sorbet and Italian meringue. Dessert was prepared table side. The Westgate Hotel Executive Chef Fabrice Hardel would have it no other way.... but perfect!
Zandra's collection was waltzed down the runway by some fun local personalities including Kristen Cusato of KUSI.
Among the guests enjoying the show were Joan Jacobs, Valerie Cooper, Karen Cohn, Kate Adams, Doreen Schonbrun, Carol Karlovitch, Mary Walker, Joan Bowes, Joy Furby, Tamara Alter's son Brandon, Ann Campbell, Erika Torri, Lyndy Carreiro, Antia Bye, Jim Crawford, Annika Kovtun, Wanda Kaufman, and Lael Kovtun.
Sally B. Thornton was scheduled to be there but missed due to a very important Board and Shareholder meeting for Mitek. Sally supported the day nonetheless with a table of guests front and center.
Iris Strauss, the mother of Jewelry Designer Tamara Alter had this to say about her daughter. "I am so proud of her and her artistic and spiritual collection. She is inspired from nature, and is, herself, a very spiritual person. She was so thrilled to have the opportunity to work with Zandra Rhodes, and was, in fact, inspired by the color, quality and joyfulness of Zandra's clothes. Tamara has a studio in Solana Beach, and has worked very hard to make this beautiful, and unique jewelry collection. It really is wearable art!"
And I can vouch for that. Art it is. Tamara placed not one but two significant necklaces on this reporter. Make this one very happy reporter. They were gorgeous pieces of turquoise, pearls and gold. Extraordinary! ....(hint, My birthday is coming up Scott!)
Karen Cohn bought a few 'Tammy' necklaces.That's Tammy for Tamara Alter for those who know her well. Karen's remark about her new necklaces. "They are fun."
Sheryl White concurred the whole show was great. "It was a fun fashion show. Lots of pretty fabrics and you are right about Tammy's jewelry." Did I mention Fabulous jewelry to her!?!
Valerie Cooper, one of the reigning San Diego/ International 'it' girls summed up the day of Zandra and more. "She is always amazing with all the things she does. It was a very nice luncheon."
The event was not only nice, but benefited the American Friends of the Zandra Rhodes Museum.
Sharon Ladeki *** Margo Schwab ** Dianne York-Goldman with Zandra Rhodes and Chetna Bhatt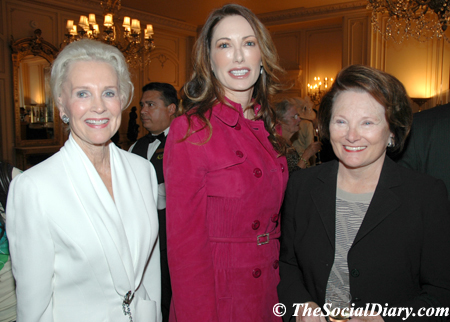 Lael Kovtun with Valerie Cooper and Guest
Joan Jacobs with Kate Adams ** Annika Kovtun and Lael Kovtun ** Sheryl White and Guest
Jem Garcia (the designer of Kima's gowns) with Diana Cavagnaro ** Brandon Alter with his Mother, Jewelry Designer Tamara Alter ** Mary Walker with Carol Karlovich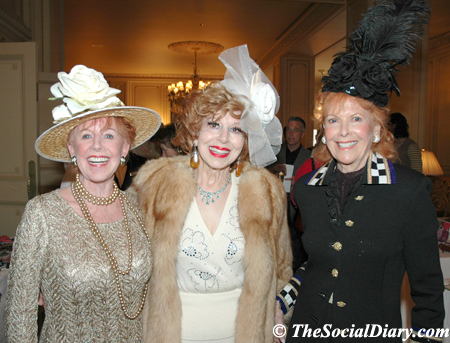 Joy Furby with Marie Chemalli and Joan Bowes
Lori Risberg with Charlotte Morton and Joan Bowes ** Dianne York-Goldman with RoseMarie Pipitone and Charlotte Hogue ** Wanda Kaufman with fashion event producer Jim Crawford
Enjoy the Fashion!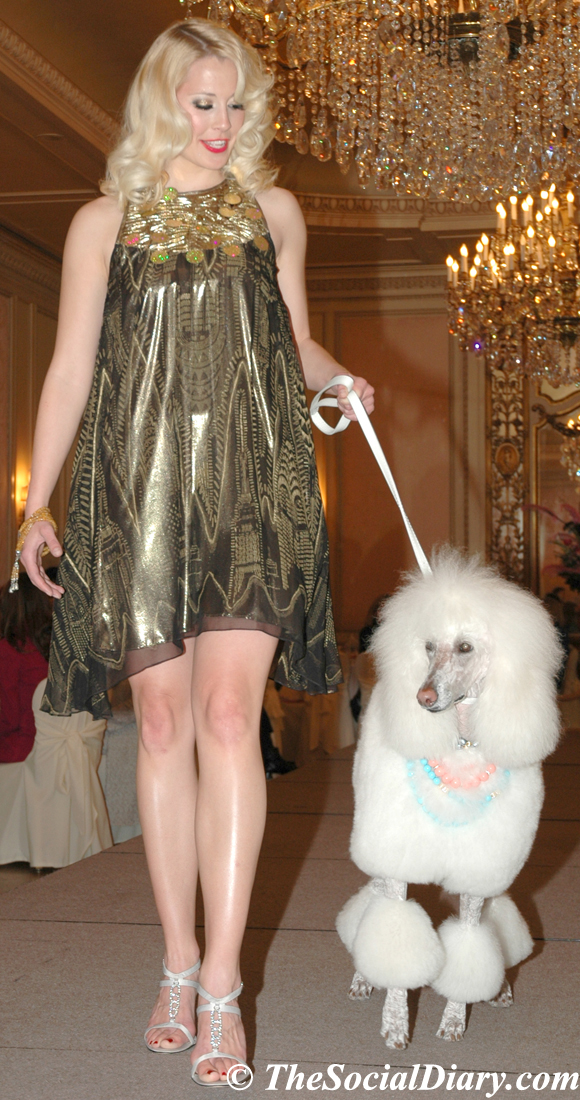 even the dogs were pampered and very fashionable in Tamara Alter Jewelry!!
~ A special thank you to Sally B. Thornton for having me as her personal guest ~
reported by
Margo Schwab (in vintage Egyptian caftan and Indian bindi with Tamara Alter Turquoise, Gold and Pearl Necklaces)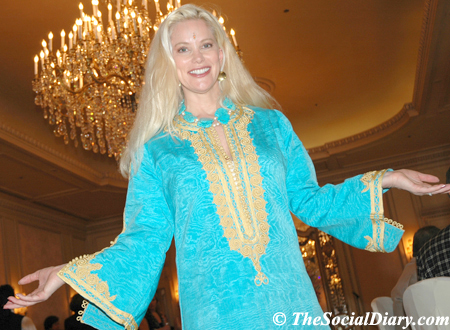 * Margo Schwab, formally known as Margaret E. Schwab, has produced, written, interviewed and photographed for various media organizations since 1989. Schwab attended Holton Arms School, La Jolla Country Day School and La Jolla High School. Schwab has a B.A. from Scripps College, spent a business internship with S.A.I.C., Science Applications International Corporation, and earned a Masters of Business degree, M.B.A., from the University of San Diego. Schwab volunteers for numerous charity organizations. She also continues to support animal organizations and the prevention of people and animal abuse. Schwab is the editor of The Social Diary.
Warning ** photos, video and writing on this site are the
copyright of The Social Diary, San Diego Social Diary
no reproduction of any part or parts is allowed without written permission by The Social Diary