San Diego Symphony's Tux 'n Tennies Beatles' Tribute
More Social Diary Event Coverage ....HOME
"Catherine and I were proud to co-chair such a wonderful event that raises money for music awareness through the San Diego Symphony and supports the children of San Diego County." - Andrew Clark
Flashback time.... With the upcoming San Diego Symphony Opus Gala on October 6th, 2012, it's fun to look back at their over-the-top fun Symphony event Tux 'N Tennies held on June 23rd, 2012 at the Embarcadero.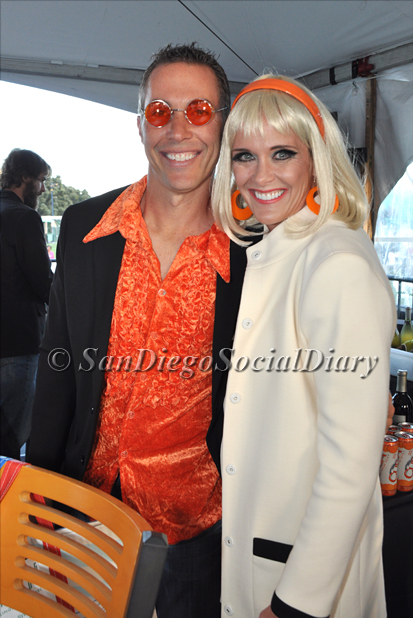 Co-Chairs Andrew and Catherine Clark of sponsoring Bridgepoint Education
With a theme Classical Mystery Tour, guests came dressed in homage to the height of the Beatles era. Natasha Reiss wore white go go boots, Kathy Paulin was Pucci-esque perfect, and Event Co-Chairs Catherine and Andrew Clark, and Susan and Paul Hering were mod and hip to a 't.' More among the crowd hitting the right groove were Lisette and Mick Farrell, Mel Katz with love beads and all, and Anthony Napoli as Joe Namath....loved the stocking accessory.
Dinner by Sycuan and a stellar performance by the Classical Mystery tour with the San Diego Symphony made it a stellar evening.
Principal Summer Pops Conductor Matthew Garbutt led the musicians brilliantly through the Sonata for Strings, William Walton, Serenade for Strings, Edward Elgar, Palladio for Strings, Karl Jenkins, and St. Paul's Suite, Gustav Holst. ....
Here is some of the feedback from this night..
"This is the CRAZY side of our San Diego Symphony - always a very fun and happy experience. The BEATLES have never sounded better!!!! Can't wait for Lang-Lang and OPUS in October. Congratulations to Susan and Paul Hering and Andrew and Cathy Clark. BRAVO!! - Joyce Grosvenor
"A sold out event, WOW! I guess the Beatles will never lose their appeal. We felt like we were listening and wathcing the real thing!" - Joyce Glazer
And now with the Opus Gala countdown, things are revving up again for San Diego Symphony patrons!
Be advised strictly no downloading, publishing, broadcasting, printing, or copying of photos or content. Please email purchase requests of photos you are in.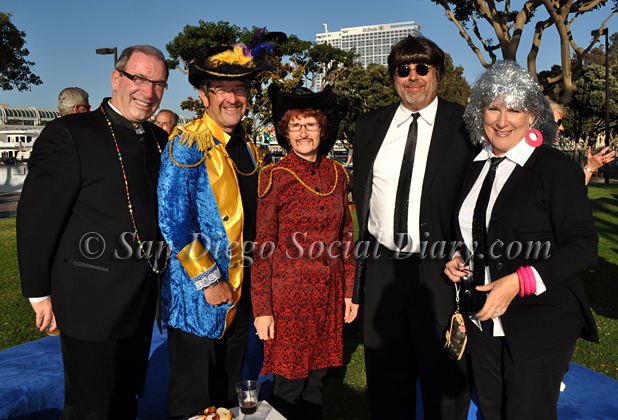 Mel Katz (Chair of the San Diego Public Library Foundation) with his 'groovy' friends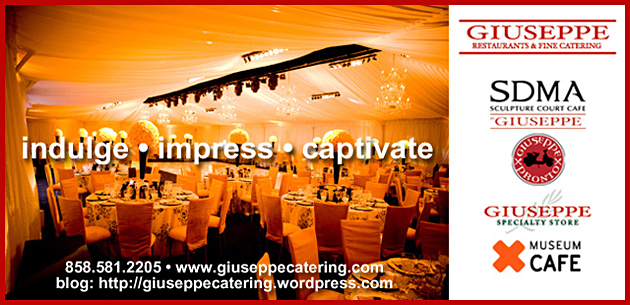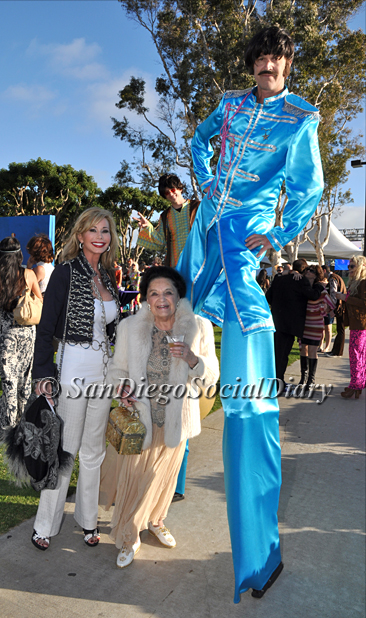 Joyce Grosvenor with Rachel Grosvenor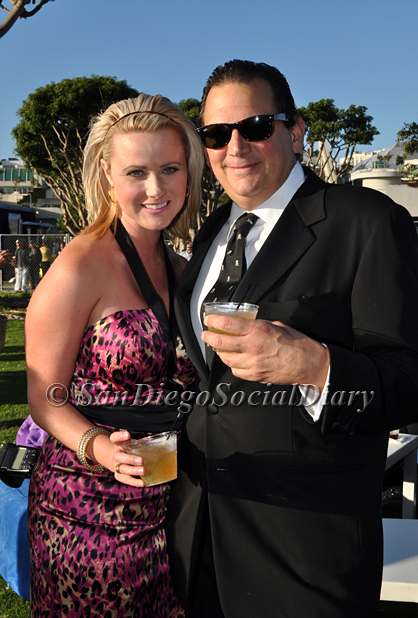 Melissa Williams and Bob Stefanko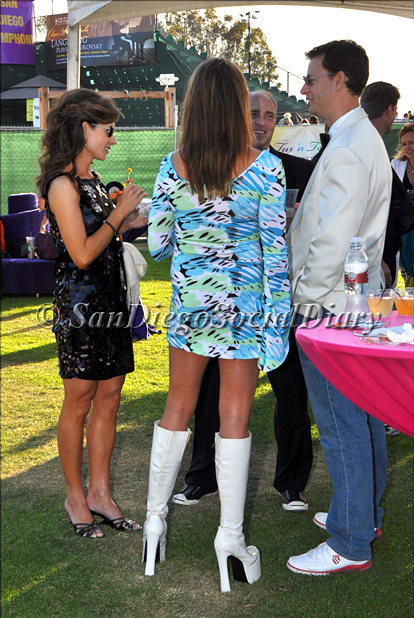 Natasha Reiss rockin some platform 'go go' boots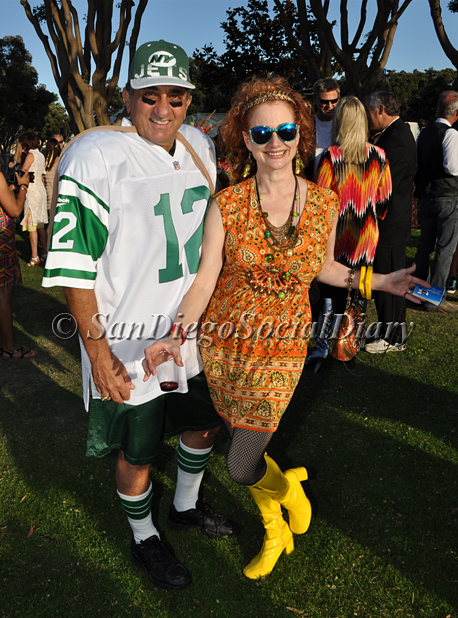 Anthony and Sarah Napoli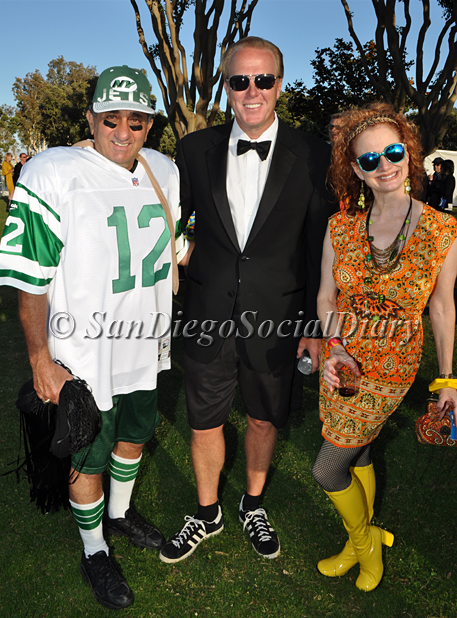 Andrew Napoli aka Joe Namath with pantyhose et al. with Kevin Faulconer (San Diego City Council President Pro Tem) , and Sarah Napoli turning up the Beatles Vibe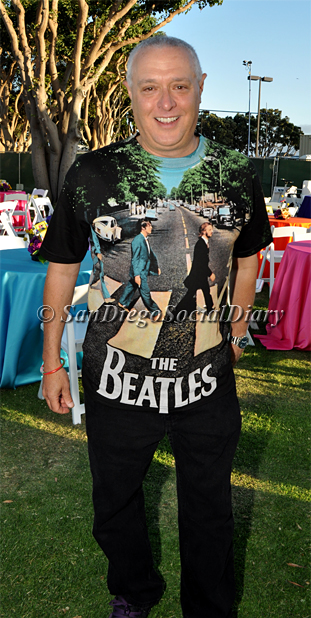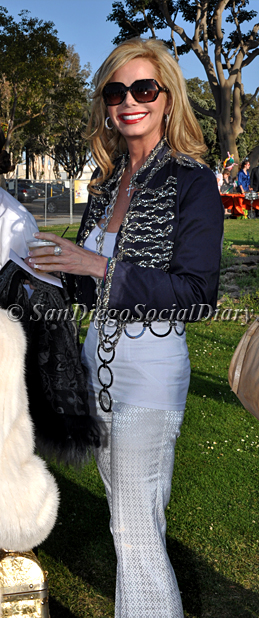 Seth Goldman rockin' the best shirt at Tux 'N Tennies ** Joyce Grosvenor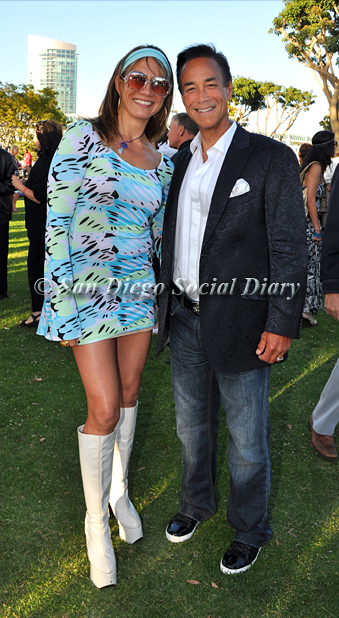 A very mod Natasha Reiss with Scott Johnston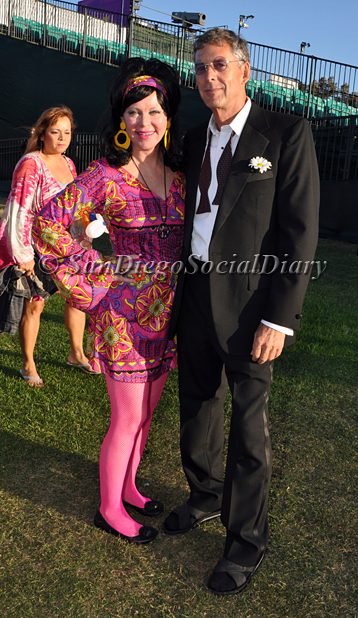 Kathy Paulin and Ron Rorrester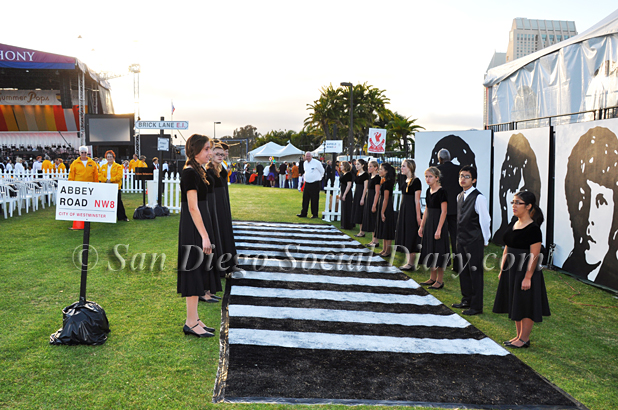 Abbey Road leading the way to dinner and a Beatles mix by the San Diego Symphony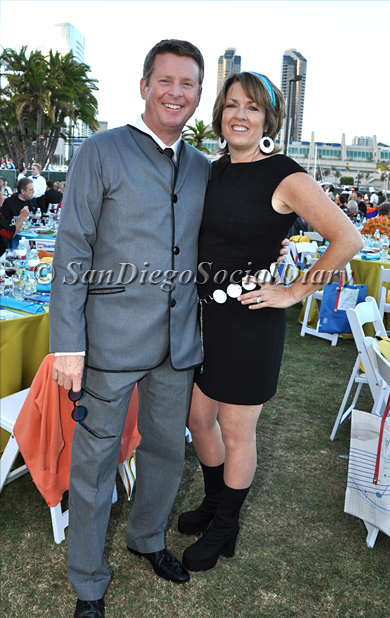 Paul and Susan Hering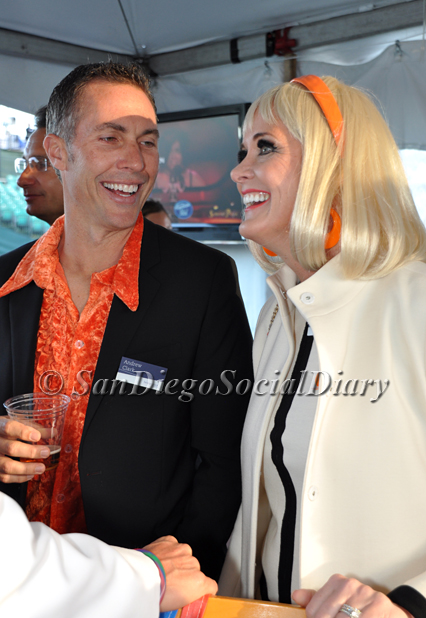 Andrew and Catherine Clark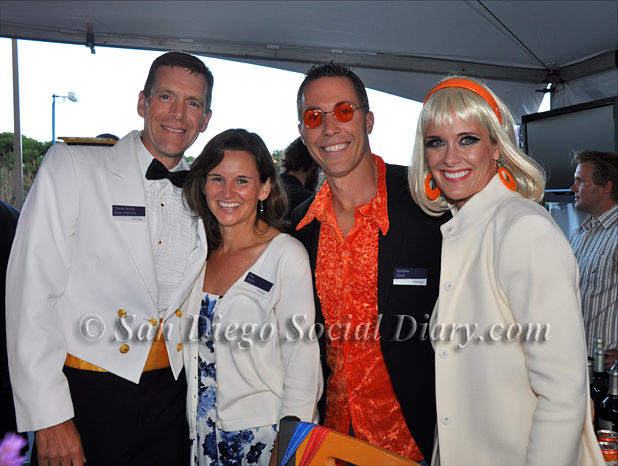 Andrew and Catherine Clark with friends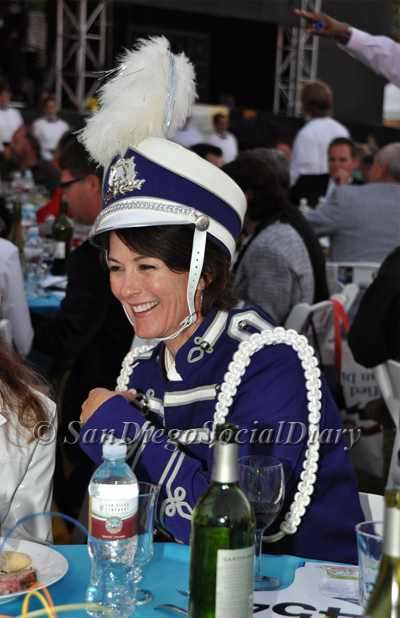 Lisa Stennes Laikind in perfect Beatle vibe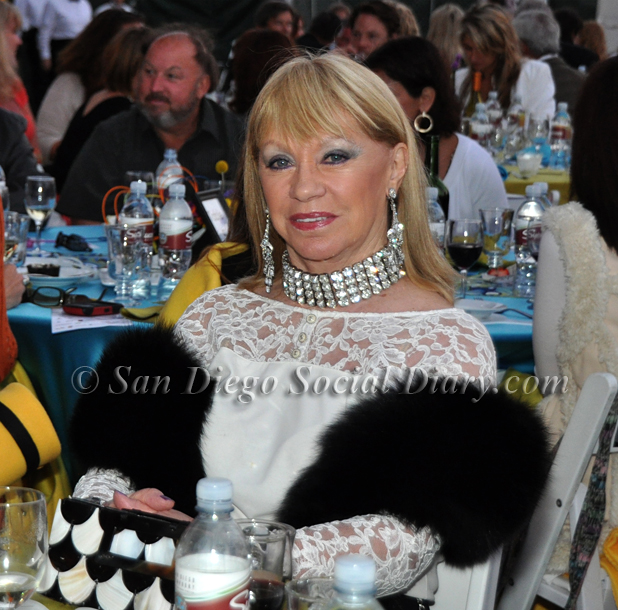 Joyce Glazer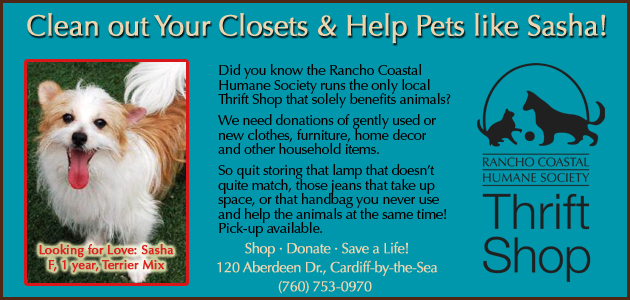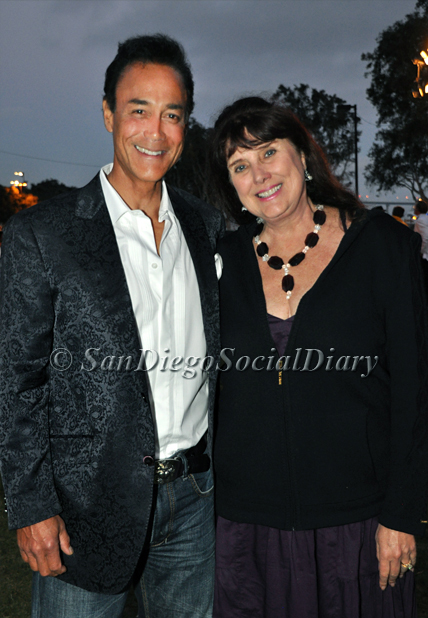 Scott Johnston with the wonderful Beverly Coles of Coles Carpeting
Lovin' George Harrison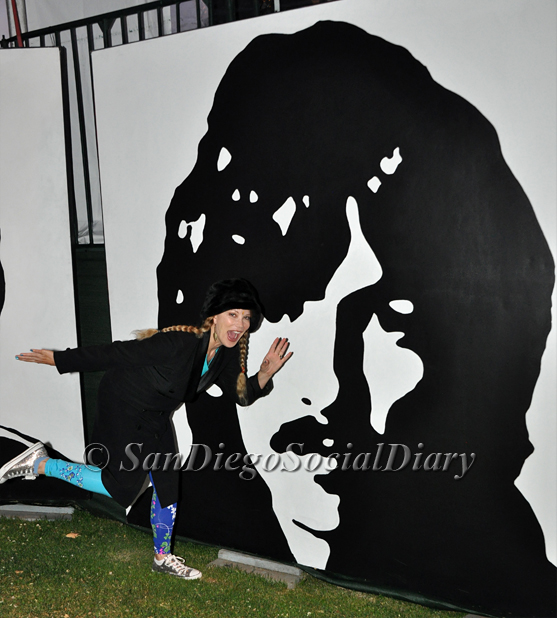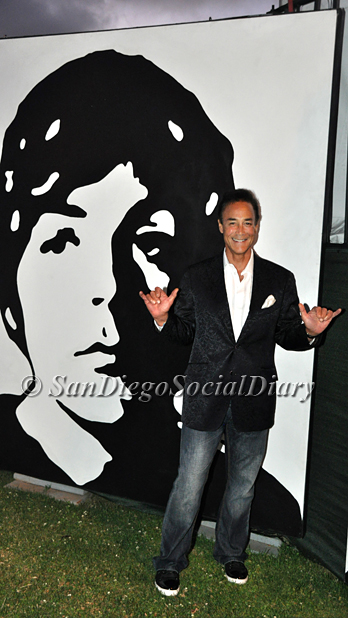 Incredible fun at Tux 'N Tennies San Diego Symphony style!
Follow us on Twitter twitter.com/SocialDiaryMag
Follow us on Facebook facebook.com/#!/margo.schwab
More Social Diary Event Coverage ....HOME
reported and photographed by Margo Schwab
publishing support by Scott Johnston
Please join us for fun informative updates on Twitter and Facebook

The Town Gossip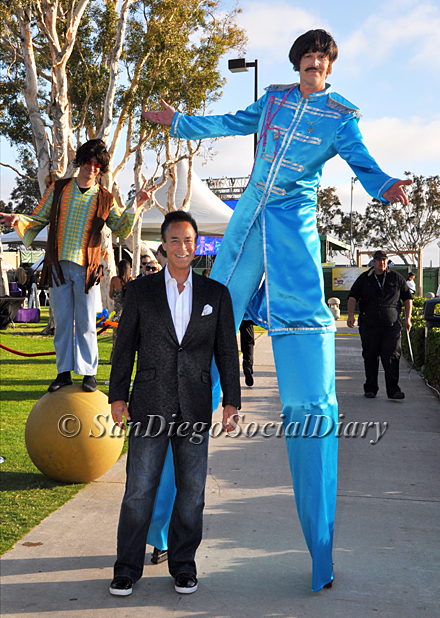 Scott Johnston in the Tux 'N Tennies spirit with a very tall 'Beatle'
Email Commentary to be added
* Margo Schwab, MBA, more formally known as Margaret E. Schwab, has produced, written, interviewed and photographed for various media organizations since 1989. Schwab attended Holton Arms School, La Jolla Country Day School and La Jolla High School. Schwab has a B.A. from Scripps College, spent a business internship with S.A.I.C., Science Applications International Corporation, and earned a Masters of Business degree, M.B.A., from the University of San Diego by way of Claremont Graduate School . Schwab additionally took college courses from Harvard University, and Syracuse University. Schwab volunteers for numerous charity organizations. She also continues to support animal organizations and the prevention of people and animal abuse. Schwab is the editor and co-owner of The Social Diary.
Margo Schwab and Scott Johnston of The Social Diary Magazine are pleased to announce a partnerships with the San Diego Humane Society and SD METRO Magazine. They have also partnered with Country Friends and the San Diego American Heart Association and the Arthritis Foundation.
Margo Schwab and Scott Johnston are both members of the La Jolla Beach & Tennis Club (Margo Schwab since 1974) and both are now members of the University Club and its worldwide ClubCorp Compass Society. Margo Schwab and Scott Johnston are Police Press credentialed by the Chief of Police, William Lansdowne.
San Diego's The Social Diary would like to say a special thank you to our advertisers.
The Real Real - Luxury Designer Consignment
Bowers Fine Jewelry
La Jolla Cosmetic Laser Clinic
ARTS - A Reason to Survive
HG Motorsports
Eclat Catering and Home Delivery by Chef Athanasia Ampelas
Margaret's The Couture Cleaners
Donovan's - America's Best Steak & Chop House, Prime Seafood Too!
PAWS - Helping People Helping Pets
Helen Woodward Animal Center sponsored by Taylor Miller
H. Moradi Estate and Fine Jewelry on Prospect Street
Nicole Miller at The Forum
San Diego Public Library Foundation
Rancho Coastal Humane Society
San Diego Humane Society
Hot Rock Jewelry
San Diego Museum of Art
Heinz Geitz Autohaus
Smaha Law - Estate and Business Attorney John Smaha
Animal Fashion by Jordan
Juelerie by Pamela Pogue
The Museum of Contemporary Art San Diego
Giuseppe Restaurants and Fine Catering
The University Club Atop Symphony Towers and ClubCorp
WineSellar & Brasserie - featuring the Gary Parker Wine Club
Cafe Milano on Pearl Street La Jolla
The Marine Room
Ark Antiques
Extreme Pizza in La Jolla
The Animal Hospital of La Jolla
Eugene Ladopoulos of Mistra Estates Olive Oil
Warning ** photos, video and writing on this site are the
2012 copyright, all rights reserved, of The Social Diary LLC and its subsidiaries including San Diego Diario Sociales - Su Conexión Con la Sociedad, no reproduction of any part or parts is allowed without written permission by Social Diary Magazine