Social Diary Fashionable Dinner
at Neiman Marcus
Fashion Show Part I - Show & Style Notes by
Alex Yanez
More Social Diary Event Coverage ....HOME
Gucci, Cavalli, Lhuillier.... that and more as San Diego Social Diary's Margo Schwab, Scott Johnston, and Red Carpet Kima hosted a private dinner soiree at Neiman Marcus February 6th, 2013.
Among the guests were Annika and Gordon Kovtun from KCM, Claude, Tiffany, Jim and Alexia Mahoney, Susan and John Smaha of Smaha Law, Dr. Nasrin Mani of La Jolla Cosmetic Laser Clinic and Dr. Darush Mohyi, Constance Hughes and Peter Caruso, Sharon Pratt and Hilary Jacobson, Connie and Ed Basterache, Susie Barbey Booth and Cameron Booth, Dana Alkasmi and Shervin Erfani, and Taylor Miller with her beloved Yorkie Armani.
Guests enjoyed an exquisite dinner by Zodiac and served up by Cruz's Petit Panache, followed by an exceptional show styled by Neiman's own, Alex Yanez. Exceptional it was ....
Please enjoy the Part I. of the show....
Special Thanks to Neiman Marcus's Ida Sandico-Whitaker for producing this event!
Be advised strictly no downloading, publishing, broadcasting, printing, or copying of photos or content. Please email purchase requests of photos you are in.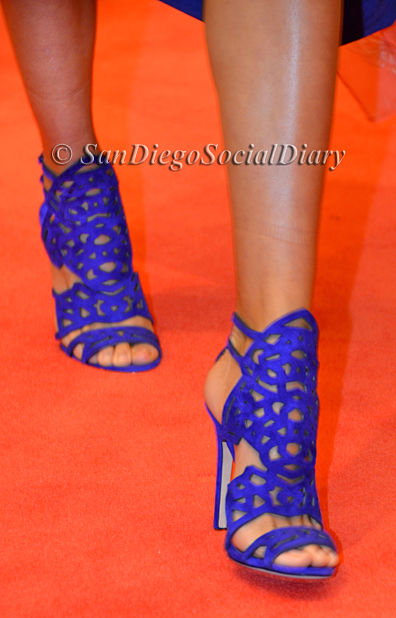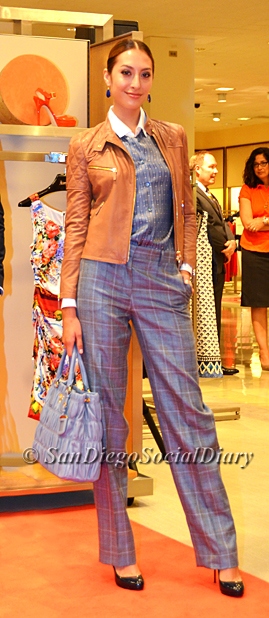 B Brian Atwood cobalt blue suede gladiator sandal with geometric cutouts
Gucci camel leather bomber jacket, Gucci slate blue silk blouse with signature horsebit print, Giorgio Armani plaid trousers, Prada "Napa Gaufre" tote in sky blue, Christian Louboutin navy patent leather pumps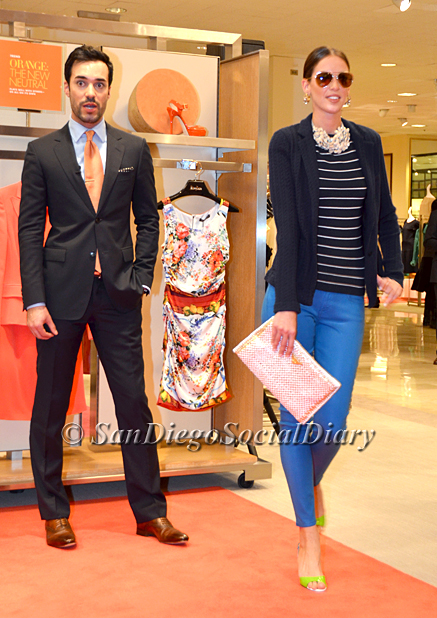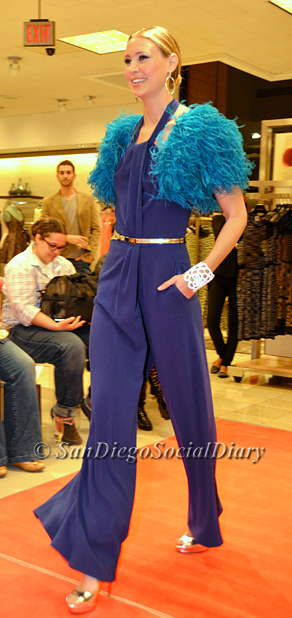 Vince navy knit blazer, Giorgio Armani navy/white nautical stripe knit tee, 7 for all Mankind waxed denim, Prada white/metallic gold woven leather clutch, Jimmy Choo color-block sandals, Brunello Cucinelli multi-strand opal necklace, Stephen Dweck multi-stone earrings on bronze, Celine aviator sunglasses
Escada navy jumpsuit with silver metallic leather belt, Notte by Marchesa turquoise ostrich feather shrug, Jimmy Choo silver metallic leather peep toe pumps, John Hardy sterling silver hoop earrings, Ranjana Khan powder-coated metal cuff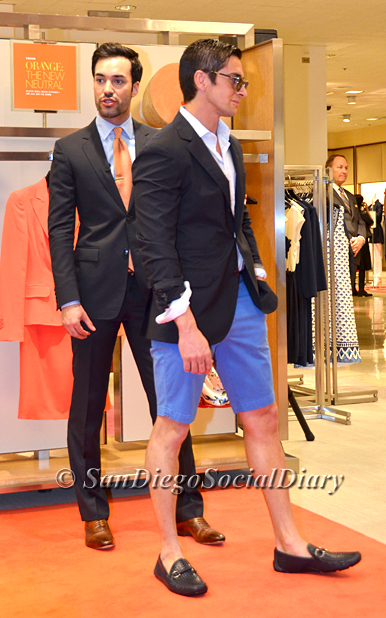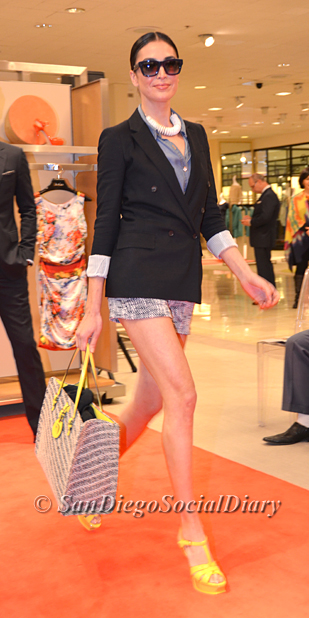 Brunello Cucinelli navy cotton unstructured blazer, Etro printed shirt, Vince ocean blue shorts, Salvatore Ferragamo navy woven leather drivers, Tom Ford sunglasses
Gucci navy double breasted blazer, Splendid light blue denim sleeveless shirt, Robert Rodriguez navy and white tweed shorts, Jason Wu navy and white tweed the with yellow leather trim, Saint Laurent Tribute sandals in yellow patent, Brunello Cucinelli shell necklace, CÉLINE navy sunglasses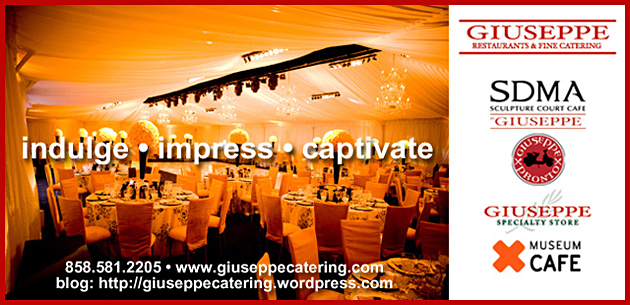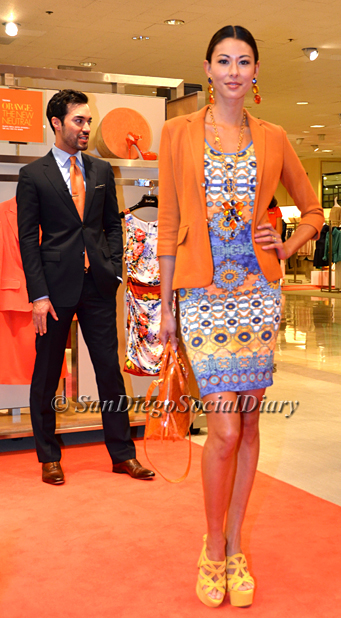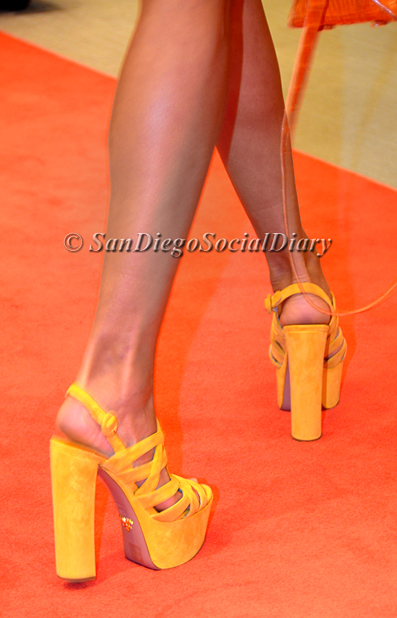 The Row burnt orange blazer, Philosophy di Alberta Ferretti printed jersey dress, Prada yellow suede platform sandals, Nancy Gonzalez orange crocodile bowler bag, Oscar de la Renta multicolor pendant and drop earrings
Prada yellow suede cage slingback platform sandals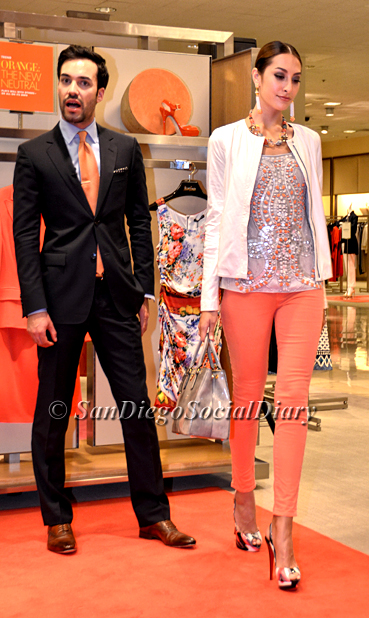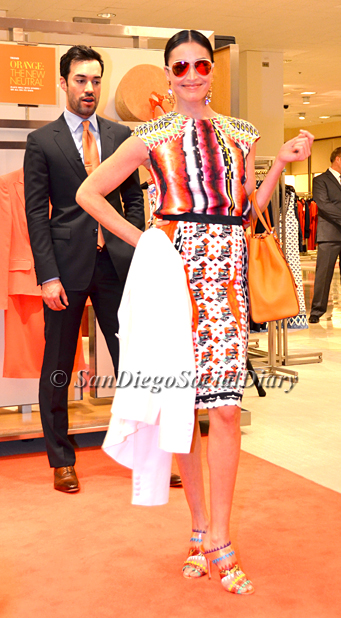 Vince cream leather jacket, Lafayette 148 silver silk shell with all over beading, 7 for all Mankind sherbet denim, Christian Louboutin "Lady Peep" painted coated calfskin slingbacks, Prada Spazzolato tote in grey, Alexis Bittar Floral Cherry Quartz Vine necklace, Oscar de la Renta beaded tassel earrings
Peter Pilotto multicolor silk blouse, Peter Pilotto multicolor silk pencil skirt, Dolce & Gabbana white linen blazer, Fendi "2Jours Elite Tote" in orange, Manolo Blahnik "Arpegeny" watersnake sandals, Oscar de la Renta gold triangle-cluster earrings, Ray-Ban orange mirrored aviator sunglasses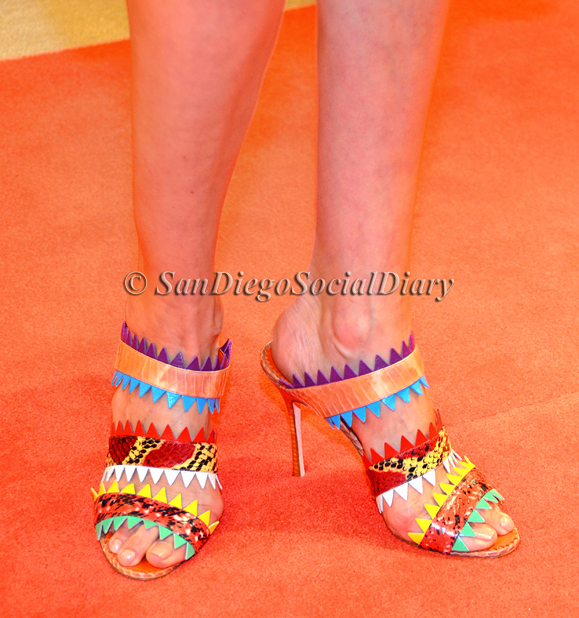 Manolo Blahnik "Arpegeny" watersnake slide sandals trimmed in teeth-like multicolor leather triangles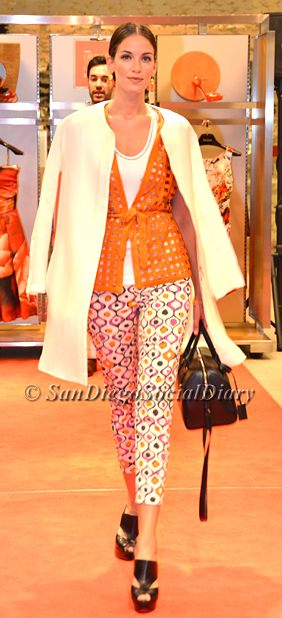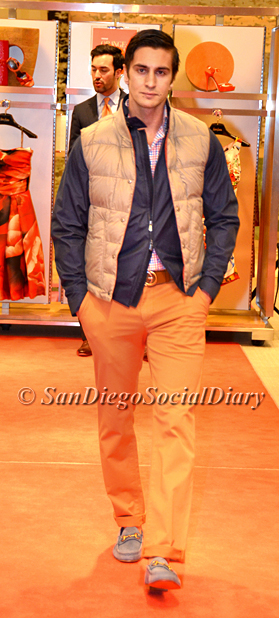 Giorgio Armani white coat with semi-sheer organza sleeves, Grayse orange suede cutout jacket, Brunello Cucinelli white cotton tshirt with silver chain detail, Lafayette 148 multicolor cropped pants, Saint Laurent "Duffel 6 Saint Laurent Bag" in black calfskin, Christian Louboutin "Pitou" peep toe booties, Alexis Bittar orange lucite and gold earrings
Brunello Cucinelli tan/orange reversible down vest, Loro Piana navy bomber jacket, Etro multicolor check shirt, AG Adriano Goldshmied orange cotton chinos, Gucci slate blue suede loafers, Gucci camel leather belt with two-tone buckle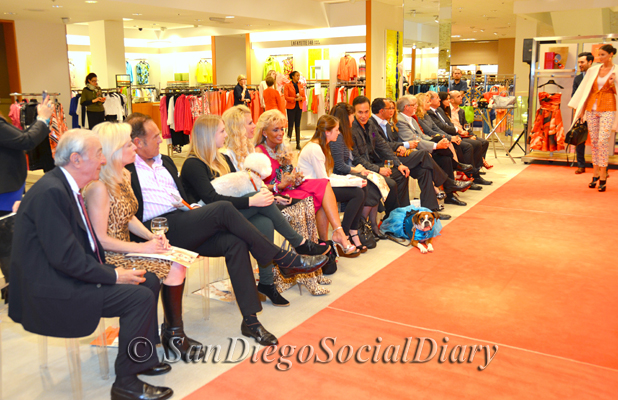 Above and Below, Social Diary guests enjoying the show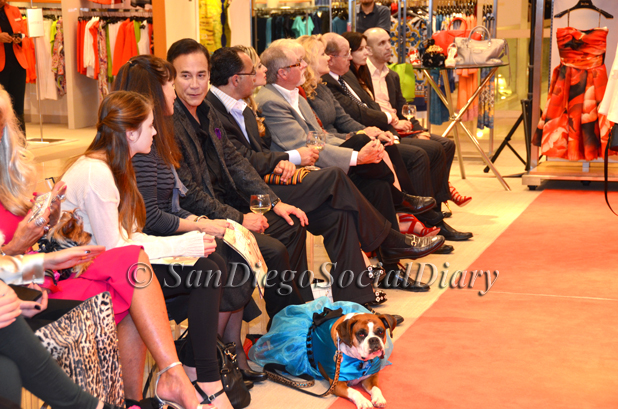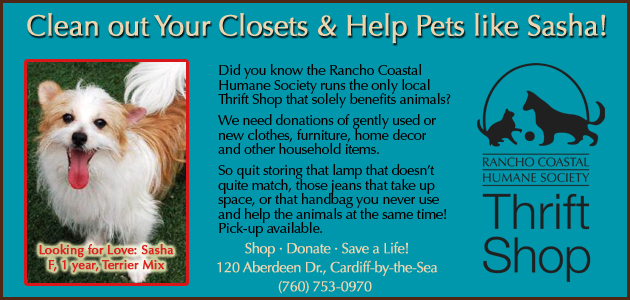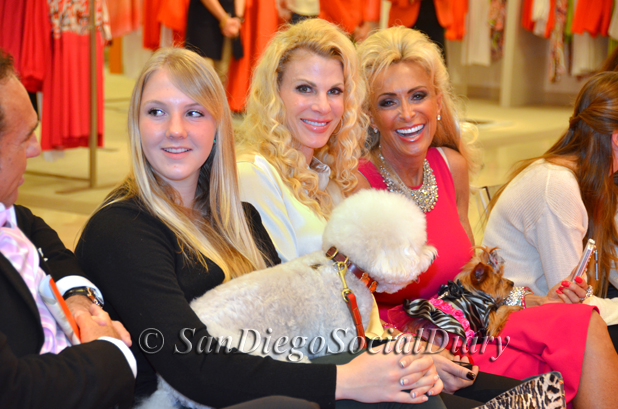 The Mahoney's, Jim, Alexia, Tiffany and fluffy Claude, with Taylor Miller and Armani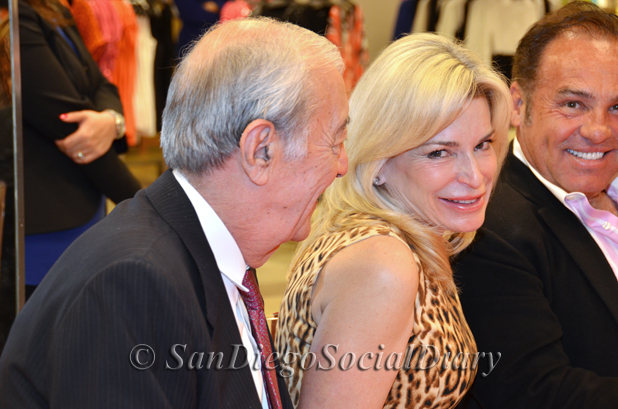 Peter Caruso with Constance Hughes and Jim Mahoney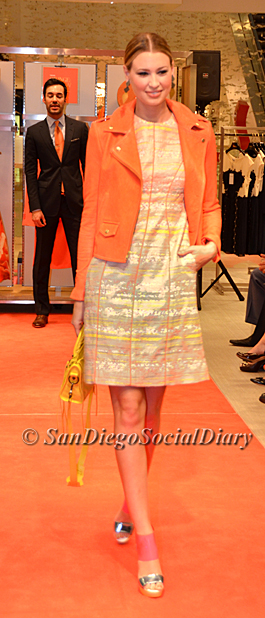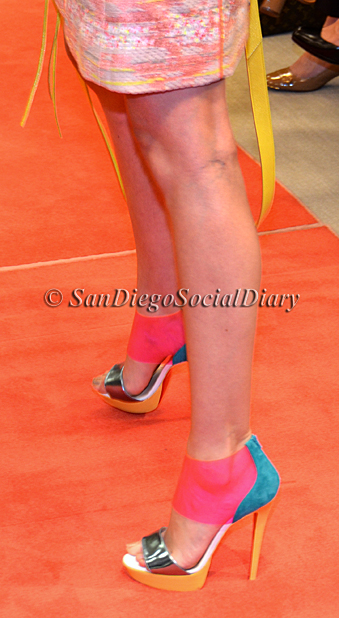 Lela Rose cap-sleeve multicolor bouclé dress with tangerine piping, Theory orange lambskin motorcycle jacket, Balenciaga "Classic Mini City Bag" in curry, Christian Louboutin "Dufoura" open-toe bootie with transparent PVC ankle strap, Herve van der Straten black and gold geometric earrings
Christian Louboutin "Dufoura" open-toe mixed-media multicolor bootie with transparent PVC ankle strap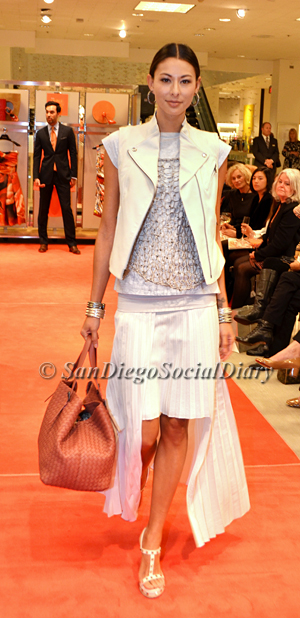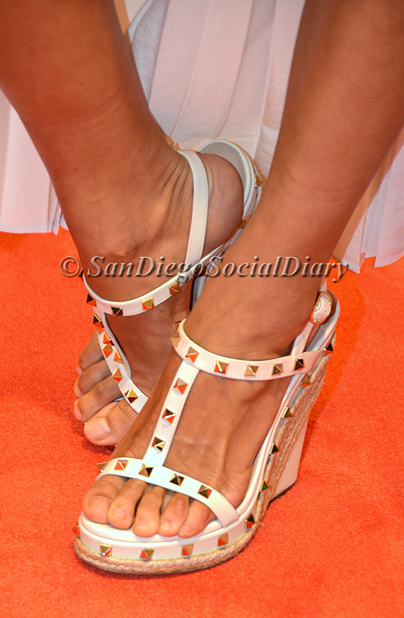 Theory bone leather vest, Brunello Cucinelli pearl cotton jersey top with hand-beaded woven cashmere overlay, Brunello Cucinelli off-white pleated skirt with long cutaway overlay, Bottega Veneta "Veneta A-Shape Large Tote" in brick, Valentino jute-trimmed "Rockstud" ivory wedge sandal, Roberto Coin "Fifth Season" woven sterling silver cuffs and earrings
Valentino jute-trimmed "Rockstud" ivory wedge sandal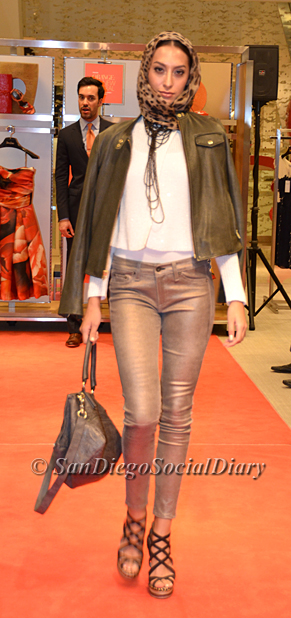 Theory dark olive leather jacket, Brunello Cucinelli cotton/linen/silk cardigan with paillettes, Rag and Bone champagne leather five-pocket pants, Dolce & Gabbana silk leopard print scarf, Givenchy "Pandora" bag in grey, Christian Louboutin "Tosca" crisscross wedge sandal, Brunello Cucinelli knotted smokey quarts necklace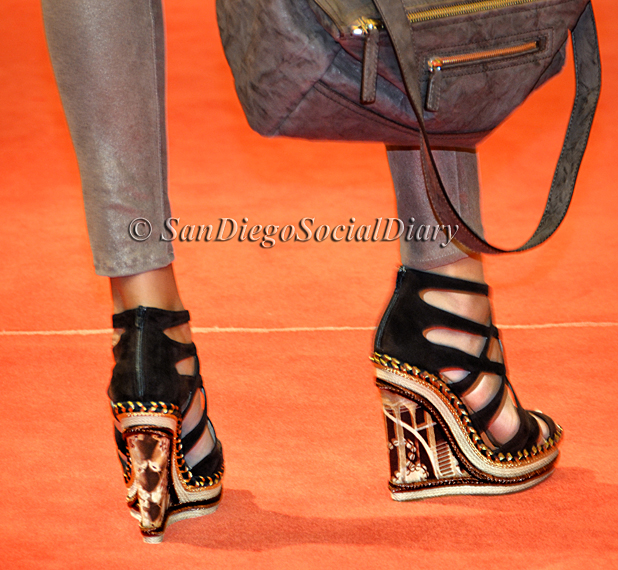 Christian Louboutin "Tosca" crisscross wedge sandal with batik-print fabric-covered wedge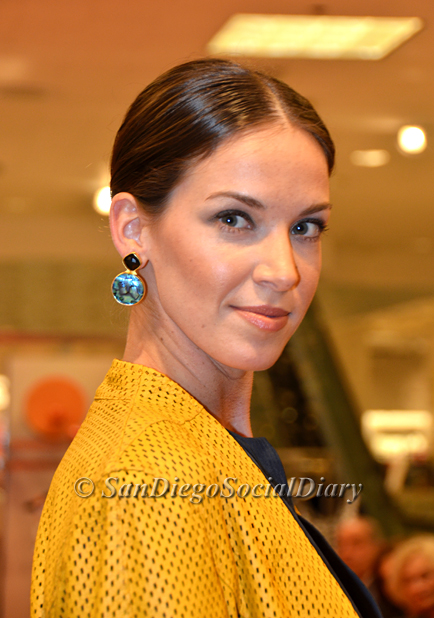 Dina Mackney onyx and abalone drop earrings, Escada curry perforated leather jacket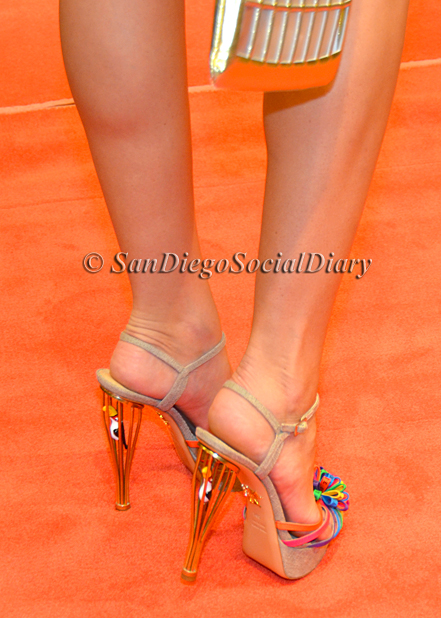 Charlotte Olympia "Birds of Paradise" cage-heel sandal with toucan miniature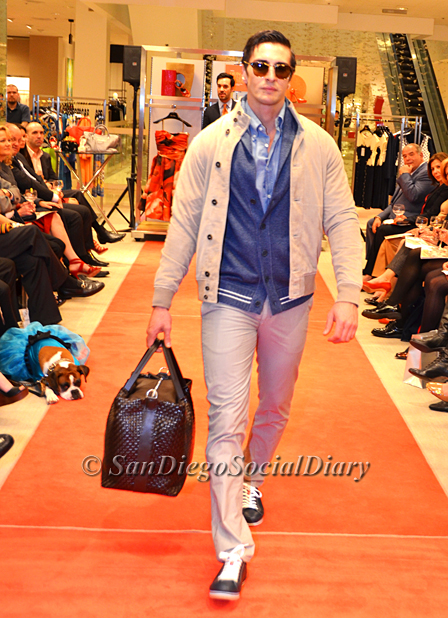 Peter Millar tan suede bomber jacket, Loro Piana slate cashmere shawl-collar cardigan, Brunello Cucinelli denim shirt, Theory pinstripe cotton trousers, Prada navy perforated leather sneakers, Tom Ford sunglasses, Salvatore Ferragamo dark brown woven leather weekender
Much more to come!!
Follow us on Twitter twitter.com/SocialDiaryMag
Follow us on Facebook facebook.com/#!/margo.schwab
More Social Diary Event Coverage ....HOME
reported and photographed by Margo Schwab
publishing support and photoshopping by Scott Johnston
Please join us for fun informative updates on Twitter and Facebook

The Town Gossip
We at San Diego Social Diary are proud to have known David Copley.... what a positive inspiration he was for animals, science, the arts, and literacy. We endeavor to carry on his tradition of quiet but important support for the community of San Diego and Southern California. We are truly inspired....Sincerely, Margo Schwab, Scott Johnston, and Kima!
Email Commentary to be added
email SDSocialDiary@gmail.com
* Margo Schwab, MBA, more formally known as Margaret E. Schwab, has produced, written, interviewed and photographed for various media organizations since 1989. Schwab attended Holton Arms School, La Jolla Country Day School and La Jolla High School. Schwab has a B.A. from Scripps College, spent a business internship with S.A.I.C., Science Applications International Corporation, and earned a Masters of Business degree, M.B.A., from the University of San Diego by way of Claremont Graduate School . Schwab additionally took college courses from Harvard University, and Syracuse University. Schwab volunteers for numerous charity organizations. She also continues to support animal organizations and the prevention of people and animal abuse. Schwab is the editor and co-owner of The Social Diary.
Margo Schwab and Scott Johnston of The Social Diary Magazine are pleased to announce a partnerships with the San Diego Humane Society and SD METRO Magazine. They have also partnered with Country Friends and the San Diego American Heart Association and the Arthritis Foundation.
Margo Schwab and Scott Johnston are both members of the La Jolla Beach & Tennis Club (Margo Schwab since 1974) and both are now members of the University Club and its worldwide ClubCorp Compass Society. Margo Schwab and Scott Johnston are Police Press credentialed by the Chief of Police, William Lansdowne.
San Diego's The Social Diary would like to say a special thank you to our advertisers.
KCM Group - Construction Management and Consulting Services
The Real Real - Luxury Designer Consignment
Bowers Fine Jewelry
ARTS - A Reason to Survive
HG Motorsports
Eclat Catering and Home Delivery by Chef Athanasia Ampelas
Donovan's - America's Best Steak & Chop House, Prime Seafood Too!
PAWS - Helping People Helping Pets
Helen Woodward Animal Center sponsored by Taylor Miller
San Diego Public Library Foundation
Rancho Coastal Humane Society
San Diego Humane Society
Hot Rock Jewelry
San Diego Museum of Art
Smaha Law - Estate and Business Attorney John Smaha
Animal Fashion by Jordan
Juelerie by Pamela Pogue
The Museum of Contemporary Art San Diego
Giuseppe Restaurants and Fine Catering
The University Club Atop Symphony Towers and ClubCorp
WineSellar & Brasserie - featuring the Gary Parker Wine Club
Cafe Milano on Pearl Street La Jolla
The Marine Room
Ark Antiques
The Animal Hospital of La Jolla
Eugene Ladopoulos of Mistra Estates Olive Oil
Warning ** photos, video and writing on this site are the
2013 copyright, all rights reserved, of The Social Diary LLC and its subsidiaries including San Diego Diario Sociales - Su Conexión Con la Sociedad, no reproduction of any part or parts is allowed without written permission by Social Diary Magazine