San Diego Social Diary LLC All rights reserved 2012 (This material may not be published, broadcast, rewritten or redistributed)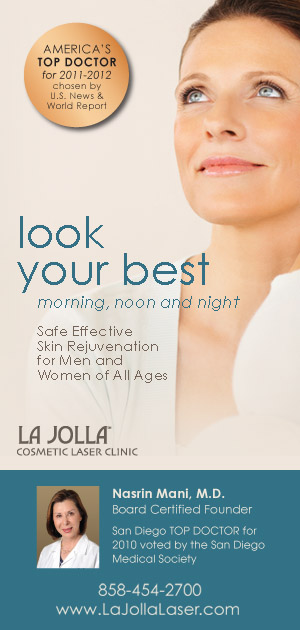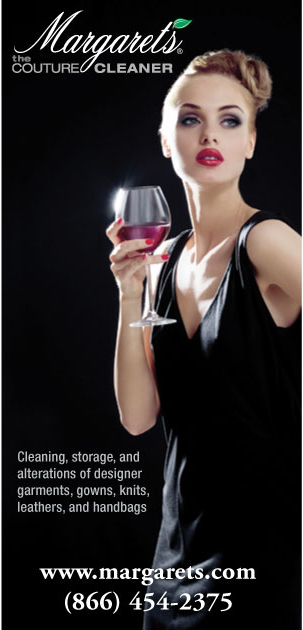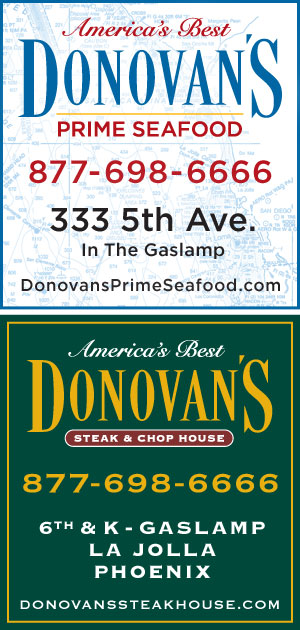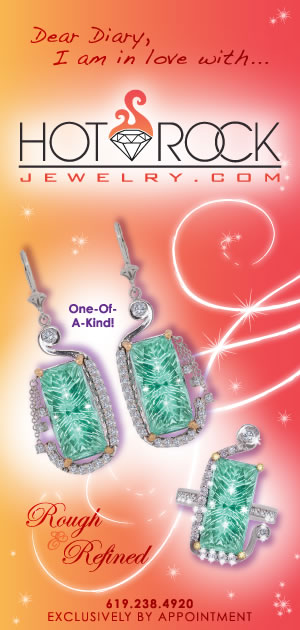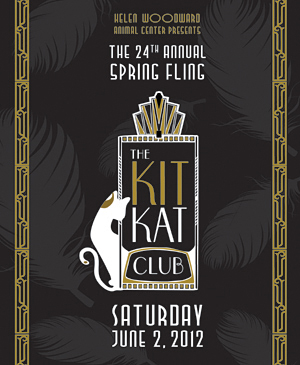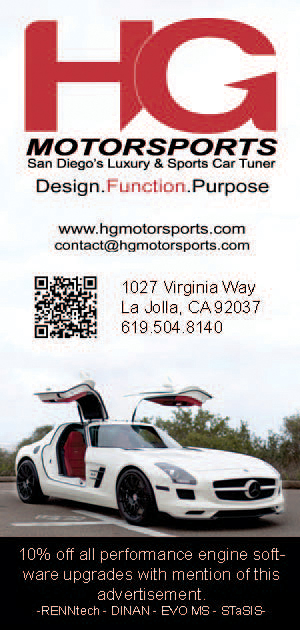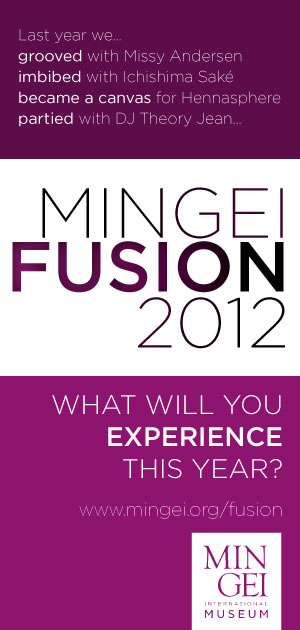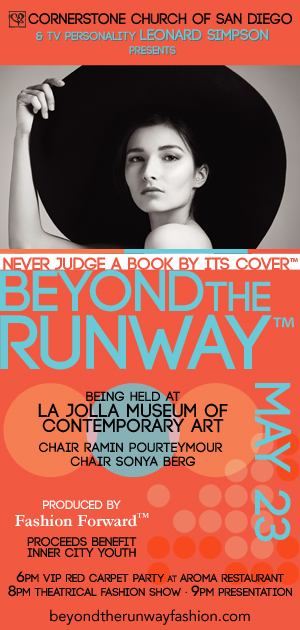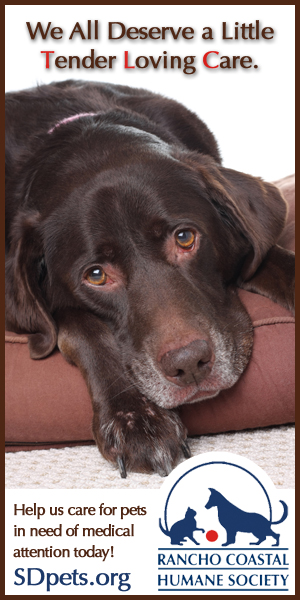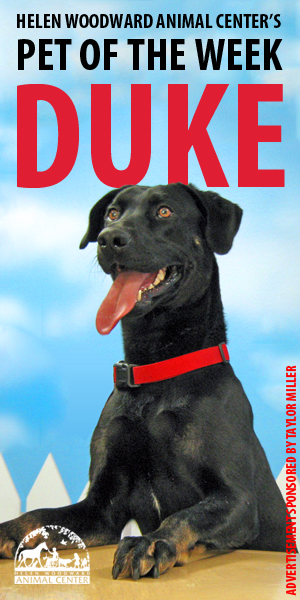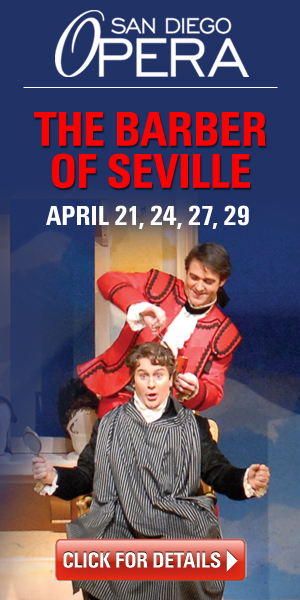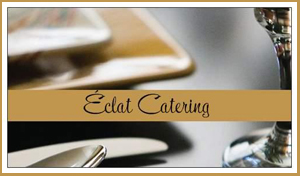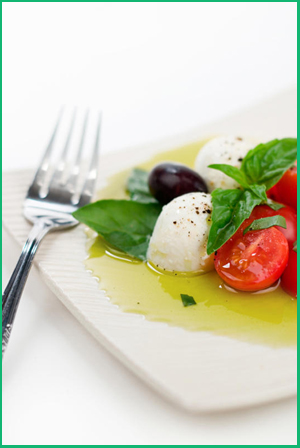 When Valentine's is every day...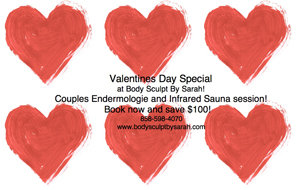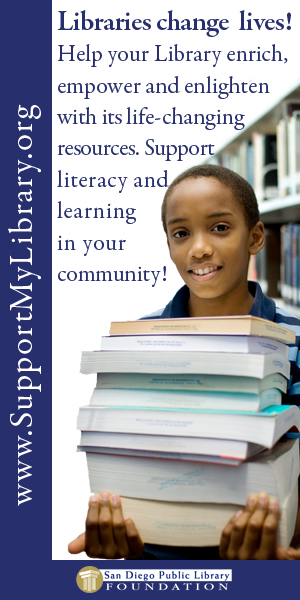 ________________________
Home and Business Security Consultation
Services by Scott Johnston
SDPD Offcr. (Ret.)
619-384-7333
_______________________
WineSellar & Brasserie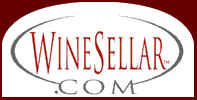 858-450-9557
featuring a New Menu!
_________________________
For Advertising, please
your inquiry.
Ask about how you can support your favorite organization!
_________________________
Where the locals dine
for Homemade Pastas, Raviolis, and Sauces
Cafe Milano
711 Pearl St, La Jolla
858- 454-3806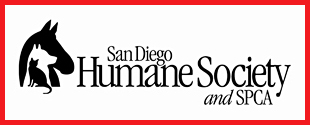 SpaSAN DIEGO HUMANE SOCIETY & SPCA
GAINES STREET CAMPUS
5500 GAINES STREET
SAN DIEGO, CA 92110
(619) 299-7012
www.sdhumane.org rky
with odogs or cats.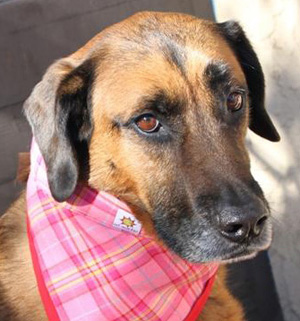 Breed: Shepherd Mix
Age: 6 years
Sex: Male
Colors: Tan/Black
Adoption Fee: $14
Identification number: 84709
Rocky's soulful eyes will melt your heart instantly! This sweet Shepherd mix knows how to relax and enjoy himself – whether snuggling by the side of a companion or a warm window.
ADOPTION HOURS
MON.-FRI.: 11 A.M. TO 6 P.M.
SAT. & SUN.: 11 A.M. TO 5 P.M.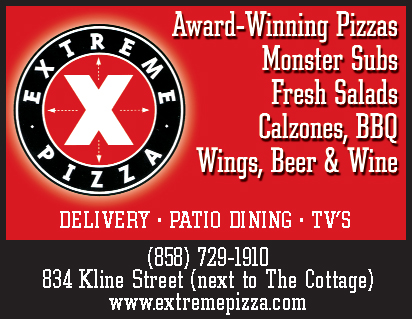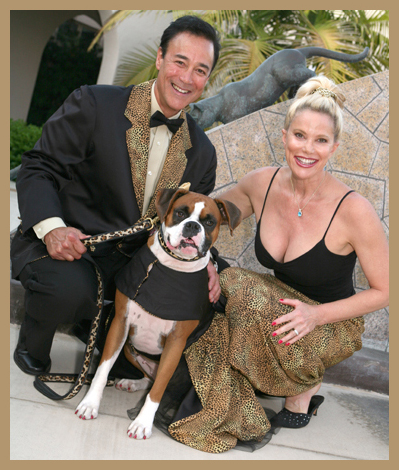 Scott Johnston, Margo Schwab and Kima serving up San Diego Social Coverage!
Scripps Spinoff Patron Party
More Social Diary Event Coverage ....HOME
Abeer and George Hage kindly opened their home and to Scripps Spinoff Patrons April 3rd, 2012.
With a fun Moroccan theme chosen, guests were wowed by the Hage's incredible hospitality, generosity, and their beautiful backyard gardens filled with lush tropical plants, a multitude of colorful parrots, and a culinary feast of desert delights laid out on long buffet tables.
Hosts George and Abeer Hage (photo credit Bob Ross)
Among the guests were generous patrons and sponsors including Sharon and Skeets Dunn, La Jolla Cosmetic Laser Clinic's Dr. Nasrin Mani and Dr. Jasmine McLeod, sponsor Tina Hage of TBolt, Amy and Dan Hughes from Coast Environmental, Congressman Darrell Issa and his wife Kathy (they are personal friends of the Hages'), Mary Beth Kellee, Dr. Michael Noon, Brad and Susanne Livingston, and Dr. Jim Sinclair and Dr. Mary Wilde.
Drs. Sinclair and Wilde are Scripps Cancer Center physicians. Two of the many terrific doctors and their teams who make the Scripps Cancer Center, Stevens Division one of the leading oncology centers in the region.
As such, this special evening was a prelude to the May 31st, 2012 Scripps Spinoff fundraiser which will be chaired by Abeer Hage.
This will be the 21st Annual Spinoff featuring incredible auction items. The evening will also honor the Ellen Browning Scripps Foundation. Fur further information please visit Scripps-Spinoff.org
Be advised strictly no downloading, publishing, broadcasting, printing, or copying of photos or content. Please email purchase requests of photos you are in.
Enjoy the Photos!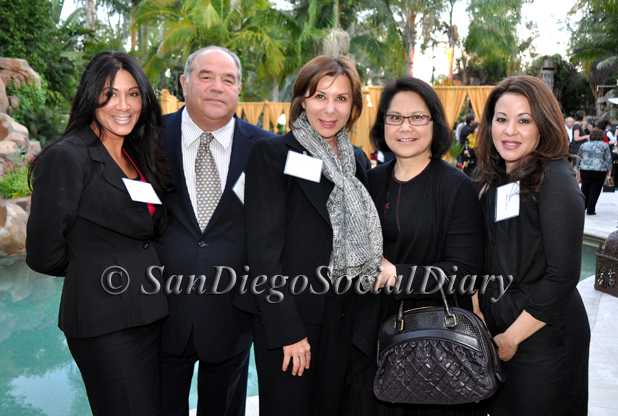 Dr. Darush Mohyi with La Jolla Cosmetic Laser Clinic's Karla Dutt, Dr. Nasrin Mani (named 'Top Doc' by U.S. News & World Report, Dr. Jasmine McLeod, and Wendy Angulo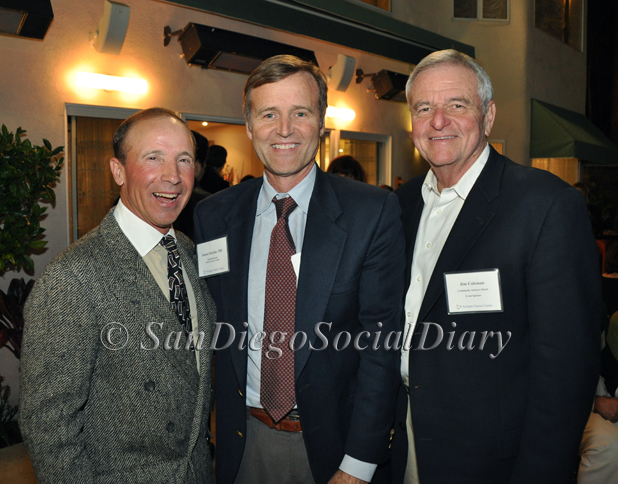 Skeets Dunn with Dr. Jim Sinclair and Jim Coleman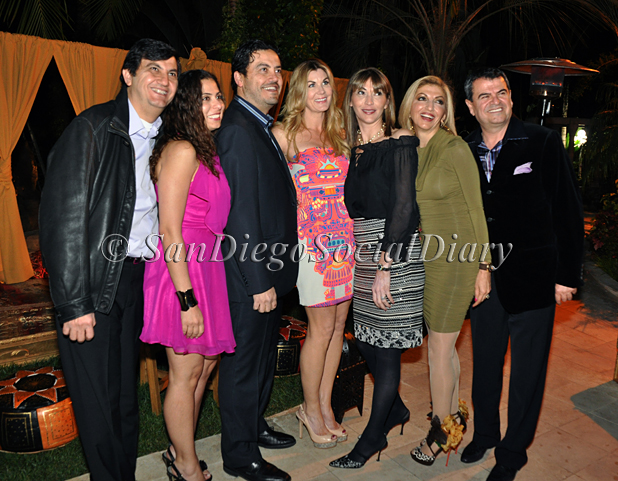 Khalid Risheq, Eman Risheq, Tareq Risheq, Michelle Risheq, Amal Risheq, and superb hosts Abeer and George Hage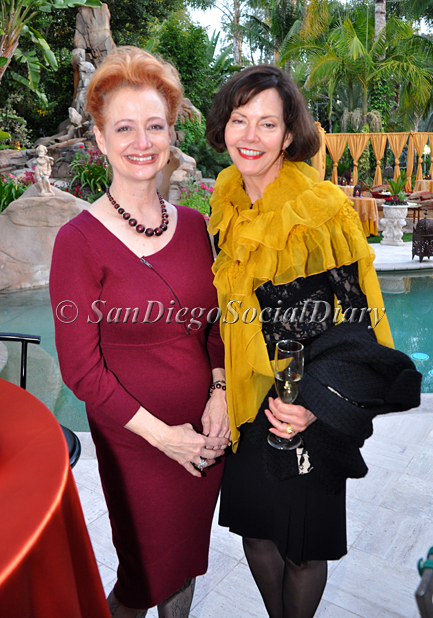 Sara Napoli, CEO of the San Diego Police Foundation, with Laurel McCrink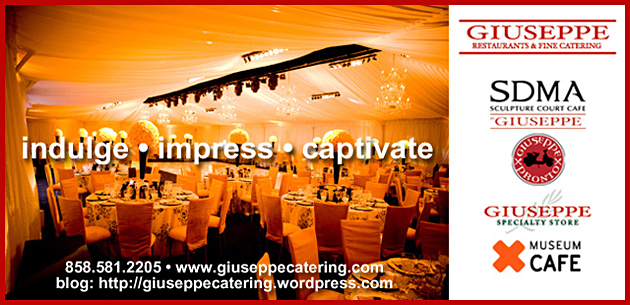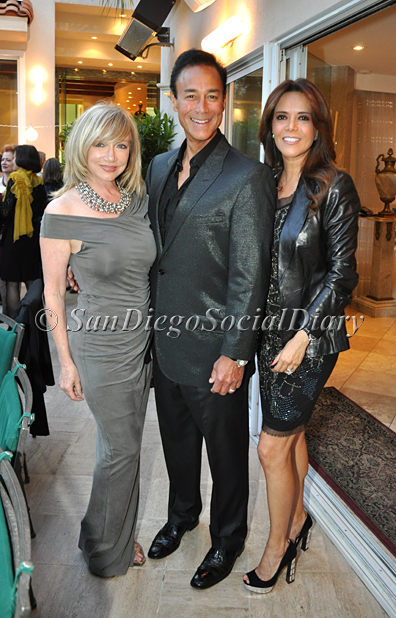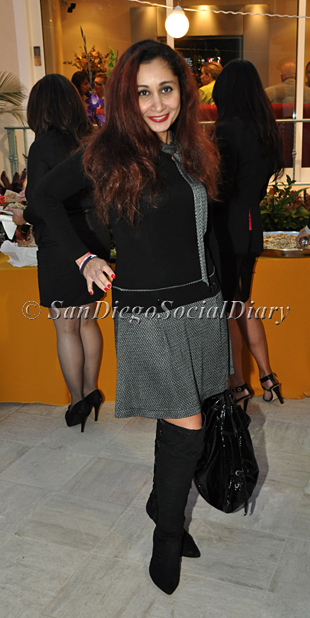 Lynda Kerr with Scott Johnston and Rocio Flynn ** Hanaa Hensersky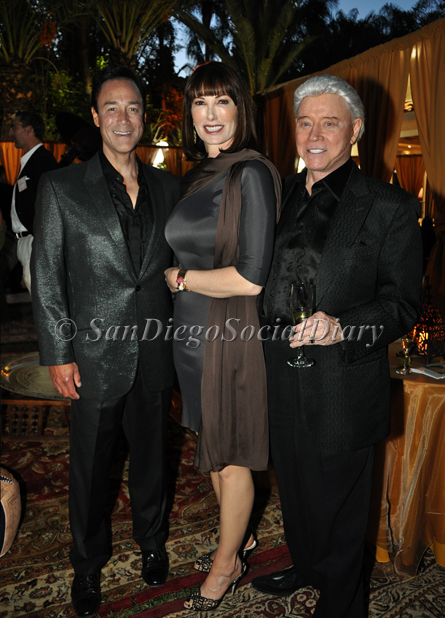 Scott Johnston with Valerie and Harry Cooper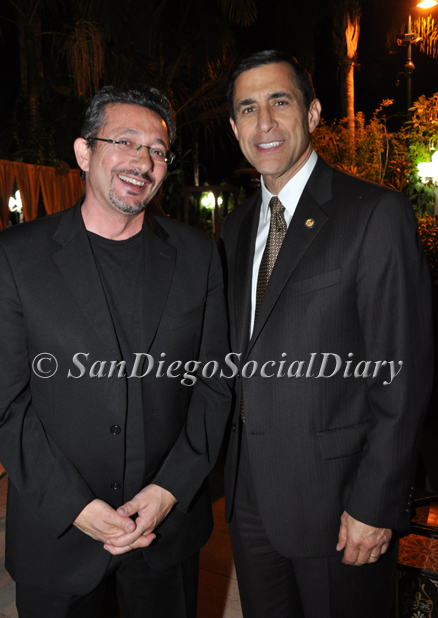 Ziad Batal with Congressman Darrell Issa
Loraine Levy with Hostess with the Mostest Abeer Hage and friend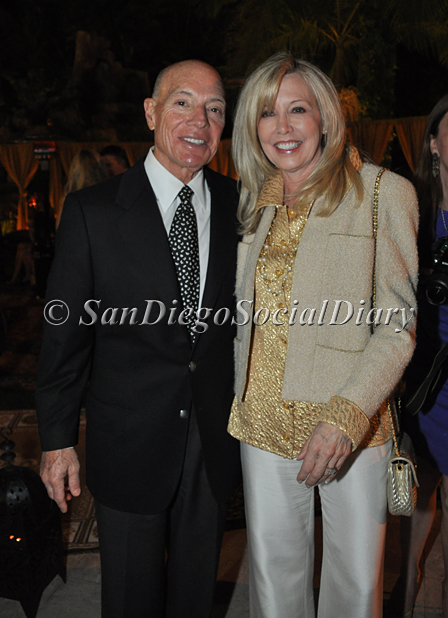 Allen and Kathy Glick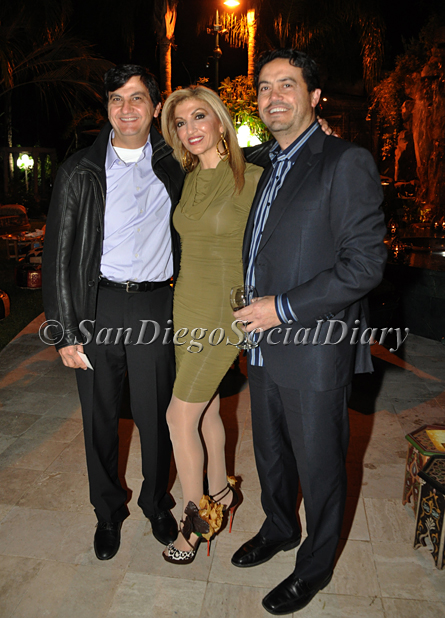 Abeer Hage with her brothers Khalid Risheq and Tareq Risheq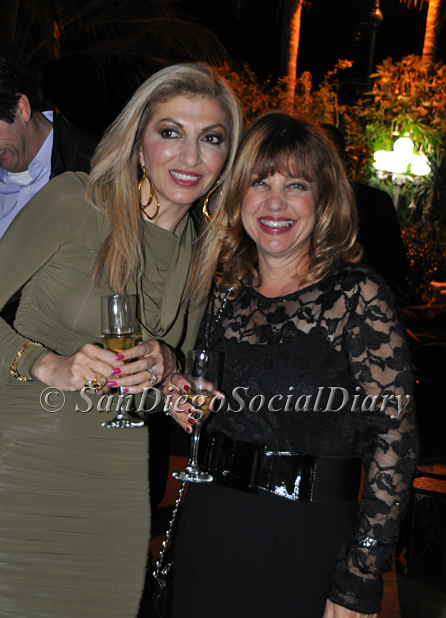 Abeer Hage and Loraine Levy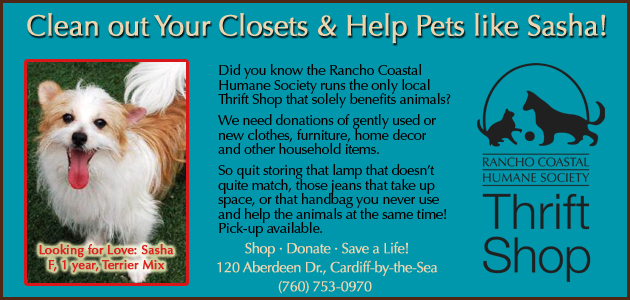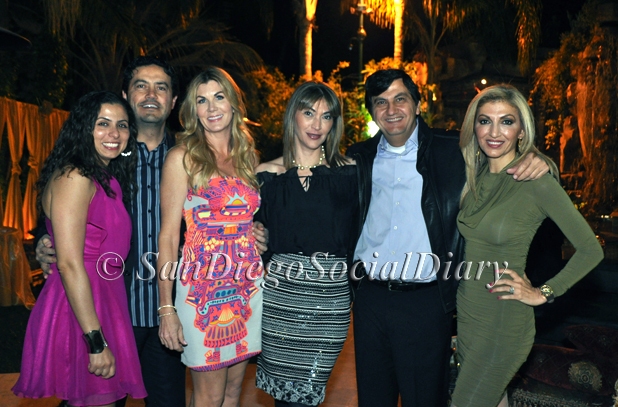 Eman Risheq, Tareq Risheq, Michelle Risheq, Amal Risheq, Khalid Risheq, and Abeer Risheq Hage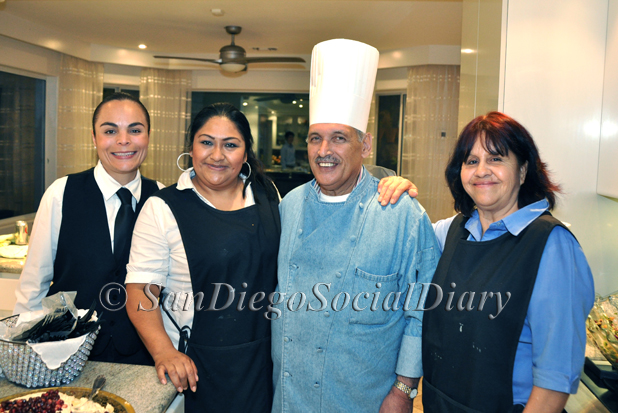 Chef Mohamed Kayal and his team... Chef Kayal used to be the King of Jordan's Chef!
Follow us on Twitter twitter.com/SocialDiaryMag
Follow us on Facebook facebook.com/#!/margo.schwab
More Social Diary Event Coverage ....HOME
reported and photographed by Margo Schwab
publishing support by Scott Johnston
Please join us for fun informative updates on Twitter and Facebook

The Town Gossip
Kima is putting together her team of supporters.... please inquire about the fun pre-event parties she will be hosting!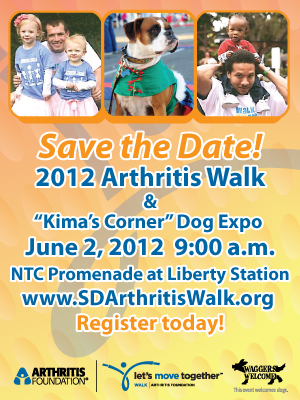 Email Commentary to be added
email SocialDiaryMagazine@Gmail.Com
* Margo Schwab, MBA, more formally known as Margaret E. Schwab, has produced, written, interviewed and photographed for various media organizations since 1989. Schwab attended Holton Arms School, La Jolla Country Day School and La Jolla High School. Schwab has a B.A. from Scripps College, spent a business internship with S.A.I.C., Science Applications International Corporation, and earned a Masters of Business degree, M.B.A., from the University of San Diego by way of Claremont Graduate School . Schwab additionally took college courses from Harvard University, and Syracuse University. Schwab volunteers for numerous charity organizations. She also continues to support animal organizations and the prevention of people and animal abuse. Schwab is the editor and co-owner of The Social Diary.
Margo Schwab and Scott Johnston of The Social Diary Magazine are pleased to announce a partnerships with the San Diego Humane Society and SD METRO Magazine. They have also partnered with Country Friends and the San Diego American Heart Association and the Arthritis Foundation.
Margo Schwab and Scott Johnston are both members of the La Jolla Beach & Tennis Club (Margo Schwab since 1974) and both are now members of the University Club and its worldwide ClubCorp Compass Society. Margo Schwab and Scott Johnston are Police Press credentialed by the Chief of Police, William Lansdowne.
San Diego's The Social Diary would like to say a special thank you to our advertisers.
Bowers Fine Jewelry
La Jolla Cosmetic Laser Clinic
ARTS - A Reason to Survive
Mingei International Museum
HG Motorsports
Motwani Lasik Institute
Kleege Industries - Production Staging and more
Eclat Catering and Home Delivery by Chef Athanasia Ampelas
Margaret's The Couture Cleaners
Donovan's - America's Best Steak & Chop House, Prime Seafood Too!
PAWS - Helping People Helping Pets
Helen Woodward Animal Center sponsored by Taylor Miller
H. Moradi Estate and Fine Jewelry on Prospect Street
The Arthritis Foundation San Diego County
Nicole Miller at The Forum
San Diego Public Library Foundation
Rancho Coastal Humane Society
San Diego Humane Society
Hot Rock Jewelry
San Diego Museum of Art
Heinz Geitz Autohaus
Estate and Business Attorney John Smaha
San Diego Opera
Animal Fashion by Jordan
Juelerie by Pamela Pogue
The Museum of Contemporary Art San Diego
Giuseppe Restaurants and Fine Catering
The University Club Atop Symphony Towers and ClubCorp
WineSellar & Brasserie - featuring the Gary Parker Wine Club
Cafe Milano on Pearl Street La Jolla
The Marine Room
Ark Antiques
Extreme Pizza in La Jolla
The Animal Hospital of La Jolla
Eugene Ladopoulos of Mistra Estates Olive Oil
Warning ** photos, video and writing on this site are the
2012 copyright, all rights reserved, of The Social Diary LLC and its subsidiaries including San Diego Diario Sociales - Su Conexión Con la Sociedad, no reproduction of any part or parts is allowed without written permission by Social Diary Magazine