San Diego Social Diary LLC All rights reserved 2011 (This material may not be published, broadcast, rewritten or redistributed)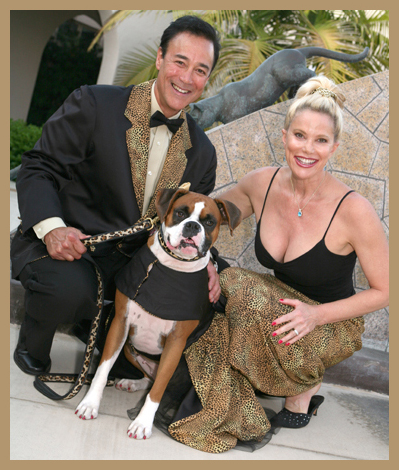 Scott Johnston, Margo Schwab and Kima!
Social Diary Magazine is affiliated with:
SD Metro Magazine,
La Jolla Patch division of AOL,
and LuxeGlobal
... we've got you covered!
Holiday December News
from Social Diary's Margo Schwab and Scott Johnston
More Social Diary Event Coverage ....HOME
As we immerse ourselves into the holidays, we would like to take a moment to thank all of our supporters. It is you who motivate us to deliver complete, articulate coverage of social events.
Holidays conjure many memories, the good, the funny, and perhaps the awkward.
I have a fond memory of my childhood at Christmas time. I was about 8 years old and my mother took me to visit Santa at Lord & Taylor's in Washington, D.C. Santa asked me what I wanted for Christmas and I told him a pen. He looked surprised and asked what else I would like. I said just a pen.
I really did want a pen of my own. I had no idea at that time that writing would be my future, but I sure wanted a pen. Any pen that I could call my own.
Scott has great memories as a child being very 'helpful' to his mother. Especially, if she was making something sweet in the kitchen.
Kima loves her stuffed Santa Frog. It plays "Here comes Santa Claus" when squeezed.
Sometimes the simple things are the best things.
Cheers to more happy memories for you this holiday season!
Best ** Margo and Scott… and Kima too!
SocialDiaryMagazine@gmail.com
Merry Christmas, Happy Hanukkah!
** photos, video and writing on this site are the
2011 copyright, all rights reserved, of The Social Diary LLC and its subsidiaries including San Diego Diario Sociales - Su Conexión Con la Sociedad, no reproduction of any part or parts is allowed without written permission by Social Diary Magazine