Debbie Turner and Conrad Prebys Host Opera Patron Party
More Social Diary Event Coverage ....HOME


January 14th, 2012 was a night of Opera season anticipation as San Diego Opera Patrons arrived to the exquisite San Diego home of Debbie Turner and Conrad Prebys.
As guests received a warm welcome from hosts Debbie Turner and Conrad Prebys, champagne flutes and toasts went round as Hyatt Regency La Jolla appetizers were tray passed. The sushi from Cafe Japengo was a hit among the gals readying up for their gowns for the January 28th Opera Gala!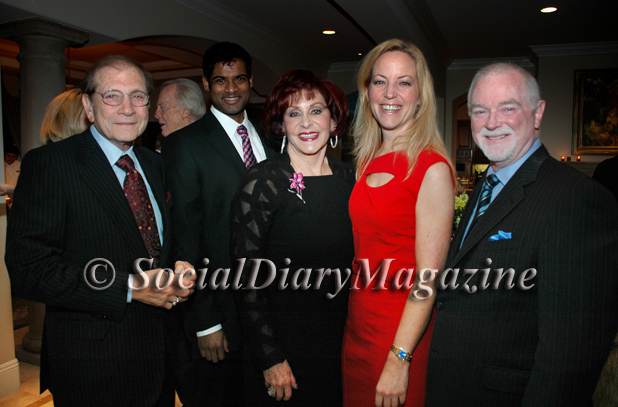 Matt Strauss with opera singer Sean Panikkar, Iris Strauss, opera singer Lise Lindstrom, and Ian Campbell
Among the patrons there were Raffaella and John Belanich, Claire Reiss, Iris and Matthew Strauss, Sally and John Thornton, Faye Wilson, Lynda and Rich Kerr, Alberta Feurzeig, Olivia Farrell, and the Lee's. That's Lee Clark and Jerry Pikolysky and Lee and Frank Goldberg.
More there included Karen Cohn, the President of the San Diego Opera Board of Directors, and Don Cohn, Valerie Cooper, Joan and Irwin Jacobs (the Jacobs just returned from a wonderful trip to South America), Sheila and Jeffrey Lipinsky, Mary Keough Lyman, Anne Otterson, Lori and Bill Walton, and Ann and Ian Campbell.
A featured draw to the evening were select arias performed by Salome opera stars Lise Lindstrom and Sean Panikkar. They were accompanied by pianist Dr. Nic Reveles, and they were bravo'd and loudly applauded at the end of each aria.
A grand evening for opera patrons including fun moments of the opera stars wanting photos with basketball Hall of Famer Bill Walton.
Rumor is that Bill Walton might be a supernumerary in an upcoming opera. At 7 feet tall-ish.... We think you will be able to spot him on stage!
Be advised strictly no downloading, publishing, broadcasting, printing, or copying of photos or content. Please email purchase requests of photos you are in.
Enjoy the Photos!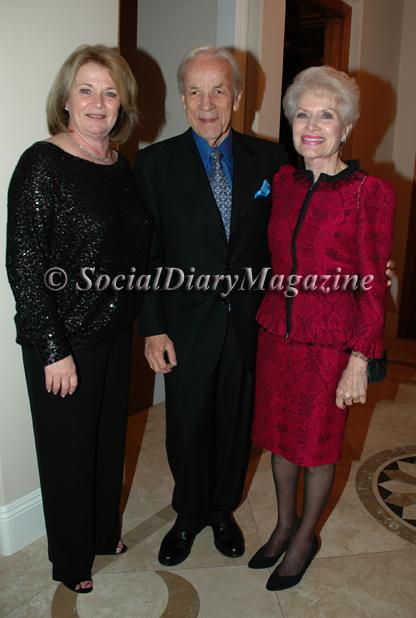 Hosts Debbie Turner and Conrad Prebys with Alberta Feurzeig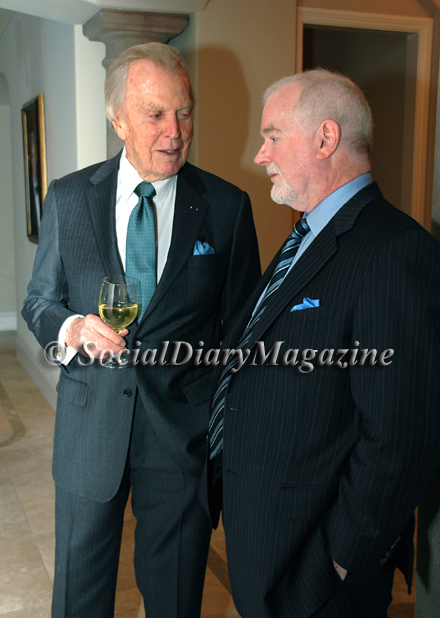 Don Breitenberg with Ian Campbell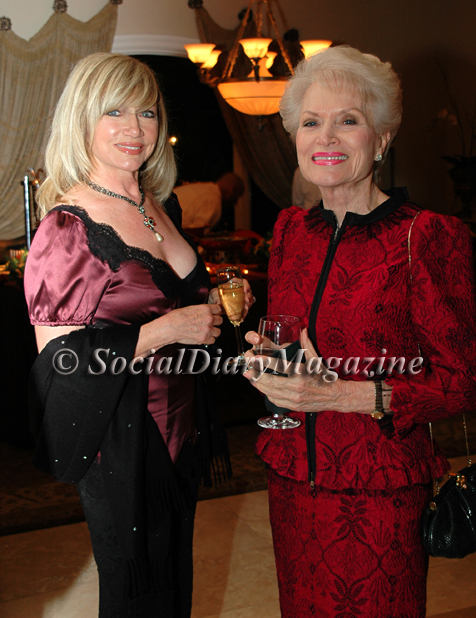 Lynda Kerr with Alberta Feurzeig
__________________________________________________________________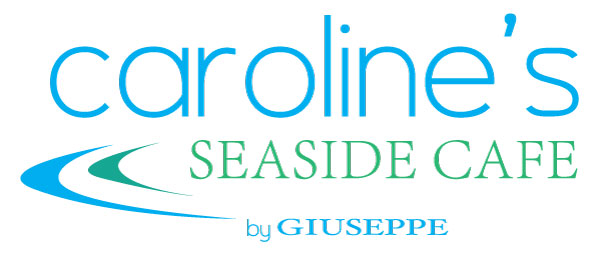 _________________________________________________________________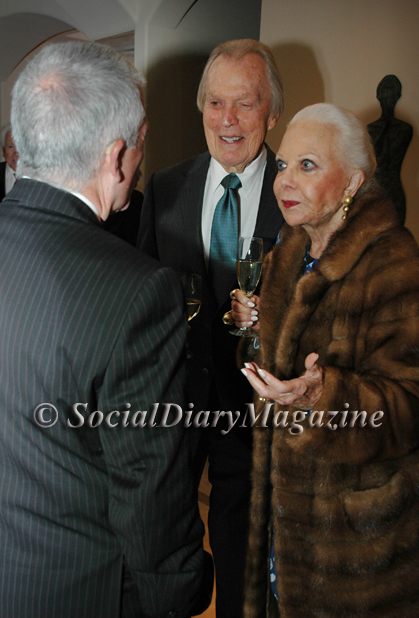 Ian Campbell in conversation with Don Breitenberg and Jeanne Jones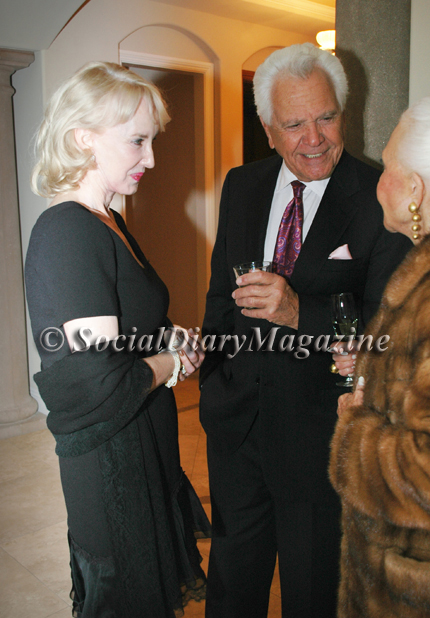 Mary Lyman with Don Cohn and Jeanne Jones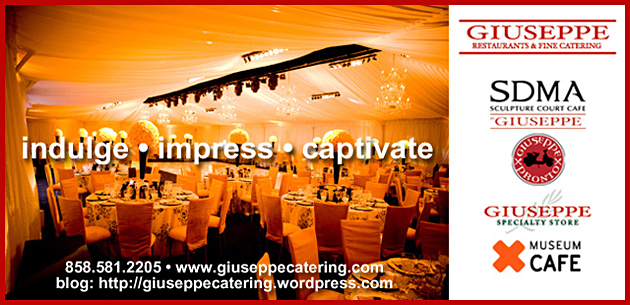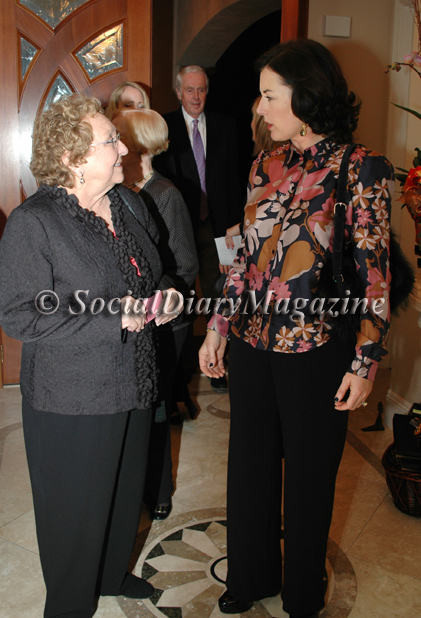 Faye Wilson and Olivia Farrell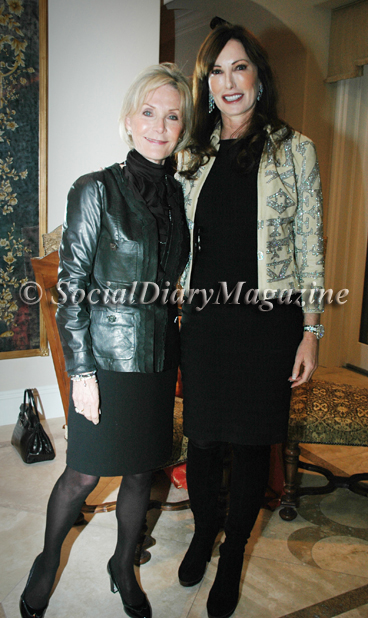 Lee Clark and Valerie Cooper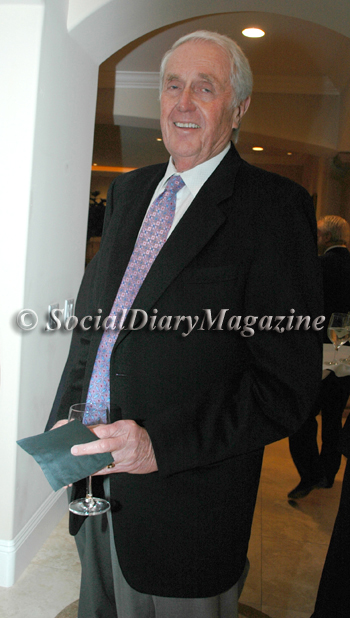 Harvey White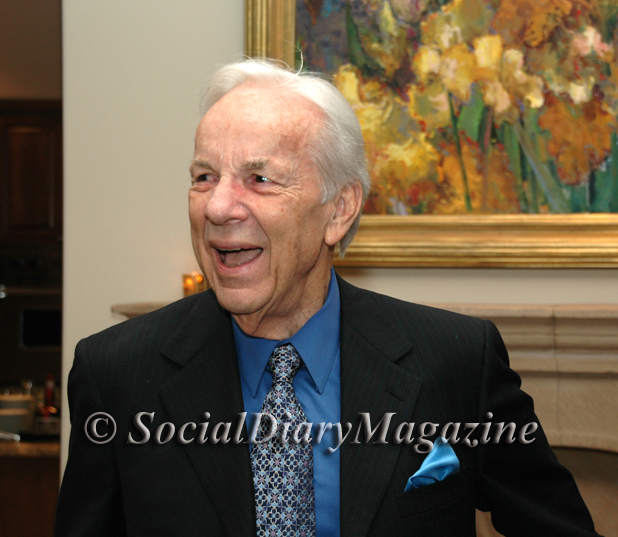 Conrad Prebys getting a laugh out of a Jerry Pikolysky story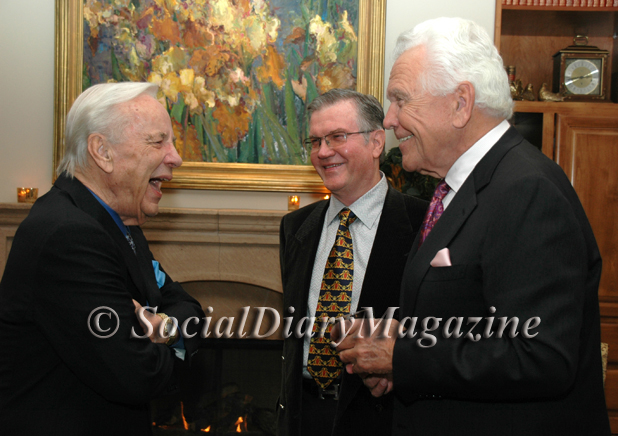 Conrad Prebys, still laughing, with Jerry Pikolysky and Don Cohn ... everyone laughing...must have been a good story Jerry....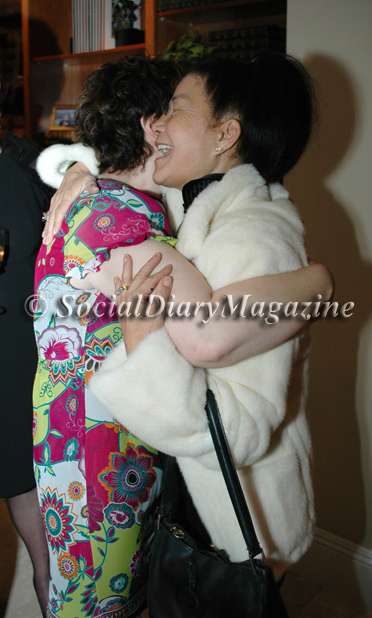 Claire Reiss getting a big hug from Ann Campbell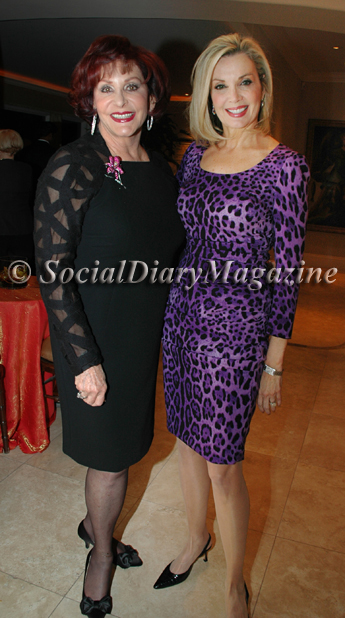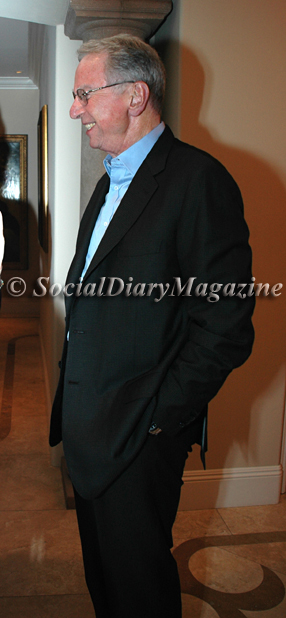 Iris Strauss and Karen Cohn ** Irwin Jacobs aka "Mr. Q for Qualcomm!"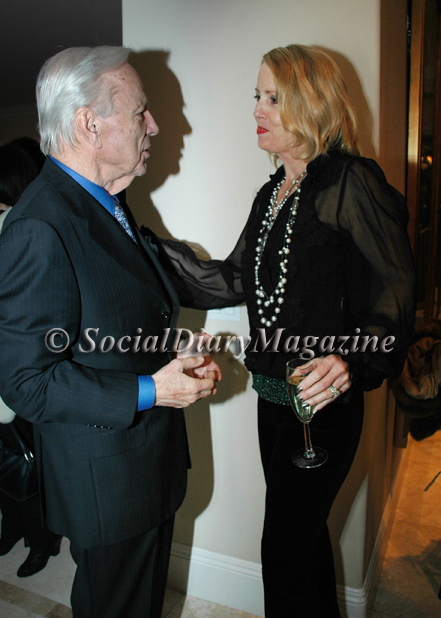 Conrad Prebys greeting Sheryl White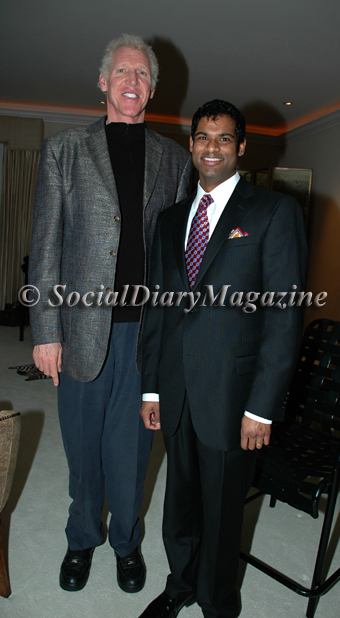 Bill Walton with Sean Panikkar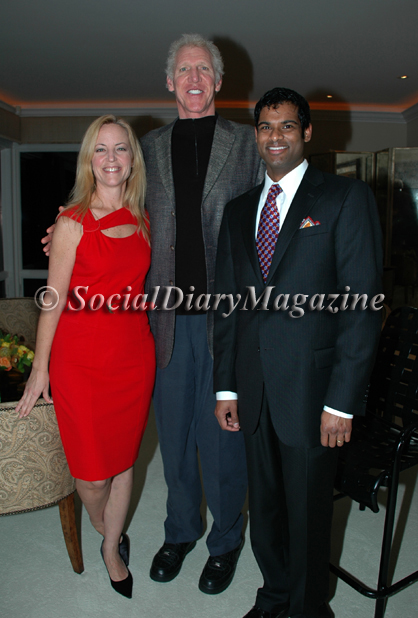 Lise Lindstrom, with Bill Walton, and Sean Panikkar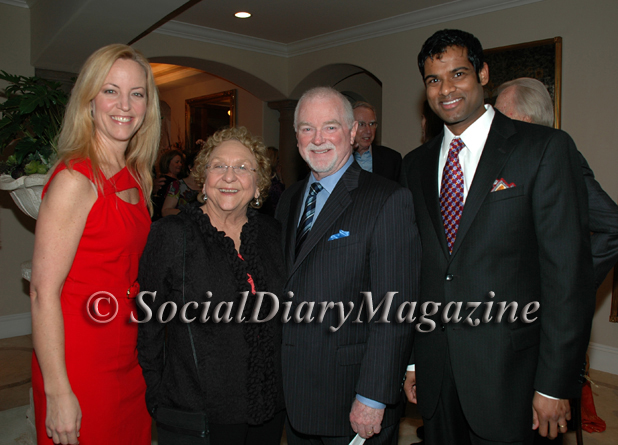 Lise Lindstrom, with Faye Wilson, Ian Campbell, and Sean Panikkar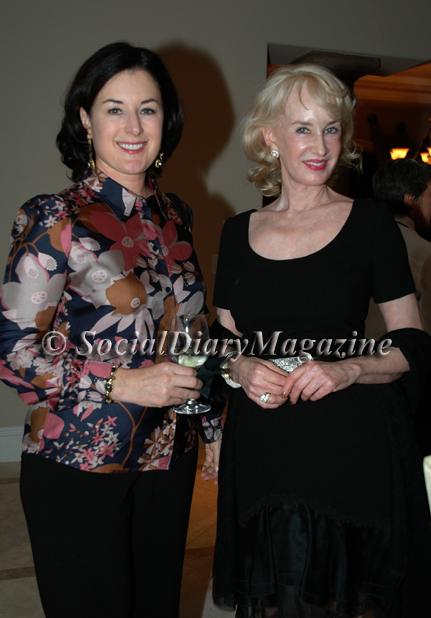 Olivia Farrell with Mary Lyman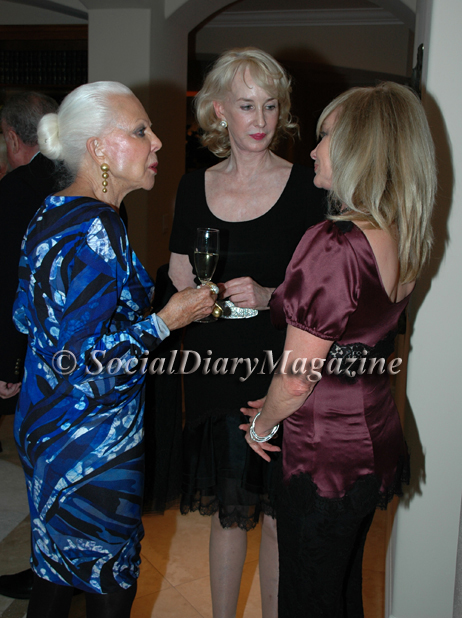 Girl Talk - Jeanne Jones with Mary Lyman and Lynda Kerr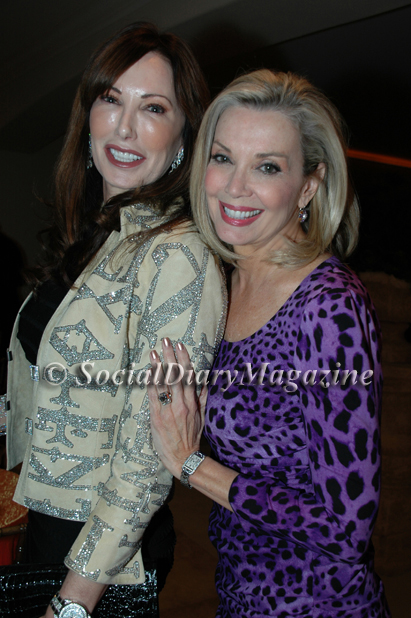 Above and Below, Valerie Cooper and Karen Cohn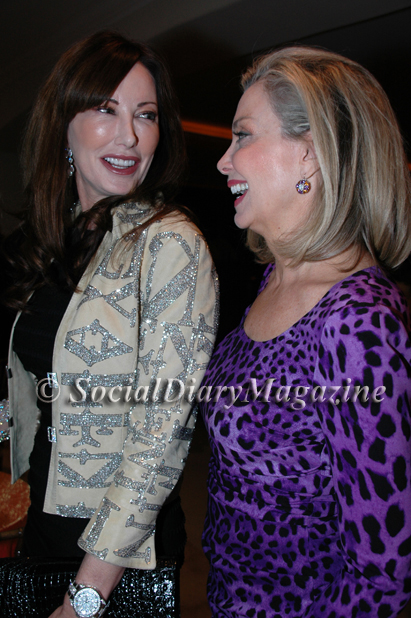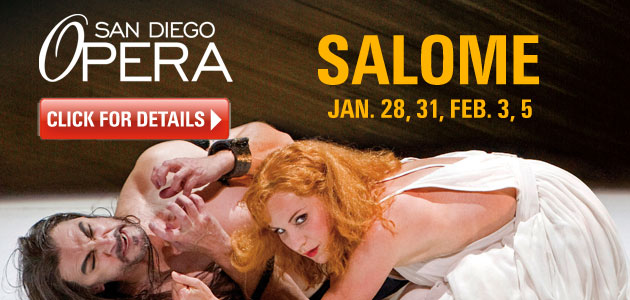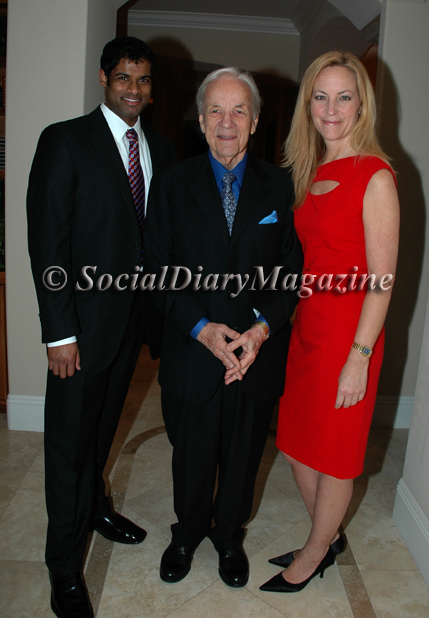 Host Conrad Prebys flanked by opera stars Sean Panikkar and Lise Lindstrom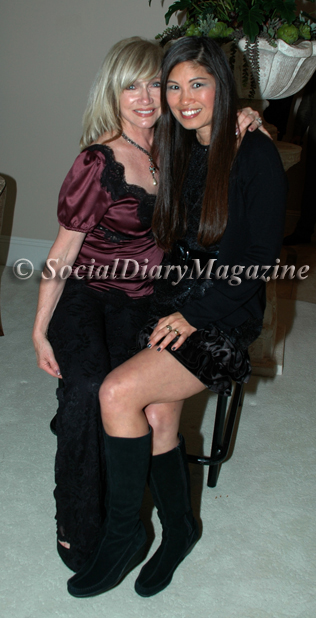 Lynda Kerr and Lori Walton in Bill Walton's custom, comfy chair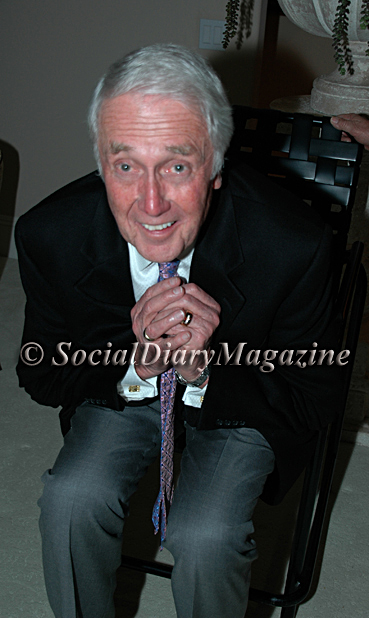 Harvey White exhibiting his priceless sense of humor!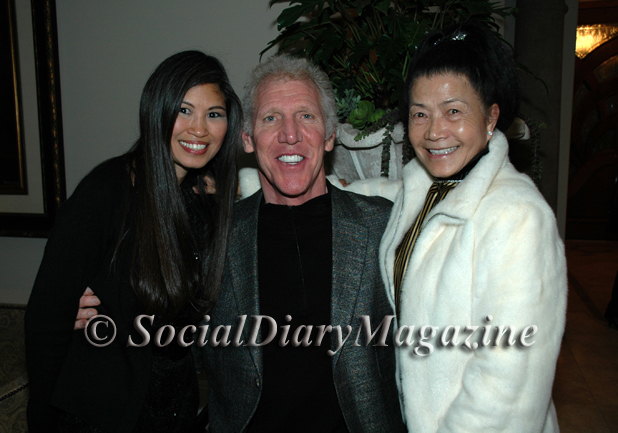 Lori and Bill Walton with Claire Reiss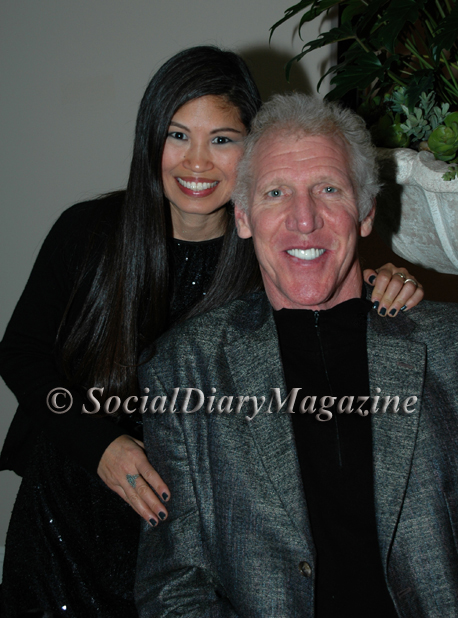 Lori and Bill Walton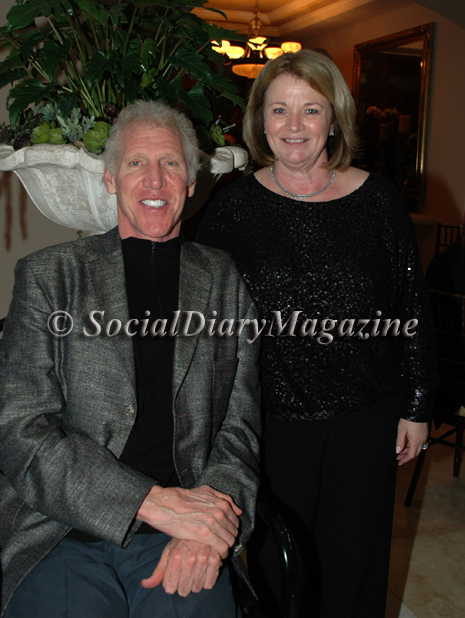 Bill Walton with Debbie Turner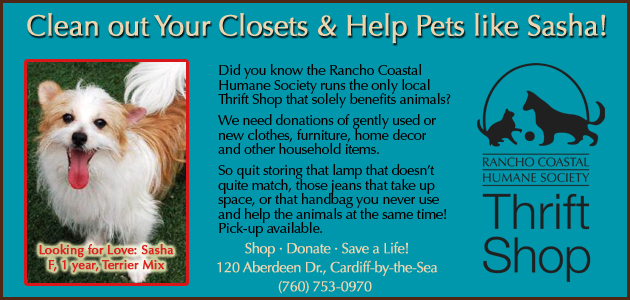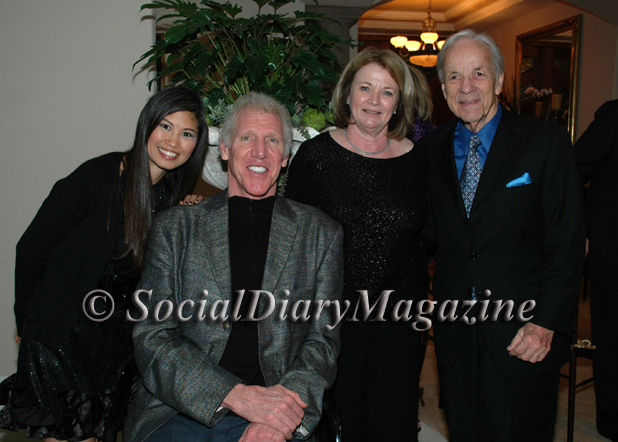 Above and Below, photo fun with Lori and Bill Walton, and Debbie Turner and Conrad Prebys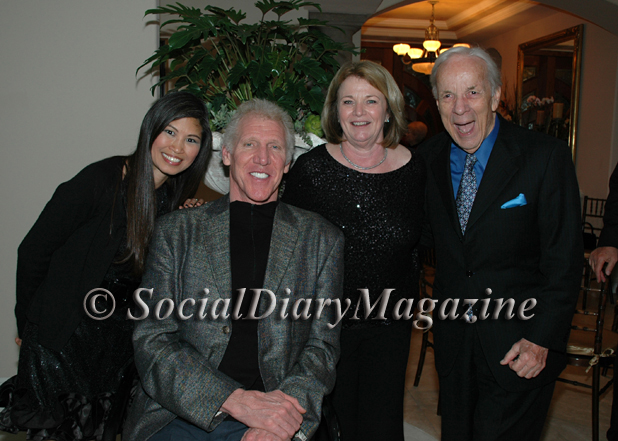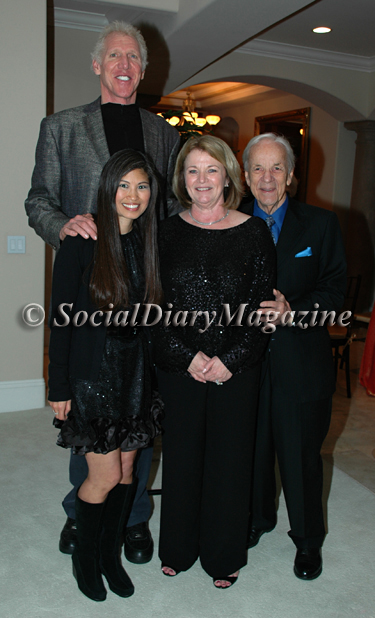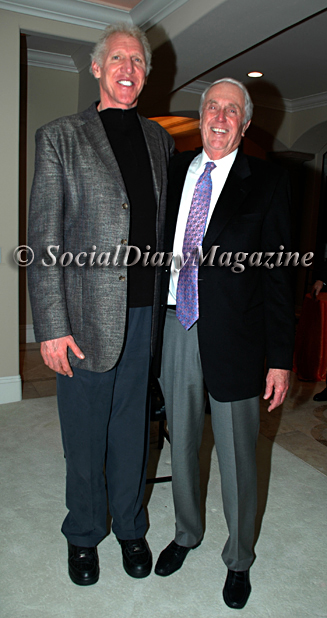 This just shows how tall Harvey White as he poses next to Bill Walton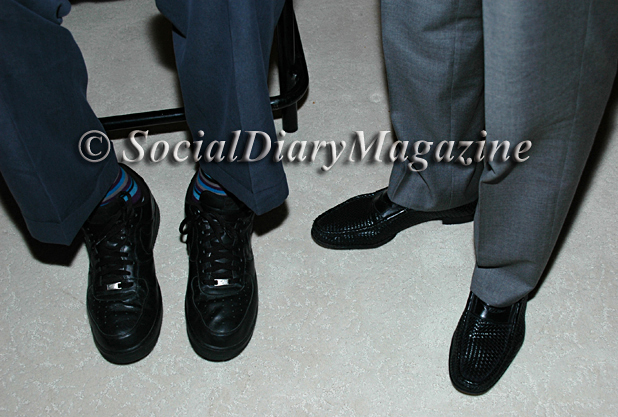 Bill Walton shoe size 17 on the left, Harvey White 15??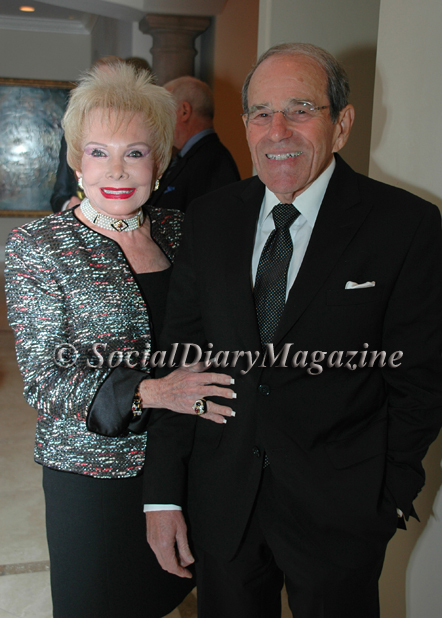 Pretty and petite Lee Goldberg and Frank Goldberg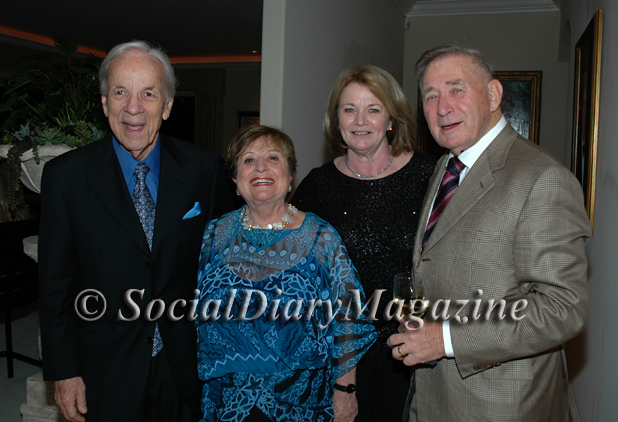 Conrad Prebys with Raffaella Belanich (in Zandra Rhodes), Debbie Turner, and John Belanich
More Social Diary Event Coverage ....HOME
reported and photographed by Margo Schwab
web technical support by Scott Johnston
Please join us for fun informative updates on Twitter and Facebook

The Town Gossip
Cool event helping to feed children in need... helping to provide children with backpacks of nutritious food for the weekends when they otherwise would go hungry...... Bravo!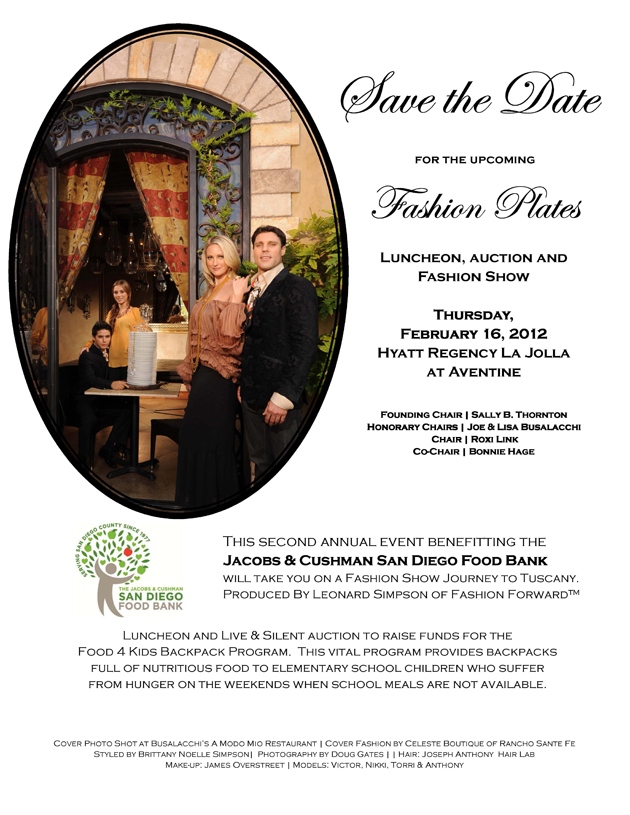 Big Sale starting today at
Nicole Miller!!
Email Commentary to be added
email TheSocialDiary.com
* Margo Schwab, MBA, more formally known as Margaret E. Schwab, has produced, written, interviewed and photographed for various media organizations since 1989. Schwab attended Holton Arms School, La Jolla Country Day School and La Jolla High School. Schwab has a B.A. from Scripps College, spent a business internship with S.A.I.C., Science Applications International Corporation, and earned a Masters of Business degree, M.B.A., from the University of San Diego by way of Claremont Graduate School . Schwab additionally took college courses from Harvard University, and Syracuse University. Schwab volunteers for numerous charity organizations. She also continues to support animal organizations and the prevention of people and animal abuse. Schwab is the editor and co-owner of The Social Diary.
Margo Schwab and Scott Johnston of The Social Diary Magazine are pleased to announce a partnerships with the San Diego Humane Society and SD METRO Magazine. They have also partnered with Country Friends and the San Diego American Heart Association and the Arthritis Foundation.
Margo Schwab and Scott Johnston are both members of the La Jolla Beach & Tennis Club (Margo Schwab since 1974) and both are now members of the University Club and its worldwide ClubCorp Compass Society. Margo Schwab and Scott Johnston are Police Press credentialed by the Chief of Police, William Lansdowne.
San Diego's The Social Diary would like to say a special thank you to our advertisers.
Eclat Catering and Home Delivery by Chef Athanasia Ampelas
The Arthritis Foundation
Nicole Miller at The Forum
San Diego Public Library Foundation
Rancho Coastal Humane Society
San Diego Humane Society
Heinz Geitz Autohaus
Estate and Business Attorney John Smaha
Bowers Fine Jewelry
San Diego Symphony
San Diego Opera
Lizz Russell Couture Designed Gowns and Purses
Diana Cavagnaro's Designer Millinery
Animal Fashion by Jordan
Juelerie by Pamela Pogue
The Museum of Contemporary Art San Diego
Giuseppe Restaurants and Fine Catering
The University Club Atop Symphony Towers and ClubCorp
WineSellar & Brasserie - featuring the Gary Parker Wine Club
Cafe Milano on Pearl Street La Jolla
Extreme Pizza in La Jolla
The Animal Hospital of La Jolla
Eugene Ladopoulos of Mistra Estates Olive Oil
Warning ** photos, video and writing on this site are the
2012 copyright, all rights reserved, of The Social Diary LLC and its subsidiaries including San Diego Diario Sociales - Su Conexión Con la Sociedad, no reproduction of any part or parts is allowed without written permission by Social Diary Magazine