~ the Social Diary ~
the on-line magazine covering High Society ..& more
updated daily...
____________________________________________________________
Las Patronas Divvies Out Well Deserved Dollars for San Diego Causes

January 20th, 2006
the Social Diary Columnist & Photographer Margo Schwab
The formidable Las Patronas (LP) group of women held more than a luncheon January 18th, 2006 at the La Jolla Beach & Tennis Club. It was a day of fulfilling the giving process from the August 6th, 2005 Jewel Ball's net fundraising efforts. This was a day to hand over big checks to deserving San Diego organizations in need. Something close to every LP gal's heart.
Over $1 million dollars is being funneled back into San Diego beneficiaries from the 2005 Jewel Ball. Monies to major beneficiaries will provide:
a rubberized safety surface for the Child Abuse Prevention Foundation's playground, a new kitchen for sustenance and education for the homeless and at-risk youth at the Monarch School Project, audio visual equipment and instructional DVD's in English and Spanish for the National City Public Library, a forklift for transferring food for the San Diego Food Bank, two highly customized Motomed cycles used in the rehabilitation of neuromuscular ill and injured patients at the Sharp Rehabilitation Service, state-of-the-art video projector for the Eveoke Dance Theatre, lighting and essential ventilation and air conditioning equipment for the La Jolla YMCA Performing Arts Center at the Firehouse, a 10 passenger van for the San Diego County Special Olympics, and special computer equipment to aid low-vision students at the Vision of Children Foundation.
Also recognized as beneficiaries at this luncheon were the Alpha Project for the Homeless, the Whittier Institute for Diabetes and Walden Family Services.
This all happenned thanks in big part to the wonderful support of Landmark Bank, Sheila and Larry Combe of Bowers Jewelers (this year's recipients of the 2005 Spirit of Giving Award), Sami Ladeki of Ladeki Restaurants including Fresh, Blackhorse Grille, Roppongi's and Sammy's Woodfired Pizzas, Adam Day and Anita Bye of the Sycuan Band of the Kumeyaay Nation, the Jewel Ball patrons Dianne and Jim Bashor, Bill Kellogg and the La Jolla Beach & Tennis Club, and the 365 day a year support from Las Patronas.
Among the many LP ladies who show team work works are: the 2005 Jewel Ball Co-Chairs Carol Walter and Terry Cooper, 2005 LP President Teresa Hixson, Jeanne Larson of The Collector Fine Jewelry, Vicky Eddy, Joby Bakken, Sarah Burton, Dede Carlson and Sue Kalish (they just Chaired the recent Women Together luncheon), Lisa Casey, newlywed Kerri Smith (she married her own handsome version of Brad Pitt of Mr. and Mrs. Smith), and Claudia Johnson of www.exclamationsgifts.com .
2005 Jewel Ball Chairperson Dawn Kearney has personal reasons to applaud one beneficiary in particular. Sharp Rehabilitation has been a gem for Dawn's son Jonathan Kearney. Jonathan was in a critical accident one month after the Jewel Ball in 2005. Through the dedicated support of Dawn's family, friends, and a team of doctors and specialists at Sharp, Jonathan has recovered remarkably well.
Please visit www.laspatronas.org to learn more about The Jewel Ball, its complete listings of beneficiaries, and news about the upcoming Club 6-oh Jewel Ball. Visit Jewel Ball 2005 for a look back at last year's event.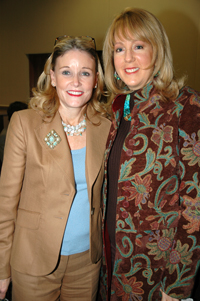 Warning ** photos, video and writing on this site are the
copyright of the author, the Social Diary, San Diego Social Diary, margomargo.com and Margo Schwab.
no reproduction of any part or parts is allowed without written permission by Margo Schwab