www.arthritis-sandiego.org/walk
Kima on Facebook! & Kima's Fan Page & Kima on Kintera!
p.s. Kima would like to thank Elaine and Don Erlich for signing up this week for the Arthritis Walk!
_______________________________________________________________________________________________________________________

all photos and content are the strict copyright 2009 of TheSocialDiary.com
no downloading!! photos are available for purchase if it is of you!
Neiman Marcus Serves Up Fashionable Breakfast for Las Patronas
Think femine and elegant with a touch of exotic and sexy and you have the informal modeling show presented by Neiman Marcus for the ladies of Las Patronas May 21st, 2009.
Over sips of mimosas and nibbles of quiche and Neiman Marcus's famous popovers, Las Patronas members savored each bite and each view of possible gowns to wear to this year's Jewel Ball. That's the Jewel Ball that they organize to raise important dollars for selected San Diegan organizations.
The models came through with more moderately priced Dress Collections from Sue Wong, Nicole Miller, David Meister, Marchesa Notte, and Badgley Mischka Platinum, mixed in with very collectible couture from Andrew Gn, Oscar de la Renta, Carolina Herrera, Angel Sanchez, Marchesa, MoniqueLhuillier, Naeem Khan, Ranjana Khan, Redux, and Talbot Runhof.
Yes you saw the Khan name twice. Naeem Khan is known for his textile rich designs, while his wife Ranjana had been known for her jewelry line. But now she designs dresses as well.
Guests were wowed. Among them Barbara ZoBell did a good lookover on the details, and all raved at the designs.
The designs were in good company too. Chandelier earrings, statement cuff bracelets and rings were big. Literally. Jewelry ccessories for this showing were by Barrera, M.C.L, Stephen Dweck, Ippolita, David Yurman, and Alexis Bitar.
All the shoes were by Rene' Caovilla. And they were gorgeous!
Among the mix there were LP Presidend Lydia McNeil, Elaine Murphy, Wendy Segall, Barbara Mulligan, Monique Grey, Terry Kelly, and Micki Olin.
The Las Patronas gals also got down to business before serious shopping. 2010 Chair, Lise Wilson was announced, along with her Co-chairs, Lisa Albanez and Kristi Pieper.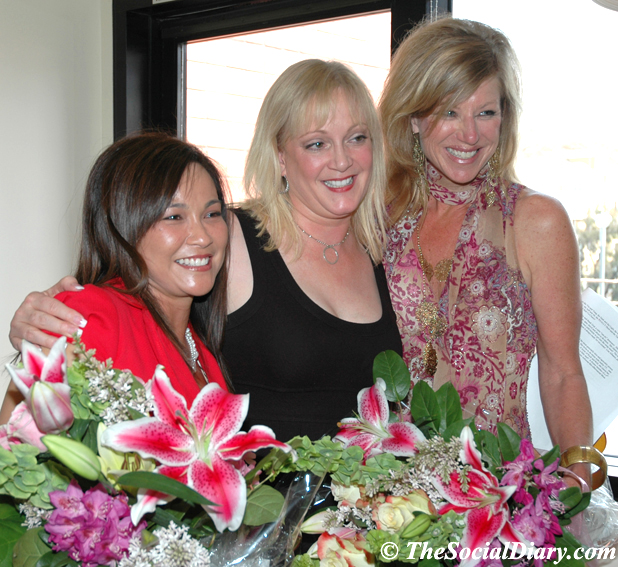 Lisa Albanez, with Lise Wilson and Kristi Pieper.
First things first. This year's Jewel Ball is themed Silk and Spice with Jennfer Greenfield as the 'Spice Chair,' and Co-Chairs, Laurie Allen and Sallie Warren.
The August 8th evening promises to be fun for a great cause.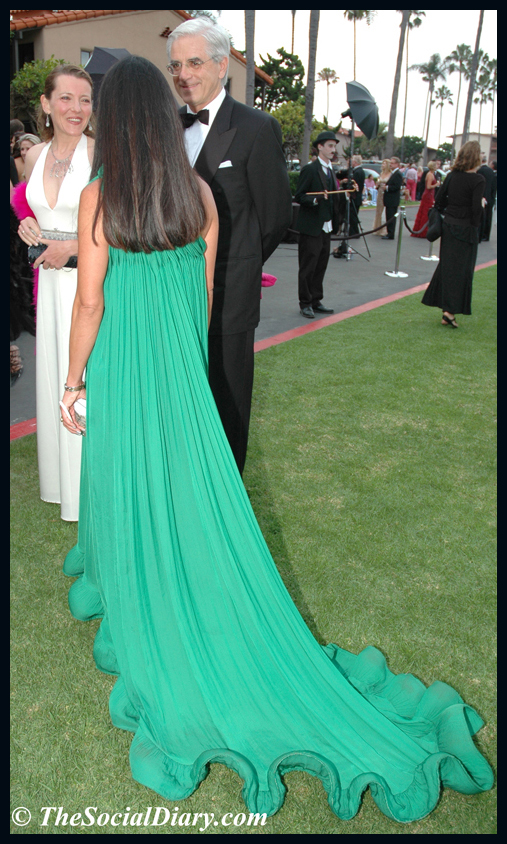 And what will Spice Chair Jennifer Greenfield wear this year to top this Lanvin gown? Stay tuned....
For Jewel Ball ticket and beneficiary information, please visit www.laspatronas.org
Enjoy the photos!

Terry Kelly ** LP members going up the escalator to the third floor Zodiac Restaurant
Special Guest and Social Diary aide de camp Kari Whiteley with a hint for her husband...shoes! ** Beautiful Rene' Caovilla shoes!
Enjoy the Fashion Show by Neiman Marcus!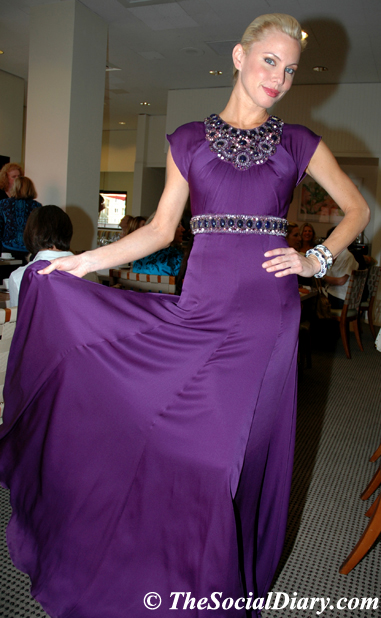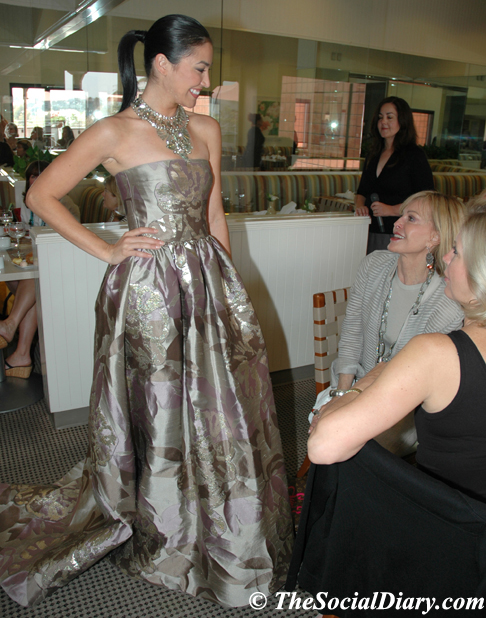 On the way out, fine china / table displays. The china is designed by Anna Weatherly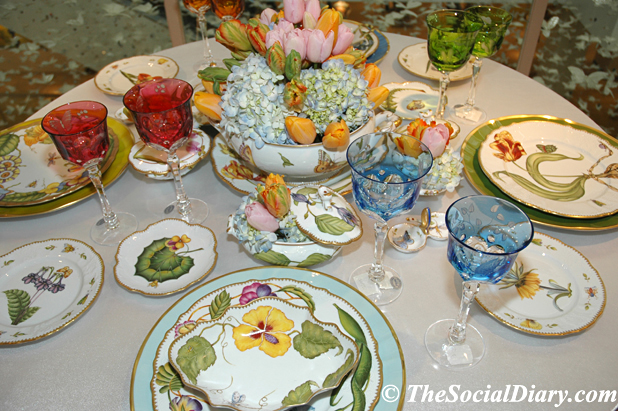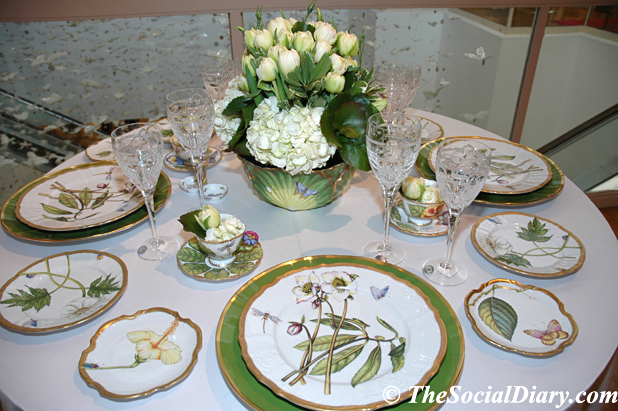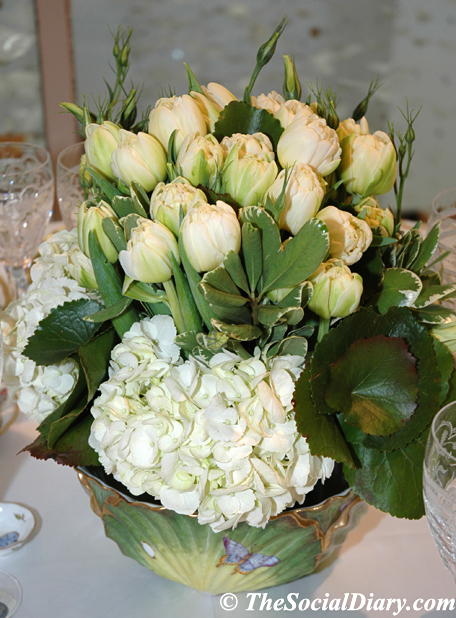 One more look at those Rene' Caovilla shoes!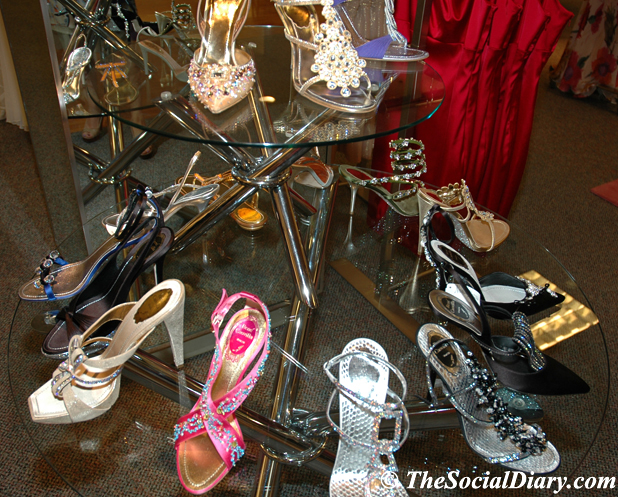 reported by Margo Schwab
The Buzz
Those Las Patronas Gals turned up the heat....
They called it White Hot and apparently it was a fun, fun summer kickoff party May 15th at the Madison Gallery in La Jolla. Guests came, Giuseppe Fine Catering provided the incredible edibles, and Michelle Coulon did the desserts. But it was the dancing to DJ Mick Scrivener that upped the ante....
...and this was just a week after Las Patronas held a fundraising event at Louis Vuitton... can I tell you how many new Louis Vuitton bags I've seen lately clutched by these gals.... and not to forgeting the 5 inch Louis Vuitton stillettos Maree Mossmer purchased...all for a great cause... San Diego charities.
....At the LEAD San Diego event.....
Honoree Darlene Shiley said the camera flashes were blinding... thank heavens she knows a place to go ...Shiley Eye Center, funded by her and husband Donald... she later joked that she should have done a hearing center.
.....and everyone loves a bargain these days......
That would be a quality bargain. Check out the Spring Menu at Tapenade. $38 for a 3 course menu that includes wine pairings. The main entrees are a choice of braised beef short ribs or a Pike quenelle in crayfish sauce....
.......
.....that was Kerry Steigerwalt at the Beach Club the other day... you know the attorney with numerous television commercials... Seems he might be doing a deal with a transportation company.... Kerry.... Safe Ride Solutions.... they are the best!
Upcoming Events
June 6th - Helen Woodward Animal Center's Spring Fling
The annual Spring Fling gala titled Shangri Paw (an eternal paradise) is Helen Woodward Animal Center's black-tie extravaganza featuring 20 of San Diego's best restaurants, live entertainment, unique libations, amazing auction items for you and your best friend, and dancing till midnight! The 2009 Spring Fling will take place on Saturday, June 6, 2009. Kima will be there too as Dog Honoree for the Arthritis Foundation Walk.... More information first on the Helen Woodward event..... More information
June 6th - The Arthritis Foundation Walk.
The Arthritis Walk® is the Arthritis Foundation's annual nationwide event that raises awareness and funds to fight arthritis, the nation's most common cause of disability. It is a tremendous opportunity to help improve the lives of the 46 million men, women and children doctor-diagnosed with arthritis.
And Kima is the Dog Honoree for the walk! So 'Let's Move Together!'
To learn more about arthritis and this walk, please visit
www.arthritis-sandiego.org/walk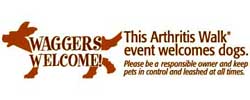 Dogs get Arthritis too!
June 14th - The Fiesta Garden Party for P.A.W.S. or Pets Are Wonderful Support will host its fundraiser for aiding people with financial or disability needs, care for their pets. Animal activist and Emmy Award winning Loretta Swit will be attending the fundraiser. The event will be held on the grounds of an historic 1920's estate adjacent to Balboa Park. Well behaved and leashed dogs are welcome to attend. Kima will be wearing a custom Jordan Art Couture outfit that will be available by live auction. Please visit www.pawssdc.org for more details and tickets.
June 17th - Fashion at the Timken - Guest Speaker Patricia O'Connor, Founder / CEO of Fashion Careers College and Timken Docent. For reservations, please visit www.timkenmuseum.org
June 19th - The Rainforest Alliance postponed to October 30th.
June 20th - RITZ, San Diego Zoo Gala Fundraiser themed Midnight at the Oasis. Lisa Casey and Chris Andrews are the Chairs. For tickets and details please visit www.sandiegozoo.org
July 18th - Patrons of the Prado Gala will be held in Balboa Park. This year the beneficiaries are San Diego Junior Theatre, San Diego Natural History Musuem and Timken Museum of Art. Elisabeth Bergan and Anita Crider will be the Co-Chairs. Visit www.patronsoftheprado.net for details.
July 30th - 'After the Finish Line's' summer fundraiser, A Tribute to the Majesty of Thoroughbreds. This organization rescues and places unwanted former race horses with new loving owners. Please visit www.afterthefinishline.org
August 1st - Old Globe Gala will host its black tie soiree to coincide with the production of the First Wives Club. Please visit www.oldglobe.org for more details.
August 8th - Las Patronas will host its Silk & Spice themed Jewel Ball at the La Jolla Beach & Tennis Club. Jennifer Greenfield is the Chairperson. Please visit www.laspatronas.org for more details.
August 15th - The 'Catch the Royal Wave' will be the theme for the Fur Ball at the San Diego Humane Society. This event welcomes well behaved dogs on leash. For more details about this event, please visit www.sdhumane.org
August 29th - The Art of Fashion at The Timken Museum in collaboration with Fashion Careers College. For reservations, please visit www.timkenmuseum.org

Proud to be partnered with San Diego News Network
________________________________________________________________
Photoshopping and Photography Services
Photos on this website available if it is of you
available by The Social Diary
~ 619-384-7333
email TheSocialDiary.com
_____________________________________________________________________
Email Commentary to be added
email editor@thesocialdiary.com
* Margo Schwab, more formally known as Margaret E. Schwab, has produced, written, interviewed and photographed for various media organizations since 1989. Schwab attended Holton Arms School, La Jolla Country Day School and La Jolla High School. Schwab has a B.A. from Scripps College, spent a business internship with S.A.I.C., Science Applications International Corporation, and earned a Masters of Business degree, M.B.A., from the University of San Diego. Schwab additionally took college courses from Harvard University, and Syracuse University. Schwab volunteers for numerous charity organizations. She also continues to support animal organizations and the prevention of people and animal abuse. Schwab is the editor of The Social Diary.
The Social Diary is pleased to announce new partnerships with the San Diego Humane Society and San Diego News Network.
Warning ** photos, video and writing on this site are the
2009 copyright of The Social Diary, San Diego Social Diary
no reproduction of any part or parts is allowed without written permission by The Social Diary