7928 Ivanhoe, La Jolla * 858-805-5062 * www.purebarre.com

Kima The Arthritis Dog Honoree Hosts Party for 2 Legged Friends at Cafe Milano!
April 25th, 2010 things got a little boisterous at Cafe Milano in La Jolla. Kima Schwab-Johnston, the Arthritis Dog Honoree for the Arthritis Foundation San Diego Area Chapter decided to throw a party for her June 5th team walk's supporters and friends.
Among the mix were Jennifer (Jewel Ball Chair 2009!!) and Richard Greenfield, with their super Girl Scout daughter Rachel and her friend Abbey, Elaine Evans and Don Erlich, Shirley and Paul Schwab, they are the grandparents of Kima, Jeanne Jones and Don Breitenberg, and Dawn Celapino. Dawn has the fabulous Leash Your Fitness company that has partnered for the event with Kima.
Guests were invited to 'tie one on,' that's tie 'lets move together' for arthritis research and cures shoelaces.
More there included Andrea Muir from the Arthritis Foundation, Matt Shillingburg, Karen and Dale Miller (Karen is chairing the upcoming USO Gala) Jordan the designer and David Masterjohn, May Zawaideh, Jo Ann Kilty and Vincent Andrunas, Betty Nagleburg, June and Will, and Mary Milton and Jon Stahley.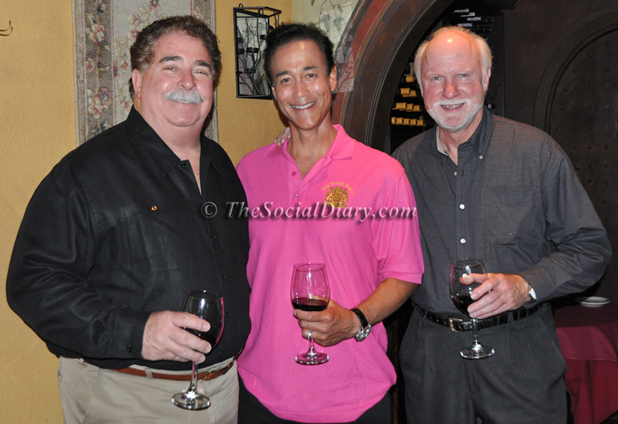 The Wine Connoisseurs - Richard Greenfield, Scott Johnston and Vincent Andrunas
Mary and Jon are the parents of OZ, a 150 pound Newfoundland. Oz is also a Therapy Dog, A Crisis Response Dog with his mommie, and .... he is the boyfriend of Kima!
Fyi, Kima as a Service Dog is allowed to be in the restaurant.
So far, Kima is the leading the way raising funds for the Arthritis Walk. But it is because of the support of her friends at this event, as well as a few who were unable to attend.
They are Chopper and Charlie Kerr, Lydia and John McNeil, Kristine Grant, Ralph Starkweather, Ed Mracek and Sherarn Wuerfel, Jose Cruz, Pat and Bob Whalen, Susan Shillingburg, Vince Heald (master of PR!) and Clinton Walters (master of design),, Patty Elkus, Dr. Nancy Gold Seid, Valerie and Harry Cooper, John and Judy Haller, Kathryn Murphy and Katherine Schwab Ph.D.
That's Aunt Kathy Schwab to Kima! She's the amazing Greek Professor who is rumored to possibly have meotope drawings on display in the future in San Diego at the Timken. Kathy has drawings on permanent display at the New Acropolis Museum in Athens Greece!
Back to the party!
Kima invited guests to wear denim or animal print, enjoy heavy appetizers, light desserts, and NO SPEECHES!
No speeches was a hit and so was the food by Cafe Milano's Chef and Owner Pasquale.
The menu was as follows:
Kima's Party Menu
As Dog Honoree for the Arthritis Foundation
Food prepared by Chef /Owner Pasquale
Heavy Appetizers
Bruschetta
Mozzarella Caprese
Insalata Di Mare
Carpaccio Arugula
Gnocchi Caprese
Dessert
Flutes of Lemon Sorbet
Italian Cookies
Libations
Pinot Grigio Paggio '03
Brunello di Montalcino Capanna '98
Faux Beer
Bottled Water
Bottled Bubbly Water
Coke
Cappuccino
The cuisine was a terrific hit, .... so was the Brunello!
Some guests lingered until well past 7..... can we say 9 and a bit.
All was fun with a poignant reminder to stay healthy and try to mitigate or prevent arthritis. Arthritis costs this country billions per year. It affects children, adults and animals.
More about that after the pictures!
Thank you to Pasquale and the terrific Cafe Milano Team including Alfredo, Sandra and A.J.!!
Mille Grazie!!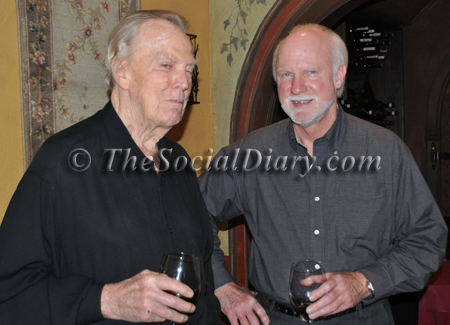 Don Breitenberg and Vincent Andrunas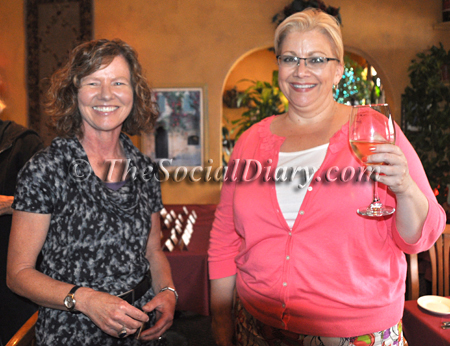 Mary Milton and Andrea Muir - Cheers!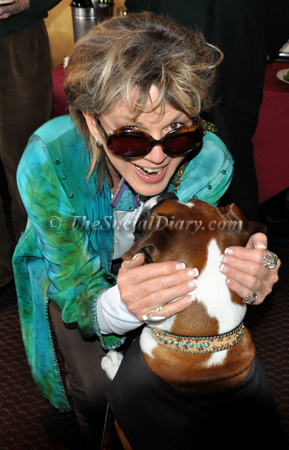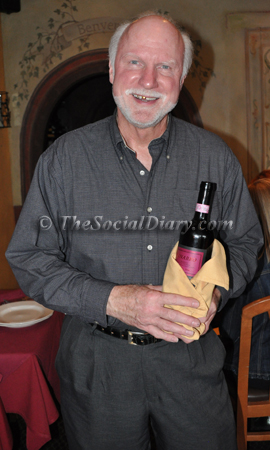 Jordan getting loved by Kima ** Vincent helping pour the Chianti!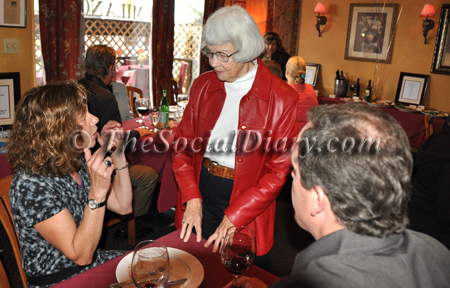 Mary Milton with Shirley Schwab and Jon Stahley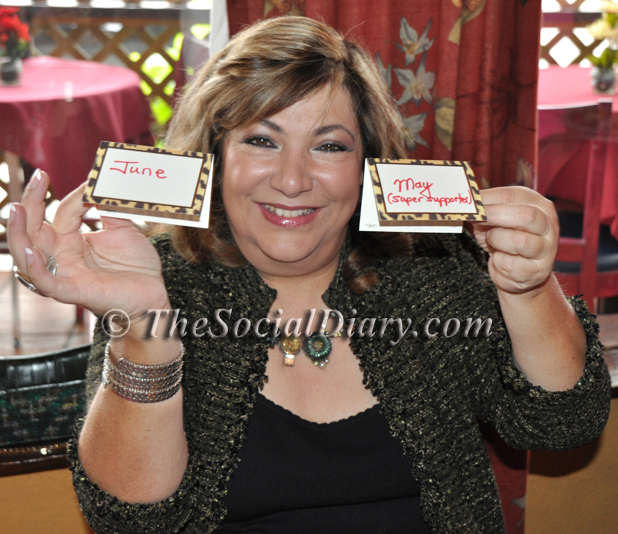 May Zawaideh with May place card and June's place card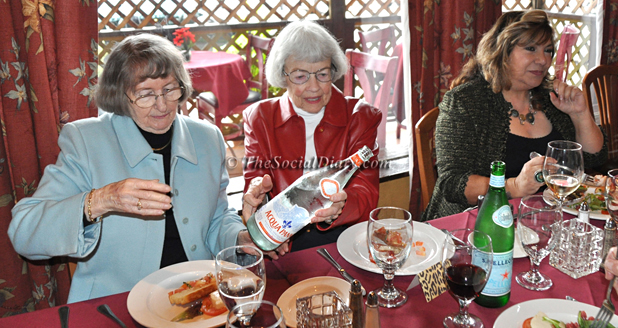 June with Shirley Schwab and May Zawaideh
advertisement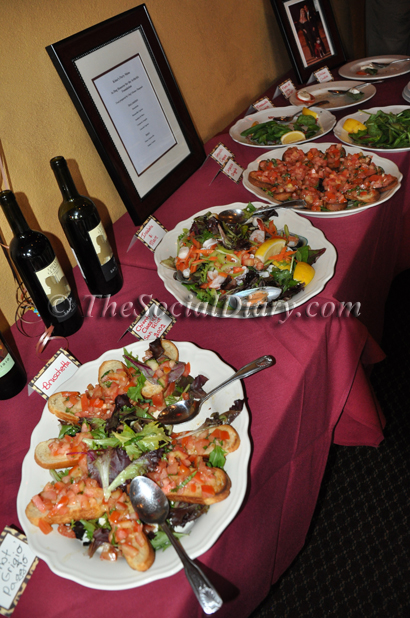 Cafe Milano Buffet!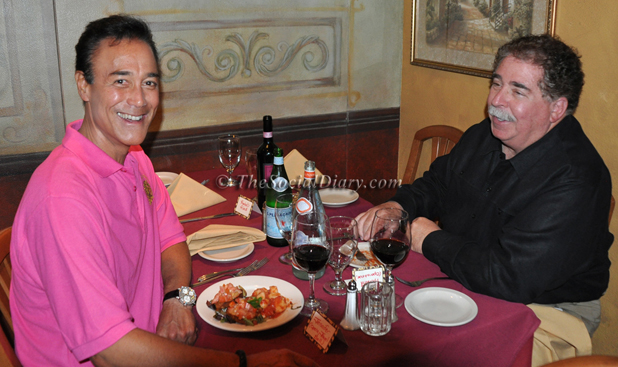 Scott Johnston and Richard Greenfield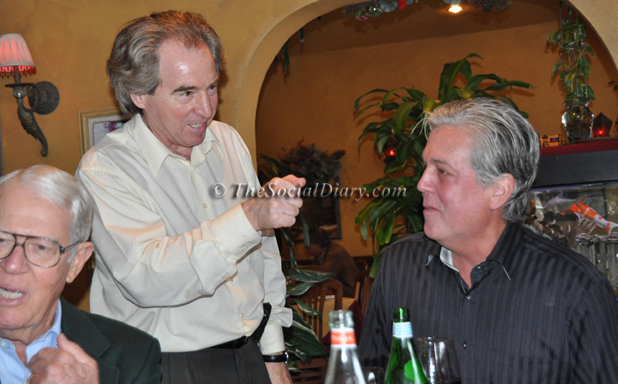 Paul Schwab, Pasquale and Matt Shillingburg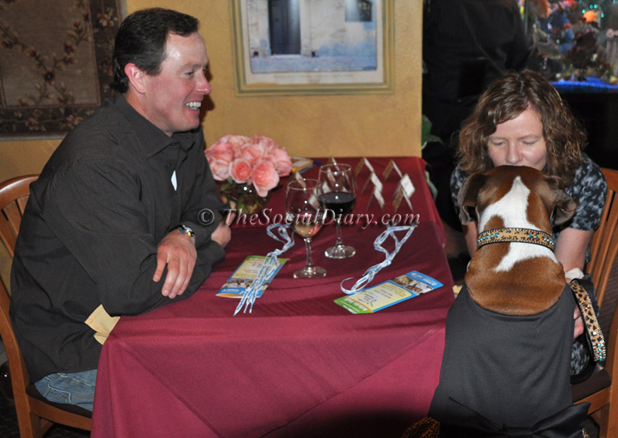 Jon Stahley and Mary Milton getting love from Kima!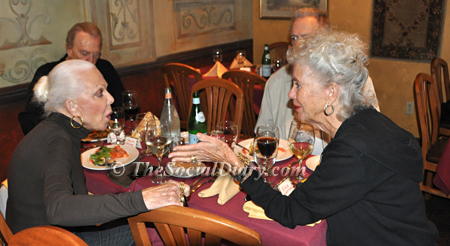 Jeanne Jones with Elaine Evans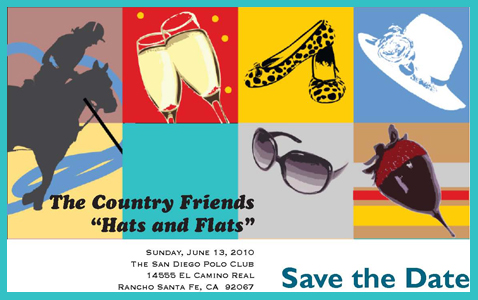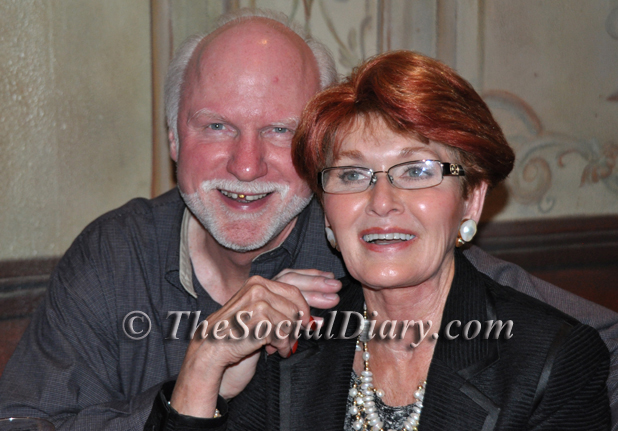 Vincent Andrunas and Jo Ann Kilty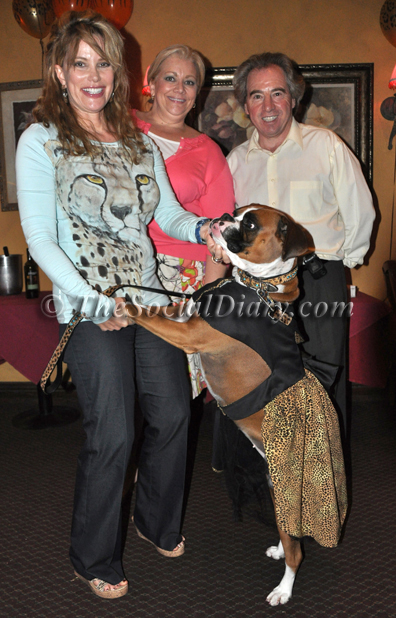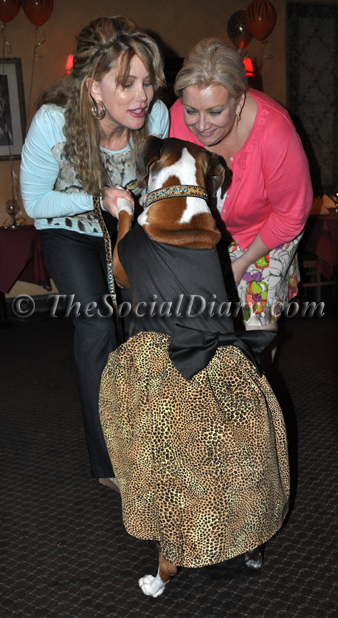 Kima with her Mommie Margo Schwab, and friends Andrea Muir and Chef Pasquale!
...a flashback to a photoshoot with Rachel and Jennifer Greenfield and their beloved Rocky!!
Kima says some of the signs to look for are not wanting to go for a walk. Acupuncture, meds and massage have helped many a pet lead a better life.
To learn more about arthritis and to contribute to the walk ($10 is the min), please click on the following logo: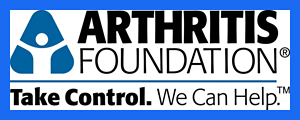 Kima says thank you for your support!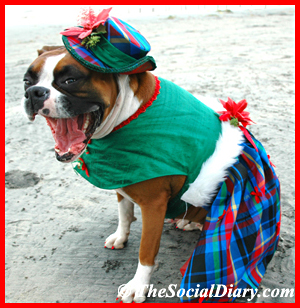 reported by and photoshopped by
the proud parents of Kima,
Margo Schwab and Scott Johnston
The Buzz
The Social Diary is proud to donate $100 to Rancho Coastal Humane Society to replenish the money stolen from donation boxes. The money will help the following situation.
Cat Burglar Plunders Pet Coffers
Cricket Corner Dog Park Donation Boxes Broken into
at Rancho Coastal Humane Society
The donation boxes that help fund the maintenance of the free Encinitas community dog park, Cricket's Corner, were broken into. The theft was discovered this morning by a shelter employee and Rancho Coastal Humane Society is asking the public to report any information they have about this crime. It is estimated that $100.00 was stolen and there will also be expense to repair the donation boxes. Animal shelters in San Diego have been on-going targets of thieves over the past two years.
"This was a selfish act," said President Jim Silveira. "It is obvious that the person who committed this crime has no regard for the plight of animals in our community. We rely on the generosity of dog park patrons to help us maintain the park. The person who did this, is not only stealing from our shelter animals, but from everyone in our community."
It costs RCHS approximately $5,000 annually to operate the dog park, which is a free service to the community. To report information about this crime please call (760) 753-6413 or to make a donation to the dog park, visit www.rchumanesociety.org
__________________________________________________________________

____________________________________________________________
Photoshopping and Photography Services
Photos on this website available if it is of you
available by The Social Diary
~ 619-384-7333
email TheSocialDiary.com
_______________________________________________________________
Email Commentary to be added
* Margo Schwab, more formally known as Margaret E. Schwab, has produced, written, interviewed and photographed for various media organizations since 1989. Schwab attended Holton Arms School, La Jolla Country Day School and La Jolla High School. Schwab has a B.A. from Scripps College, spent a business internship with S.A.I.C., Science Applications International Corporation, and earned a Masters of Business degree, M.B.A., from the University of San Diego by way of Claremont Graduate School . Schwab additionally took college courses from Harvard University, and Syracuse University. Schwab volunteers for numerous charity organizations. She also continues to support animal organizations and the prevention of people and animal abuse. Schwab is the editor of The Social Diary.
Margo Schwab and Scott Johnston of The Social Diary are pleased to announce partnerships with the Arthritis Foundation of San Diego County, Country Friends, the San Diego American Heart Association, and the San Diego Humane Society.
San Diego's The Social Diary would like to say a special thank you to our advertisers.
Valerie and Harry Cooper supporting the San Diego Opera
Valerie and Harry Cooper supporting The Museum of Contemporary Art San Diego
Judith C. Harris, Blair Harris, and Robert Singer, MD supporting the
Dian Fossey Gorrilla Fund International
Old Globe Theatre
Rancho Coastal Humane Society
Lisa Shapiro of Pure Barre La Jolla
Dr. Laurie Marker of The Cheetah Conservation Fund
H. Moradi Fine Jewelers on Prospect Street in La Jolla
Pamela Pogue of Juelerie
Kary Favish of the Worth Collection
Diana Cavagnaro of Designer Millinery
Jordan of Jordan Art Couture and Animal Fashions by Jordan
Lizz Russell of The Lizz Russell Collection
Gary Parker of WineSellar & Brasserie
Owner and Chef Pasquale of Cafe Milano
Kevin Smith of Extreme Pizza in La Jolla
Jeremiah Sullivan of Neptunic Sharksuits
Drs. Sue and John Morizi of The Animal Hospital of La Jolla
Eugene Ladopoulos of Mistra Estates Olive Oil
Warning ** photos, video and writing on this site are the
2010 copyright, all rights reserved, of The Social Diary LLC and its subsidiaries.
no reproduction of any part or parts is allowed without written permission by The Social Diary